On average, only 40 to 50% of people who sign up for webinars attend them. And yet webinars have lots of benefits that no-shows miss out on.
Webinars cost less than in-person seminars, connect you with highly qualified people in your field, and teach you essential knowledge and skills to succeed.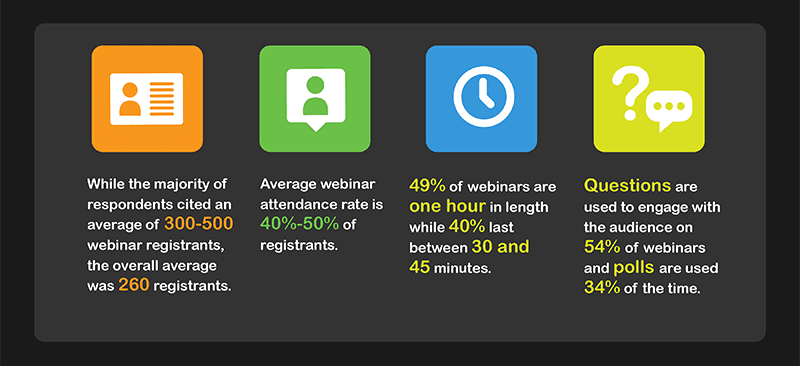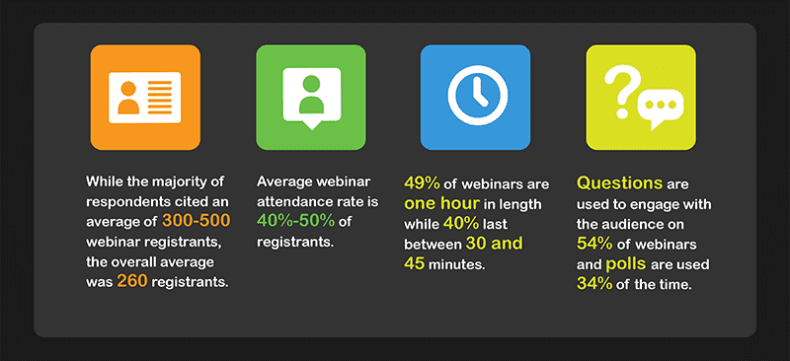 If you want to take your search engine optimization (SEO) to the next level, there are countless webinars available from industry influencers. SEO webinars offer the benefits of convenience and depth. From local SEO strategies to technical site audits, webinars complement your current knowledge and skills to help you elevate your overall site performance.
Search Engine Journal SEO webinars
For nearly 20 years, Search Engine Journal has provided SEO experts and business owners with industry news and tactics for improved performance. Their webinars are hosted by professionals from all over the SEO community and cover a wide range of topics.

How to Take Your Website Beyond Fast
Led by: Jono Alderson
Alderson begins by discussing how site speed impacts Google SEO rankings. Then, he goes into different ways to make your landing pages faster before diving into a Q&A session. Watch it here
How to Increase Your Ecommerce Organic Traffic by 400% with Automation
Led by: Duane "DJ" Sprague
This webinar includes a strategy for automating SEO elements on your ecommerce website. The presenter explains how to develop high-quality user-generated content (UGC), strong social proof, and user-friendly product Q&A to increase traffic. Watch it here.
How to Find Internal Linking Opportunities
Led by: Jenny Halasz
In this webinar, you'll learn to use internal links to push your pages higher in the rankings. Halasz discusses the downsides of mega menus, why flattening your site structure can be an advantage, and common internal linking errors to avoid. Watch it here.
7 Terrible, No-Good SEO Tactics to Abandon Forever
Led by: Julia McCoy
McCoy spells out some of the worst SEO techniques that you should quit using. She offers solutions for what to do instead as well. If you watch the Q&A session, you'll also learn more about SEO tools for your content strategy. Watch it here.
The Perfect Fit: How to Find the Right PPC Agency
Led by: Joe Khoei and Aaron Levy
Using a pay-per-click (PPC) ad campaign alongside your SEO strategy is one way to boost your rankings and brand awareness. If you need help finding a PPC agency, this webinar will tell you what to look for and what to avoid. This includes things like pricing, cultural fit, and expertise. It also advises firing an agency that isn't meeting your standards. Watch it here.
Brightedge SEO webinars
Brightedge is a company that helps businesses conduct SEO research, find opportunities and improve rankings. These are some of the most popular webinars they offer to the public.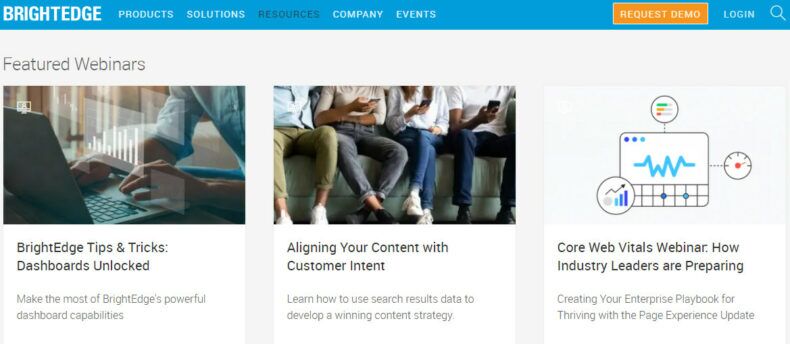 17 Ways to Integrate Social and SEO
Led by: Harry J. Gold
In this 45-minute webinar, you'll learn more about how social media plays a role in search rankings. It also discusses how marketers can use social content to improve their link-building strategy. And you will learn more about how to take advantage of your social accounts to influence branded search results. Watch it here.
Generate an Increase in Revenue & Drive SEO with a Content Calendar
Led by: Erik Newton, Elise Gould, George Fisher
You'll learn how to create an effective content calendar during this webinar. The presenters talk about making SEO the center of your content creation strategy. They teach you how to build a brand message that spans all of your content. Watch it here.
How Many SEO Keywords Should I Manage?
Led by: Erik Newton and Albert Gouyet
If you've ever wondered how many keywords to target, this 45-minute webinar is for you. Newton and Gouyet explore the keyword research process and discuss how to pick relevant and profitable terms. They also discuss how to create an optimal keyword list and develop your overall strategy. Watch it here.
Moz SEO webinars
A well-known leader in the SEO industry, Moz offers plenty of free SEO webinars. These resources span all difficulty levels, so you should be able to find valuable information no matter how far along you are in your SEO journey.

Make Core Web Vitals Your Competitive Advantage
Led by: Tom Capper
This is a valuable SEO resource for anyone trying to understand Core Web Vitals, a Google ranking factor that rolled out in 2020. Capper teaches you how to analyze a large number of URLs and gives you a strategy to improve bottom-line SEO metrics related to this ranking signal. Watch it here.
The ROI of Local Presence Management
Led by: Greg Sterling and Kelly Cooper
Join two SEO experts as they cover the importance of Google My Business (GMB) listings and customer review management. Using this information, you should improve your local SEO approach for better visibility in your area. Watch it here.
Execute a Technical SEO Site Audit Like A Pro
Led by: Kavi Kardos
You can increase your position on Google search engine results pages (SERPs) with a technical SEO strategy. In this webinar, you'll learn how to properly audit your site with top SEO tools. You'll also learn where you should focus your attention during these audits and the optimization process that follows. Watch it here.
Semrush SEO webinars
The Semrush platform offers many solutions, including a variety of SEO services and SEO training courses. It has 4+ years' worth of webinars available for download. Here are some notable options.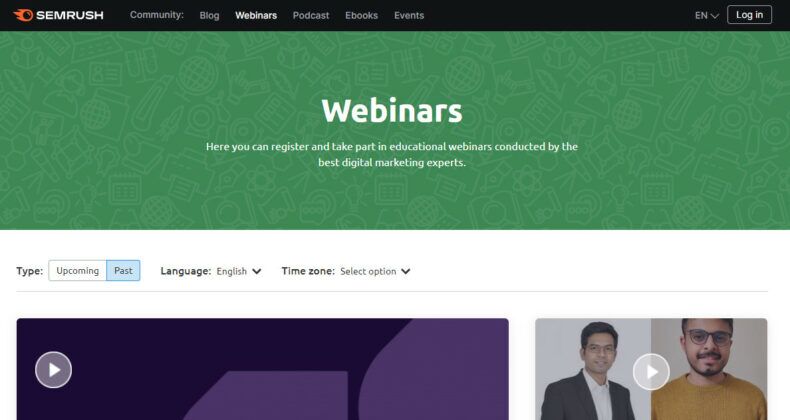 Structured Data for Content Marketing
Led by: Jono Alderson, Martha van Berkel, and Paul Lovell
This webinar focuses on how to use structured data on your website. Presenters cover common schema markup mistakes and how to attach images to your data. The information covers more advanced SEO techniques, so keep that in mind before watching. Watch it here.
How to Create Content That Earns Links
Led by: Sujan Patel, Benji Hyam, and Melissa Fach
If you want more information on content creation, this webinar is a good resource. You will learn a process for developing content, as well as the components of a great web page. This webinar will also teach you about promoting your content to increase the number of backlinks that it earns. Watch it here.
Social Chat #2.1: Why Your Social Traffic Isn't Buying From You (and what to do about it)
Led by: Rebekah Radice, Mike Allton, Stephanie Liu, and Jeff Sieh
High click-through rates (CTR) and low conversions can often occur together. This webinar addresses why that might be and how to fix the problem. It gives recommendations for social sales tools and explains how to use Google UTM (urchin tracking module) parameters to track campaigns. Watch it here.
The Best E-commerce Marketing Channels for Conversion
Led by: Paul Lovell and Jason Goldberg
Ecommerce businesses face unique challenges when it comes to page optimization. Focusing on the right marketing channels is essential to generating more site traffic and boosting your sales. Lovell and Goldberg discuss the best channels and their pros and cons. They also talk about how to analyze your current marketing strategy and recognize when/where to make adjustments. Watch it here.
HubSpot SEO webinars
HubSpot is an industry leader in market research and business automation software. Its resource library contains templates, SEO tutorials, and of course, webinars. There are 16 free webinars total – here are some examples of information they offer.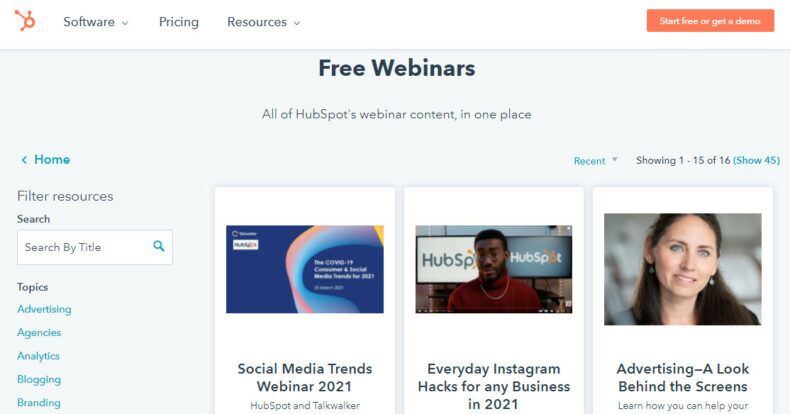 An Introduction to Data Visualization
Led by: HubSpot team
This webinar is targeted towards users with little to no design experience. Its goal is to teach you how to make SEO-friendly infographics, charts, and more. It also goes into detail on the history of data visualization and how it impacts SEO performance today. Watch it here.
The Ultimate Video Marketing Starter Pack
Led by: HubSpot and VideoAsk
With the rise of YouTube SEO and consumers' preference for video content in general, knowing how to implement a video strategy is an important skill. The webinar walks you through how to choose the right video format and what the elements of a great video are. Then, it tells you how to optimize your video content for better rankings. Watch it here.
The Future of Content Strategy: How Your Startup Can Win at SEO
Led by: Aja Frost
If you want to learn more about the topic cluster model, this is the webinar to attend. You'll learn what it is and how to use it to get ahead in search results. This is especially useful if you haven't already developed your site architecture or are considering a redesign. Watch it here.
BrightLocal SEO webinars
BlightLocal specializes in local search optimization. Their webinars help businesses with brick and mortar locations increase their SEO visibility scores for branded and regional keywords.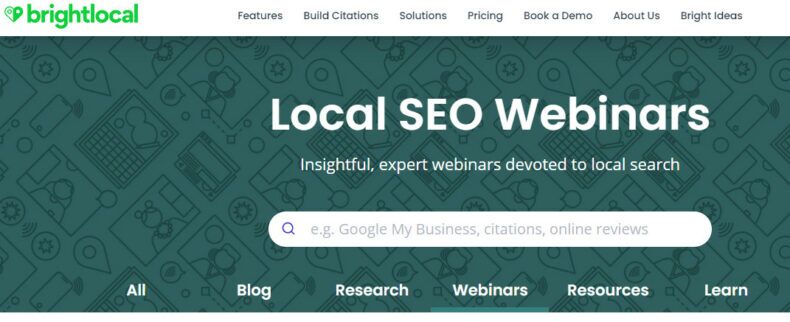 Google Algo Update Postmortem: How Did It Affect Local Businesses?
Led by: Joy Hawkins, Myles Anderson, Marie Haynes, and Andrew Shotland
This 1 hr and 10 minute-long webinar investigates the impact of Google's Medic algorithm update on local SEO. They offer insight into how this update changed organic traffic and conversions. If you own a small business or have physical store locations, this is an insightful webinar to attend. Watch it here.
Local Search Clinic: GMB Suspensions & Reinstatement
Led by: Ben Fisher
If your GMB listing gets suspended, the information in this webinar will help you resolve any issues quickly and effectively. It is an hour and a half long and guides you in the process of getting reinstated. Watch it here.
Local Search Clinic: Local Link Building
Led by: Gyi Tsakalakis
Link building isn't just for major brands. Learn all about local links during this hour-long webinar. It includes a Q&A session that covers everything from best practices to best link-building tools. Watch it here.
Get a complimentary SEO audit
For many business owners, SEO webinars are an underused resource. These events can teach you the skills and knowledge you need to develop the best SEO strategy for your brand. No matter where you are in your journey, you can benefit from webinars to improve your search performance and reach new customers.
Want to see how you're doing with SEO? Get an instant SEO audit below. Or, schedule a free consultation to see how intent SEO can boost search traffic revenue by 700%.