Users are 10x more likely to click the top listing on a search engine results page (SERP) than the bottom result. And that's just for the first page.
If your website listing shows up on page two, you're only exposed to 1% of the total search traffic, making it virtually impossible to increase site traffic, let alone revenue.
This can be frustrating. You know you have a lot to offer, so why can't search engines see it, too?
This is an issue of "SEO visibility." Since a web page's position on SERPs can significantly impact its overall performance, marketers use a metric called the "SEO visibility score" to guide their digital marketing strategies. Here's what you need to know about it, including 11 best practices to help you improve it.
SEO Visibility: A definition
SEO visibility, also known as search visibility, refers to the percentage of total search volume that your website receives for its target keywords.
The SEO visibility score is calculated as an aggregation of all the rankings you have for all keywords. Each page's ranking gives an estimated click-through-rate (CTR) based on its ranking. Then, the CTR is divided by the total number of keywords you're ranking for to provide a percentage score.
This metric gives an idea of how visible your domain is within search engine rankings. Understanding your site's SEO visibility is important for identifying optimization areas to focus on and for creating your overall SEO strategy.
If your score is somewhere between 9% and 35%, it means you're in a good place. Anything lower than 3% usually means you're not on page one of search results for the term. The top spot on a SERP usually gets 32% of the traffic, while the bottom spot (on the first page) gets around 3% of the traffic.
11 Proven ways to boost search visibility
Improvements in search visibility can enhance user experience, broaden your audience reach, and boost the overall search traffic that you receive.
Here are 11 proven methods for increasing your SEO visibility score and gaining more traffic from your website content.
1. Improve fringe listings
Just outside of the first results page lie fringe listings – the ones at the top of page two. Results on the second page earn 1% or less of total traffic, but they aren't too far away from page one to compete. And, as the graph shows, a small bump up to page one from page two can mean a major increase in ROI.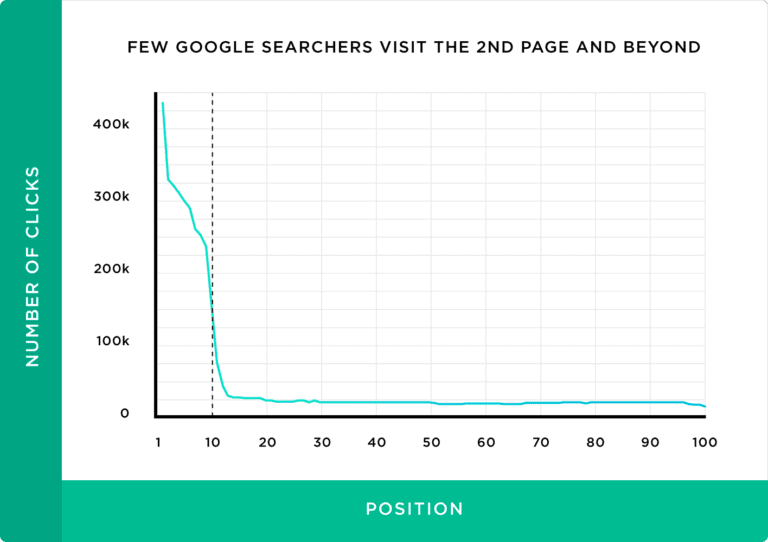 You can improve your fringe listings by introducing more screenshots, graphics, and interactive features. Also, you can update the content and include more keyword references, improve your link-building approach, and assess your technical SEO strategy to see if there's room for improvement.
If you're willing to go back to previously-published pages and make changes, you might be able to edge out competitors on the first page and improve your SEO visibility score.
2. Claim more SERP real estate
Another way to increase your SEO visibility is to take up more space on the SERP. There are many ways to make your listings longer, although you may not immediately see changes.
Using schema markup, or descriptive HTML coding elements, can really make your listing stand out. This SEO technique gives crawlers more context for the various elements of your site.
Schema markup will help you generate rich snippets, or detailed search engine listings that give users more information from your website upfront. This can include things like customer reviews, event dates, deep links, products, and more.

Another extremely effective way to increase the size of your search listing is to optimize for sitelinks. Search listing sitelinks are links from your website displayed underneath your title tag and meta description.
Here's an example for the search term "Nike shoes:"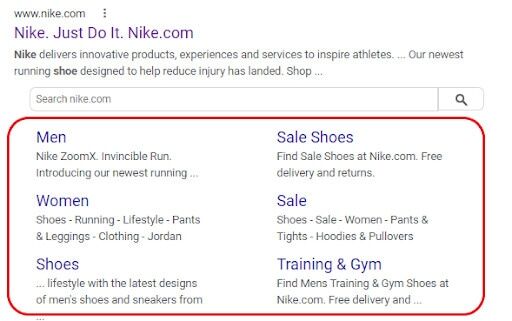 These links to different web pages within the Nike website are sitelinks. You can't add these to a search listing yourself – Google generates them automatically.
They're important because they earn you more organic traffic to internal pages, increase your CTR, and build your brand credibility and awareness.
Websites that earn Google sitelinks:
Use a table of contents for each page.
Incorporate technical and on-page SEO tactics.
Develop an easy-to-follow site structure.
Include relevant internal links on the homepage.
It may take time to earn sitelinks, but if you do, it can result in increased SEO visibility and more traffic across your internal pages.
Google's featured snippets are another area where you can direct your SEO efforts. These types of search listings are longer than standard listings and they present snippet information before the title tag.
A 2020 SEMRush study found that 77% of featured snippets are for search terms starting with the word "why."
Take a look at this featured snippet that shows up when you search "why is the sky blue" on Google. You'll notice that Scientific American's website comes after images and the meta description.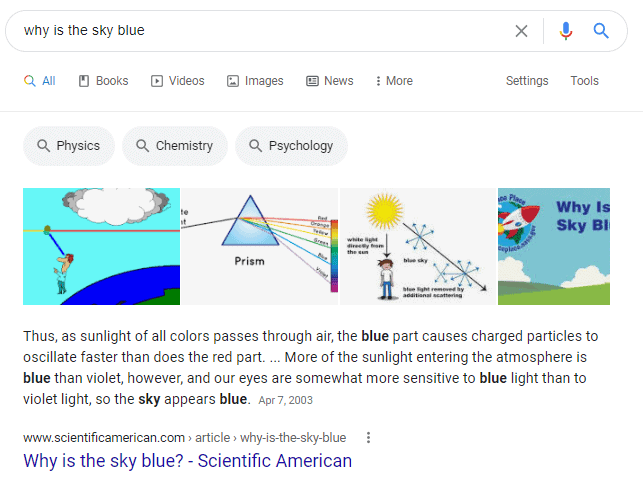 You can try to earn a featured snippet by targeting long-tail keywords (see two sections down), choosing question-based search terms, adding dates to your content, and using 1-3 subfolders in your site structure.
If you're worried about dating your web pages, just remember that Google is simply looking for relevant content. The featured snippet example above is dated 2003, but because the reasons for the sky being blue haven't changed since then, it's still relevant today. Consider creating evergreen SEO content that holds up over time and increases your search visibility.
3. Audit your content
When your SEO visibility is low, one of the most common reasons is lackluster content. To gain more traffic from organic search results, you have to provide a comprehensive resource for your keywords.
Comprehensive content explains the subject, why it's important, and gives users valuable information that is actionable. It's also focused. The best content hones in on one target keyword or phrase, not several.
With a clear topic, crawlers will be certain that your content ranks for the corresponding search terms. Rather than performing just "okay" for multiple search terms (low visibility), you will have a better chance of ranking extremely well for one search term (high visibility). Your content should be a master of one search term, not a jack-of-all-trades.
Above all, high-quality content satisfies search intent. In other words, it answers a user's search query by providing the exact information, product, service, etc. that they're looking for.
There are four main types of search intent that reveal why someone is using a specific keyword: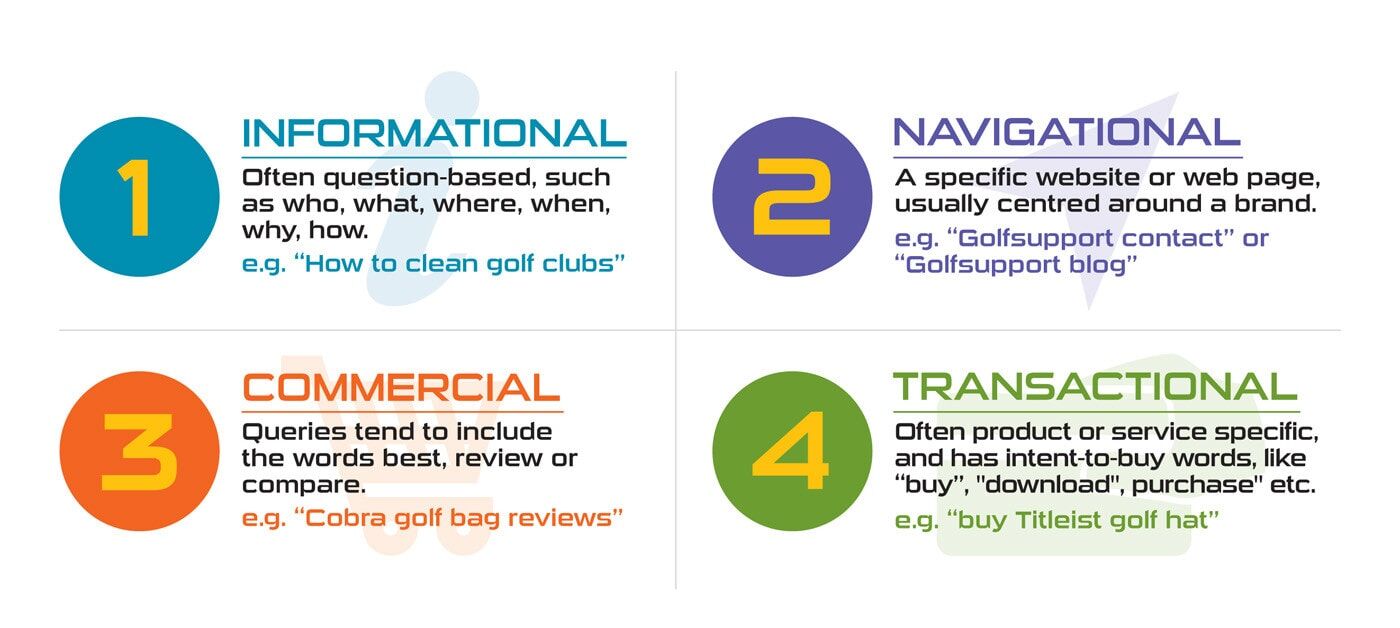 To satisfy search intent, it's necessary to research the top-ranking posts for your target keywords. By looking to see what's already ranking, you will get a better idea of the content users want to see.
It may also reveal gaps in your current content. Cross-referencing what's already popular with your unique ideas and perspectives can help you create an entirely new source of value – value that search engine algorithms will take note of.
4. Target long-tail keywords
Sometimes users make search queries that are more specific or in-depth. These searches can be in the form of questions or phrases, and they're called "long-tail keywords."
Here is an example of the difference between short-tail and long-tail keywords: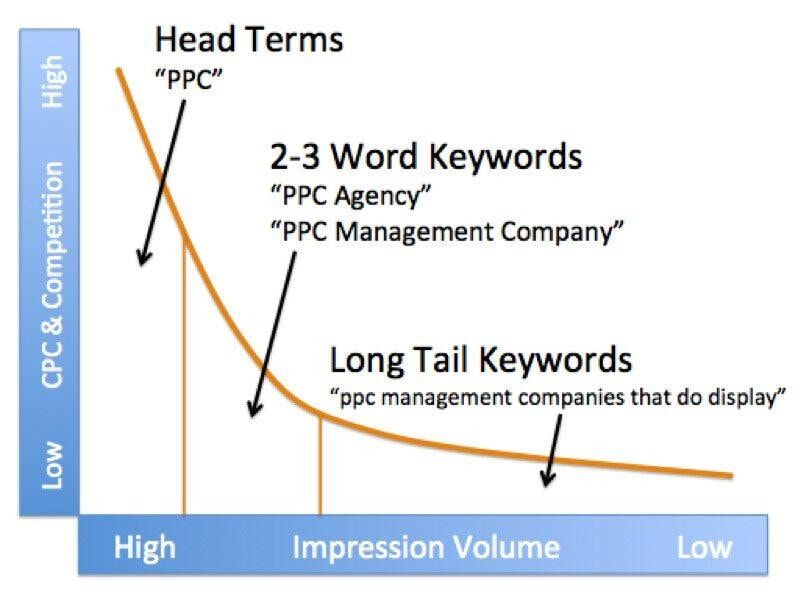 Because long-tail keywords are so specific, users who search for them are usually closer to making a purchase. Users have already narrowed down their search by searching longer keywords. As such, they want the content to be just as focused.
Additionally, Long-tail keyword research is an especially effective strategy today because it exposes you to the growing voice search market segment, which experts expect to grow by 16.8% from 2019 to 2025.
5. Improve your page load speed
When your website loads slowly, users are likely to leave before they've seen any content. In fact, 40% of users will bounce from your web page if it takes longer than three seconds to load – just three seconds! Because site speed impacts user experience, it's an important ranking factor.
You can improve page load time by caching data files, choosing smaller images, compressing your CSS script, and more. These improvements will make your site more user-friendly and decrease your bounce rate.
6. Design for mobile-friendliness
Google asserts that 50% of users prefer shopping on a mobile site over downloading an app. Because of these preferences, Google follows a mobile-first indexing process that treats the mobile version of your website as the most important one (over desktop or tablet formats).
Mobile-friendly websites are easy to navigate and read, have simpler formats, and display content in an approachable way.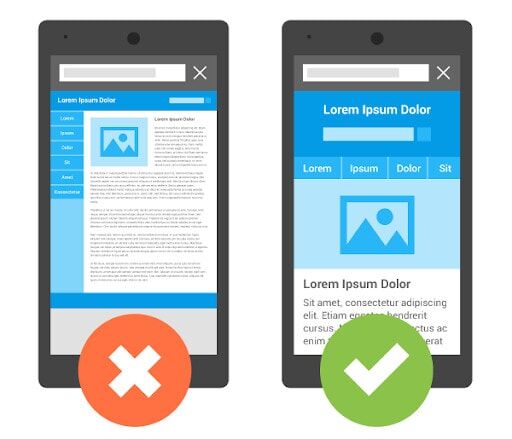 Some ways to create a mobile-friendly website include:
Make the font larger.
Provide shorter content.
Use less animations and complicated graphics.
Reduce pop-ups.
Allow users to search for information on the homepage.
You can use Google's Mobile-Friendly Test to get suggestions for improving your website. Many content management systems have themes with mobile-responsive design capabilities. This approach allows you to edit each version of your web page separately and ensure that it adjusts to varying screen formats.
7. Generate backlinks
When you start a website, it can take a while to gain traction and credibility within your industry. Creating highly valuable content is an effective way to grow your online presence. And getting a show of support from other websites shows Google how reliable and valuable your brand is, which can result in higher rankings and more traffic.
Generating this show of support is about generating "backlinks," or links that other people and brands online make to your content. When other sites direct their audience to you, search engines look at it like an upvote for the quality of your website.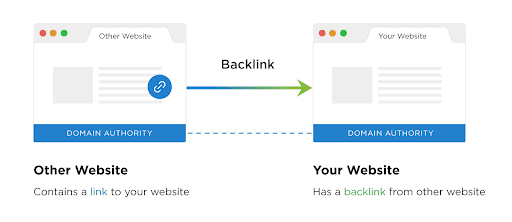 You can build backlinks by:
Making quality infographics and images for your focus topic
Publishing industry-relevant reports
Conducting research that provides new statistics in your area
Guest posting on other sites
Creating social media-friendly content
Remember that to earn backlinks for SEO, you must provide top-notch information, graphics, content, etc. Over time, backlinks build your brand's online credibility, and they can continuously provide new traffic from across the web.
8. Optimize your images
The Google algorithm considers all of the components on your website, including the images. Optimize your images so that they:
Aren't too large (slows down the load time)
Include descriptive alt text
Have captions
Contain schema markup, if applicable
Include specific keywords in the file name
Overall, images enhance your website's user engagement and functionality. If you don't optimize them, however, they can slow down page loading time and keep you from ranking on page one of the SERPs for a given term. Implement some or all of these SEO techniques to create images that serve both users and crawlers.
9. Simplify your site structure
Creating a simple site structure is one of the easiest ways to improve user experience. Users prefer websites that are easy to navigate because it saves them the time and frustration of hunting for information on your website.
To create a simple site structure, organize categories from broadest topic to most specific topic. The site hierarchy should show obvious connections between categories and their subcategories. Each page should link to its parent, and you should try to keep levels of organization to a minimum, like this site hierarchy which has only three: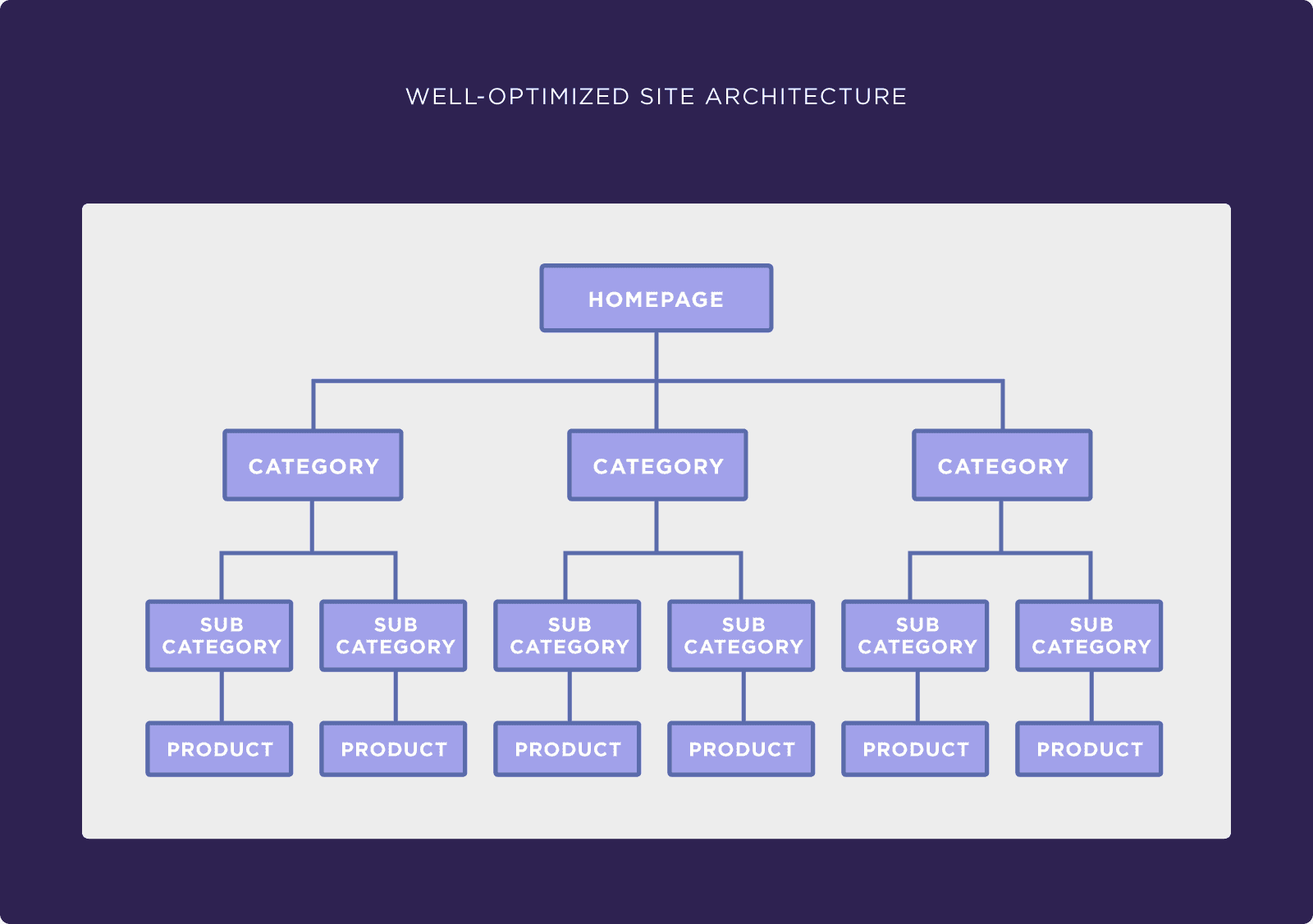 As you can see, crawlers (and users) will be able to start with the very first topic (the homepage). Then, they'll follow links carefully through each category and its corresponding web pages.
The easier your site is to navigate, the better that crawlers will be able to index the content. Sites that have strong, clear connections between all of their content become industry leaders that end up with high SEO visibility scores over time.
10. Improve your meta tags
Title tags and meta descriptions are important for increasing your website's overall visibility. They not only direct crawlers to your web page as a potentially high-value listing, but they also entice users to click on the link.
To improve your meta tags for SEO, take a look at the top-ranking posts for your keywords. Look for common phrases or formatting among the first five or so listings. Are they more descriptive than your title and description? Do they have a common phrase or word that your post is missing?
In 60 characters or less, the title tag should describe the content's focus topic by using keywords and use enticing language that conveys a benefit to the reader. The goal of the title tag is to piques users' interest and make them click on the post.
Similarly, good meta descriptions should also include keywords, however, they have a different function. The meta description is where you explain in further detail how the web page serves the user. This section should be no longer than 160 characters and should provide valuable information up-front that makes the user want to learn more.
Identifying the missing element or coming up with a more persuasive way of describing your product/brand/service will improve your CTR.
11. Use SEO visibility tools
Calculating SEO visibility scores requires several inputs, making it difficult for you to assess your performance manually.
Luckily, there are many SEO tools available to help you understand, analyze, and improve your score. Some of these include:
These tools will help you understand your website's strengths and weaknesses and give you the data you need to formulate an SEO visibility improvement strategy.
Get a complimentary SEO audit
A high SEO visibility score will increase your CTR, expose you to a larger audience, and build your industry credibility. But getting there isn't easy.
Edge out the competition by improving your existing score with these 11 best practices and pro SEO tools. It could mean the difference between a spot on the first SERP or a lost opportunity on the second, third, or fourth.
Want to see how you're doing with SEO? Get an instant SEO audit below. Or, schedule a free consultation to see how intent SEO can boost search traffic revenue by 700%.