In the world of digital marketing, some industries are more competitive than others. But even in low-competition niches, most pages don't get any Google search traffic. And while a large number of business owners create great content, many don't move beyond basic SEO best practices to expand their visibility: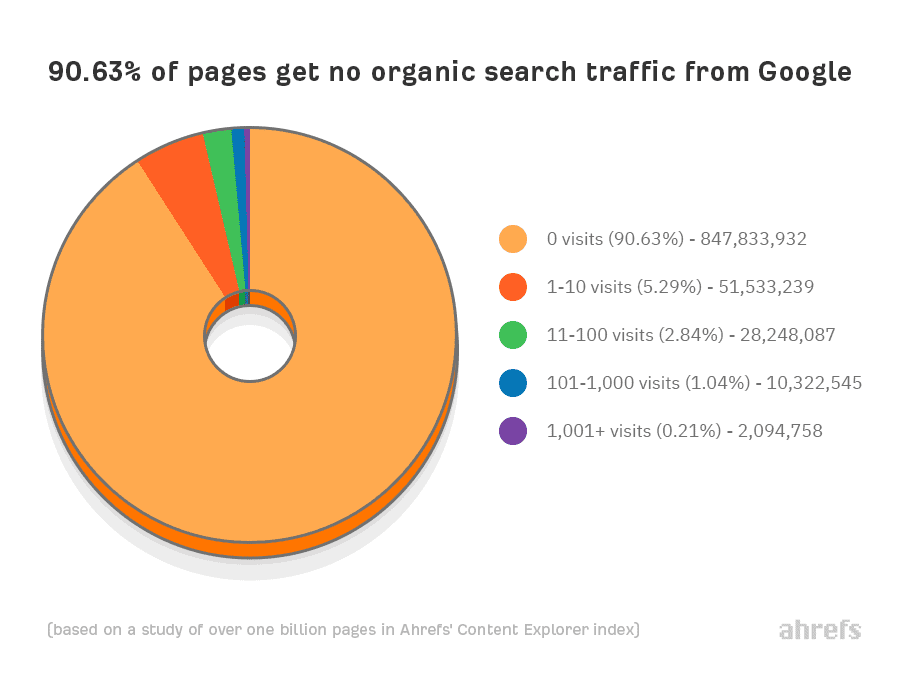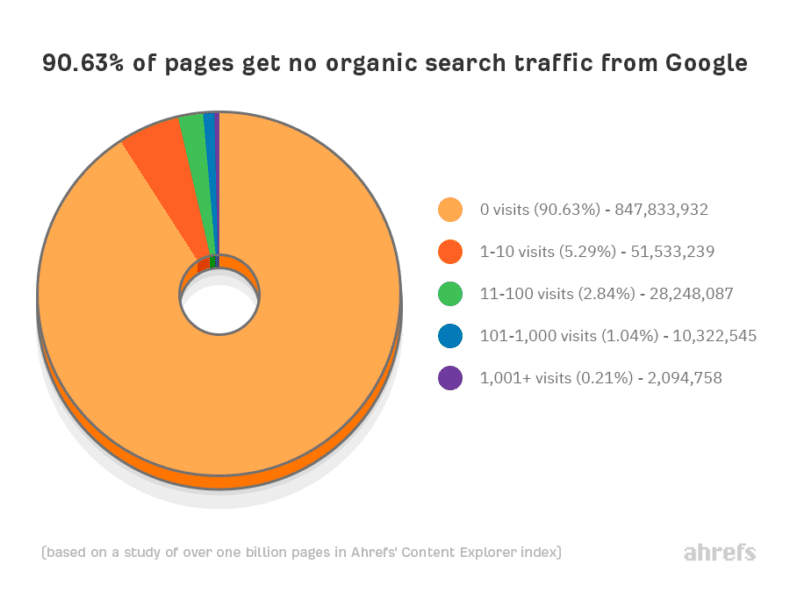 Between varying levels of competition and continual algorithm updates, you may need advanced SEO techniques to increase your market share and grow your traffic.
9 advanced SEO techniques for 2021
When it comes to improved performance on search engine results pages (SERPs), most marketers know it's important to create new pages of great content, generate backlinks, and make sure your site is fast and mobile-friendly. These tips are everywhere, and most businesses are using them to boost search rankings.
But what about the tactics that will give you an edge over your fiercest competitors? The following advanced SEO tips represent both small and large adjustments to increase your bottom line metrics and hurdle your competitors on the SERPs.
Redirect link juice
In SEO, the term "link juice" refers to the authority that passes between pages that are linked together. When a high-traffic web page links out to other sources, it transfers some of its authority to them.
SEOs used a process called "PageRank sculpting" to influence the Google PageRank algorithm through link juice. While this approach no longer has the same impact, you can still transfer link authority between pages on your website to improve your overall SEO performance: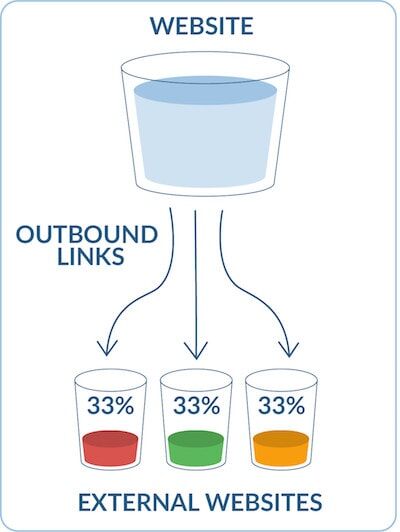 Redirecting link juice from your more successful content to other pieces can boost your rankings. To do this, you need to first identify what your most linked-to pages are. Try using a tool like Off-Page SEO (a WordPress plugin) or Monitor Backlinks to find them.
Your top-performing pages will have the most link equity. Internal linking those pages to others that need more traffic can grow your site's overall SEO metrics. Make sure that the linked pages relate to one another somehow. And make sure you use anchor text that reflects the topic of the linked page.
Use pillar pages and topic clusters
Properly configuring your site can make a world of difference for both crawlers and users. Use topic cluster content organization to improve your site's layout and make it easier for people to find relevant information and for Google to better understand your website: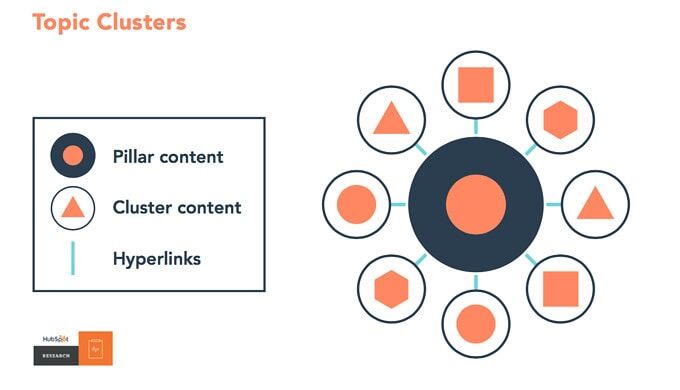 In this setup, you categorize your content into groups known as "topic clusters." Examples of topic clusters for a home decor website might include:
Kitchen interior design
Outdoor home decor
Bedroom design
Within these topic clusters are pieces of content called "cluster content." Take the outdoor home decor topic cluster example. This category would include cluster content like:
"10 Landscaping Tips for Suburban Homes"
"Garden Planning for Beginners"
"Best Places to Buy Outdoor Decorations"
At the center of the topic cluster is what's referred to as a "pillar page." This is a comprehensive resource that explains a topic in-depth. There are several types of pillar pages, with the most common being "what is," "how-to," and "guide" pages. In the case of the outdoor home decor cluster, you could make a pillar page titled "The Ultimate Outdoor Home Decor Guide."
You connect the pillar page to cluster content through internal links. With this type of organization, you ensure that users can easily find related articles, blog posts, and more.
Linking to cluster content is an easy way to keep users on your site. Imagine if, for example, you only linked to your homepage. It would disrupt the user's journey on your website, possibly causing them to leave. A strong network of internal links allows users to explore more content.
This can improve engagement metrics like bounce rate while directing the Google crawl process. This can help Google understand how your pages relate to each other and improve your perceived authority to the search engine by proving that you have expertise in a specific topical area.
Get backlinks from journalists
Backlinks remain one of the top Google ranking factors out there. And journalists are an authoritative source through which to build your brand's backlink profile, and with it, your credibility.
Many content creators use a resource called "HARO" to get backlinks from journalists. HARO, short for "Help a Reporter Out," is a platform that connects journalists and sources (like your website).
As a creator, you can sign up for a "source" account. Journalists post requests for sources in a specific industry or niche. When you find a request that matches your skillset or background, you can submit a pitch to the reporter. If they want to hear more from you, they will reach out to you through the HARO site, and if you get used as a source, you will often be credited with a backlink in their content:
Using HARO as a source of backlinks can save you time on manual outreach. Instead of searching for reporters, they search for experts like you.
Another way to get journalist backlinks is to create content for target keywords that they search for. Reporters always need data, statistics, and facts to maintain their credibility. Use this to your advantage by publishing research, anecdotes, or data from your own brand to help others.
Say, for example, that someone is writing an article about the lumber shortage in 2021. They might Google "lumber industry statistics" to paint a picture of the industry as a whole: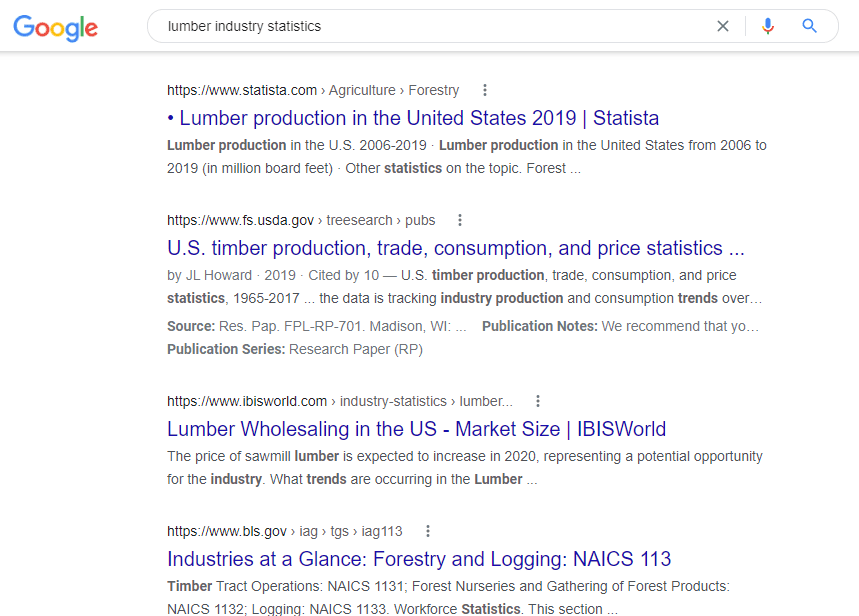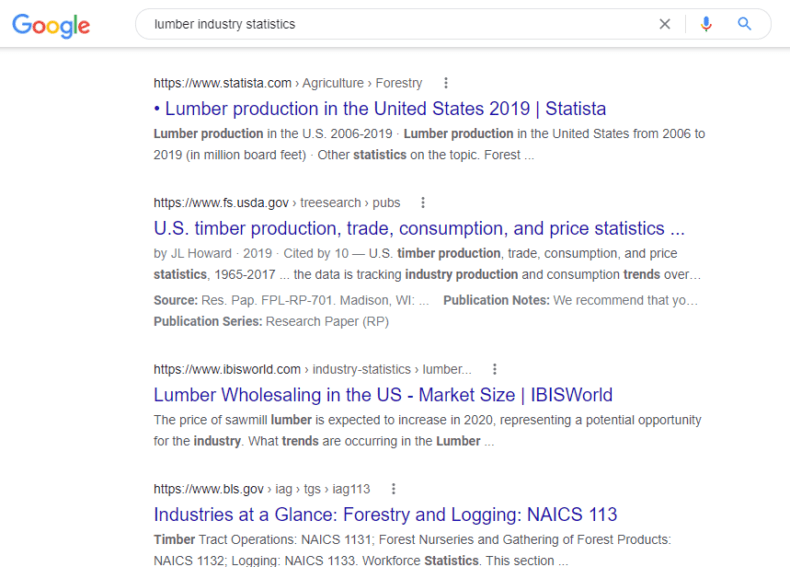 If you can find long-tail keywords concerning industry data and trends, you can earn more backlinks from the journalists who drive that search traffic.
Similarly, you can also create infographics and images relevant to the industry—the more relevant to the industry, the better. Bloggers are more likely to share images that apply to their content as well.
Creating infographics for industry statistics, specific tactics or complicated concepts can get you a link back to your site when content creators use them on their web pages.
Earning external links is all about providing value. These SEO tactics will expand your backlink profile and increase your credibility within your niche.
Think "searcher optimization," not "search engine optimization"
In the early days of SEO, most websites were optimized to satisfy the search engine. This led to many shortcuts and black hat tactics that SEO experts avoid today.
If you want to generate long-term results, you need to put user experience at the core of your strategy. Rather than focusing on Google's needs, ask yourself, "how can I help the user?"
To do this, you need to truly understand user search intent which refers to the underlying motivations behind a search term: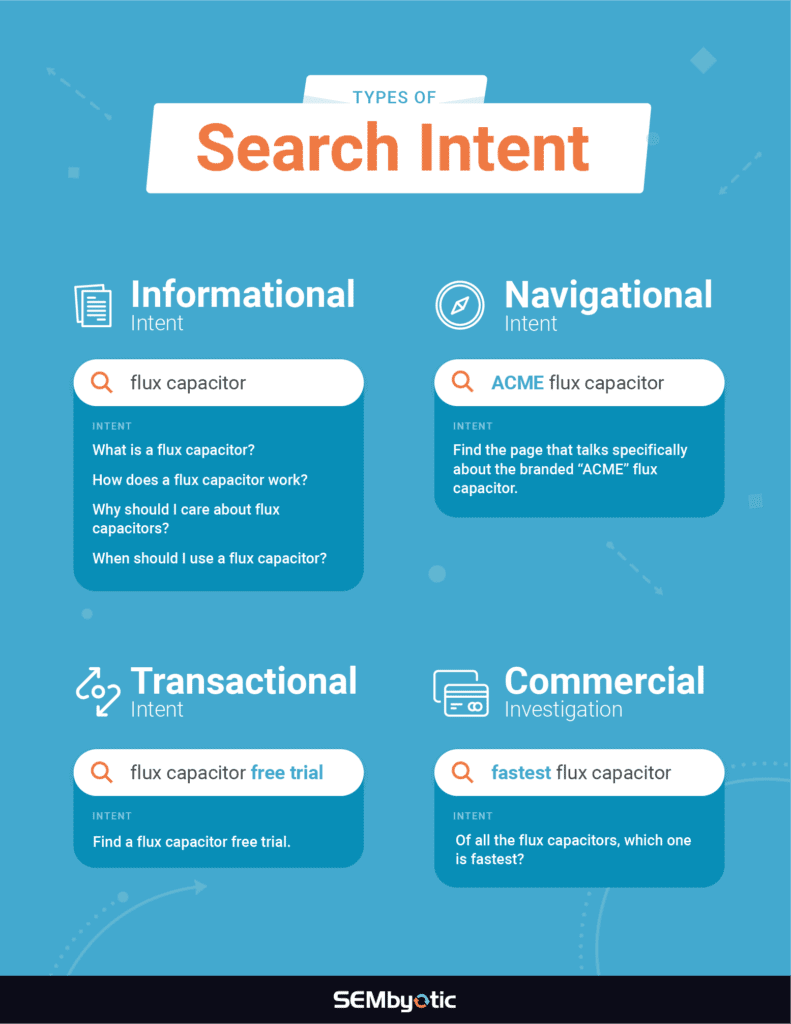 There are four main types of user search intent to consider:
In 2015, Google introduced RankBrain, an algorithm designed to understand complex search queries (even if they had never been searched before). This update greatly impacted the importance of optimization for search intent:
Not long after, in 2019, Google rolled out another update called BERT. This AI software further analyzes search terms to try and retrieve the most relevant results possible.
Satisfying search intent can trump other powerful ranking factors like backlinks and domain authority. That's because the content which doesn't fulfill the user's needs may send them back to the SERPs.
From the SERP, users will continue clicking through to content and then returning to the SERP until they find what they're looking for. Google doesn't want this. It wants users to click through the first result and get exactly what they're looking for.
So, your goal should be to end this "loop" between search results and pieces of content. Close the loop by creating comprehensive content which addresses user search intent.
Repurpose your content
Today, users consume content in many forms. When you create a piece of content in just one form, you're missing out on an opportunity to reach a wider audience. Repurpose your content to get as much visibility from it as possible.
Imagine that you've made a YouTube video interviewing educators about the impact of COVID-19 on a school. Here are a couple of ways you might repurpose that content:
Upload the audio as a podcast episode.
Transcribe the video into a polished blog post.
Pull quotes from the article and write a news release.
Use any statistics from your sources to make infographics that you can share on social media.
The goal of this process is to create even more SEO value from one piece of content. When you offer information in several formats, you increase your chances of ranking with different pieces of content.
Your video may rank in YouTube, your transcription may rank in Google, and your infographics may rank in Google image search for the same query. And the best part is you don't have to overextend yourself creating entirely new pieces of content for each format.
Look at your current catalog and identify content that you can present in multiple ways—the more media, the better. Breaking down the original format into separate but valuable parts is the easiest way to create value without developing new content.
This advanced strategy can increase your potential rankings, improve your SEO visibility, and widen your target audience, and the best part is that you don't have to build from scratch.
Take up as much SERP space as possible
Most search listings are fairly plain. They feature a title and a meta description, and often these elements are treated as an afterthought. But they shouldn't be. Your search listing is what compels people to click through from the SERP, and experts speculate that click-through rate (CTR) may even impact search rankings.
Advanced SEO requires you to optimize your SERP listing beyond writing a great title tag and meta description. To have a higher potential click-through rate, you should take up as much space as you can in the most engaging way possible. These are some of the best ways to do so:
Add schema markup to the HTML code for your web pages. It gives them the ability to generate rich snippets, which have been proven to increase organic traffic. You can add this structured data for content elements like FAQ sections, customer reviews, and event dates.
Optimize to rank in the Google Snack Pack if you have a physical store location.
Increase your chances of getting a featured snippet. You can do this by targeting semantic search terms, image SEO (alt text, captions, file names, etc.), and adding multimedia elements like videos and diagrams to your content. Moz's guide for featured snippet optimization is a great resource for learning more about this topic.
Publish customer reviews on your website. This is a precious resource for users with commercial search intent. Google loves to show reviews in SERP listings–especially for products and recipes.
Fill out your Google My Business page so that people can find your contact information, location, reviews, photos, and more: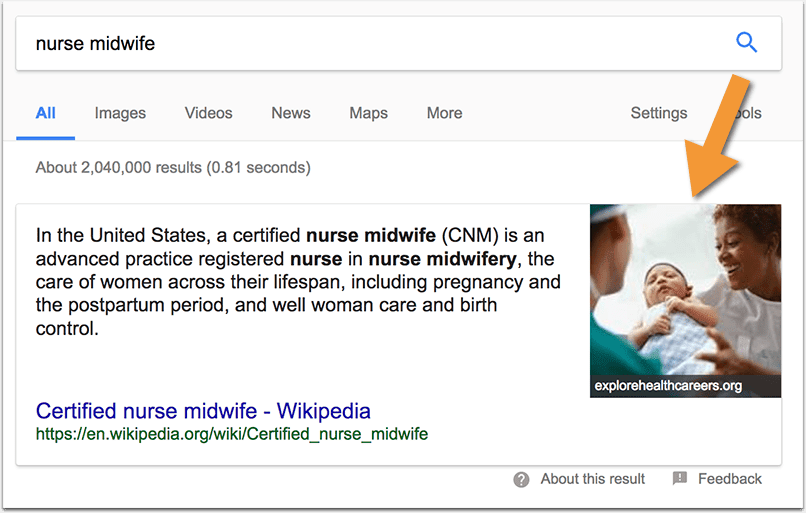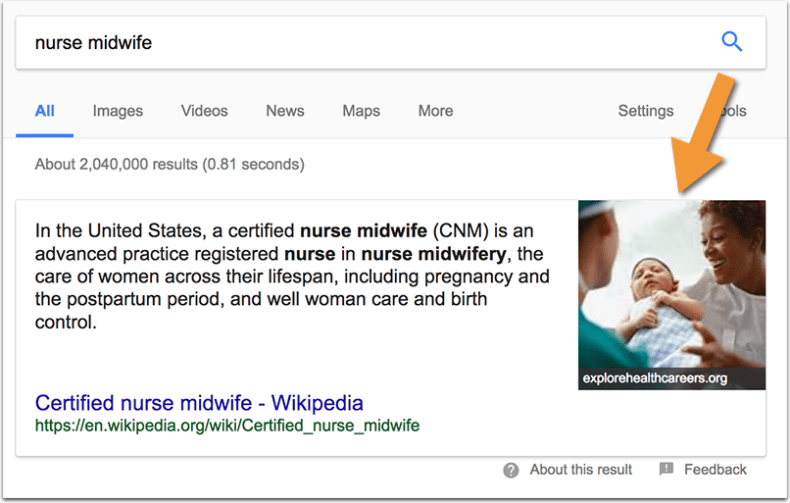 It's important to note that earning extra SERP space isn't a given with these tactics. Google chooses featured snippets, image packs, Snack Pack, and Knowledge Graph based on various factors.
These advanced SEO techniques, however, can improve your chances of earning more real estate on SERPs. Having more space on the first page of search results can lead to large traffic increases as long as the content properly answers search intent.
Invest in advanced SEO tools
Top brands know that building visibility is much easier with help. To achieve bigger milestones, invest in advanced SEO tools to automate and simplify time-consuming parts of the process. This leaves you with more time to work on other business components like product development or team building. Here are a few of the most popular:
When it comes to advanced SEO, you can find tools to automate and simplify any part of your strategy. Using these tools is imperative if you don't want to devote all your time and attention to optimization.
Create SEO-friendly URLs
Simple websites are effective websites. One way to improve the crawling and indexing process is to use an SEO-friendly URL structure. When you create a URL, make it as straightforward as possible.
For example, if you write a web page about training adult dogs, incorporate the keywords in the URL:
yourwebsite.com/blog/training-adult-dogs
This URL structure is SEO-friendly for three main reasons:
It tells crawlers exactly what information is on the page. This can lead to more accurate indexing.
It makes your XML sitemap less cluttered, meaning that you spend less time looking for pieces of content on your site.
It tells users exactly what they will find on the web page. Using a simple structure made up of relevant keywords eliminates confusion and provides a better experience. Users should anticipate the page they're clicking through to just based on the URL.
Try to use the same format across all of your web pages. It will create URLs faster and create a cohesive experience no matter where someone lands on your site.
Identify unlinked brand mentions and try to turn them into backlinks
Sometimes blogs and articles reference your name or brand without providing a link. These unlinked brand mentions offer a great link-building opportunity.
Trying to do a blind search for these mentions can be really tedious. Instead, use a tool like the Ahrefs Content Explorer to find unlinked mentions. You can search for any brand-related terms that are used across the web:


After finding link opportunities, you need to reach out to the associated webmasters. Ask them if they are willing to link to your website in the post. Most of the time, they are.
Turning unlinked mentions into backlinks can be very effective because it doesn't require you to write any new content or send cold emails. These are brands that have already heard of you, and it's obvious because they've referenced you in their content.
Get a complimentary SEO audit
Whether you're stuck in an oversaturated industry or have a startup that's struggling to rank, the result can often be low organic traffic. And that can be especially frustrating if you've dedicated time and resources to developing high-quality content. Thankfully, advanced SEO strategies can help you gain traction in a difficult niche or continue increasing your current market share for future growth.
Want to see how you're doing with SEO? Get an instant SEO audit below. Or, schedule a free consultation to see how intent SEO can boost search traffic revenue by 700%.