In recent years, a form of content organization known as the "topic cluster model" has emerged as the best way to help users find the specific information they're searching for. It involves groups of related pages that link to and from a "pillar page."
Pillar pages are what the topic cluster model is centered on. If these are the hubs of your clusters, the cluster pages are the spokes. Together, cluster pages and pillar pages from a resource hub of content to satisfy readers and Google.
What are pillar pages?
Pillar pages are long-form content hubs where users can find all related web pages about a subject on any given site. From these pieces of content, a user can get a detailed overview of a broad topic, complete with links to pages on subtopics to learn more.
After visiting a pillar page, users should have a better understanding of the topic and know where to go next for more information.
Topic clusters are centered around the content on their corresponding pillar pages. Say you run a food blog that has five pillar pages:
Cooking for Kids
Meal Prep
Dining Out
Grocery Shopping
Kitchen Gear
Each of these five pillar pages would then have hyperlinks to cluster content. For example, the "Meal Prep" page might link to blog posts like:
"10 Easy Lunches for the Office" or "2021 Meal Prep Container Buying Guide."
Hubspot has a great graphic that shows how these pillar pages (middle circle) relate to cluster topics (outer shapes):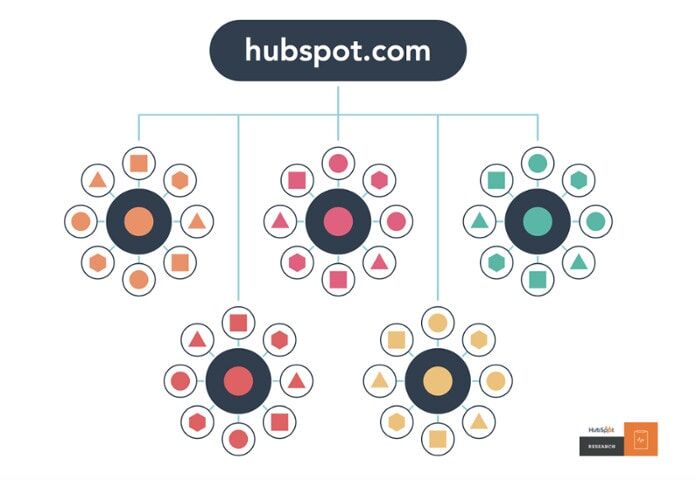 You'll notice that you can have multiple pillar pages on your website. The number of pillar pages you have may grow over time as you tap into new markets. In the example food blog above, you could eventually expand into topic clusters for things like food service/restaurant reviews, different types of recipes, and more.
Why are pillar pages important for SEO?
Pillar pages are vital for SEO for a few reasons. Here are a few of the most important:
Improves site organization
First of all, pillar pages improve your site organization, which improves the user experience. Rather than working independently, all of the pages within a cluster come together to present the user with a more comprehensive set of resources. They allow the visitor to not only learn from a comprehensive pillar page but also the other pages within the cluster if they want to go more in-depth on any particular topic.
Some brands even use pillar pages for lead generation. That's because they tend to get higher amounts of traffic than other satellite pieces of content. This makes them a good place to identify new potential clients.
Establishes credibility
Second, topic clusters show the search engine algorithm that you are committed to a certain topic. This is important for satisfying Google's E-A-T factors (expertise, authority, trustworthiness). The more related content you create about a certain subject, the more Google understands that you have a specialization in a particular area, and the more trustworthy and authoritative you appear to the search engine.
Enhances crawlability
Another benefit of pillar pages is that they make it easier for crawlers to find your content. As part of a cluster, each related piece of content receives a link from the pillar page. This guarantees that search engine crawlers find and index each page while giving users a sort of homepage where they can go to discover additional information on a subject.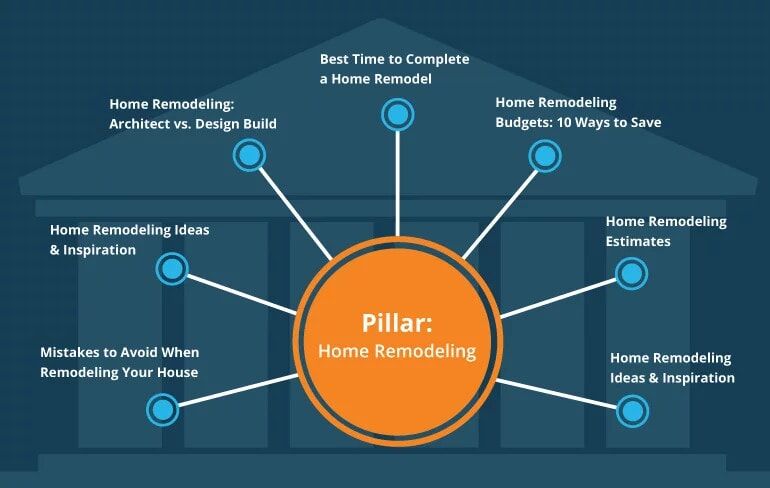 When you improve the crawling process, you increase Google's chance of seeing the value in your content. With more context and more in-depth content to analyze, search engines may rank your web pages better.
Boosts link equity
Internal links do more than just make your pages easier for Google to find. They also improve what's known as link equity.
Like inbound links, internal links can signal to Google that a page is important, just on a smaller scale. When a lot of internal links point to one page on your site, it says to Google, "Hey, this page is important." Google considers this when it is ranking your page for relevant searches.
The most common types of pillar pages
To accomplish their goal, pillar pages should be both comprehensive and interactive. While there is no set format for creating these resources, there are a few common types that experts turn to.
Keep in mind, some pillar pages are better suited to different kinds of SEO content,
like videos or infographics, and you should try to accommodate a variety of users in your target audience.
Guide pillar page
A "guide" pillar page is an in-depth discussion of a topic. This type of page aims to educate a user on the ins and outs of the main subject and to leave no subtopic unaddressed.
These pages address a topic from multiple angles, including things like:
History
Definition
Practical application(s)
Current events or state of affairs
Statistics
Examples
Common H1 tags for these pages include terms like "101," "ultimate guide," or "everything you need to know about X." Some examples include:
Everything You Need to Know About Recycling Plastic
The Ultimate Guide to Disney Theme Parks
Decorating 101: Small Spaces
Here is an example of what a pillar page might look like: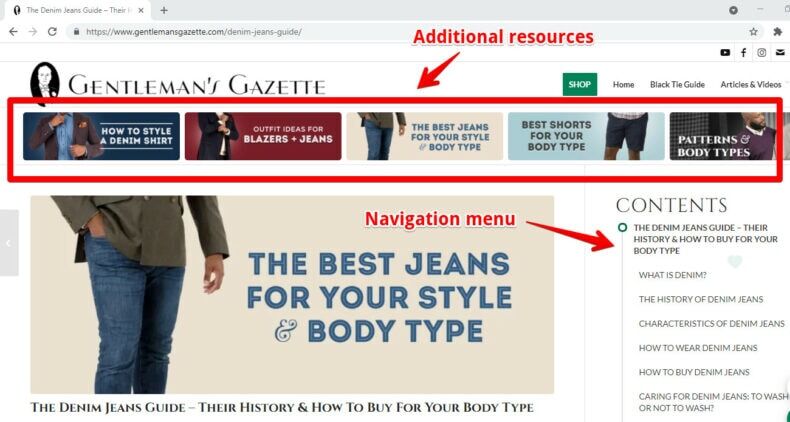 Notice the headline at the bottom, "The Denim Jeans Guide." It has a table of contents and links to related pages. After viewing a guide pillar page, the user should have a baseline understanding of the topic and a clear direction of where to go to get the information they need.
"What is" a pillar page
A "what is" pillar page aims to satisfy users' curiosity on a particular topic. Unlike the guide pillar page, this type of content focuses primarily on defining and explaining a term. Example target keywords for these pages include:
What is bitcoin
What is the renaissance
What is a speech pathologist
Here is the example pillar page "What is Bitcoin" from Investopedia: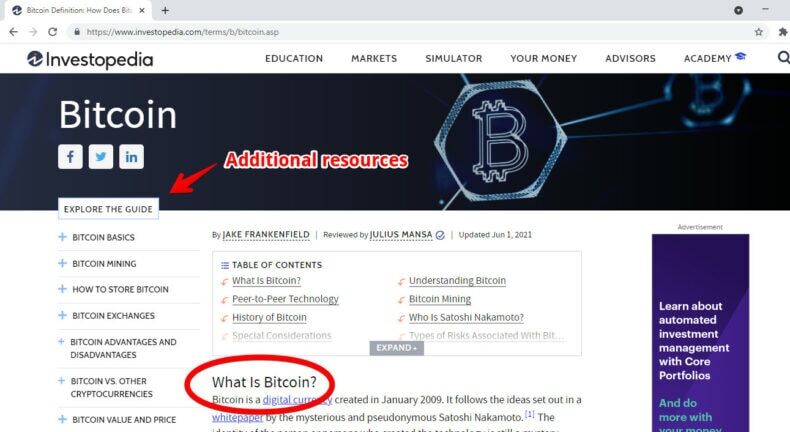 Search engines like "what is" pillar pages because they directly address a common form of user query ("what is X"), and they generally do it comprehensively. Their main goal is simply to answer a question, which is the heart of digital marketing SEO.
"How to" pillar page
The third main type of pillar page covers "how-to" search terms. It satisfies the user's desire to learn the tangible application of a topic. This is a pretty straightforward piece of content. Many content creators choose to format it as a step-by-step guide, using headers to list each part of the process.
Examples of search terms for this topic include:
How to cut start a candle business
How to build a wardrobe
How to invest in the stock market
In this "how-to cook" guide from Taste of Home, users can find topic clusters by filtering from a drop-down menu: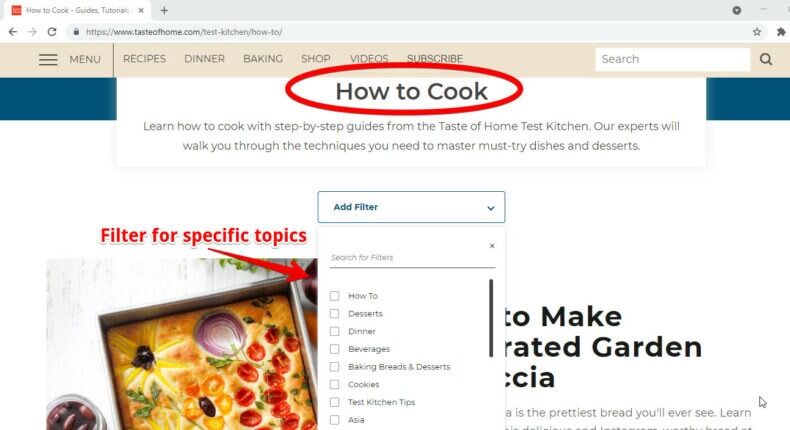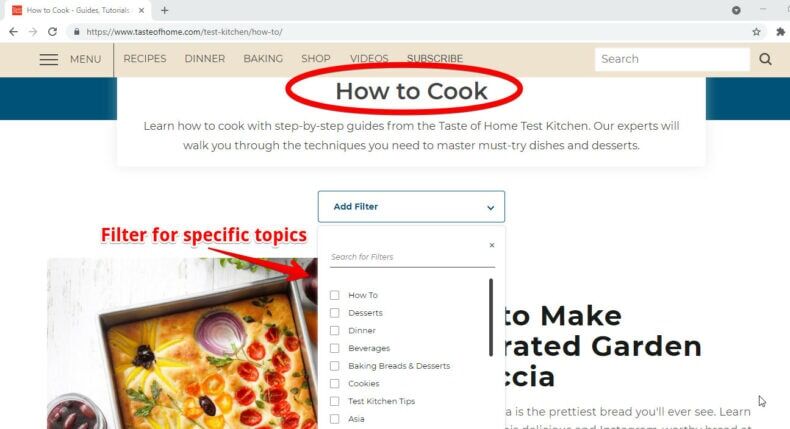 The best format for how-to pillar pages depends on the type of content. It makes sense that the how-to cook page is a compilation of recipes rather than a long-form written piece. Pictures or videos are necessary if you're explaining a physical process (EX. changing a tire). If you're explaining an intangible process (EX. how to process emotions), you'll probably have more written content mixed with some diagrams.
How to create a pillar page: Best practices
When combined with search engine optimization, pillar pages and cluster pages form a powerful inbound marketing strategy. SEO will help them draw users in from search engine results pages, and effective internal linking will get users to consume your other pages. Here's what you should do to make sure they're most effective.
Do keyword research
No content marketing strategy is complete with keyword research. It is the process of finding relevant user search queries that relate to your website's main topic. If the goal of SEO is to generate more organic traffic to your site, you have to cater to the needs of your audience.
Short-tail keywords have 1-3 words total. Although they have a lower conversion rate, short-tail queries receive a significantly higher search volume. For pillar content, it is better to target these terms. That's because pillar pages have a lot of content on a single subject that links out to more specific topics that center around long-tail keywords.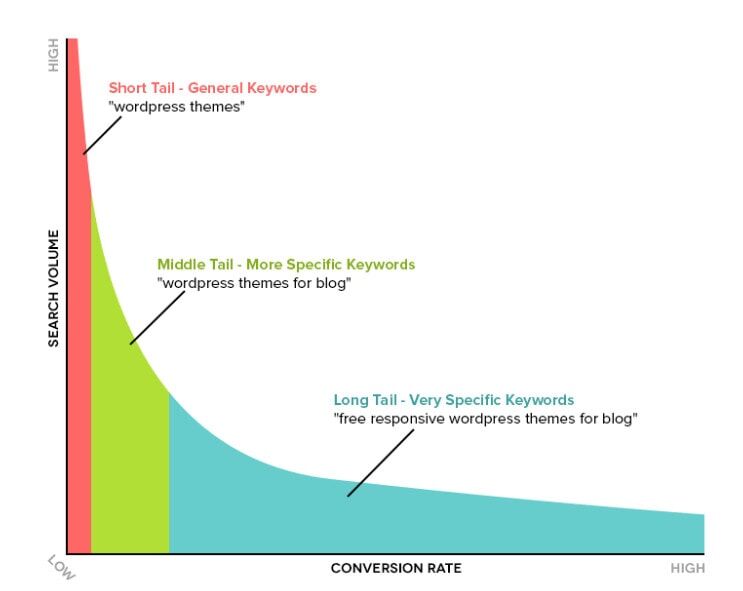 Before you start your keyword research, you should brainstorm a list of words that closely relate to your brand. If you sell footwear, for example, you will list things like: "sneakers," "tennis shoes," "shoes," "high heels," etc. These are general terms that many searchers type into Google.
Then, using a keyword planning tool, determine which broad topics have the highest potential search volume. There are many high-quality keyword research planning tools that you can use. Remember, pillar page content creation is comprehensive and is focused on a single core topic.
Identify the pillar of your topic clusters
Creating pillar pages requires you to identify the topic clusters you already have. Look at the blog content on your website and try to answer these questions:
What have you already written about?
How do those pieces of content relate to one another? What is the common thread?
Is there a general keyword or topic that these pages fall under?
Using the shoe example from before, let's consider that you have these blog posts on your website:
Finding the Classic Kitten Heel
Best Wedges for Spring 2021
How to Accessorize Your Heels for Work
5 Tips for Making Heels More Comfortable
12 Stiletto Outfits that Make a Statement
Pairing Pumps with Any Style
This topic cluster should have a pillar page for "high heels" because each web page targets specific keywords that have to do with heels.
Categorize all of your web pages in this way to determine which pillar content you need to create. If you can manually identify the common thread of a topic cluster, imagine how fast Google search crawlers will do the same. This improves your content's relevancy and can lead to better SEO visibility over time.
Identify the search intent of your pillar topic
Before you start building a pillar page, consider the user search intent for its target keyword. There are four main types of user intent to look out for: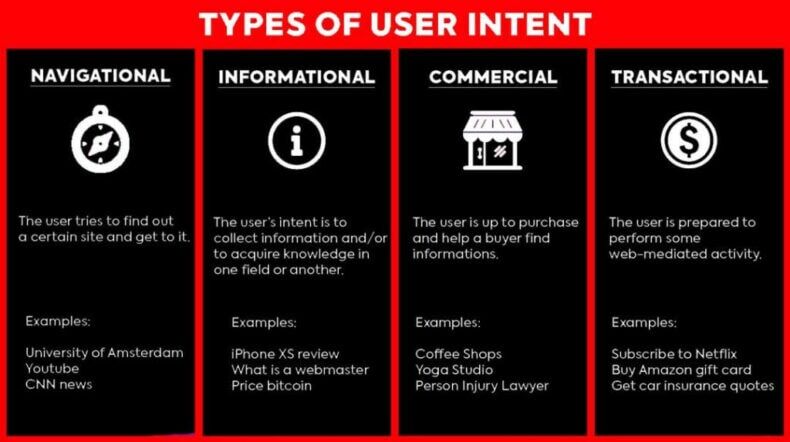 An easy way to determine intent is to look at the current SERP listings. Which are the top-ranking posts for that keyword? You'll want to click on them and take notes of various components like:
Style (formal, casual, bold, neutrals, etc.)
Format (listicle, blog post, guide, step-by-step how-to, etc.)
Multimedia content (videos, infographics, images, animations, etc.)
Writing angle (sales pitch, informative, persuasive, etc.)
You can use the highest-ranked pages as templates for planning out your own content. Avoid content scraping, which can result in banishment from the search engine and/or fines.
Your job is to create an original pillar page that serves the user. The information is only there to satisfy search intent.
Remember that you should also include a call to action (CTA) on your pillar page while addressing user needs. Though pillar pages are unlikely to be product pages, a call-to-action can do much more than sell. It can get visitors to click through to another pillar page, a related piece of content, or even a landing page where they can claim a downloadable resource in exchange for a name and email address.
Create a comprehensive resource
Pillar pages have to be comprehensive. A pillar page isn't designed to cover every single detail of a topic. It is, however, meant to include high-quality content that explains a broader subject in detail while providing links to more niche information. Don't try to answer every "what if." Instead, answer the "who, what, where, when, why, how" of the subject.
Pillar pages are usually long. According to research, the optimal page length is somewhere between 2,000 and 5,000 words. However, many pillar pages are much longer. For example, this one from Instapage is 17,000+ words long.
Where your page falls within this range depends on the topic's complexity. A subject like bitcoin, which many people don't have a basic understanding of, might fall closer to 5,000 words. However, a pillar page for checking accounts might be somewhere around the 2K to 3K mark.
Research has shown that top-ranking posts have an average page length of 2,450 words: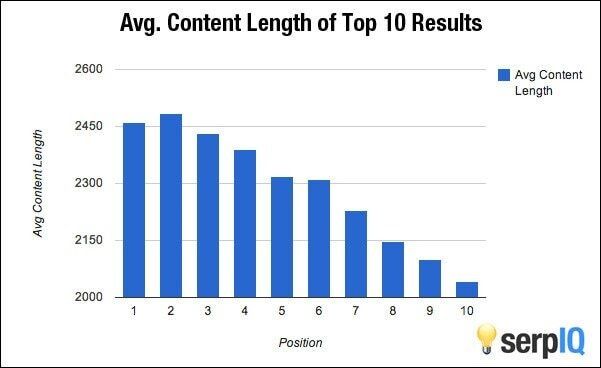 Most content marketers follow the rule that longer posts give the search engine more information to analyze. This leads to improved SEO metric performance, as the page shows up more accurately in search results.
Make your content easier to read by:
Using headers to divide sections
Adding jump links for users to skip ahead
Breaking content up into chapters
Having a navigation menu (top or sidebar)
Writing shorter sentences
Making bulleted lists
Switching up the format (bold, italics, capital letters, etc.)
These techniques are beneficial if your pillar page is too long. Say your page is optimized for commercial search intent. You could include a reference to some case studies on your website.
The key is not to explain the studies in detail but to mention the impact and reference the details. You do this by adding links that the user can follow.
Link your pillar page
How pillar pages work is through a network of links. If you don't link to and from your pillar page, the topic cluster model won't work. Crawlers follow links to find new pieces of content to index. Without links, each web page stands independently, and users won't be able to access it without the URL.
Users should be able to access all pillar pages from the main website landing page. You can do this with a navigation menu, broad product categories, etc., to make it more visually appealing.
From there, users can follow internal links that take them to cluster content. This is a simple site structure. It ensures that people can find web pages and also make their way back if necessary.
Linking out from your pillar page
Internal links are essential components of a pillar page. They connect all the web pages in a topic cluster together. From the pillar page, users can find more in-depth content.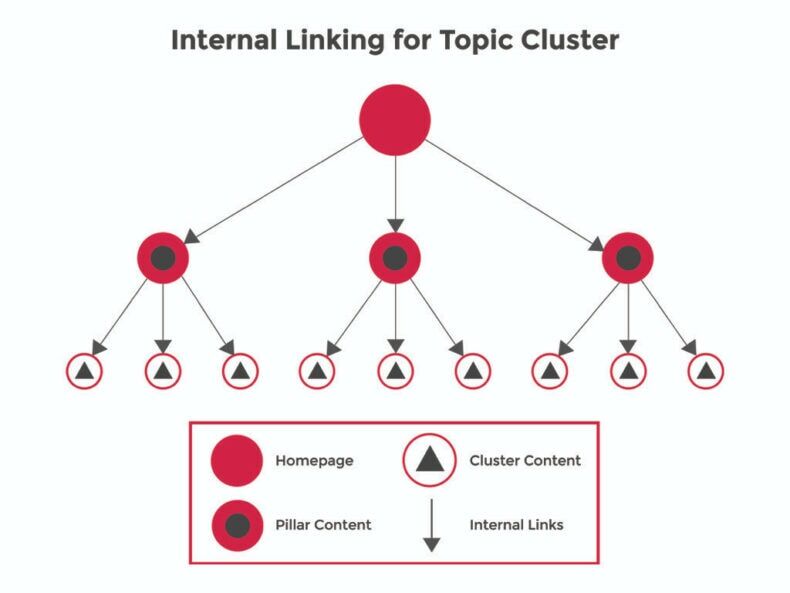 When you link internally, choose anchor text that accurately describes the content. You don't need to keyword stuff this text. Simply choose a phrase that matches the page's main topic.
Many marketers put internal links in their new pages but forget to provide links from past content to fresh content. As you add new cluster content, you want to make sure that you link to it through older posts. This increases the potential rankings of new web pages and strengthens the topic cluster as a whole.
Linking back to your pillar page
From each page in your topic cluster, you should also link back to your pillar page. This is helpful for two reasons. First, it makes it easy for the user to find the main source of content. From there, they can find other topics to explore.
Second, it strengthens the topic cluster as a whole. With clear connections in both directions, crawlers will have no doubt about how pages relate to one another, and link equity will be spread around the entire cluster.
Generating backlinks to your pillar page
No SEO strategy is complete without a backlink strategy. Earning external links shows Google that your pillar page is comprehensive and high-quality.
Do this by:
Guest blogging for other brands
Having an active social media presence
Posting on industry forums
Publishing case studies
Creating shareable infographics
Getting a spot in a link roundup
Targeting other sites' broken links
These and other strategies help you build your backlink profile. Over time, outside referrals help your pillar page gain traction. While they don't guarantee you a top spot, the highest-ranking web pages have 3.8 times more backlinks than competing pages. Especially for the short-tail keywords that pillar pages target, this impact could help you get further ahead of the competition.
Pillar page examples
Pillar pages come in many different forms. How you choose to present your content is up to you. Just remember that users should have a clear path to cluster content from the main page. Here are some pillar page examples to consider when creating your own:
1. Britannica ("WWII")

This is one of the top-ranking posts for "WWII." From the side navigation menu, users can locate specific sections of the page. There are internal links to countless other related Britannica pages throughout the content. It also includes a link that says "More Articles on This Topic" and has links to interactive media regarding WWII.
2. CDC ("COVID-19 vaccines")
This pillar page for "COVID-19 vaccines" provides a comprehensive informational approach. It gives users information on getting a vaccine, shows vaccine data, and teaches people about the vaccine itself. Users can also find links to other helpful resources, making it a hub for all things related to COVID-19.
3. The Curiously Creative ("candle making")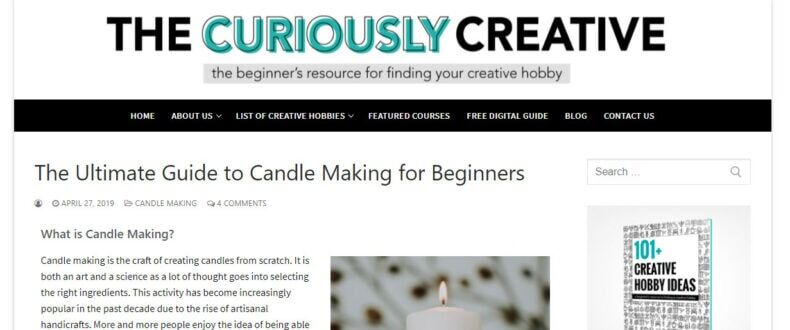 In this candle making pillar page, the author covers:
History of candle making
Definition of candle making
Types of candles
How to make candles
Choosing wax and wicks
After reading the page, the user knows all about candle making and has many links that they can click on to learn more.
4. Aperam ("stainless steel")
Aperam is a supplier of steel products and alloys. They have a "what is" pillar page for stainless steel. It talks about the composition, properties, categorization, and creation of stainless steel. You'll also notice that it includes links to other topics like alloys, electrical products, and steel. Overall, this page satisfies user intent for both potential customers and those simply trying to learn.
5. Copypress ("digital marketing guide")

This pillar page is a text-heavy guide that defines and explains important concepts in digital marketing. At the bottom of the guide, users can find cluster content pieces to explore further:
Get a complimentary SEO audit
An in-depth pillar page explores a topic from many angles without going too far into any single subtopic. Internal linking ensures that other pages in the topic cluster receive traffic, that crawlers can find them, that Google knows how they are related to each other, and that each cluster page and pillar page get link equity from each other. This type of content organization improves your credibility on a given topic and makes it much easier for the search engine to analyze and recognize the content's value.
Want to see how you're doing with SEO? Get an instant SEO audit below or schedule a free consultation to see how intent SEO can boost search traffic revenue by 700%.