Between 2019 and 2020, online sales increased by 27.6% worldwide, and that growth isn't expected to slow down. For business owners who are under constant pressure to stand out among the crowd, the good news is that search engine optimization (SEO) can help.
SEO connects brands with potential customers by helping them rank higher in search engine results pages (SERPs). The higher your rankings, the more likely you are to draw traffic to your website.
There are many reasons why you need SEO, including the fact that it is cost-effective and measurable, has long-term impacts, and opens your business to the right audience.
Why SEO is important for businesses in 2021
In a 2020 survey of hundreds of marketers, 86% said that reaching their marketing goals would become more difficult in the coming years. Hiring an SEO expert is a very effective way to simplify and improve your content marketing strategy.
And if you learn and implement these techniques yourself, you could achieve increased brand awareness for a fraction of the price. In 2021, the importance of SEO cannot be understated.
SEO is more sustainable
What's great about SEO is that it is accessible to anyone with a website. Although hiring an SEO company can help you get ahead more quickly and focus on other areas of your business, it is not necessary if you have a small marketing budget.
PPC ads run for a finite amount of time. You have to renew them over and over again in order to see a continuous return. On the other hand, good SEO strategies only require an initial investment that helps your business grow steadily but demands less energy and resources over time. This is especially beneficial to local businesses who have in-store operations to manage outside of establishing a presence online.
SEO is more budget-friendly
Compared to other digital marketing strategies, SEO services typically cost less. When you purchase ads on search engines, you can see immediate boosts of traffic which can increase your overall sales volume. But once the ad campaigns end, that influx of visitors ends, too. Your money only goes so far.
In 2020, the average cost per click was $2.32 across all industries and niches: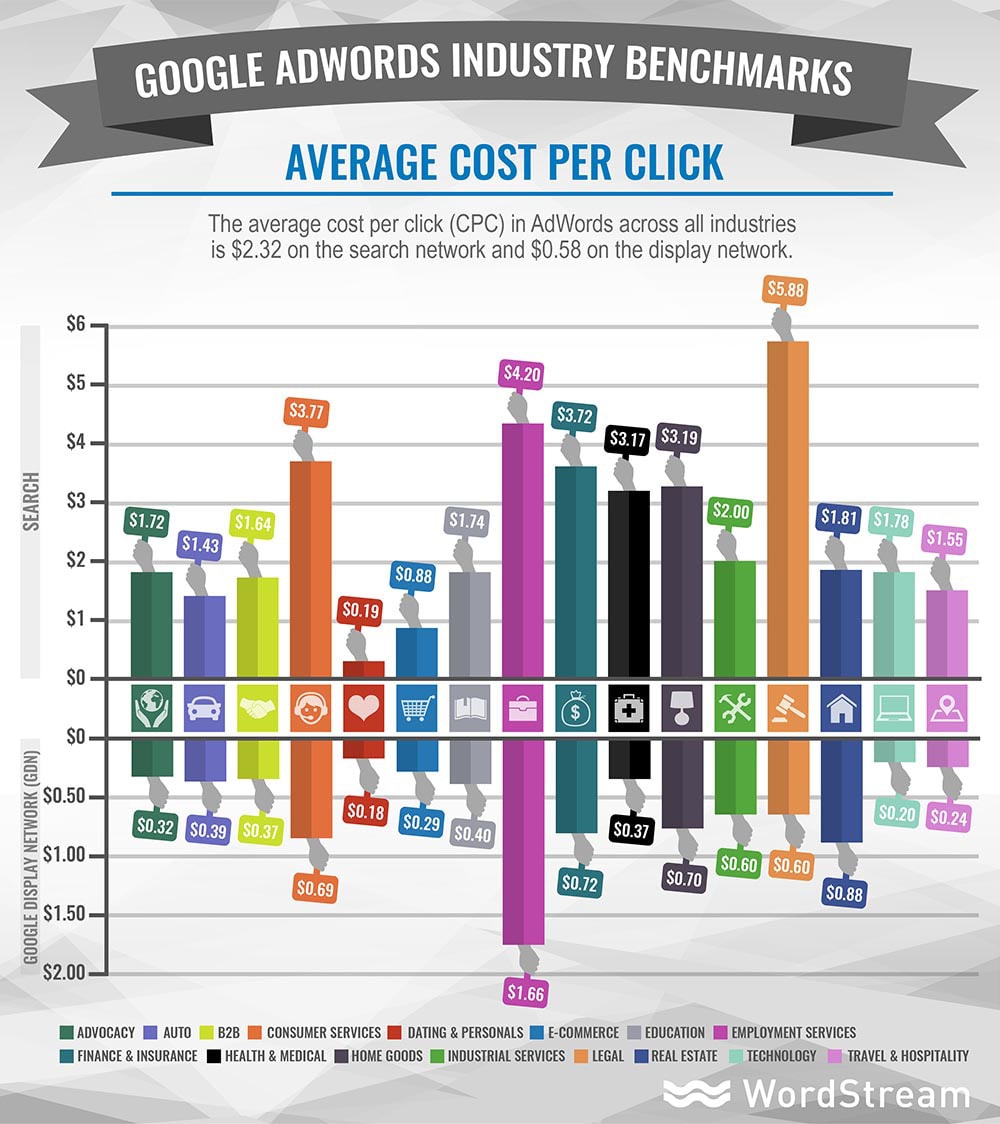 SEO pricing is somewhat more difficult to pinpoint because projects vary widely across niches and depend on the expertise of the marketer(s) you hire. A 2018 Ahrefs study found that the majority of SEO projects cost between $501-$1000.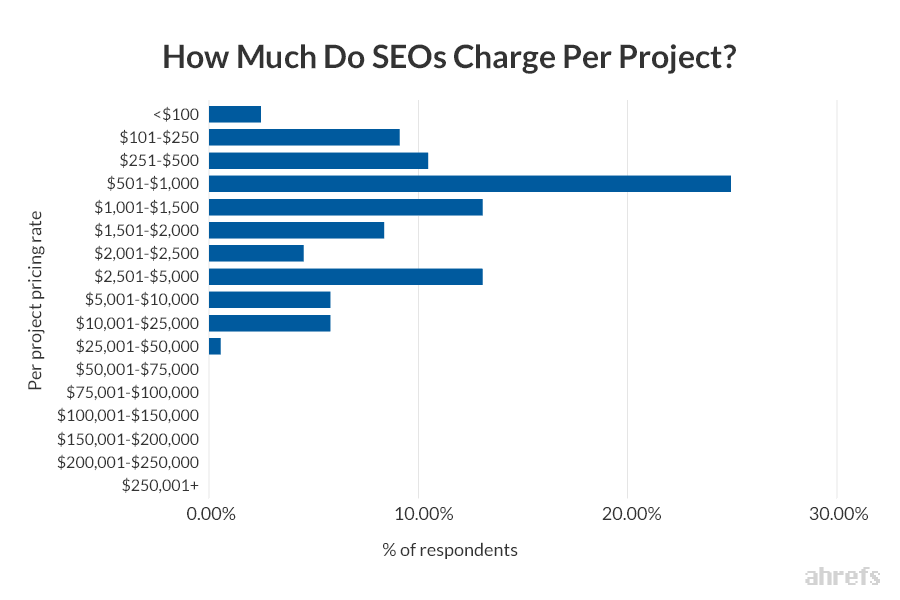 Cost is a major reason why you need SEO for your business. Many freelancers, SEO consultants, and agencies have flexible pricing models that cater to all types of clients. This makes it easier to budget for SEO marketing services than it is for CPC which can be hard to predict.
Plus, once you have initially optimized your website and content, you usually only need to monitor and revise periodically. The resources and energy you spend at the beginning of SEO are greater than the long-term costs. While SEO may seem more expensive upfront, these costs are short-lived while the website traffic they bring in has long-term potential.
SEO results can compound over time
Browse through the SERPs for some of the most competitive industries like business and legal services and you'll notice right away what sets top-ranking pages apart. As you peruse their websites, you'll see that many of these brands have well-developed content.
Sometimes this comes in the form of helpful product descriptions and easy-to-navigate stores, and sometimes it shows up as well-written and insightful information on a topic. SEO helps you design a website that truly serves the user, building credibility that only furthers your market share in your industry over time.
Look at this top-ranking result for the search term "greek mythology:"

The source is history.com. It's no secret that the History Channel is one of the leading sources for educational content on important historical events and facts.
Now, notice that the content was published in 2009. A strong SEO strategy can help you dominate SERPs for years (in this case, more than a decade) as long as your content remains relevant.
Unlike a short-term PPC campaign for "greek mythology," the quality of history.com's content on this subject helped the web page remain a top-ranking result years after its initial publication. The longer a page ranks well, the more likely it is to gain new backlinks. And the more link-building you do, the more authoritative you will become in your industry online.
Organic search is often the primary source of traffic
For many marketers, organic traffic makes up the bulk of their total web traffic (above paid search and other popular approaches like influencer marketing):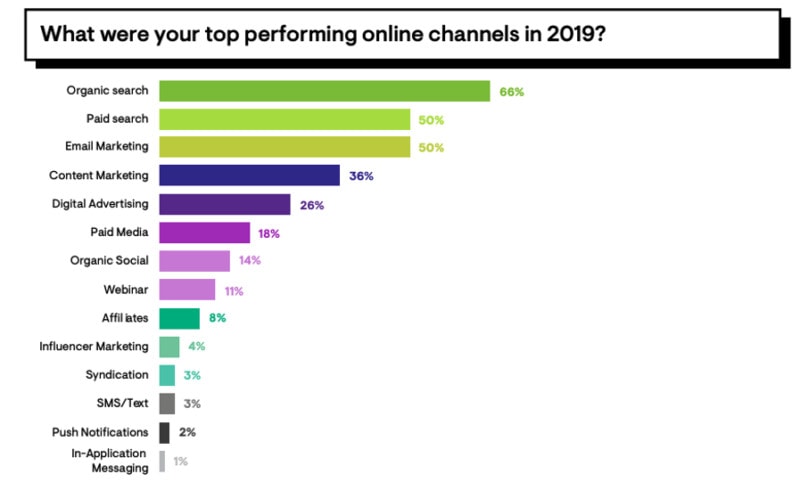 The mainstream perception of effective marketing is that you need social media influencers with large audiences to build a strong brand online. While this approach might work well for some brands, the majority of businesses will find much more success on search engines.
Google fields billions of searches per day
There are more than 3.5 billion searches on Google each day. These searches cover a wide range of topics and industries, and it's possible that your website could be an organic search result for thousands (sometimes millions) of user queries in any given week.
Access to audiences on this scale is nearly impossible in-person and difficult to achieve via social media and word-of-mouth marketing alone. This is why you need SEO to grow your business.
The concept of having hundreds or thousands of visitors each week is unheard of for most businesses. SEO, however, makes this possible. For ecommerce stores who have the ability to service this many customers, SEO is essential.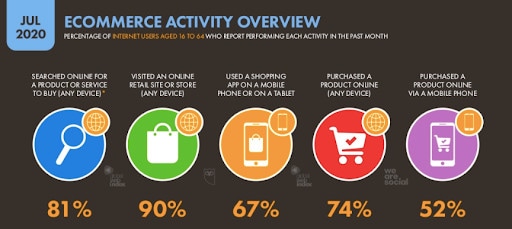 With advancements in voice search technology and increasingly sophisticated search algorithms that can understand semantic search terms, the possibilities for SEO are nearly endless.
Improving SEO will improve the user experience
At their core, SEO techniques are designed to enhance the user experience by providing valuable and accessible content. Search engines want to display the very best of the information stored in its index for each topic.
Your SEO efforts will directly benefit your business because they will make your website more user-friendly and your content more useful. There are many SEO practices that ultimately improve user experience, including:
Alt text on images (accessibility for visually-impaired users)
Optimization for mobile devices
Page speed improvements
Organization with headers
Unique content
Comprehensive meta descriptions
The goal is to help users find what they're looking for with the very first search they make. At the end of the day, search engines want to satisfy their customers (users) so that they will keep coming back. In the process of catering to search algorithms, you ultimately improve your own customers' experience with your brand online.
Many consumers start the buying process with a search engine
There are three main stages in the buying process:
Awareness: Identifying a problem that needs solving.
Consideration: Researching and learning about possible solutions.
Decision: Choosing a final solution to the problem
Many consumers turn to Google, Bing, and Yahoo during the first awareness stage because search engine algorithms are focused on analyzing user problems and finding the best solutions. In fact, 62% of people begin the buying process on a search engine: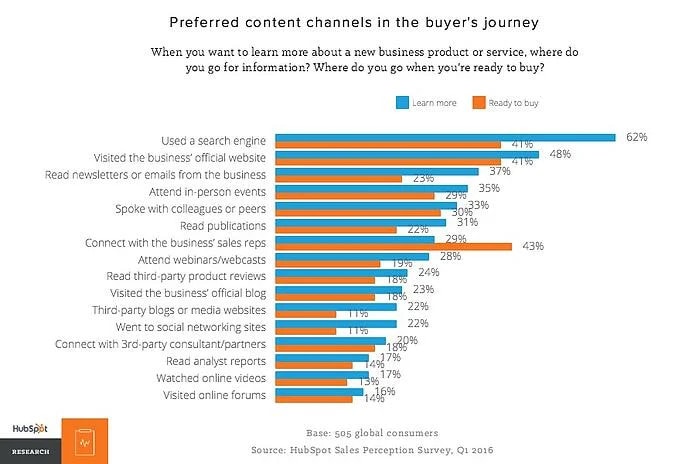 If you know your customers' pain points well and do the proper keyword research on those topics, you can easily connect with the right audience.
When you satisfy user intent by providing the very information that users need to solve their problems, your search engine rankings can improve. This can position your website as a leader in your niche and ultimately increase your sales and outreach.
SEO is easy to measure
The problem with paid ad campaigns is that it can be hard to track their impact. Sometimes it's hard to identify important correlations between your sales and your online marketing tactics. This is not the case with SEO, however.
Simplify your approach by improving only your website and begin to assess whether or not your strategy is working. There are many SEO metrics that you can use to track progress:
Bounce rate
Dwell time
Search visibility
Pages per visit
Organic traffic (by location, landing page, device, etc.)
Page speed
Click-through rate (CTR)
This list only represents a tiny portion of the ways you can determine the effectiveness of your on and off-page SEO practices. Being able to see your progress (or lack thereof) will help you hone your strategy and only focus on the areas of optimization that produce the best results for your brand.
SEO can help attract a highly targeted audience
By nature, the search engine will recommend your website to people who have an interest in the content, goods, and services that you offer. It is a direct link between potential customers and the businesses that have what they want.
That's why you need SEO – to become connected with the people who already find value in your content. If they find value in the topics related to your business, users are more likely to be interested in learning more about your product.
This is especially true for small business owners who rely on their performance in local listings to earn in-store traffic from searchers in their area. Local SEO tactics can help you find an optimal target audience. Some of these include:
Building NAP (name, address, phone number) citations
Optimizing your homepage for focus keyword
Having a contact page
Targeting local search terms
Filling out a Bing Places listing
All you have to do is provide excellent content and make sure that people can find it. Overall, an effective SEO strategy will allow you to focus more on your products and/or service offerings and less on finding a market for them.
Most search engine users do not go past page one
When it comes down to it, you have to rank on the first page for your search terms if you want to increase your SEO visibility. In 2010 it was estimated that 3 in 4 users never even visit the second page of search results. This means that in order for a business to actually increase its online presence and grow its customer base, it needs to implement an SEO strategy.
In a 2020 analysis of more than 80 million search results, Sistrix found that the top listing on Google's first page of search results had a 26% higher CTR than the bottom listing.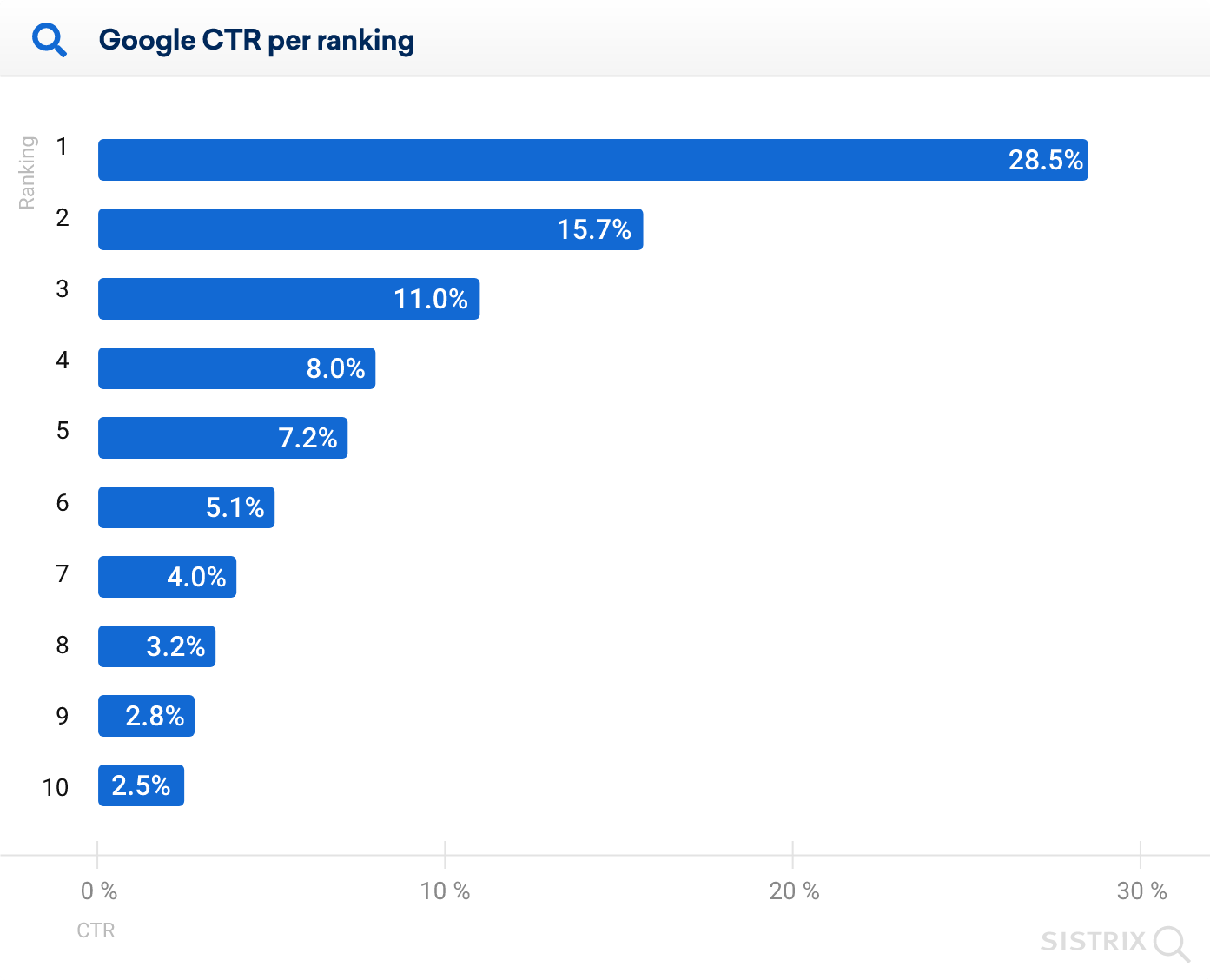 SEO works to take you from the depths of the results to the first page, but it requires thorough implementation and dedication to creating high-quality content. Without an optimized business website, you will have to work harder to find customers online since they won't be coming straight to you from search results.
Get a complimentary SEO audit
As a business owner, you probably experience a mixture of excitement and intimidation when considering your brand's position in the industry. Digital marketing can be scary given the amount of competition, but having a user-friendly website with killer content can get you further than most paid ad campaigns.
SEO gives you the tools to establish credibility, become more accessible, and earn web traffic that can help you make more sales and reach a wider audience.
Want to see how you're doing with SEO? Get an instant SEO audit below. Or, schedule a free consultation to see how intent SEO can boost search traffic revenue by 700%.