In 2019, 83% of US shoppers conducted an online search before visiting a local business. Without a website that's visible in search engines, you can't capitalize on this traffic in service areas where online local listings determine where customers shop in-person.
Because Google search engine results pages (SERPs) have become such key factors in the purchasing process, more businesses are adopting local SEO (search engine optimization) tactics to improve their online presence and grow their customer base.
What is local SEO?
Local SEO is a digital marketing strategy that allows you to grow your customer base by reaching more potential customers on SERPs. This strategy includes SEO techniques like mobile-friendly web design, NAP citations, schema markup, among others, to boost a brand's ranking (or position) on SERPs.
Businesses that rank higher may see increased traffic at their physical locations. According to Google research, 59% of shoppers use Google to view a purchase before they make it in-store or online. That's why every business that relies on in-store purchases should be engaging in local SEO.
What is the Google Snack Pack?
Here's how local searches work in Google: When users conduct a local search, Google will display the three most relevant local business results in a box referred to as the "Google Snack Pack," "Google 3 Pack," or "Local 3 Pack." This box directs users' attention to possible business options and then lists the regular organic search results below.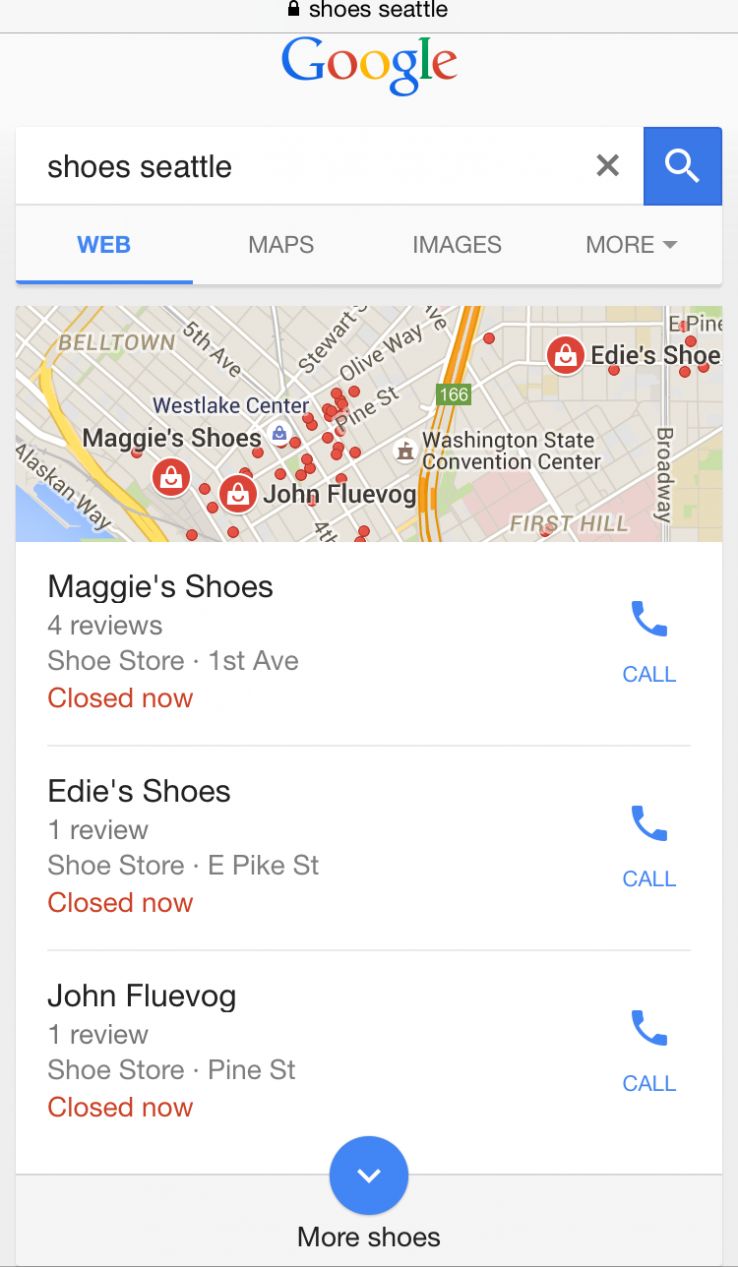 Here's another example:
Ranking in the Snack Pack is important because it boosts your business' visibility by putting it before any of the standard search results. The top listing on a SERP earns more than 30% of total clicks. That's why it's important to rank in the snack pack–you want to be as close to the top as possible.
Business owners need an outstanding online presence to rank in this box. You can stand out by having full contact information, reviews, menus or product offerings, and industry-related keywords and content on your website (to name a few).
How exactly do you use these strategies to boost your SEO? In no particular order, here are the top local SEO tips you can use to stand out in Google (and other search engines, too).
Create a Google My Business page
In 2014, Google created the "Google My Business" (GMB) page, which is a business profile that's packed with valuable information for users. When local customers search for a product or service, they're shown relevant GMB listings in the area on the SERPs.
Google My Business listings have steadily become the most important local SEO ranking factor of all, accounting for more than 30% of the overall score.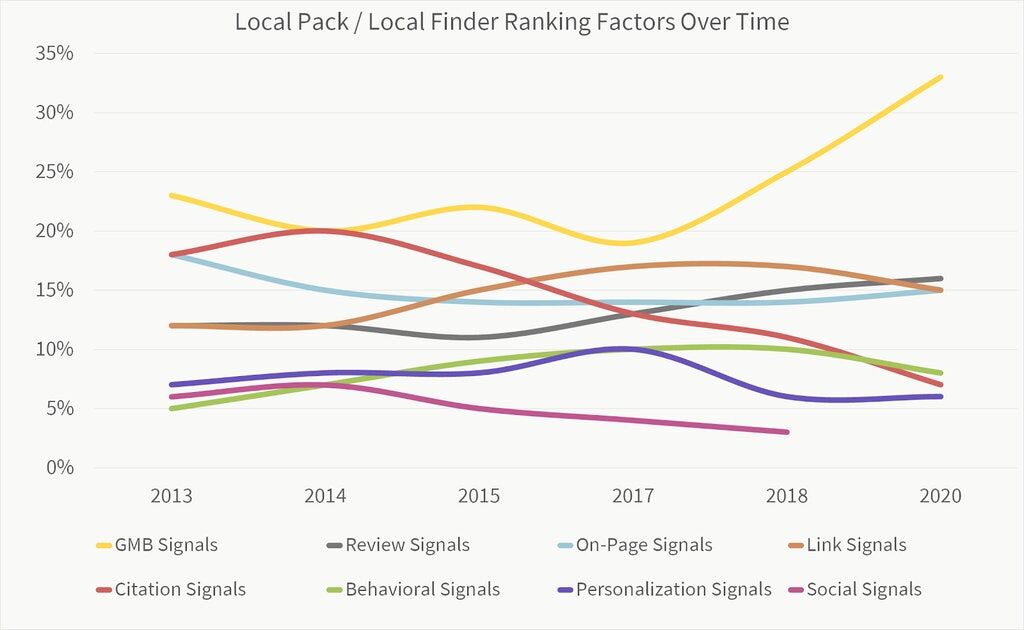 Before creating a listing, search Google and see if one already exists for your business. If so, just click the link that reads "Own this business?" and you will be able to finish the listing. If you don't already have a listing, you can create one here by selecting "Add your business to Google" and following the steps.
Sign up for Bing Places
Bing Places is the Bing equivalent of a GMB page, so the process for setting it up is similar. Working in part with Google, Bing makes this process easy.

You may already be listed, so you should check first by making a Bing search for your business. If you already see yourself listed, you claim the listing and then fill it out in its entirety.
If you're not on Bing Places yet, simply select the "New User" button and the website will take you step-by-step in filling out the necessary information.
Don't forget to provide as many details as possible. Although Bing has a much smaller market share than Google, this is an easy way to edge out competitors who might not have thought to optimize for Bing.
Get listed on Apple Maps
Roughly a billion people use iPhones today and the default direction application for those devices is Apple Maps. Although Google Maps has the largest market share, there are more than 23 million Apple Maps users per month. That's too large of a potential audience to ignore, especially given that Apple continues to make updates to the app.
You'll need to sign into the Maps Connect platform and then add a new business page to get set up. Make sure to fill the page out entirely and provide as much information as you can so customers can find you.
Build NAP citations
Every business needs to provide its name, address, and phone number (NAP) information online so customers can reach them. When this business information is referenced on external web pages, social media accounts, blogs, and more, it's called a "NAP citation."
Citations are a key ingredient to successful local SEO because they alert Google to your business' credibility within your industry. The more citations you have, and especially the more you have on industry-leading directories, the more it reinforces your value to Google. The way Google sees it – if more people are talking about you, you must be important.
Building more citations will ultimately get you noticed across search engine results, which will improve your overall ranking score and help you move up on the SERPs.
Plus, many users go straight to directories like Yelp when they're looking for a specific business. By having citations on these popular business directories, you can catch the market share of people who go to a directory over the broader search engine.
Before you build new NAP citations, you should audit your existing ones. Data aggregators Factual, Data Axle, and Thomson Local speed this process up.
At a minimum, you should have local citations on platforms like Bing Places, Facebook, Yelp, and Google My Business. You can also use business directories to find industry-related areas to build citations (think: Tripadvisor or Grubhub).
Tools like Whitespark help you find areas to create citations and optimize your online reach. Citation relevance is an important criteria that search engines use to determine the quality and impact of your citations.
Identify local keywords
The quickest way to identify your local keywords is to think like your customers. Ask yourself: "if I was a customer looking for [insert your product or service here], how would I search for it online?"
Many people follow the "Service in Location" (SiL) search formula to find local results:
SERVICE + in + LOCATION = SEARCH TERMS
This gives you a basic format for creating search terms. For example, "donuts in Denver" or "tree trimming in Miami," might come from this approach.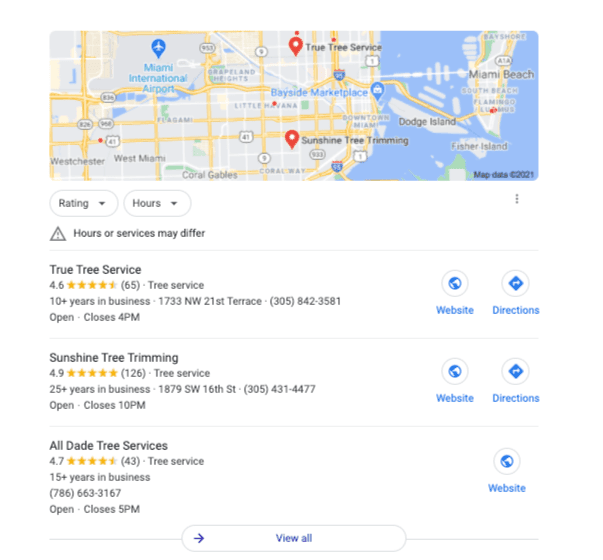 You can also look at the Google autocomplete results for relevant search terms or use a tool like Google Keyword Planner, Ubersuggest, or the Ahrefs Keywords Explorer to conduct more in-depth keyword research.
Map keywords to content
When you've found your focus keywords, look at the local search engine results to see which posts are ranked highest. This will give you a better idea of what type of content you'll need to create so you can compete in your industry.
Satisfying user intent is one of the most important SEO best practices to follow. When your content satisfies user intent, it has comprehensively answered the user's search query. There are four main types of search intent to consider:
Navigational: Customers looking for a specific brand/website/tool
Commercial: Customers doing research before making a purchase
Transactional: Customers making purchases
Informational: Customers trying to learn about a topic
When you've chosen a keyword, think about what type of search intent it's for–what does the user want to get out of the search? Determining this will give you a better idea of what type of content you should produce.
Informational search intent? Great, make a blog post or a guide on the subject. Commercial? Make a buying guide or product review. Once you've figured out what type of content you need to create, you can further optimize it by making it as user-friendly as possible.
Valuable content has many elements, including:
Headers to organize sections
Keywords included throughout
Images that further explain content
Simple sentence structure
Comprehensive coverage of a topic
Potential customers are the focus of these tactics. Streamline your content creation strategy by only creating content that helps users or adds to the current literature on the topic.
Create pages for each of your locations
When your business is located in multiple areas, you can boost website traffic by ranking for search terms specific to each location. You won't need to make entirely new websites for each, either.
To rank for multiple locations, you'll want to make one individual landing page for each of your business locations in the physical world. This means that they'll each have separate addresses and (possibly) contact information for users to find.
When you create these pages, include the location name in the URL. Make all URLs follow the same structure, with only the location name changed. For example:
businessname.com/location1
businessname.com/location2
This will make your web design cleaner and easier for crawlers to index. Plus, it will make pages quicker to find.
Create a contact page
Adding a dedicated contact page to your website is another simple way to improve your business' online presence. Leaving contact information off will make you appear inaccessible or difficult to work with.
At minimum you should include the NAP information. This is the place where you can post all your social media links, too. Having an email address is also great because some customers may not be comfortable calling. Plus, it increases accessibility for hard of hearing users who want to reach out to your business via written communication.
Focus your homepage on your primary keyword
It's tempting to generalize your homepage so that you can capture as much traffic as possible from your industry, but this isn't a great strategy for local businesses. Google automatically orients search results to reflect a device's GPS or IP location, so intentionally not optimizing for your primary local keyword doesn't help.
You should focus your homepage targeting on one keyword, as well as implement other SEO strategies, like using schema markup, adding NAP info, and displaying custom feedback to enhance your homepage SEO. If your homepage ranks well, it will theoretically boost traffic to the other pages on your website, too.
Optimize URL, title tags, headers, meta titles, and meta descriptions
Google local search rankings also depend on standard on-page SEO techniques that target smaller elements of your website.
URL optimization involves creating simple, descriptive URLs that are easy to read and type. Following a simple hyphenated format that includes the content's focus keywords is an easy method. An example of this would be: granwehr.com/seo-url-optimization.
The key to writing high-quality title tags, meta titles, and meta descriptions, is making them descriptive enough for both users and crawlers to have a better understanding of the content itself.
Meta descriptions should:
Be 160 characters or less
Tell the user exactly what content is on the web page
Use your target keyword
Include your business name
Meta titles should:
Be 60 characters or less
Use your target keyword
Grab the reader's attention
Overall, when writing both meta titles and descriptions, you should put the most important words towards the beginning of the phrase/sentence. You should also write unique descriptions and titles for all your web pages. Duplicates tend to confuse search engine crawlers and can lower your ranking as a result.
Use schema markup
Schema markup is a labeling language used to better define definitions for search engines. It's a technical SEO strategy that gives crawlers the context they need to better categorize and index content. With schema, crawlers can detect reviews, ratings, images, and more.
Using schema markup for local SEO is especially important because it improves the click-through rates of search result listings by generating rich snippets. A rich snippet is a web page listing on a search engine that provides additional information beyond a title and a description.


These rich snippets can include elements like reviews, photos, event dates, etc. Not only does this make your SERP listing more engaging and informative, but physically bigger as well.
Encourage reviews
Reviews are important for local SEO because they build trust and demonstrate your commitment to customers. You should respond to both negative reviews and positive reviews. This may help you win back past clients and show potential customers that you genuinely care about their experience.
Valuable reviews are recent, have a starred rating, use keywords, and show a response from the business. You can increase your outreach marketing by soliciting customer reviews. Stand out in local search results as the business that is willing to accept both criticism and praise.
Bottom line: receiving and acting upon customer feedback is an essential marketing strategy no matter what type of business you have. Since it improves your SERP rankings and builds trust with your customer base, you have nothing to lose by encouraging reviews.
Build links to your website
Since Google still usese backlinks as a significant ranking factor, link-building is one of the most valuable local SEO strategies. In some cases, it also happens to be easier for local businesses than global ones. Businesses have so many area-specific resources available to build backlinks, like:
Creating local guides or resources
Building NAP citations
Guest blogging for others in your business category
Partnering with local influencers
Engaging the community through social media
Sharing local and industry news via LinkedIn, Facebook, or Twitter
Backlinks show crawlers that you have a credible, trusted brand. Not to mention, local links increase your audience engagement and help you reach more customers.
Optimize for mobile
A 2019 Google case study found that 59% of consumers consider being able to shop on a mobile device as an important factor when deciding where to shop. This means that mobile searches directly correlate with a business's ability to turn online users into real-life customers.
Google follows a mobile-first indexing model, which means that the content and data on your mobile website is crawled, categorized, and indexed before the desktop version. As such, creating a mobile-friendly website will improve your all-around SEO performance.
You can improve your mobile site by making it simple. Cutting down on animations, eliminating popups, and only including value-added images are some design tactics. Use the Google Mobile-Friendly Test to determine where your website's weak points are and to learn how to improve.
Optimize for voice search
It's no secret that people make voice searches differently than online ones. Because 41% of voice searchers say their devices feel more like friends or family, they speak to them accordingly.
This is why businesses should create websites and content that help AI software identify answers to questions quickly. To optimize for voice search, focus on long-tail keywords that people might ask in question format. Also, provide simple formats for important details like location, contact info, product offerings, and business hours.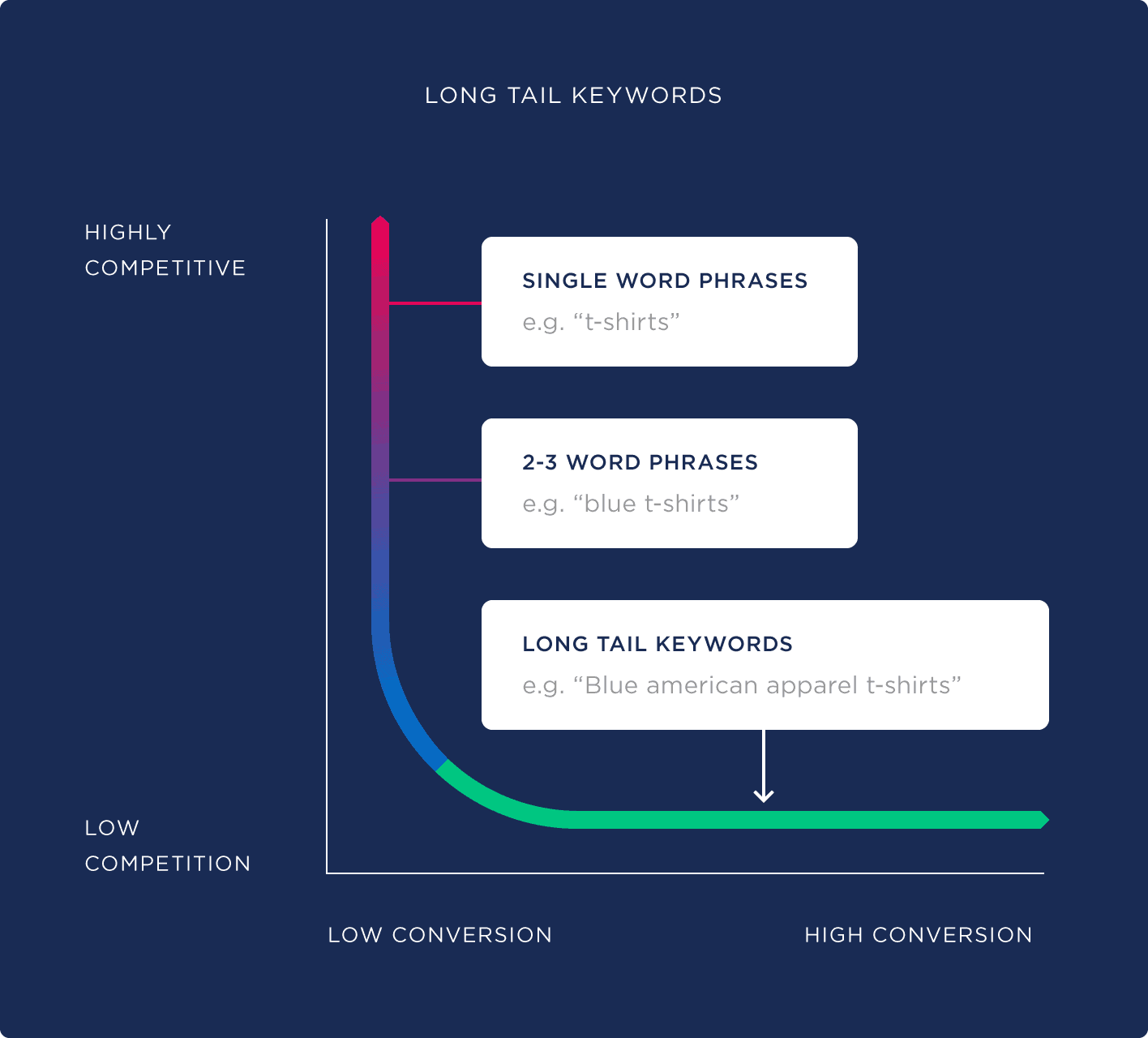 Optimizing for voice search is a relatively newer SEO practice that will reap future benefits as more people use AI software to make online searches.
Use local SEO tools
Because small businesses are typically focused on making and selling products, there's usually not enough time for dedicated marketing work. Cut down on researching, coding, and editing time by using local SEO tools. Here just a few of some of the most popular local SEO tools:
While these tools won't finish the work for you, they can streamline your efforts and give you more time to run your business.
Get a complimentary SEO audit
As consumer shopping habits shift towards search engine research, businesses must grow their online presence in order to compete locally.
Local SEO techniques enhance GMB listings, written content, NAP citations, and coding data so that businesses are more accessible to customers in their region. Implementing these strategies is crucial in this new industry model which blends traditional and ecommerce approaches to satisfy customer demand.
Want to see how you're doing with local SEO? Get an instant SEO audit below. Or, schedule a free consultation to see how intent SEO can boost search traffic revenue by 700%.