Tracking SEO metrics gives you an idea of how your business is doing. But they're only valuable if you know how to interpret them.
If your bounce rate is high, what does that mean? And organic traffic? If that's low, what could be the cause?
Once you uncover the "why" behind a metric, you can make important decisions about improving your SEO performance. Use these techniques to join the 75% of marketers who feel that search engine optimization helps them reach their digital marketing goals.
Measuring SEO performance
Monitoring trends and patterns help you determine where to focus your energy and resources. Every website has free, basic access to Google Analytics (GA). And this powerful tool can help you track and measure SEO performance.
If you see any of the following SEO performance problems in your analytics dashboard and you're stumped about why they're happening, read on to learn common causes and proven ways to fix them.
Low organic traffic
SEO aims to increase qualified organic search traffic by moving your page up search engine rankings. That's why the root cause of low traffic is hard to diagnose: it could be any one of the techniques you've implemented.
To increase bottom-line metrics, you need to generate more site visitors. The reason for low traffic could be anything from a technical issue to user-facing content that needs revision. Here are a few potential issues and how to fix them.
Cause #1: You have neglected off-page and technical SEO.
Solution: On-page optimization is the most widely practiced type of SEO, but if it's all you're doing, you're neglecting the other ⅔ of a comprehensive SEO strategy. Off-page SEO, which focuses on developing a link-building strategy, will help you prove to Google that you are a website worth ranking higher on search engine results pages (SERPs).
On top of that, your website infrastructure has to be optimized for both search engines and users. Technical SEO techniques make a website operate faster and more effectively on the back-end, where all your data is stored. They also keep user information safe and provide instructions to Google on how the page should be crawled and indexed.
Cause #2: You're targeting keywords that are too competitive.
Solution: For some keywords, there's too much competition on the SERPs. Businesses with much bigger budgets and teams will be targeting high-traffic terms.
Instead, use a keyword planning tool to find search terms that have lower search volume.
Long-tail target keywords are usually the best option because they are associated with higher conversion rates though they typically have lower search volumes: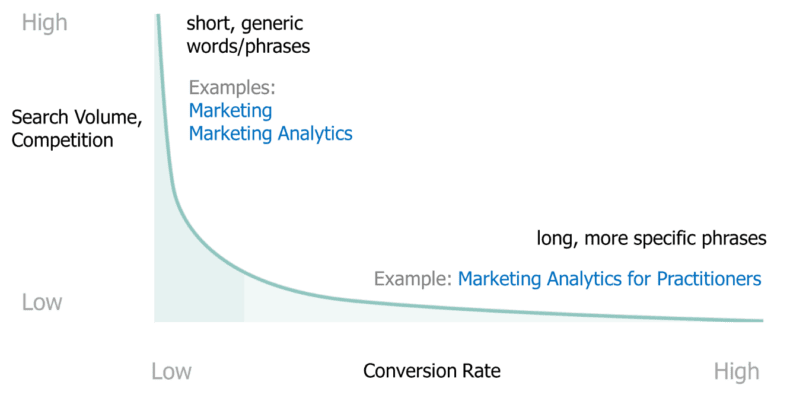 Targeting more specific terms in your niche can add up quickly to a much larger market share than you would have if you attempted to rank for highly sought-after terms. And even though they may not result in high amounts of traffic, they can move bottom-funnel metrics.
Cause #3: Not producing enough content
Solution: To understand your website's value, the search engine needs pages to crawl. For most websites, it's best to develop a content marketing strategy, so you are consistently providing new value to users. Over time, this increases your potential audience and can help tap into a larger share of the market in your industry.
Poor keyword rankings
Despite all your efforts, you may not be showing up on SERPs for the search terms you're targeting. When your keyword rankings are low, you will have a smaller number of visitors to your website. This is because fewer people will see your content in search engine results.
Reaching the first page of organic search results depends on things like:
How competitive the search terms are
How many ads are displayed
Whether there are rich or featured snippets (take up more space)
The quality of content on the subject
The best way to boost your search rankings is to adjust your content to target more specific or less competitive keywords.
Analyze your current site content with SEO tools like Semrush Keyword Overview, Ahrefs Keyword Explorer, Moz Keyword Explorer, or Google Search Console.
See if there are any pieces of content that you can edit to rank for different keywords once you've adjusted existing web pages, conduct keyword research for entirely new topics related to your business. Having a more diverse content offering expands your potential audience while improving your potential rankings as well.
High bounce rate
Bounce rate is the percentage of people who leave your site after viewing only one page. While bounce rate isn't an official ranking factor, there is a correlation between lower bounce rates and better rankings. Your bounce rate will depend on which industry you're in, the type of content you've created, and many other factors. Having a high bounce rate isn't necessarily a bad thing. Here are some of the reasons why:
You have an affiliate page that directs users elsewhere.
The landing pages on your site call users to go to a different page, resulting in a high bounce rate (even if conversions are high).
Your niche has a higher average bounce rate than sites in other industries.
Your content may answer the user's question comprehensively, giving them no reason to explore other pages on your site. If it's an informational page (and not a landing page that aims to convert a user), for example, check the average dwell time for that page. If it has a high bounce rate, but people spend a lot of time on it, it's probably an effective piece of content: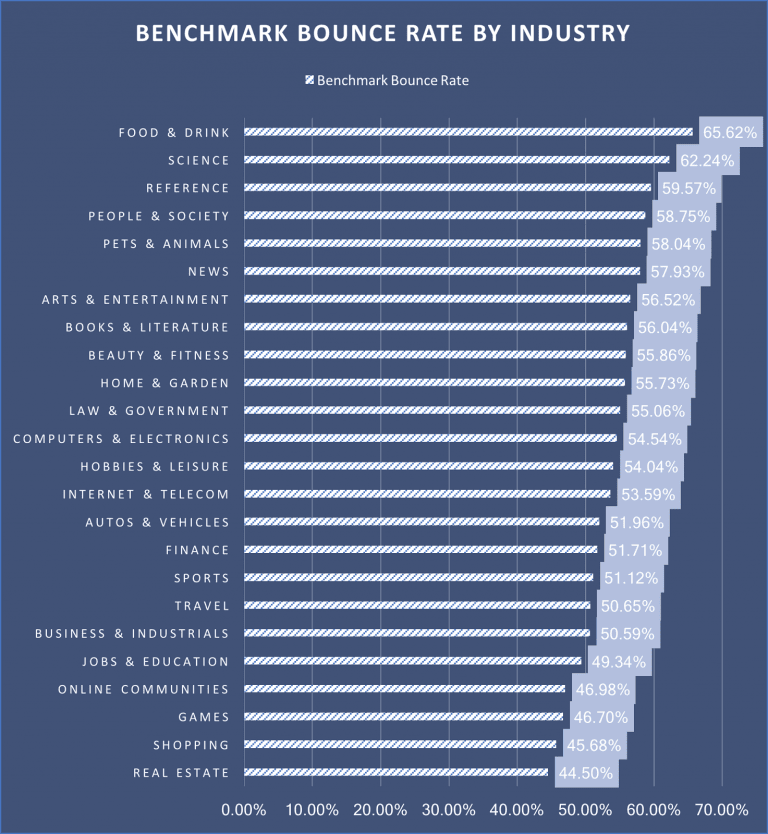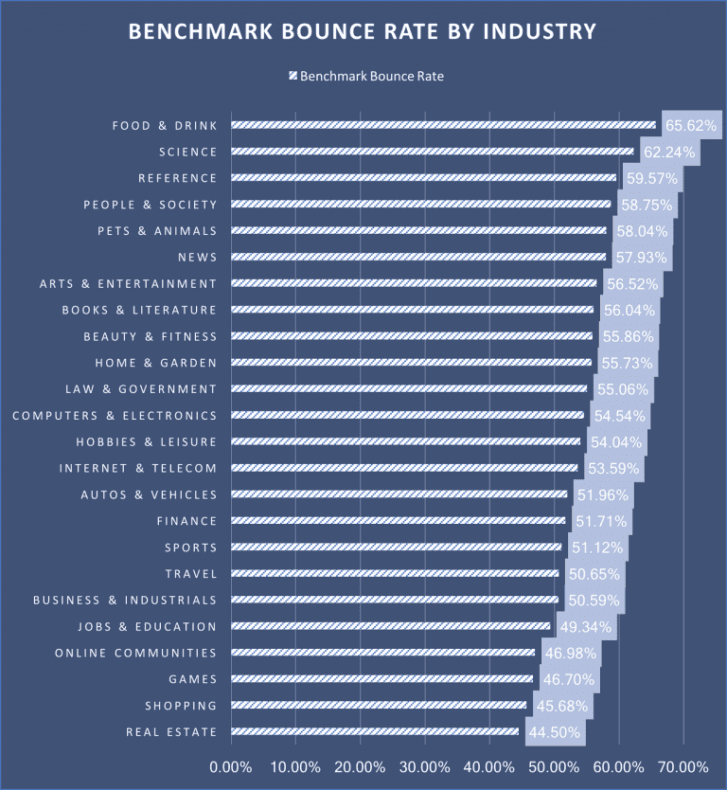 If the content's goal is to engage or convert users, however, having a high bounce rate can point to other issues like:
Ineffective content
Technical errors
Bad page layout and/or design
Slow page loading time
Misleading SERP listing (title/description)
Decrease your bounce rate by:
Implementing mobile SEO techniques
Rewriting content so it's more readable
Simplifying the page design
Eliminating as many pop-ups and animations as possible
Matching the title and description to the actual content
Adding more multimedia components like videos, images, and infographics
Finding and fixing 404 errors
Simplifying your website layout while ensuring the best user experience possible should improve your bounce rate. Of course, remember that a low bounce rate isn't necessarily a bad thing. It all depends on your industry, the type of page, your business benchmarks, and more.
Low SEO Visibility
Optimizing your website and content is supposed to grow your potential audience. The more people that see your pages, the more likely you are to claim a greater share of organic search traffic in your industry.
SEO visibility is the percentage of organic clicks you receive from all the keywords you rank for. It is a way metric to benchmark your standing within your niche.
If you have low visibility, your content isn't competing with others' search engine results pages. And if your content isn't showing on SERPs, you're not getting clicks, and you won't have a chance to earn new website customers.
Here are some ways to boost visibility on SERPs and increase your click-through rate (CTR):
Target more specific keywords. You could be optimizing for very difficult search queries when there are better options with less competition.
Try to bump content that ranks on page two to page one. This allows you to tweak existing web pages without generating new content from scratch.
Add schema markup to give your content a chance to generate rich snippets. It makes your SERP listings more appealing to users and may get them to click on the page.
Use LSI keywords so that Google better understands the topic of the page and sees that it is both high-quality and relevant: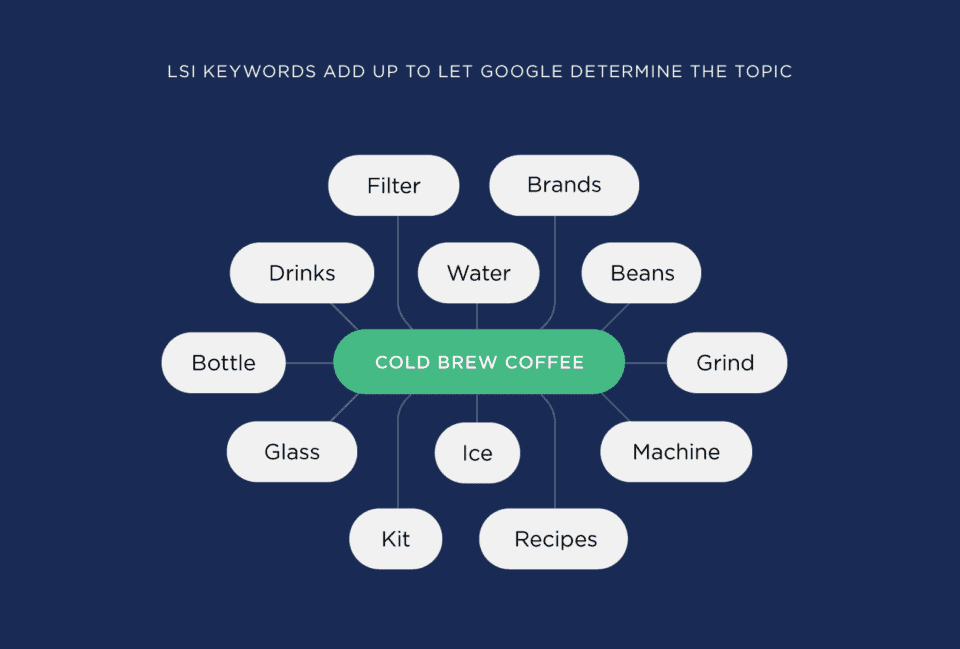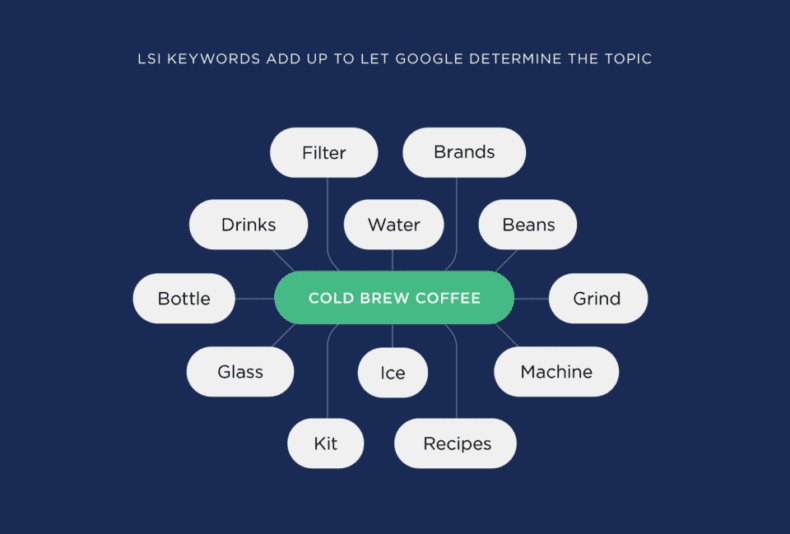 Boosting visibility is about demonstrating the value of your content to crawlers and making that value obvious to users on SERPs.
Few backlinks
Your backlink profile is still one of the most important ranking factors the Google algorithm considers. Having various referring domains and links from sites with high domain authority proves that your content is credible and valuable.
There is a correlation between more backlinks and higher rankings. If you have few backlinks, it could be because you're not doing enough to promote your content. Remember, backlinks are essentially votes of confidence. But people need to be aware of your site before they can recommend it.
Link building usually requires some outreach. If you haven't actively pursued links from other sites in your industry, this is a great place to start. Contact top-ranking sites in your niche to see if they would be interested in a guest post or collaboration. You can also develop a more active social media presence and share others' content to get noticed (remember, social media engagement isn't a ranking factor for Google, but it is for Bing).
When you're doing outreach but not having much success, it may be because your content doesn't appear to be valuable enough for other sites to promote. You may need to invest time in optimization. This comes in many forms, including:
Creating better infographics, videos, and/or other multimedia components that others may share
Publishing original research or data
Making a new tool or resource that no one else has
Reformatting the content to make it more visually appealing
Analyzing competitor backlink profiles to find new opportunities
Growing a backlink profile takes time. The more backlinks you get, however, the easier it is to get new ones. In the beginning, you should focus on outreach and developing high-value content that gets attention. From there, you can pursue tactics like broken link building and turning unlinked mentions into backlinks.
Low time on page
When users spend too little time on a page, it's a sign they're not getting what they came for. Your SEO campaign should get people to click on your listings and then engage with the content.
There are a few root causes of low time on the page. The cause depends on what type of content you are looking at. Some pages are designed to send users away, while others are not.
Cause #1: The page is designed for users to spend little time on. Examples include contact pages, affiliate pages, ecommerce landing pages, etc.
Solution: If your goal is to refer users elsewhere, a low time on page is a good sign. Check to see if the page is accomplishing its goal. If so, low time on page is okay. Otherwise, you'll want to edit the content to be more persuasive and/or interactive.
Cause #2: The content isn't engaging users.
Solution: Consider reorganizing the content, auditing to see if it needs to be edited for comprehensiveness, or breaking up the content differently. People will find it overwhelming if they open your page and see massive walls of written content. Use bulleted lists, subheadings, helpful images, infographics, videos, and more to make the page easier to read.
Cause #3: Your pages aren't optimized for mobile devices.
Solution: Use responsive web design to ensure that your pages look optimal on different devices. Mobile users will be more likely to stay on the page if content adjusts to fit the screen, they don't have to pinch and zoom to read text, and if buttons are big enough to tap with their finger.
Cause #4:Your content isn't satisfying search intent.
Solution: Go back to the SERPs and analyze the top-ranking content. Is there a format or specific angle that you're missing in your content? Your page needs to align with user needs. Through this research, you may decide to reorganize, re-write, or completely overhaul the content so that it accurately answers the question: "What is the user trying to find with this search?" Consider the style, format, type, and angle of the content to give you the best chance of ranking:
Low impressions
Your SEO efforts should lead to more views of your page on the SERPs, also known as "impressions." If you have low impressions, it could mean that:
You're not targeting the right keywords.
The content doesn't satisfy user intent.
You haven't done local SEO to boost regional brand awareness.
Your page content doesn't speak to the target audience.
Before you create content, you should consider what the user is looking for. Satisfying one of the four types of search intent can greatly increase your impressions. If the top-ranking posts for your topic are product pages and you write a long-form blog post, it's clear that users prefer a product page for query, and Google is less likely to show your page to users: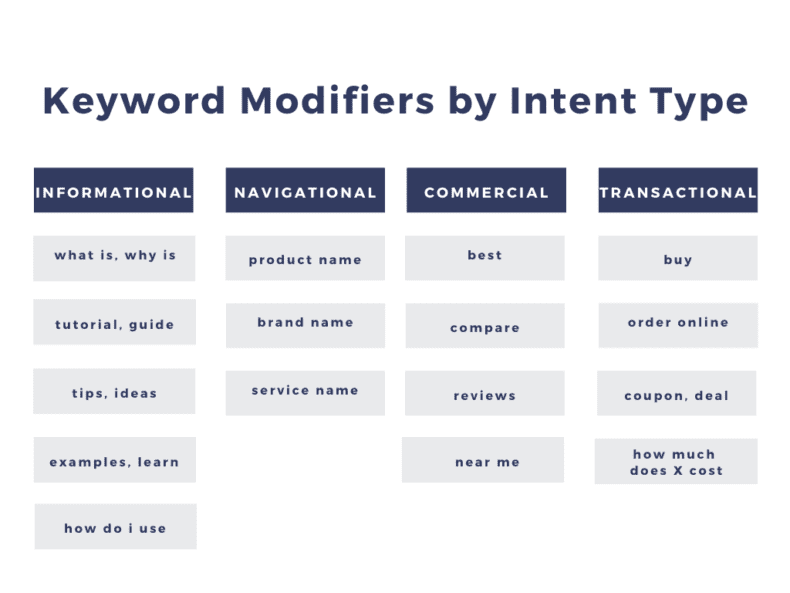 You could also change the exact keywords that you're targeting. If your industry is competitive online, look for long-tail search terms which help you claim a larger share of voice search traffic. If you're a local business, consider finding regional search terms that other brands aren't targeting. This can quickly increase impressions in your local area while also making the content more relevant to the user.
Another way to get your pages in front of more people is to look into new markets. Your Google Analytics dashboard will show you where your current traffic is coming from. This data may help you identify new countries or regions that you can do global SEO for. These tactics increase your pageviews and make the value of your content more obvious to the search engine.
Slow page speed
If your website has slow page speed, you need to implement technical SEO fixes. Having a long load time decreases the likelihood that people stay on the page: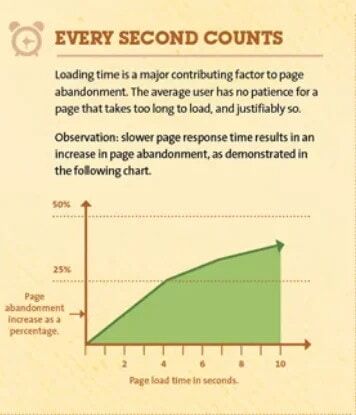 This is a major ranking factor. When your page load speed is slow, it tells Google that your content isn't user-friendly, and it will seriously set you back on SERPs. Your SEO success relies on providing a top-notch user experience, and most people aren't willing to wait around for your page to load.
Here are the most common causes of slow page speed and how to fix them:
Too many redirects: Get rid of unnecessary redirects so that searchers don't have to wait for the secondary page to load.
Oversized images: Optimize your images by resizing and compressing them, so they take less time to load.
Background code takes up too much space: Reduce the amount of background work by minifying your JavaScript, CSS, and HTML code.
Excessive pop-ups and animations: Use text animations sparingly (for better page load time and user experience). Make sure that you only use pop-ups when absolutely necessary. Since animations are mostly decorative, consider making them static.
Not enough server power: Use a content delivery network (CDN) to outsource traffic to multiple servers and keep the content loading even during high-volume periods.
Speeding up your website can have a long-term, positive impact on your user engagement metrics. It shows the search engine that your site adds value in multiple formats, making your content better-suited than slower competitor sites.
Get a complimentary SEO audit
If you're monitoring SEO KPIs, you're already ahead of the game. But monitoring data isn't enough. You have to interpret it and use it to make decisions about your marketing strategy moving forward. Use these solutions to turn poor SEO metrics around and get your website back on track.
Want to see how you're doing with SEO? Get an instant SEO audit below. Or, schedule a free consultation to see how intent SEO can boost search traffic revenue by 700%.