Search engine optimization (SEO) and pay-per-click (PPC search ads) are both effective means of digital marketing, but which is better for your business?
It all depends on your goals.
The question of SEO vs PPC is a question of effectiveness combined with goals. Both can be effective means of generating traffic, leads, and sales.
SEO leads have a 14.6% close rate.
The average PPC conversion rate is 3.75% for search ads.
But what are your goals? Do you want to exclusively generate traffic? Are you trying to sell a product online? Do you want searchers to fill out a form?
The right strategy depends on the result you want. PPC can be effective for quick wins. SEO can be an effective long-term strategy to generate "free" traffic. Here's what you need to know to choose the best strategy for your business.
SEO vs PPC: A definition
SEO is an organic search strategy that attempts to get a piece of content to rank on a search engine results page. It requires you to follow the guidelines of search engines, like Google and Yahoo, to create content that search algorithms can parse, understand, and then serve to the right audience.
What this means is that marketers will create useful, valuable content for searchers. With keyword research tools, marketers will identify topics at the intersection of what the business can offer and what users are searching for in Google, then create content that helps answer their question. The goal of this strategy is primarily to generate organic (unpaid) traffic to that content.
Organic means that no money is being paid to generate the traffic itself. However, money might be paid for keyword research tools or for content creators to create the content. The image shows an organic search result from the first page of Google search on a search engine results page (SERP) for a specific keyword.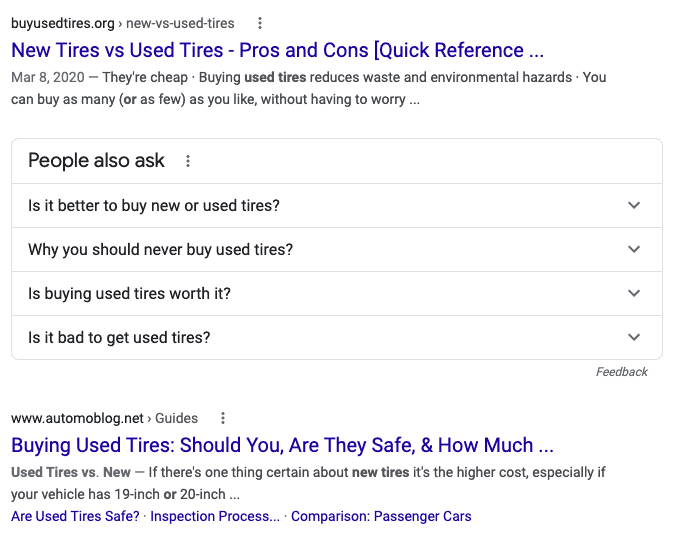 PPC is a paid search strategy. A marketer is creating ad copy for PPC ads (a Google ad or a Bing ad). Those paid ads then show up as a result on those search engines. Each time a searcher clicks on the ad, the marketer pays a fee — that's the cost per click (CPC).
Then the searcher is directed to a landing page where the advertiser will attempt to get them to sign up for a service, schedule a demo, buy a product, etc. The image shows what a search ad looks like.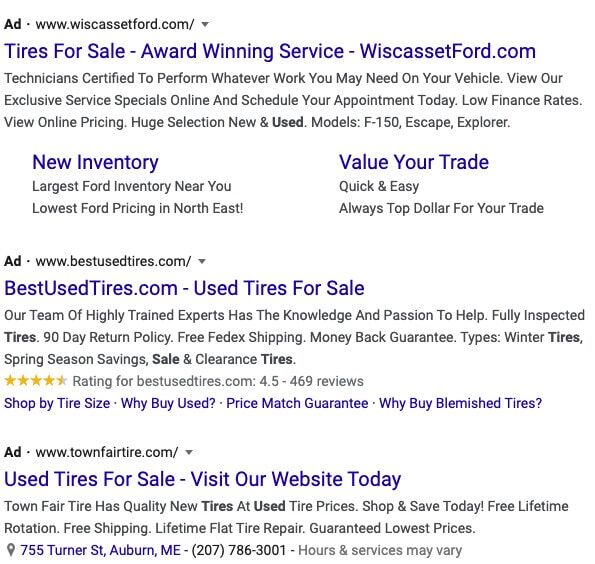 When a marketer pays for an ad for an extended period of time, it's called a PPC campaign. On Google, you would use Google Ads to create your PPC campaign.
While PPC is also a type of social media ad strategy, this article will focus on PPC for search engines like Google and Bing.
Search engine marketing (SEM) is the umbrella category that SEO and PPC fit under. SEM is using the combination of SEO and PPC to generate traffic, leads, and sales.
SEO vs PPC: Which is best for my business?
When choosing between SEO and PPC, you need to take your goals into account. Choosing the right marketing strategy is critical to accomplishing your goals.
You also need to consider budget and timeframe. How soon you need results and how much you are able to spend will dictate your strategy.
SEO: Pros and cons
SEO is a long-term strategy that can result in sustained wins for a lower investment, but it can take months or years for the strategy to bear fruit. SEO generally requires a huge investment of time (several hours a week at least).
You're not just creating the content, but you're also sharing the content on social media, using link-building strategies to generate backlinks and give the content more authority, and then creating more content on a regular basis.
Here are the pros of SEO:
SEO is cost-effective: you are generally investing more time than money.
SEO helps generate new business: Searchers who come to a SERP will often see the creator of the content as an authority and may then want to work with that business over another.
SEO content can be easy to generate if you know a lot about the topics in an industry and can stick to a schedule of publication.
SEO doesn't necessarily require an abundance of content. Even creating content once a week can be effective at generating traffic over time.
Traffic from SEO content that consistently ranks highly on SERPs requires no ongoing monetary investment and can usually be easily maintained by updating the content regularly, though this is not always required.
Here are the cons of SEO:
An SEO campaign can take anywhere from a few weeks to a few years to start generating traffic, let alone leads.
The right SEO strategy often needs to change over time as search engine algorithms will change over time.
It's possible that content that once ranked highly in organic listings will begin ranking lower when an algorithm changes or updates.
Many small businesses and startups need quick wins and cannot afford to invest in a long-term strategy.
A successful SEO strategy requires long-term commitment and excellent writing or speaking skills — low-quality content is unlikely to rank and will only be a waste of time and money.
Ranking organically for some highly competitive search terms can be virtually impossible, limiting the topics you'll want to create content for.
Without a dedicated existing audience, creating a new audience of target customers can be an uphill battle, and it can take years to convince a new audience that you are a trustworthy source of information.
PPC Advertising: Pros and cons
Generally speaking, PPC is a short-term strategy that results in quick wins while requiring a high budget. Results from a PPC campaign usually have a low click-through rate (CTR) and low conversions, but with a large enough budget, a substantial quantity of traffic, leads, and even sales can be generated.
Here are the pros of PPC:
PPC can directly generate leads and sales: Searchers who click on ads often intend to make a purchase. Ads are rarely used to generate traffic to blog posts or other forms of content marketing.
PPC can be a quick way to sell or generate awareness for a new product in a competitive market.
PPC reaches potential customers right away: It doesn't take weeks or months to show up on a SERP.
A quality PPC company can help you test ads, iterate to increase clicks while decreasing cost, and generate a higher quality score over time, leading to a more effective and more cost-effective campaign for the same budget.
Here are the cons of PPC:
Successful PPC campaigns often require enormous budgets that aren't sustainable for many startups and small businesses.
Iteration of PPC ads takes time and requires an ongoing investment — costs won't go down and clicks won't go up immediately.
Costs of acquisition can often be higher than the value of the leads generated.
When to use SEO
You'll want to use an SEO strategy if:
You have a small to medium-sized budget.
You can survive as a business long enough to implement a long-term strategy (you have existing revenue streams, essentially, that don't need to be boosted right away).
You have an existing audience who will consume the content.
Your goal is primarily to generate traffic and become an authority on a particular topic.
You have effective content creation skills or access to quality content creators.
When to use PPC
You'll want to use a PPC strategy if:
You have a large budget.
Your goal is to generate leads or sales, not traffic.
You need quick results.
You have a strong PPC team in place that will create winning ads and that knows how to track the right metrics to improve CTR and reduce cost.
SEO vs PPC: How much does it cost?
In 2018, the average cost of PPC advertising was about $10,000 a month.
How much you'll pay depends on how much of the process you can do in-house and how much you outsource.
For example, you might pay a PPC company 10% of your monthly ad spend on top of the costs of the ads themselves.
The image shows how much companies who paid for PPC campaigns spent on their campaigns per month. Almost 50% of companies spent between $750 a month and $5,000 a month.
As you can see, it's not cheap. It's a significant investment. You have to have a large marketing budget to make PPC effective, which is why many startups and small businesses aren't able to invest in PPC.
SEO, by comparison, is generally less expensive, though it can be comparable. Again, this is based on how much you can bring in-house and how much you have to outsource.
In 2021, the average cost of SEO was between $750–$2,000/month.
However, that usually assumes that you're outsourcing. If you're able to create the content yourself, costs go down significantly, especially with written content, where you might only have to pay a monthly fee for a keyword research tool and a stock image account. This could be as low as $100–$150 a month.
SEO vs PPC: How long does it take to see results?
For SEO, it can take between 6 and 12 months to see results.
For PPC, experts say it can take up to 3 months to see results.
Remember that these are just averages. It's possible for a blog post, for example, to rank within a few weeks and start generating a large amount of traffic.
It's also possible that your PPC ads will start generating sales right away if you have a great landing page and great ad copy.
SEO vs PPC: By the numbers
In 2021, SEO and PPC are still valid strategies. Here's why.
SEO statistics
53.3% of all website traffic comes from organic search.
93% of online experiences begin with a search engine.
SEO drives 1,000%+ more traffic than organic social media.
60% of marketers say that inbound (SEO, blog content, etc) is their highest quality source of leads.
57% of B2B marketers stated that SEO generates more leads than any other marketing initiative.
The #1 result in Google's organic search results has an average CTR of 31.7%.
PPC statistics
50% of people arriving at a retailer's site from paid ads are more likely to buy than those who came from an organic link.
Advertisements placed on the Google Display Network reach up to 90% of internet users.
58% of millennials purchased something due to an online or social media ad.
74% of brands say PPC is a huge driver for their business.
41% of clicks go to the top 3 paid ads on a search engine results page.
75% of people say paid ads make it easier to find the information they are searching for.
76% of people who search on their smartphones for something nearby visit a business within a day.
28% of searches for something nearby result in a purchase.
Once aligned with goals, either PPC or SEO can deliver results. Though both require some patience, it's possible to be successful with both when the right strategy is in place.
Get a complimentary SEO audit
Whether to choose SEO or PPC is a question every business has to ask at some point, but they're both viable digital marketing strategies. It's possible to use both if your budget can support it, but for most businesses, it's a good idea to focus on which is most like to help you reach your goals.
Want to see how you're doing with SEO? Get an instant SEO audit below. Or, schedule a free consultation to see how intent SEO can boost search traffic revenue by 700%.