YouTube is the second-largest search engine after Google. That means, if you're trying to rank on YouTube, then you need to take YouTube SEO seriously.
How seriously? YouTube has more than 2 billion logged-in users every month. That doesn't even count the vast numbers of people who don't log in and yet still use YouTube regularly.
If you're trying to make the most out of your video content, or you have a YouTube channel that you're trying to grow, you can't afford to ignore YouTube SEO.
What is YouTube SEO?
YouTube SEO, similar to video SEO, is a set of digital marketing techniques used to improve the visibility of your videos in search engines (Google, Yahoo, and YouTube search as well). If your videos are optimized for search engines, they will appear higher on search engine results pages (SERPs) when people search for terms related to your video. The higher they appear, the more likely they are to be watched.
YouTube SEO involves techniques like optimizing titles and adding video transcriptions to satisfy YouTube ranking factors like watch time, comments, and number of views. Satisfying these ranking factors can translate to more traffic to your website and more potential buyers viewing your products.
Remember: YouTube is a form of social media. It has a comments section. It has channels, similar to Facebook pages or LinkedIn groups, and it has billions of users. You can't just post random content to social media and expect people to find it. YouTube SEO makes your content easier to find.
YouTube ranking factors
There's a wide variety of ranking factors on YouTube, but the main ranking factor above all others is watch time.
Typically, you want to increase watch time and video views as much as you can. But these aren't the only ranking factors. Other important ranking factors include:
Average view duration for all your videos on your YouTube channel
How many comments your videos are generating
How many times your video is shared
Whether your videos are getting lots of thumbs up (or thumbs down)
What relevant keywords are showing up in your video title, description, or your closed captions
What your click-through rate (CTR) is (to other videos)
There are plenty of other ranking factors that you can learn more about in the article above, but the main thing you want is people watching your videos and watching them for a long time—and then commenting and liking.
13 YouTube SEO strategies to flood your videos with views
Some general SEO strategies are valuable when doing YouTube SEO. However, many are specific to the platform. Here are 13 you can use to start ranking higher today.
Start with keyword research
Your video won't get traffic from Google and show up on search engine results pages (SERPs) if no one is searching for the topic. This is search engine optimization 101.
Similarly, if there's no search volume for your topic on YouTube, your video is not going to attract views. Think about topics that are going to be most interesting to your target audience and what search queries they might input into the YouTube search bar, and create content around those.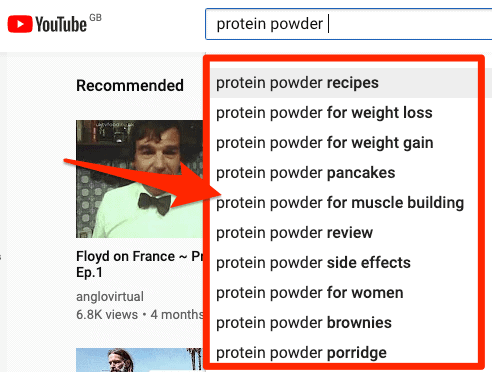 Start with keyword research to figure out what people are looking for so that you can match that with the type of content you provide. For the majority of brands, long-tail keywords are most valuable because they're less competitive and higher intent than short-tail keywords.
You also want to look for search terms that include related keywords. This helps you hit a broader target and bring in multiple traffic sources with a variety of keyphrases.
Use a keyword planner and other keyword tools, and look for keyphrases that bring in a lot of search traffic but have low competition. Consider tools like TubeBuddy or VidIQ for keyword research. TubeBuddy is a free chrome extension that's definitely worth a look.
Create an engaging video
What makes for an engaging video? It all depends on your target audience, on what type of content you want to create. Remember, this is a form of content marketing—it needs to be useful and valuable to the searcher.
For instance, someone searching for video walkthroughs may not be looking for something short, but rather, comprehensive. Value to them is something informational that covers the topic, no matter how long.
So brevity isn't necessarily the best way to go. You need a video length that's long enough to cover the topic while short enough to cut out the extraneous content that people don't want. Engaging videos start immediately and keep giving.
And it is critical that they keep giving. YouTube wants to see you creating content that people watch all the way through. They want the highest level of user engagement possible. They want to see you succeed because it helps them to succeed. That means audience retention is key. People are watching your videos all the way through.
Finally, engaging videos look professional and are high-quality. A video that isn't high-quality is going to hurt your brand. It's worth the time to make a high-quality video (if you can) with high-quality equipment.
Upload a transcript for your video
Remember, not everyone is able to hear your video. Not only is it critical for the hearing impaired that you include closed captions, but it's just as critical that you include a transcript.
There are plenty of transcription tools that can automatically transcribe your videos. You can upload your transcript to YouTube, so the process is easier than you might think.
Something else to consider is that YouTube SEO works best when you give YouTube as much text to work with as possible. Transcripts are great for people who can't hear the video or just want to read it for one reason or another, but they also help YouTube's algorithms figure out what your content is about. If you have an international audience, you might want to consider uploading transcripts in different languages.
Optimize video title and video description
Next to your thumbnail (important for catching your viewer's eye), your title and your description are the most important pieces of content on your video. After all, if you have a bad title, you're not going to get clicks. It won't matter how valuable your video is if you can't get people to watch it.
A good title and description are going to be made up from a combination of keyphrases and effective copywriting. They're going to draw the viewers in, but they're also going to have the target keywords that YouTube search needs to understand what the video is about so it can serve the video to the right people.
You can see in this example how simple this can be. It hits a keyphrase—what is a platypus—and it has a simple description that shows us exactly what we're about to watch.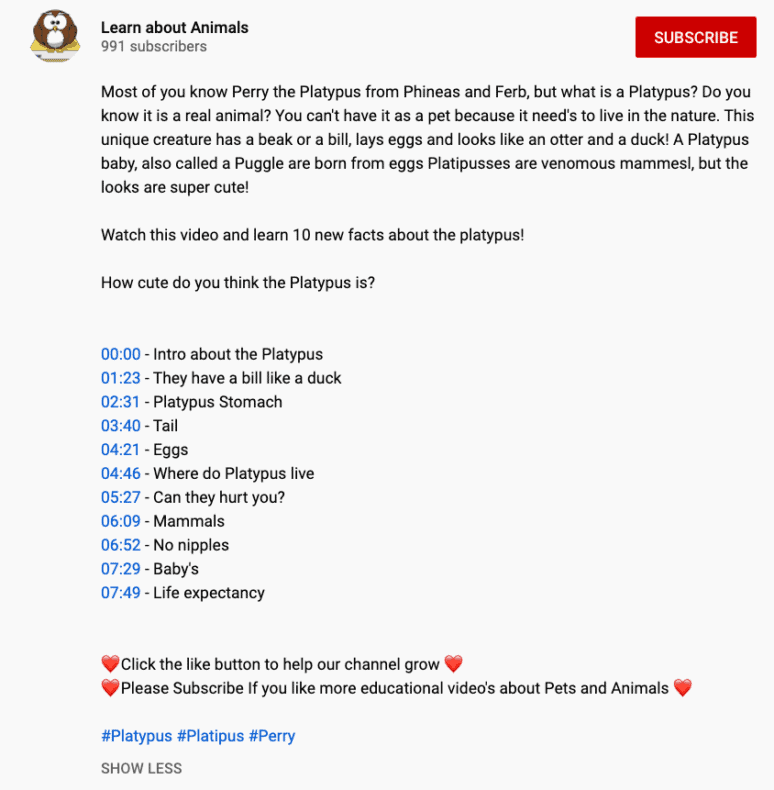 Tag your video liberally but accurately
Tags are just keywords that you can attach to your video. They're a critical form of video marketing for YouTube because they tell search engines and your viewership what categories your video falls into. This helps both humans and YouTube (and yes, Google) to figure out what your video is about. A good tagging strategy takes into account relevant keywords and related keywords.
For example, for the video on the platypus, the tags might be:
#platypus
#mammal
#egg-laying
#aquatic
#freshwater
#carnivore
#Australia
#venom
#duck-billed
#evolution
Don't go overboard with tags. 10-12 tags is more than enough.
Encourage comments and subscriptions
Comments are a ranking factor on YouTube. That means you should aim to generate as much engagement as possible on your videos.
Always encourage people to like, comment, and subscribe. Do this at the beginning of the video, and then repeat your call to action at the end. You might want an end screen with an arrow that points right to the subscribe button.
The platypus video does a great job of this in the description. A simple request to like, followed by an ask for a subscription, along with a phrase on what the value of subscribing is.
Pick a compelling thumbnail
Your video thumbnail is key to getting that first click. People are going to judge whether your video is worth watching based on the title, the description, and mostly, the thumbnail.
Consider it like a book cover. The cover is what draws people to the book in the first place. If you have a great video thumbnail, you're more likely to get viewers.
Just as important is the end screen. Your end screens determine whether or not viewers watch the next video. You want CTR to be high, so pick your end screens carefully and make sure they encourage viewers to move on to the next video.
Remember to choose a thumbnail that's the appropriate size. Otherwise, you'll be forced to crop it.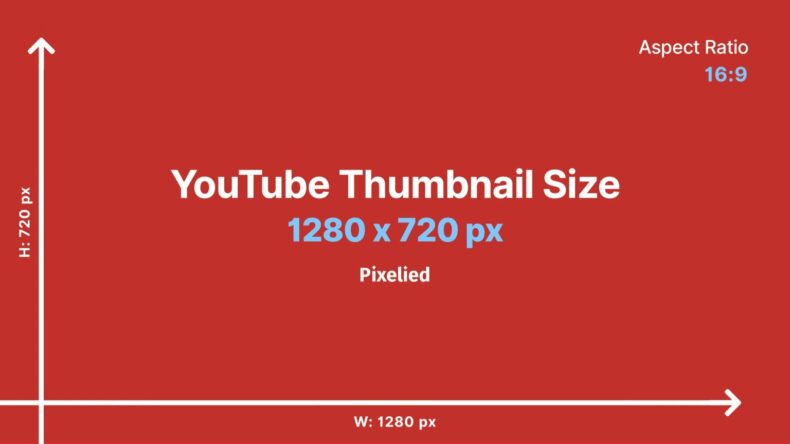 Double-check your optimizations before you publish
YouTube's algorithm is unforgiving, and the first 48 hours are crucial. If you're not making sure that you've done your best to satisfy every ranking factor, a great video can end up going nowhere.
This is an across-the-board best practice for all forms of content marketing. If you want to hit the search rankings hard, your content needs to be perfectly optimized the moment it goes live. It's almost impossible to get to the first page of YouTube, even for professionals, without optimizing for search, so don't spend time creating hours of video only to skimp on SEO.
Here's what you need to double-check before you go live:
Title and description optimized for keywords
Video file name optimized for keywords
Keyword-related tags chosen
Transcript written, optimized for keywords, and added to description
Video captioning completed
Thumbnail uploaded
End screen created
Cards created
Chapters added
Chapter links added to description
Create YouTube playlists
Playlists help people who get to your page to find your best videos and to watch related videos. They're especially effective for engagement because they autoplay videos. They keep your videos running, leading to more and more views every month.
This channel does a great job providing playlists of cute animals while providing interesting facts about those animals. The playlist keeps the views building as video after video is played.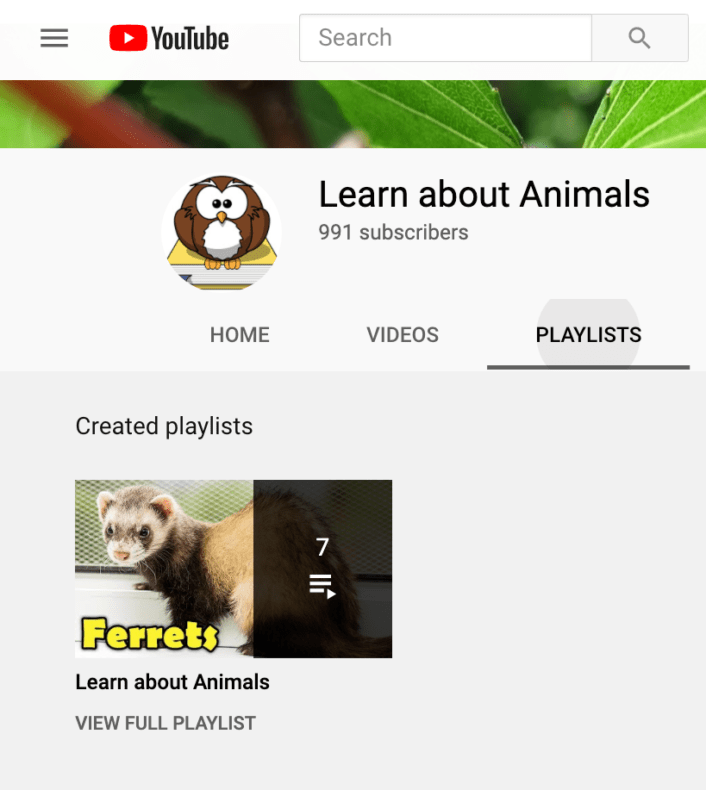 Promote your video on other channels
Promote your video on other channels whenever it makes sense. The more views the better—it doesn't matter where they come from.
Sometimes this means that you're going onto other people's channels and promoting your channel after being on a video with them, but other times it just means going into the comments of a relevant video on someone else's page and sharing your video.
It's also a good idea to promote your video through all available marketing channels. Consider promoting your video through:
Your social media accounts (Facebook, LinkedIn, Instagram, etc.)
Your email list
Your blog
Embed videos on your web pages for a rankings boost
Videos that you embed on your own website can give you a boost in traffic to your site instead of YouTube. Depending on your goals, this can be a great strategy to take a page that's already ranking well and then get it more traffic.
They also provide another source of views for the videos themselves. You get more traffic, and your video gets more views.
Optimize your channel
Your channel can show up in search results on YouTube just like individual videos can. There are steps you can take to optimize your channel.
First, make sure the name of your channel and the description are optimized for keywords whenever possible. Second, make your channel as user-friendly as possible. That means you've set up playlists for viewers to check out and that you have an awesome logo and banner.
Invest in tools for YouTube SEO
There are many different tools out there for YouTube SEO. If you're going to invest in your YouTube channel, it only makes sense to invest in the tools you'll need to make the most out of it.
Moz is a great tool for YouTube keyword research, as is keyword.io or Ahrefs.
If you want a more comprehensive tool that helps you with all aspects of your YouTube channel, consider VidIQ or TubeBuddy. They both include a suite of tools—including keyword research tools, thumbnail generators, channel audits, and more—that you can use to ensure every aspect of your videos and your channel is where it needs to be.
Get a complimentary SEO audit
YouTube SEO is critical to anyone whose goal is to get views and subscribers, or even get traffic to their website through YouTube videos. There are a number of ranking factors to consider, but if you're optimizing everything the best you can and providing awesome content, you're going to have a better chance at success.
Want to see how you're doing with SEO? Get an instant SEO audit below. Or, schedule a free consultation to see how intent SEO can boost search traffic revenue by 700%.