Search engine algorithms change so frequently that you risk being left behind without updated knowledge of search engine optimization trends. That's why many marketers turn to SEO certifications to fill in the gaps.
Often valuable for sharpening a resume or traffic-boosting techniques, a certification has the potential to improve your success with SEO. When considering whether or not to get one, however, it's important to make sure that you're pursuing the right type of certification for the right reasons.
Is an SEO certification worth it?
The general consensus is that SEO certifications have value, but they aren't always necessary. Whether or not you should get one depends on a variety of factors, including:
Your working knowledge of SEO
How long it's been since you updated your tools, skillset, etc.
Your overall learning style
The complexity of a specific topic or tool you want to learn about
SEO certifications are great for people who learn better through instruction and formal lesson plans. They have the added benefit of providing a comprehensive and organized discussion of a topic. They may also streamline your SEO education by putting all of the information, examples, tutorials, etc. that you might need in one place.
As Brian Dean of Backlinko puts it:
"The real plus of a certification is that you can learn about SEO in a highly structured way. A way that makes learning faster and more effective than reading blog posts or watching random YouTube videos."
It's important to remember that the value of a certification depends on what you need it for. If you're trying to become an SEO freelancer or to improve your resume, certifications may not be the quickest route to the job.
Joshua Hardwick of Ahrefs argues that most hiring managers won't base their decision on whether or not you've completed SEO coursework. He advises that you pursue certifications as a means of improving your SEO skills and expanding your current knowledge.
That said, certifications are a form of social proof that has been shown to persuade audiences. Displaying a badge on your agency or freelancer website may be the edge you need to win the business you've been seeking.
Does Google offer an SEO certification?
SEO itself is centered around satisfying search engine ranking factors aimed at improving the user experience. It is not an exact science, but rather a set of proven principles, strategies, and tactics that digital marketing experts have determined over time. That's why Google does not have an official SEO certification – the very principles of SEO are supposed to cater to Google's algorithm.
You can still obtain certifications for various Google platforms via its Skillshop site, including:
Google Ads
Google AdMob
Google My Business
Waze
Google Ad Manager
None of these, however, cover the topic of SEO. They are simply tools that you can use to complement your SEO strategy and build an arsenal of marketing skills and knowledge.
SEO certifications to consider in 2021
Whether your goal is to beef up your marketing strategy or become an SEO expert, there are plenty of SEO certifications and courses to help you achieve it.
If your budget is small, consider checking out some of the free certifications before investing in paid ones. Many of them offer valuable content that can help move your business forward.
While some of the certifications in this guide cover SEO as a whole, others have a more specific focus. Make sure you choose the courses and training programs that align with your preexisting SEO knowledge and skills.
The Blueprint Training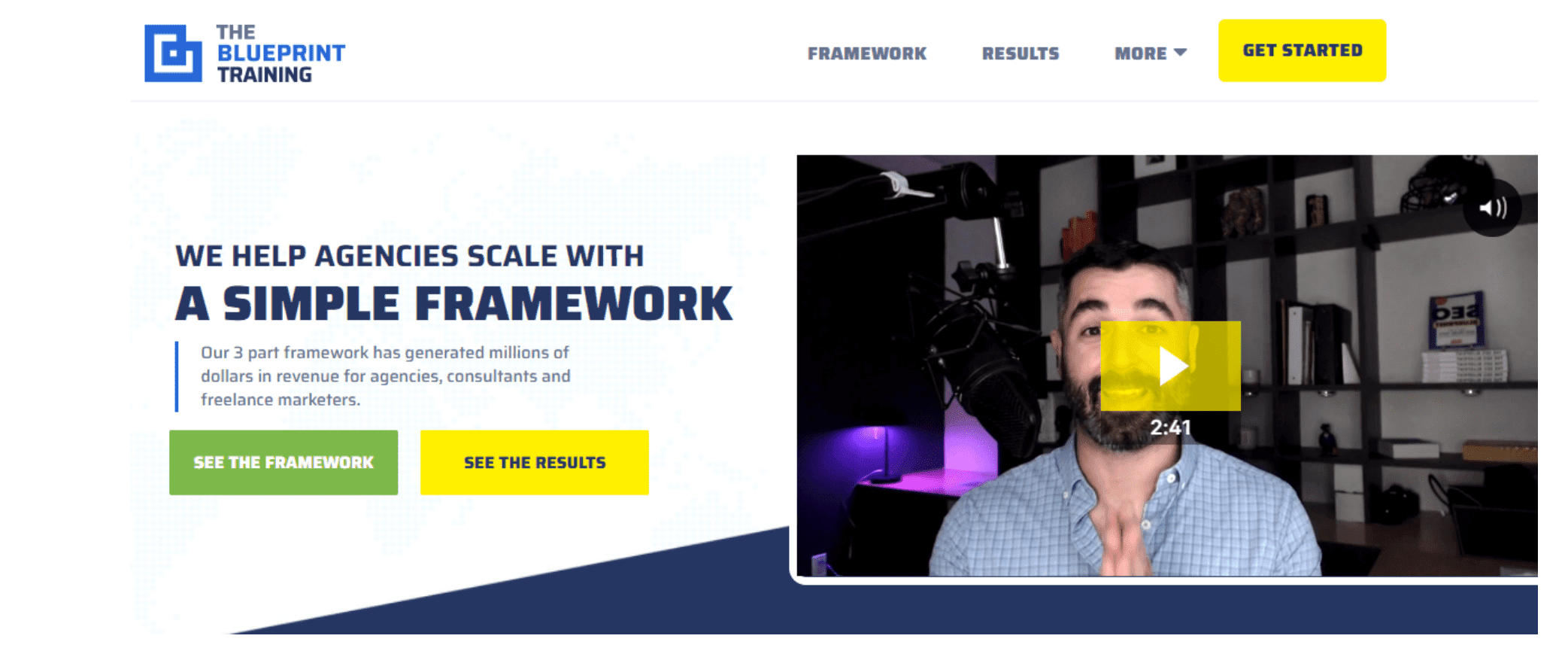 Presented by: The Blueprint
Cost: Varies
Overview: The Blueprint Training is a program for SEO agencies or freelancers. This marketing framework has been used by high-profile brands like Shopify, Search Engine Journal, and Ahrefs. It is designed to help marketing professionals scale their businesses.
As far as cost goes, it is on the higher end of the spectrum. The Blueprint does offer some free SEO resources, but its training programs typically cost hundreds or thousands of dollars. If you register for the training, you'll be put in touch with a consultant who will give you more details. They will ask you about your business, goals, etc. to determine what your needs are, then base your coursework on that.
HubSpot Academy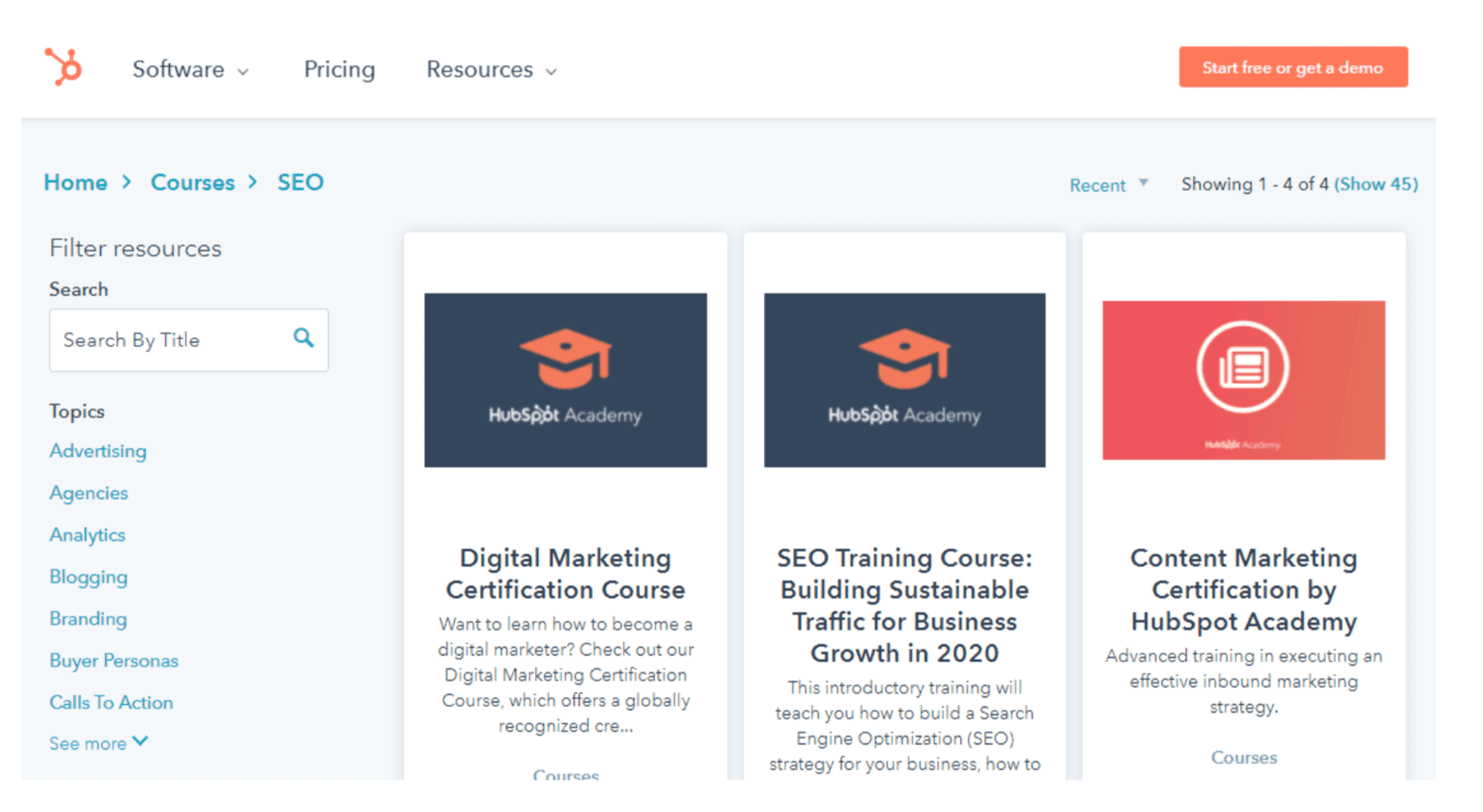 Presented by: HubSpot
Cost: Free
Overview: As a top provider of marketing resources and data, it's no surprise that HubSpot has its own SEO courses. Their content library has 40+ courses, with topics like:
Inbound marketing
Lead generation
Strategy automation
Web design
Their SEO Training Certification Course contains 24 videos which are categorized into 6 lessons. It focuses on SEO fundamentals like completing on-page optimization, doing keyword research, and earning backlinks for increased organic traffic. And since this certification is free, it is well worth the time commitment given the value you get.
Google Digital Garage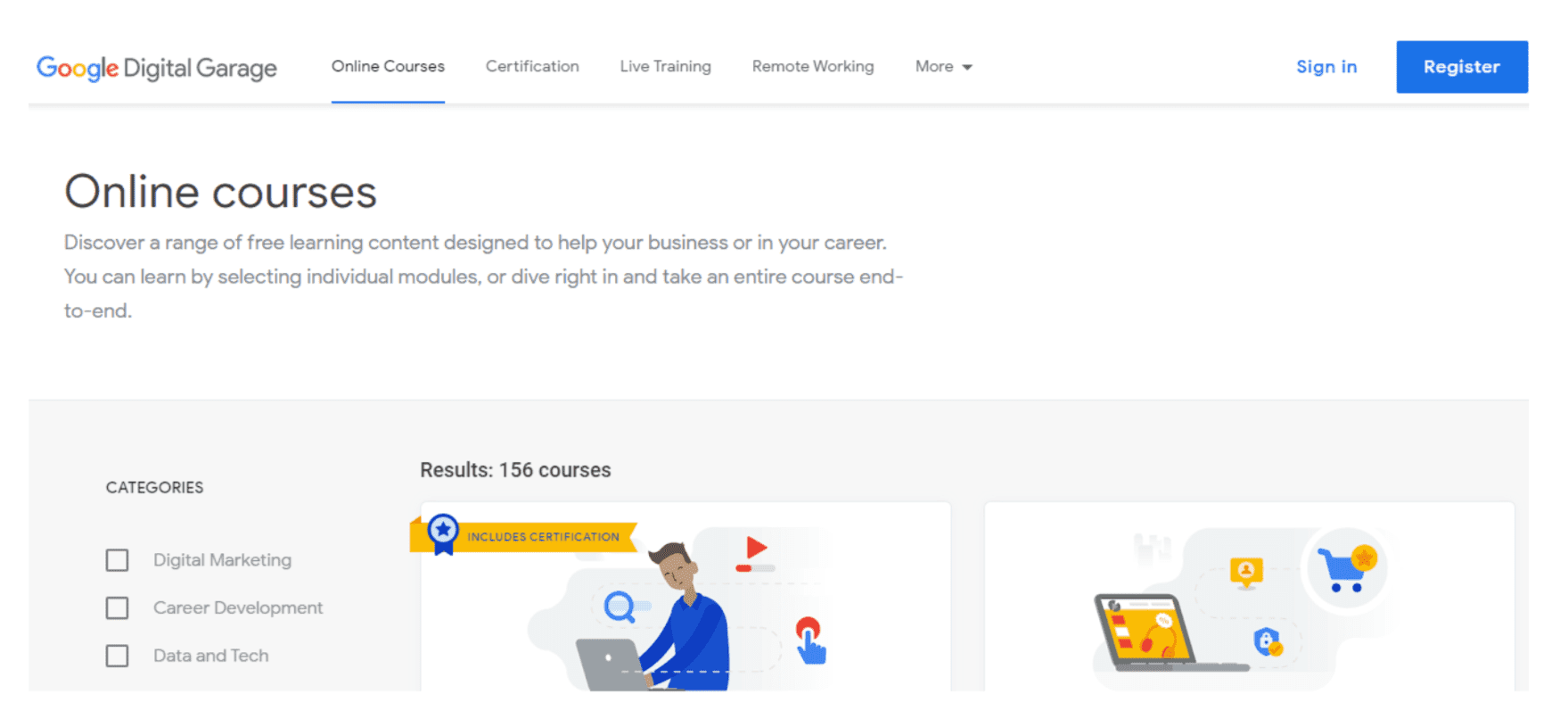 Presented by: Google
Cost: Free
Overview: If you're just getting started in your SEO journey, check out this resource library from Google. They have more than 150 courses on everything from using different Google tools to reaching more customers with mobile SEO tactics.
This is a good place to explore topics that you don't know much about. Courses are anywhere between one and three hours. While none of them cover SEO specifically, these topics are complementary to some of the more in-depth courses on this list.
ClickMinded SEO Certification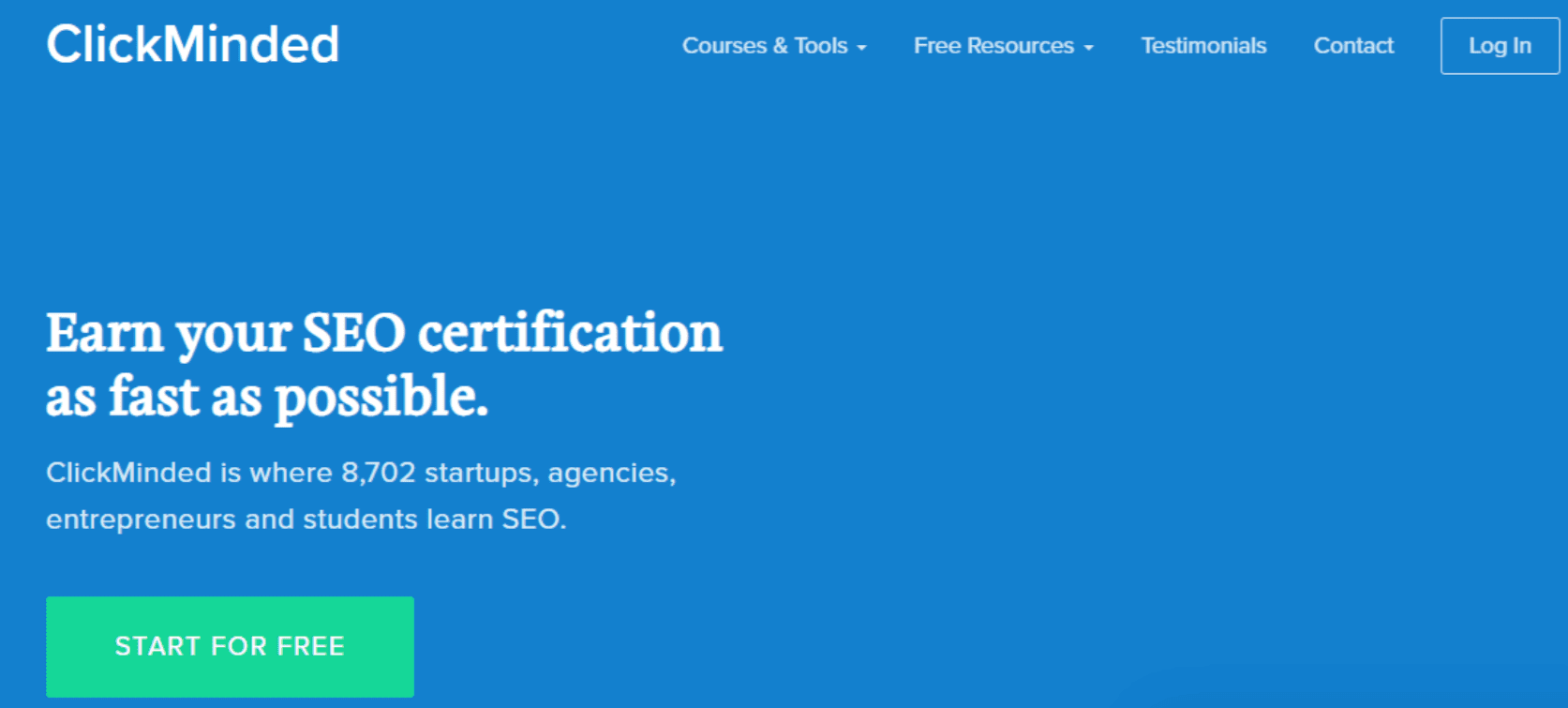 Presented by: ClickMinded
Cost: Free trial OR $997
Overview: ClickMinded acknowledges that SEO certifications aren't absolutely essential to win new clients. They do, however, argue that their certification can improve brand perception for freelancers. For those not in marketing, this SEO course is still beneficial, as it provides a complete overview of important topics like:
How to create and execute a link building strategy
How to use SEO tools like Google Search Console
How to develop relevant content
How to optimize the technical aspects of your site
Once you purchase the course, you'll have lifetime access to its content. It is a helpful course for people who are relatively new to SEO concepts. And if you have employees that you want to share your new knowledge with, unrestricted access is a bonus.
Semrush Academy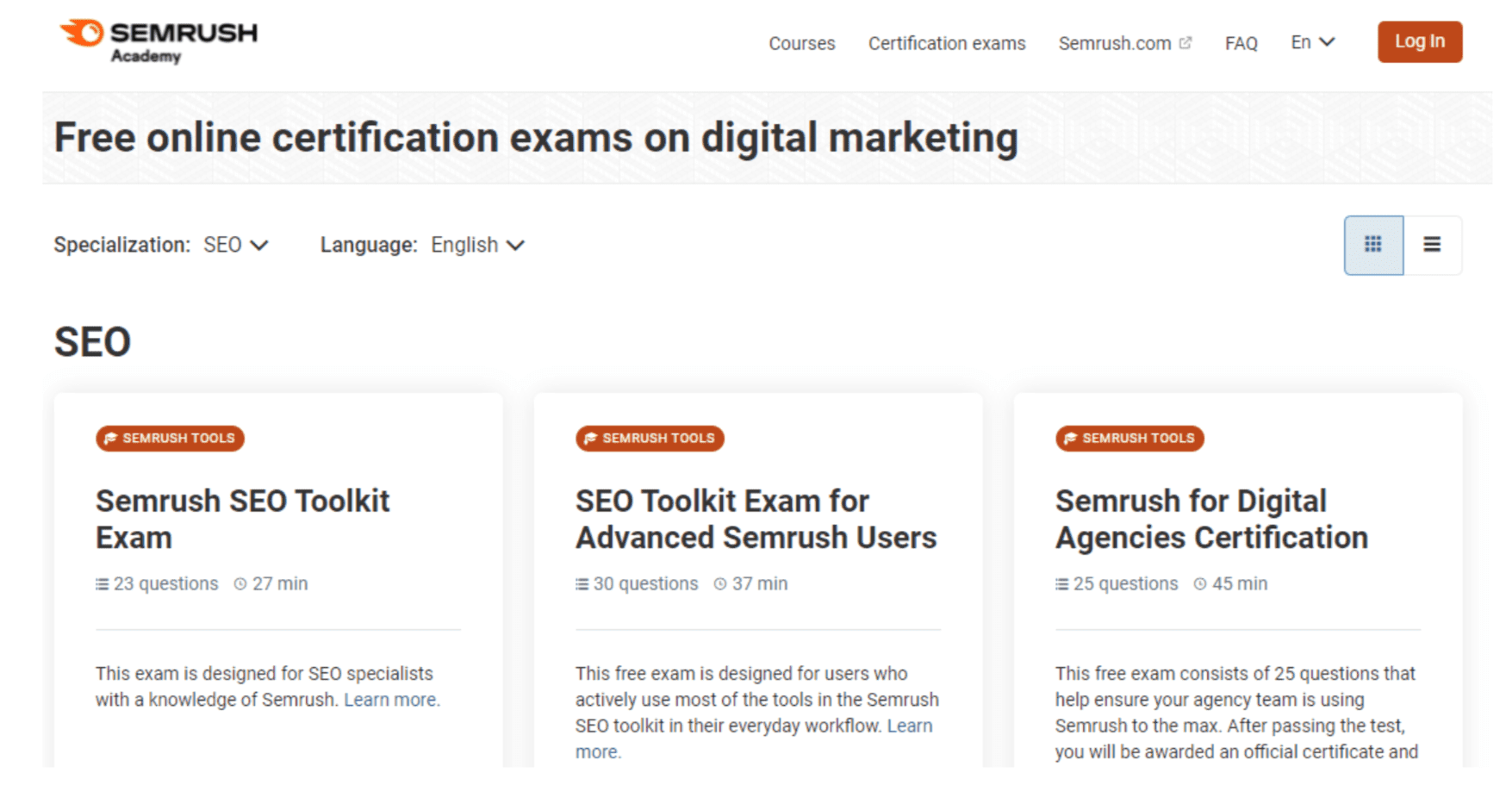 Presented by: Semrush
Cost: Free
Overview: Semrush Academy has a variety of certifications you can choose from. Their learning library is full of free courses and exams. It is a good resource for those new to blogging or small businesses who need help with their local SEO and overall site optimization.
Aside from SEO certifications, they also have courses for the following specializations:
Competitive research
PPC (pay-per-click) advertising
Sales
Affiliate programs
Content marketing
SMM (social media marketing)
To access this information, you'll need to create a Semrush account. From there, you can view additional details for each course or exam.
SEO Essentials Certification

Presented by: Moz
Cost: $595
Overview: If you want to get an SEO certification from a top player in the industry, this is an option you should consider. Moz offers this SEO course with multiple parts, each covering a core concept of a well-rounded strategy:
Fundamental SEO concepts (51 min.)
Keyword research (66 min.)
Page optimization (58 min.)
Link building essentials (51 min.)
Reporting on SEO (66 min.)
Total estimated time commitment for this certification is eight hours when you factor in the final exam. During this training, you will learn more about tracking SEO metrics, assessing your backlink profile, determining which SEO tasks are the most important, and more.
Search Engine Optimization (SEO) Specialization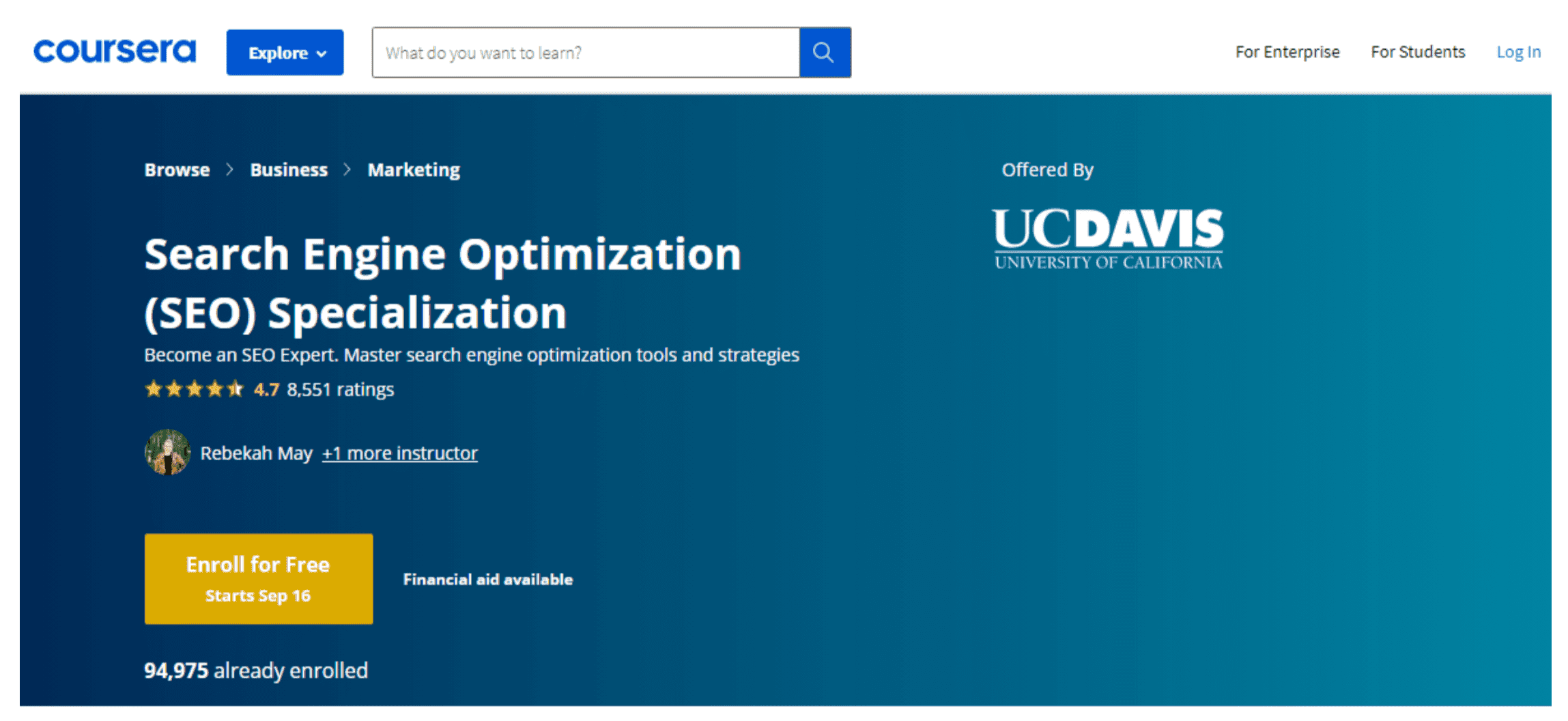 Presented by: University of California – Davis (via Coursera)
Cost: $49/month
Overview: In this course, you will learn all about how search engine algorithms work, as well as how to build and maintain relationships with influencers and other collaborators. You'll also do a competitive analysis for a specific web page and present your insights to a client. This SEO specialization has five built-in modules:
Introduction to Google SEO
Google SEO fundamentals
Optimizing a Website for Google Search
Advanced Content and Social Tactics to Optimize SEO
Google SEO Capstone Project
It's important to note that finishing your real-life project is a requirement for receiving the specialization.
All-Around SEO Training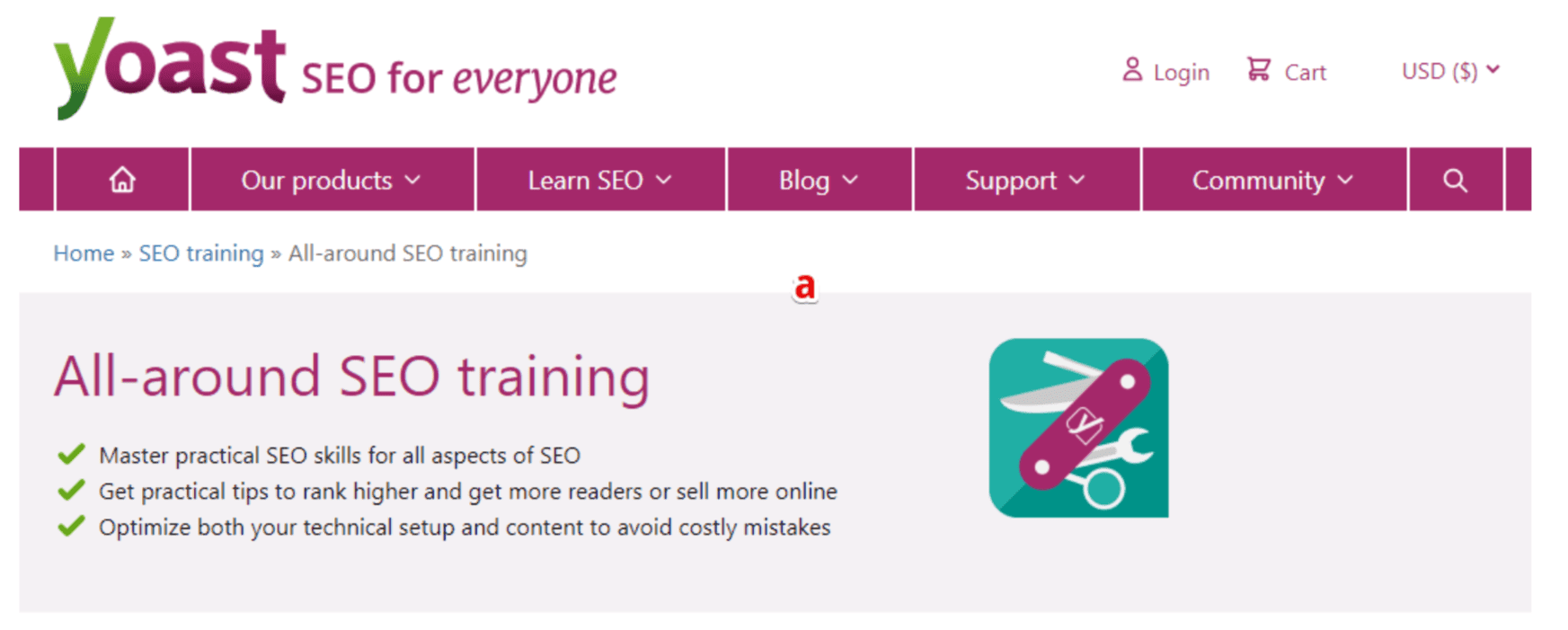 Presented by: Yoast Academy
Cost: Free trial OR $89/year
Overview: Yoast is an industry leader with a comprehensive library of SEO content. You can pay an annual fee for access to a variety of course content, videos, templates, tutorials, and more. The All-Around SEO Training covers four major areas:
Implementing an off-page SEO strategy
Developing SEO-friendly content
Doing technical SEO on your website
Creating the ultimate user experience
Getting SEO certified from a well-known brand like Yoast can be effective if you're trying to improve your resume or LinkedIn profile. Once you complete the course, you'll get a certification and badge that you can display for recognition. Plus, the fee gets you access for a year so you can go back and reference new insights as you use them for your website.
Advanced Search Engine Optimization (SEO) Certification Training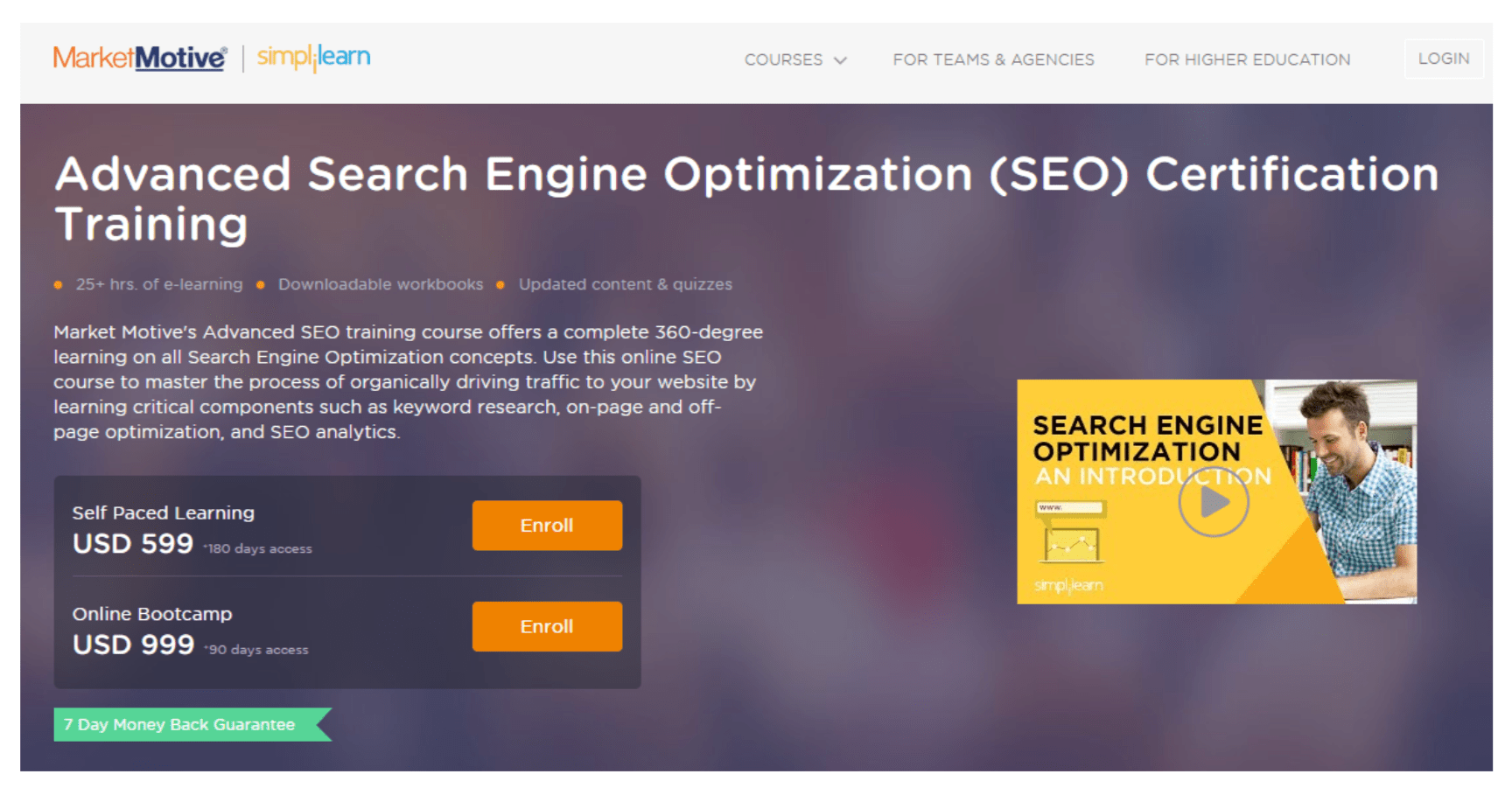 Presented by: MarketMotive
Cost: $599 for the self-paced version OR $999 for the online bootcamp
Overview: Matt Bailey, the founder of marketing firm SiteLogic, hosts this SEO certification program. It includes more than 15 hours of instruction and 30 hours of self-taught modules. This is recommended for a wide range of backgrounds, including digital marketers, managers, and entrepreneurs.
After completing this SEO certification course, you should:
Know how to do proper keyword research
Have a better understanding of both on-page and off-page optimization
Be able to analyze and interpret SEO metrics
In order to pass the certification exam, you must finish at least 85% of the coursework, complete 3 projects, and do 1 simulation test (at least 60% score to pass).
SEO That Works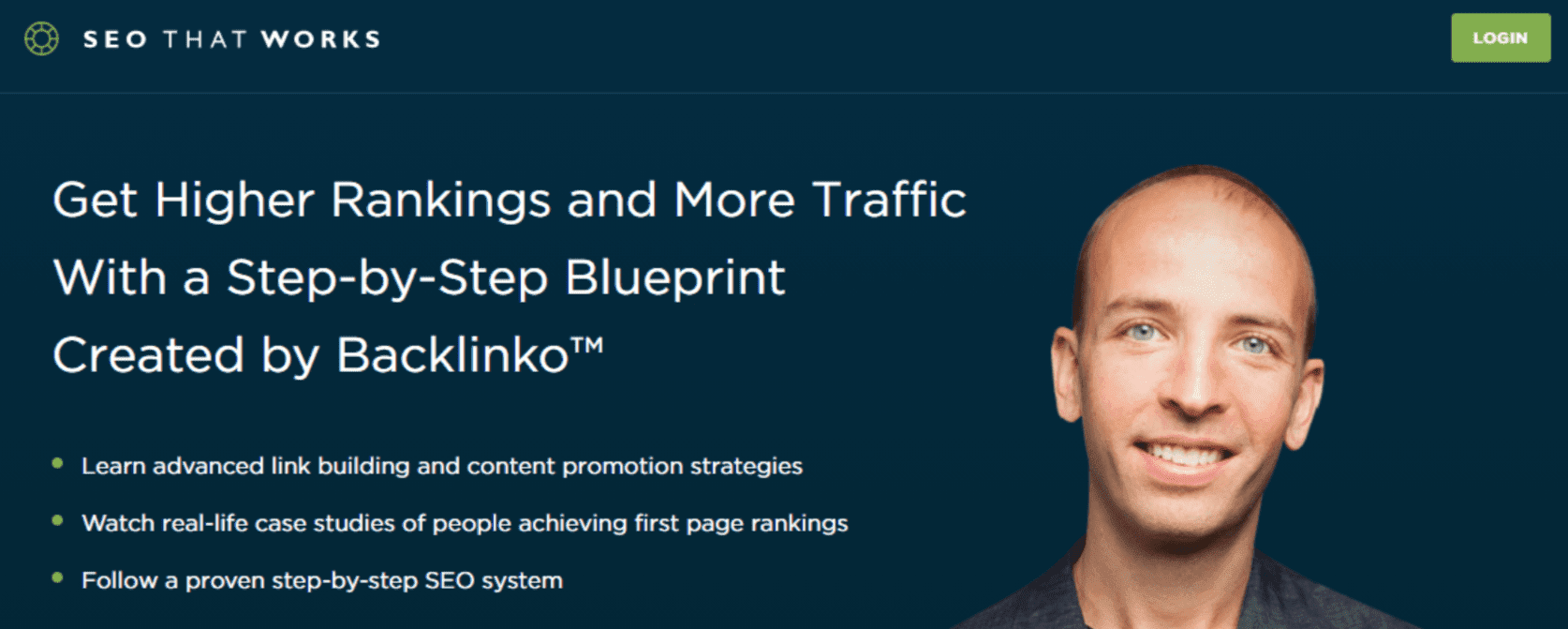 Presented by: Backlinko
Cost: Varies
Overview: Brian Dean, the founder of Backlinko, offers this limited-registration training program for business owners and aspiring SEO professionals alike. According to Dean, this course is geared more towards those who already have a deep understanding of SEO. He focuses more on demonstrating how to create and implement strategies rather than explaining SEO topics. If you learn well from practical case studies, this might be a good option for you.
The pricing of this program is unknown, so you'll want to keep that in mind when you register. If the enrollment period has ended, you can sign up for the waiting list.
SEO 2021: Complete SEO Training + SEO for WordPress Websites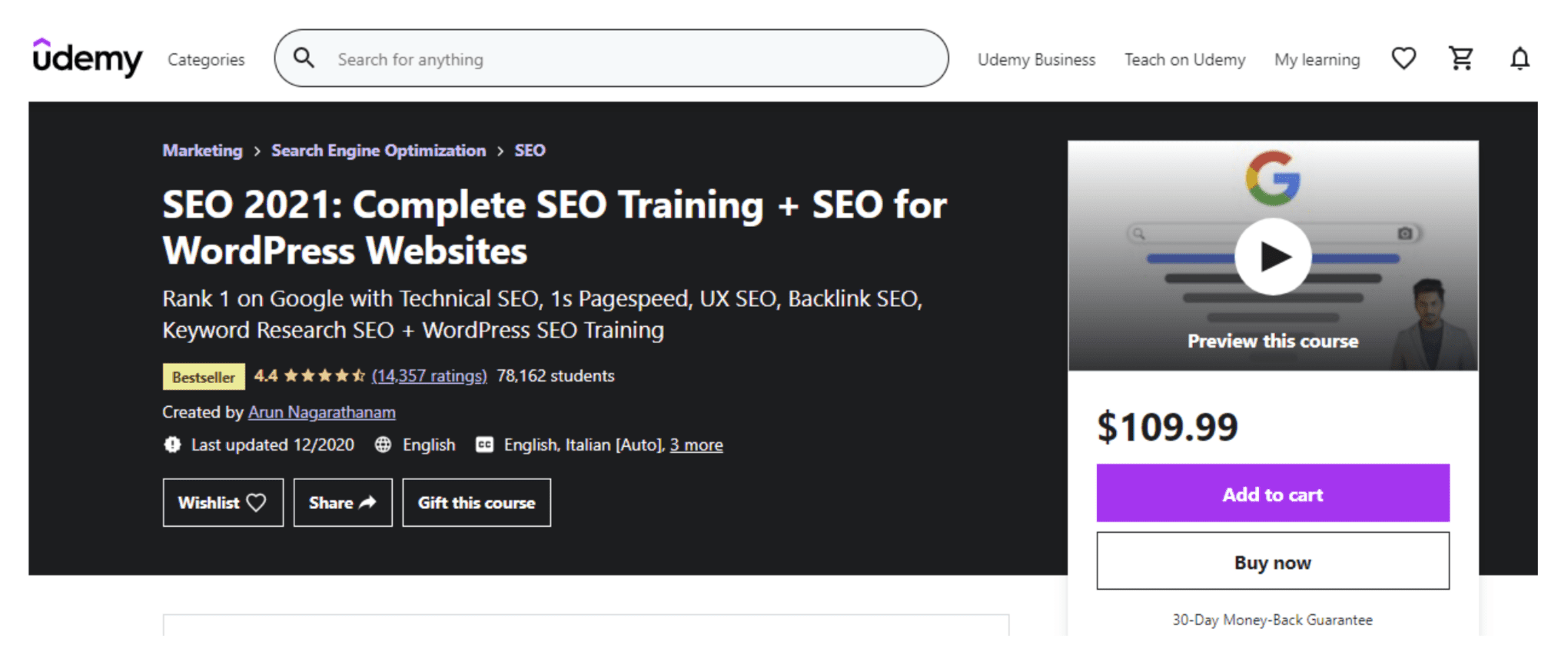 Presented by: Udemy
Cost: $110
Overview: This course by Arun Nagarathanam is one of the best-selling SEO classes on Udemy. It is advertised as a beginner's course and has been purchased more than 75,000 times on the platform. While you don't need extensive knowledge or understanding of SEO, the creator does recommend that you have a WordPress site where you can practice and/or implement some of the techniques.
Course material covers 50 top SEO techniques that you can use in your own strategy. It also explains how to positively influence site metrics, improve user experience, and where to focus your attention.
The Complete SEO Course
Presented by: Reliablesoft Academy
Cost: $200
Overview: Reliablesoft offers this comprehensive SEO training course as a bundle of four separate modules. These include:
eCommerce SEO Course: Explains optimization for product pages, configuring your online store, etc.
Keyword Research Course: Shows you how to do basic research and offers some advanced SEO tips as well
Google Analytics Course: Teaches you how to use the Google Analytics platform.
Complete SEO Course: Covers basic SEO tactics and website setup
At the end of the program, you take an exam to earn the Reliablesoft SEO Specialist certification. While the baseline cost is $200, they frequently offer discounts which can exceed 50% off the original price.
Get a complimentary SEO audit
SEO certifications are appealing for business owners who want to update or expand their marketing knowledge and skillset. Make sure to weigh the cost, time commitment, and practical value of digital marketing courses before you sign up for them. Consider one of these online courses so you can stand out from the crowd and take your website to the next level.
Want to find out how you're doing with SEO? Get an instant SEO audit below. Or, schedule a free consultation to see how intent SEO can boost search traffic revenue by 700%.