As uncomfortable as it may seem, it's true: Not all of your success in SEO is in your hands. Slow page load speeds, a downed website, and security threats can all be a result of poor web hosting.
That's why, when you're choosing a company to host your website, it's important you get it right from the start. Ensure that both users and search engine crawlers have a positive experience by exploring SEO hosting services.
How does web hosting affect SEO?
Web hosting companies store all of your website's data on a server so that you don't have to store and manage it yourself. In short, they provide the infrastructure that allows you to accommodate visitors on your site.
A sub-par web hosting provider can negatively impact your SEO if it doesn't retrieve, store, and serve information efficiently. The speed and quality of your hosting services directly affect user experience, which is search engines' number one priority when it comes to ranking web pages.
What to look for in SEO hosting
Traditional web hosting services provide the means to serve web content to users. But the rise of SEO's importance for online visibility has created a new market within the hosting industry. SEO hosting solutions take standard hosting practices and combine them with infrastructure that offers a better experience for both users and search engine crawlers.

SEO hosting packages have features that improve the likelihood of better rankings on search engine results pages (SERPs). These include content delivery networks, security features, uptime guarantees and more. Here are some of the characteristics and options you should look for in an SEO hosting service.
Speed
One of the top Google ranking factors is page speed. That's because it directly impacts user experience. Users expect a website to load quickly when they click through to it. If it doesn't, visitors are likely to bounce. According to one survey, users even say they're less likely to buy from a company with a slow-loading website.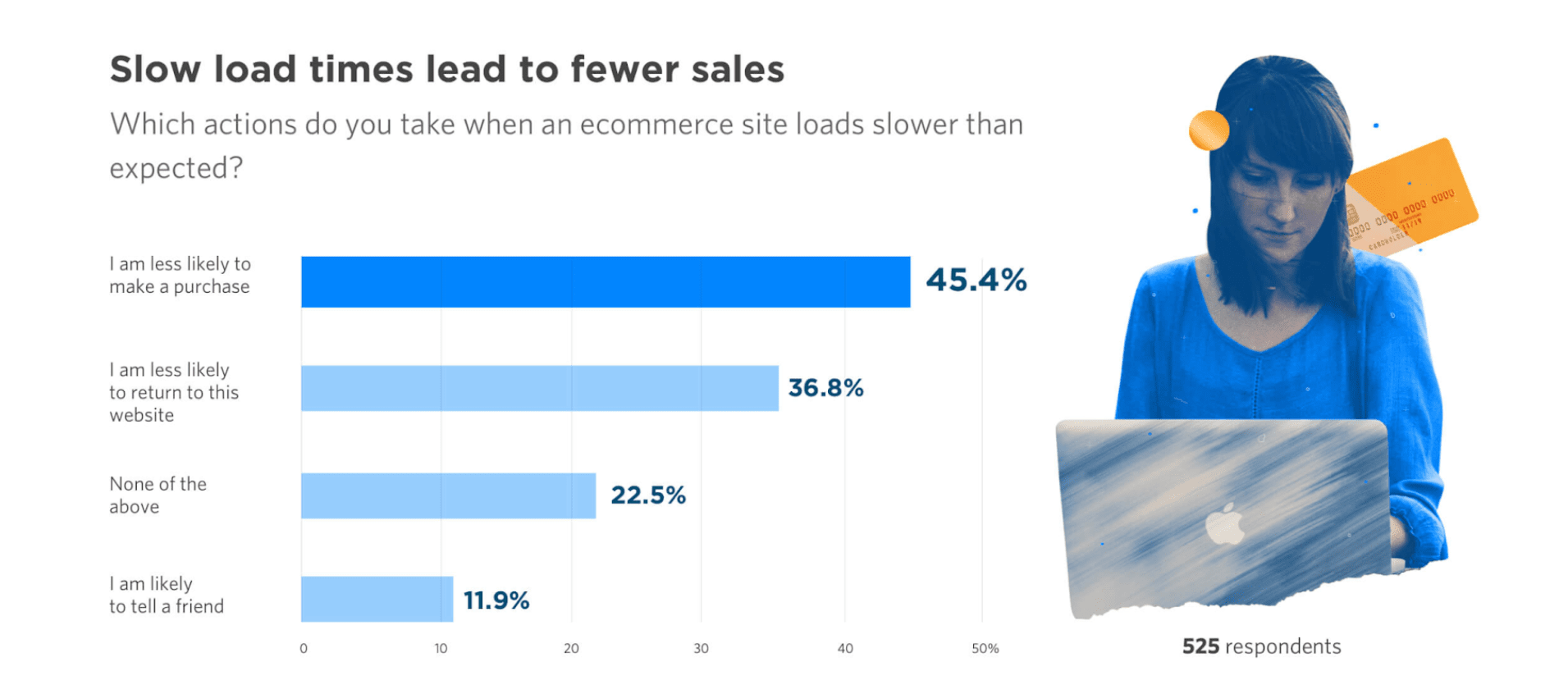 You want a hosting provider that doesn't impede your website's speed. Some providers offer C-Class IP addresses which are thought to help SEO performance. Others may have caching capabilities to keep your site data managed and organized in a way that controls for downtime.
No matter how they achieve it, your SEO hosting provider should be able to provide a page load speed that is as quick as possible.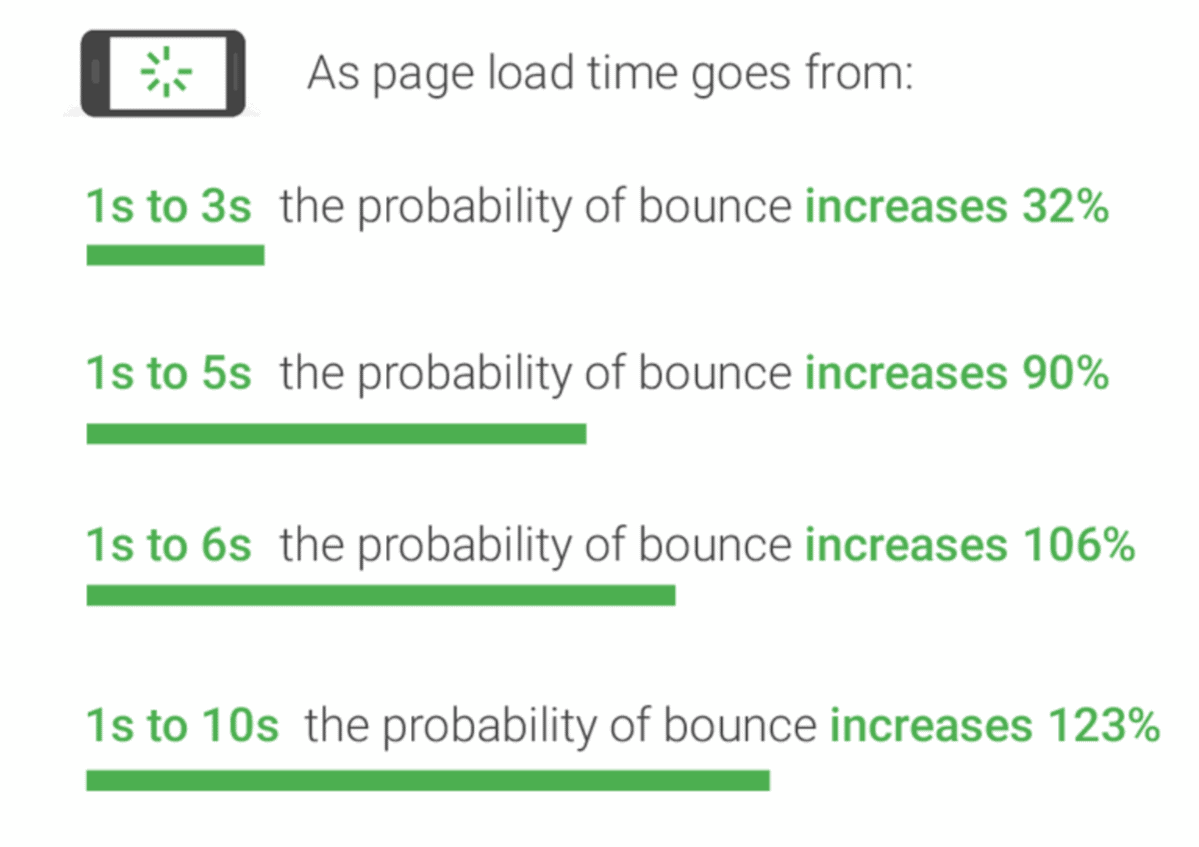 Research has shown that even the sixth listing in search results loads 20% slower than the top five listings. If you want a top spot on SERPs, where the majority of searchers click, you have to have a fast-loading website for users.
Server network
Another hosting factor that impacts SEO is the location of your server network. Physical servers are located in what are called "data centers." According to Forbes, a single data center can have anywhere between 50,000 and 80,000 servers.
When you sign up with a web host, your data can be stored at any of these server locations across the globe. Depending on how geographically far away your website visitors and your server network are, there can be a delay in your page load time. This, of course, negatively impacts metrics like bounce rate:

A common solution to this problem is to choose a hosting provider with a content delivery network (CDN). A CDN is a server network that stores cached website data in strategic locations. It allows a website in Brazil to serve content to users in Japan, for example, without delayed load times.
By using a CDN, you reduce load time and provide an overall better user experience. This impacts how both users and search engines view your content and brand as a whole.
Backups
Backing up data is something that nearly everyone knows is an important task. But many still fail to do this. The following chart shows how often adult users backed up their computer data in both 2008 and 2018: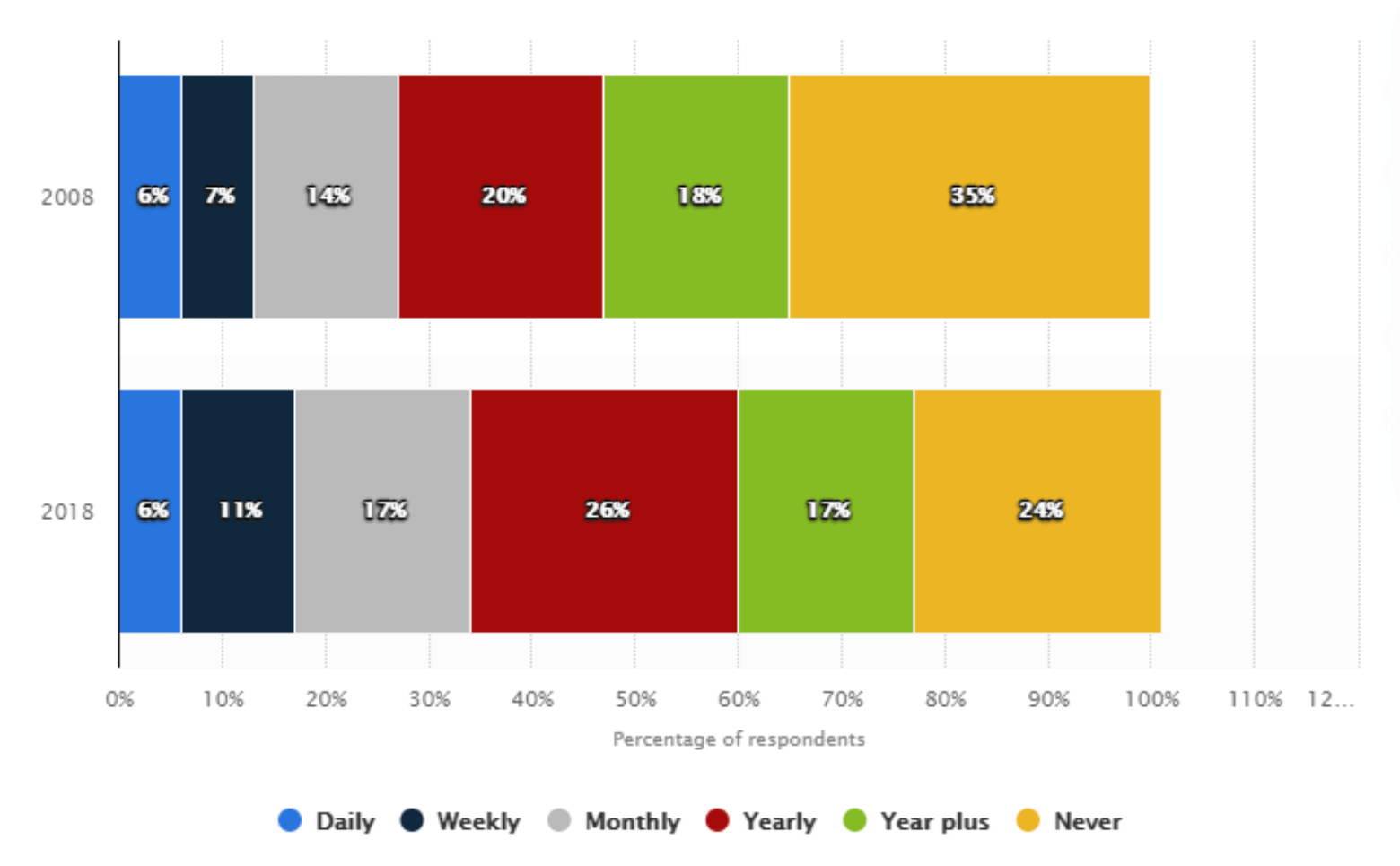 But for marketers and website owners, failing to backup crucial website data can have devastating consequences. Losing high-performing landing pages, blog posts, etc. can drastically impact search rankings and business performance.
Avoid these issues by signing up with a hosting provider that offers automated backups. This is a secure and convenient way to protect your site data, content, and rankings from being lost forever.
Security features
Show search engines that you value user data by picking a host with premium security features. Some notable services that you should look for include:
Spam filters
Antivirus software
Aside from protecting your site data, these and other security features keep your visitors' data safe. Providing a secure browsing environment demonstrates your website's value to users. Therefore, it is a quality you should look for in an SEO hosting platform if you want to improve your search rankings.
Scalability
As your business grows, you will have to deal with higher traffic volumes. Basic hosting services may not perform at the level that you need them to. Extra visitors can slow down your website, so having a high-performance provider is even more crucial as you gain traction online. These are three main types of hosting plans that you need to consider for your business.
Shared hosting
Shared hosting plans pool resources to provide services to multiple websites at once. This is a great option for small business owners or individual sites that don't have a lot of traffic yet. Since multiple websites share resources, they pay less for this type of hosting plan.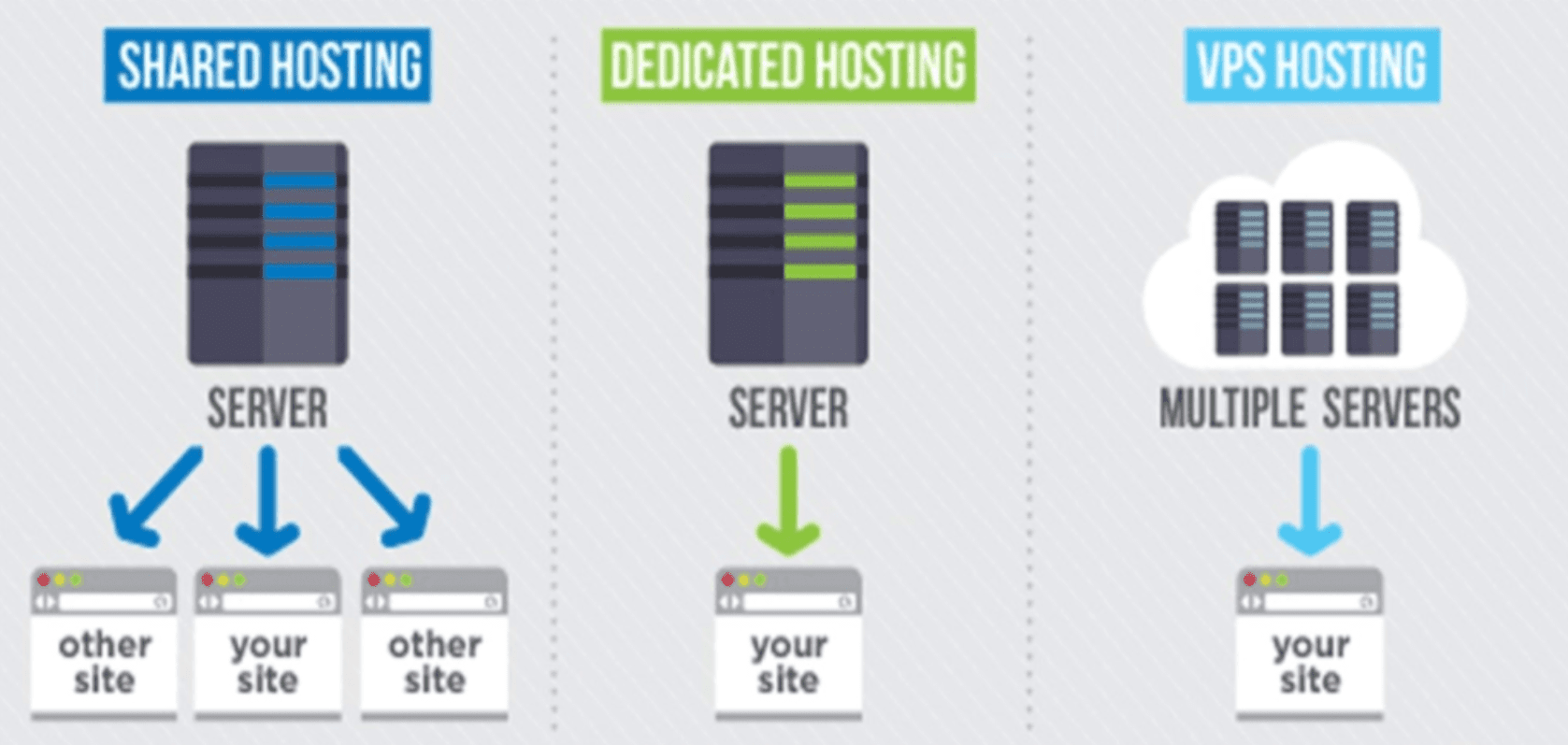 The downside of this model is that it can slow down your website. If you or another site are using up a lot of resources, the host will not be able to keep up with faster loading speeds. In terms of scalability, this model scores poorly. Long-term, shared hosting will weaken your SEO performance and make it more difficult to handle traffic volumes associated with higher rankings.
Dedicated servers
Dedicated servers are private servers that are not shared with any other websites. For many large brands, having a dedicated server is an essential part of their enterprise SEO strategy.
In fact, enterprises make up the vast majority of all web hosting clients at 90.46%: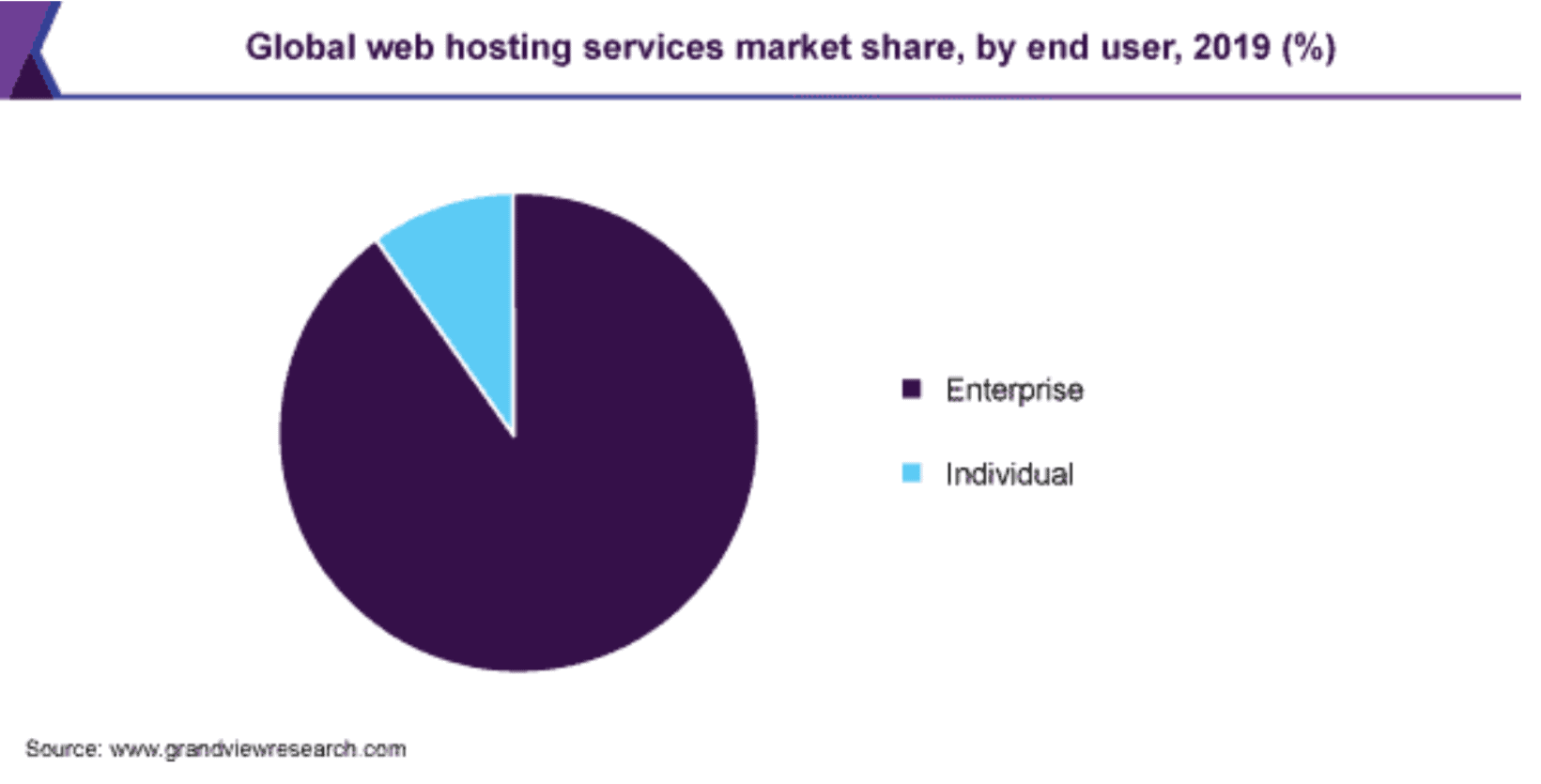 This setup is ideal for businesses with lots of traffic, web pages, and data. Dedicated servers offer the most secure hosting experience and are typically the most efficient at serving information to users.
Virtual private servers
A virtual private server (VPS) serves your website from a physically shared server. Virtually, however, the server is exclusive to just your site. It allows websites to install their own operating system and software.
Here are some of the reasons why you should consider using a VPS hosting service:
You need to host multiple domain names at once.
You want to move away from your content management system and use proprietary software instead.
Your website is loading too slowly on a shared hosting plan.
You have an ecommerce website that requires extra protection for customer data.
From a pricing standpoint, VPS hosting is going to be less expensive than a dedicated service. You still get many of the same features, however, so if you're on a budget, this may be the best option with added security.
Good customer support
In case you run into any hosting issues, you'll want a provider with good customer support. Anyone new to website management or small businesses without a tech department will benefit greatly from customer support options. Web hosting support should offer multiple services in order to keep your site content accessible to users.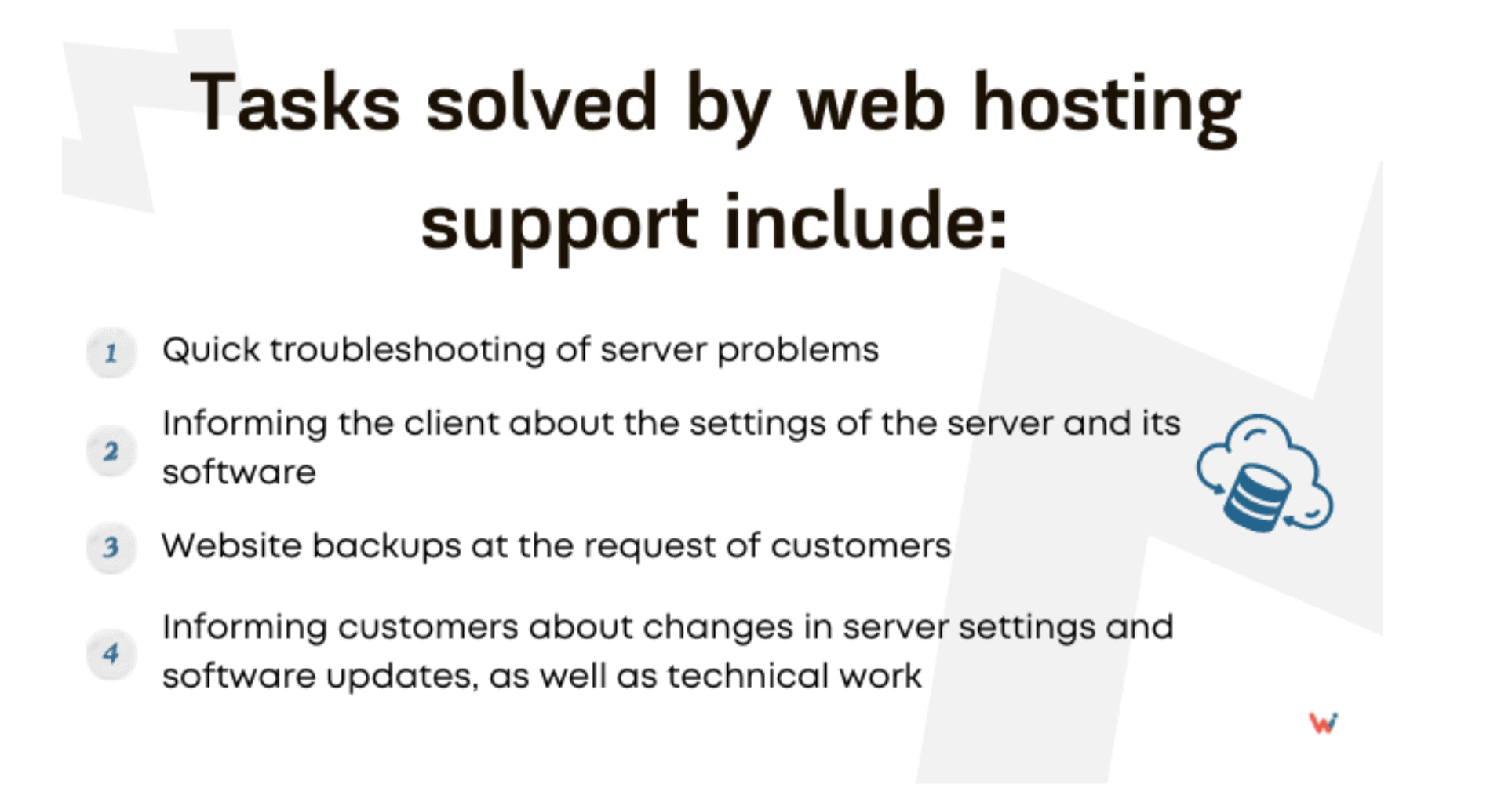 Some companies offer chat features where you can access a representative or an IT technician when you have a problem. While this can be helpful, some are automated bots that may make it difficult to connect with a real person.
Uptime guarantee
An important metric to track is website uptime. This refers to the amount of time that your website is available to users. Reducing website downtime (when content is unavailable) is crucial to establishing trustworthiness, one of Google's EAT SEO factors.
Many hosting providers offer uptime guarantees that your site will be online for a certain percentage of the time. Most commonly, hosts guarantee an uptime of 99% or higher. Note that uptime guarantees do not include any scheduled maintenance or unexpected issues.
Available disk space
You'll want to make sure that your web host has enough disk space for your content. Disk space is the amount of storage available on a server. Having the necessary bandwidth to house your current and expected future content is essential for SEO success.
However, estimating the amount of disk space you need can be difficult. That's because it includes everything from themes and templates to images and text. Your content itself can have a major impact on your storage needs.
Brian Jackson of Kinsta points out that WordPress website owners often "severely overestimate" how much disk space they need, which ultimately "impacts their purchasing decisions in a negative way."
Consider a hosting service that offers disk space expansion over time. Remember that while shared servers may advertise unlimited storage, they may have a hidden limit.

If just one of the websites on the server uses up too much space, your own storage capacity may be maxed out. If you are concerned about space issues, VPS hosting or a dedicated server are better options.
CMS compatibility
You should also consider how your hosting provider impacts your content management system (CMS) of choice. Some providers like WordPress offer hosting services, making integration of various SEO plugins easier.
If you have a specific tool that you want to be able to use, CMS compatibility may be a big factor when choosing a website host. You might also want to look at whether the hosting service supports cPanel and WHM for your website management.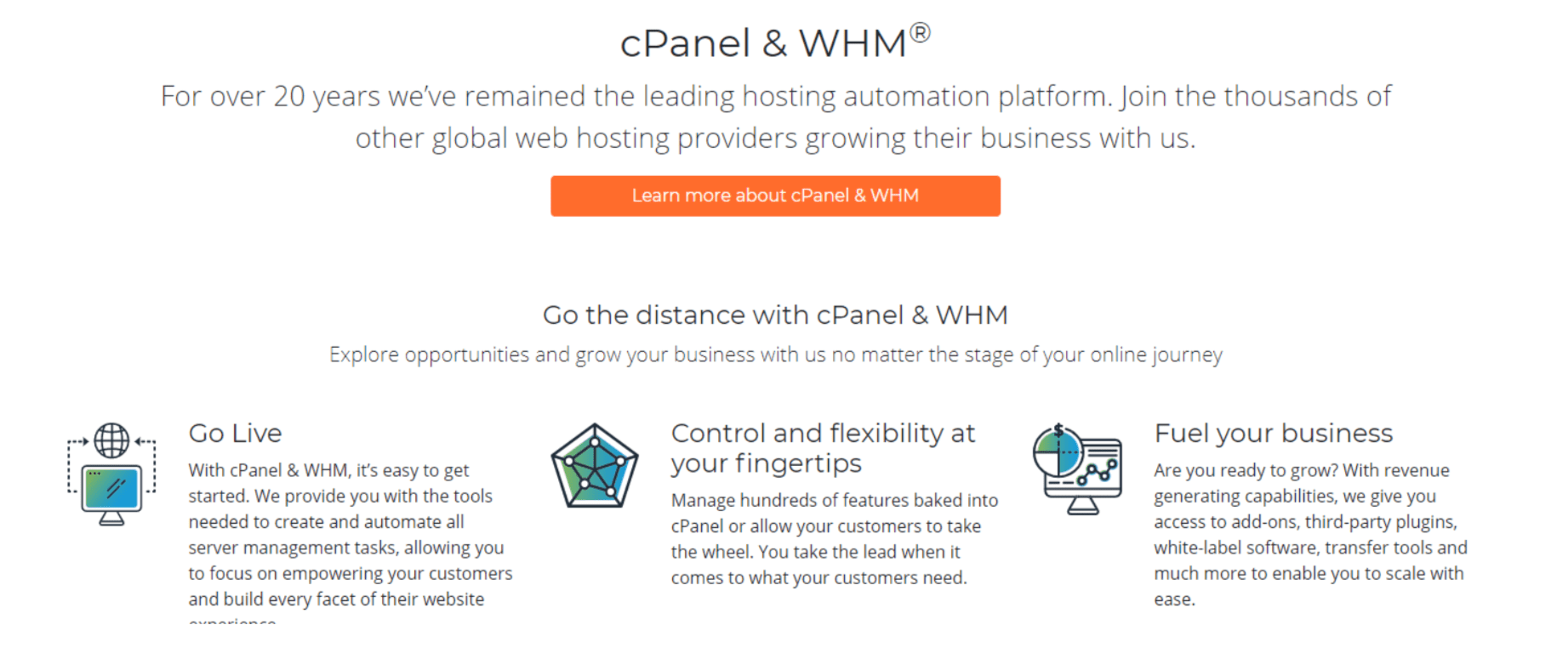 As one of the most popular hosting automation tools out there, having access to cPanel is important for many site owners. Check for CMS compatibility before signing up with a hosting provider to avoid content publishing issues in the future.
Best SEO hosting providers
Given the sheer amount of features to consider, choosing an SEO hosting service can take a while. When it comes to this industry, however, there are some services that stand out above the crowd. Here are 8 of the best web hosting providers that you should consider for your site.
Kinsta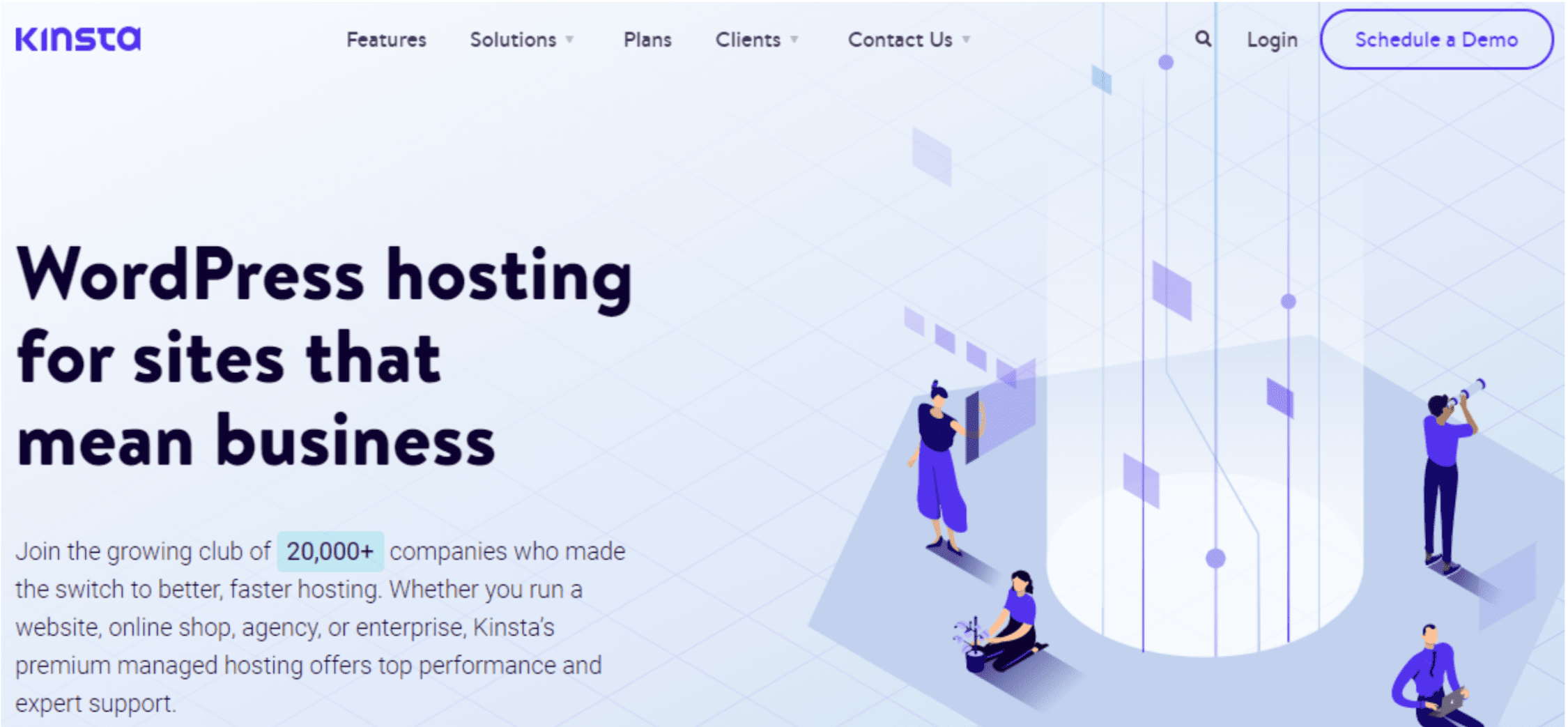 Plans and Costs (monthly): Starter – $30 | Pro – $60 | Business 1 – $100 | Business 2 – $200 | Business 3 – $300 | Business 4 – $400 | Enterprise 1 – $600 | Enterprise 2 – $900 | Enterprise 3 – $1200 | Enterprise 4 – $1500
Kinsta is a cloud hosting service for WordPress websites. It's a user-friendly service that performs a lot of background tasks like malware scanning, data backups, and page caching so that you don't have to. You can receive updates on automated features like data caching and speed optimization.
It's also known for having great customer service, which is big plus for inexperienced site owners. This does not include phone tech support, however, which may be a downside for some. If you're on a budget, Kinsta may not be the best option as it is more expensive than competitors across the board.
HostGator
Plans and Costs (monthly): Shared – $2.75 | Website builder – $3.84 | WordPress – $5.95 | VPS – $19.95 | Dedicated – $89.98
HostGator is well-known for being the fastest SEO hosting provider on the market. Its uptime performance is also impressive, frequently hitting 99.93% or higher. This service is very beginner-friendly and makes it easy to migrate both your control panel and website data.
Its biggest drawback is the price. Many security features and tools cost extra, making its low starting rate of $2.75 slightly misleading. If you want a comprehensive service, plan to pay extra for HostGator's add-ons.
Flywheel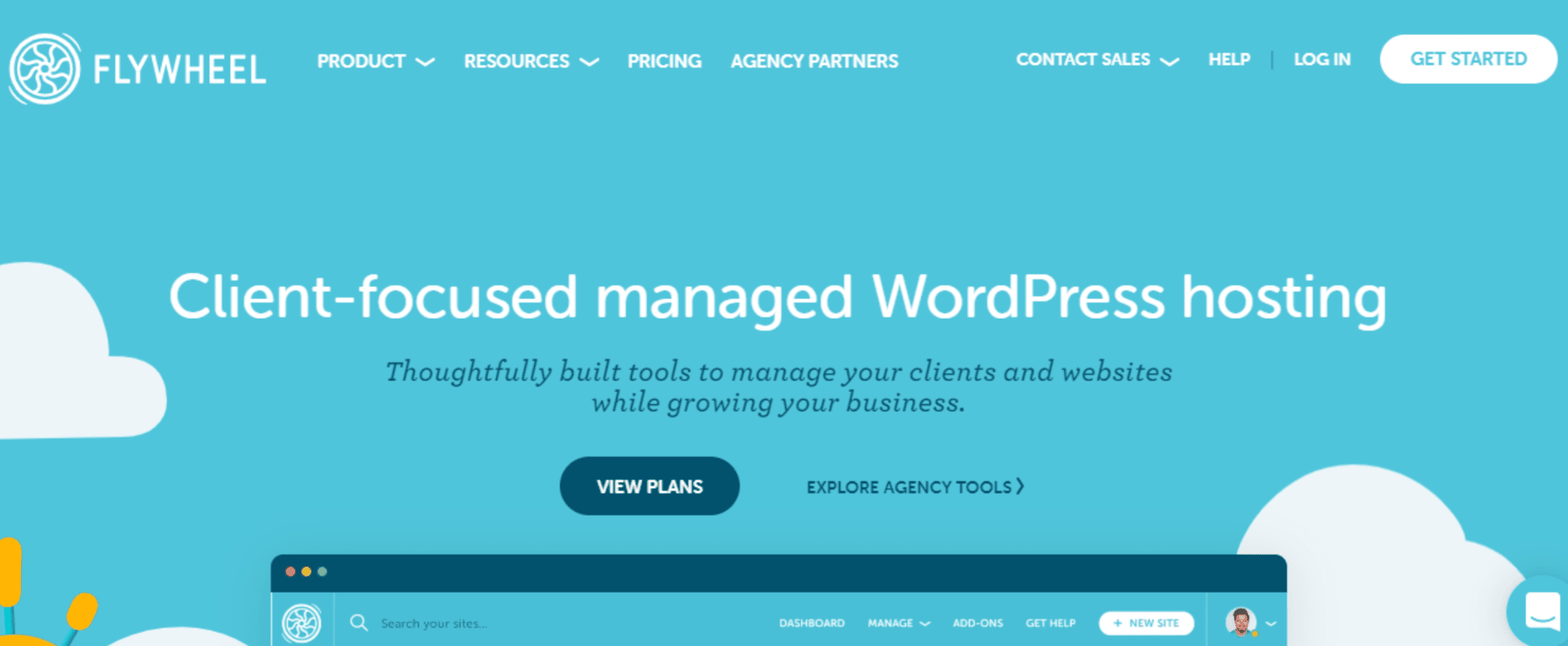 Plans and Costs (monthly): Tiny – $13 | Starter – $25 | Freelance – $96 | Agency – $242
Flywheel is a WordPress hosting provider that boasts a very user-friendly and aesthetically-pleasing design dashboard. While this service is undeniably more expensive at the outset, it offers a lot of tools like site staging, auto-installation of themes and plugins, and a robust arsenal of built-in security features. If you're a WordPress blogger or small business owner with limited or nonexistent web development skills, this is one of your best choices.
Siteground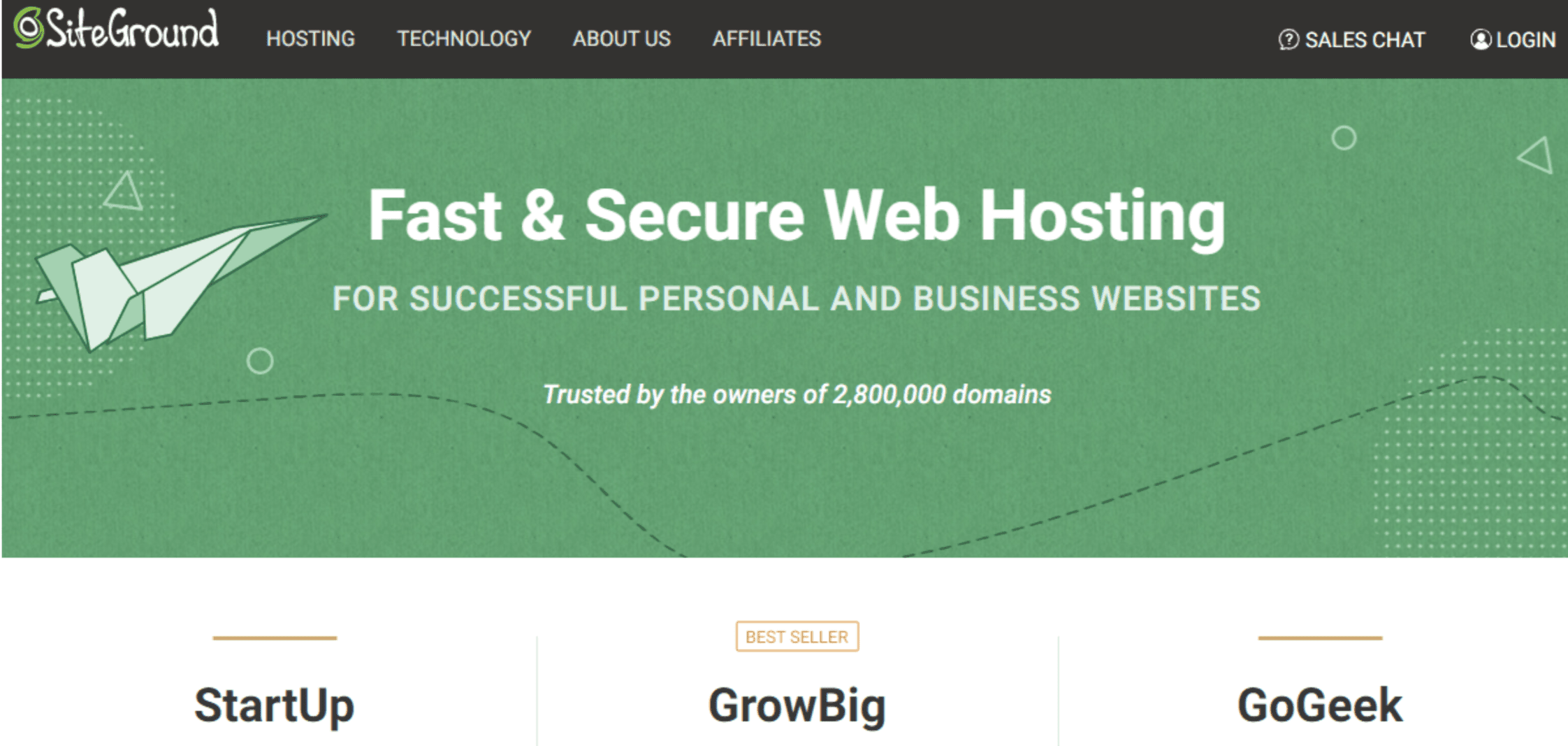 Plans and Costs (monthly): StartUp – $3.99 | GrowBig – $6.69 | GoGeek – $10.69
For WordPress users, Siteground is a well-known and trusted hosting provider. It comes with automatic integration of popular plugins like Siteground Migrator, dedicated IP addresses, and more. Many users like the control panel interface of this provider and enjoy the quality of its tech support services. It also comes with a 30-day money-back guarantee if you want to try it out before committing.
Note that when you sign up with this service, the introductory costs will likely increase after a certain period of time. You also won't get a free domain name with Siteground, a service that many other hosting providers offer.
Bluehost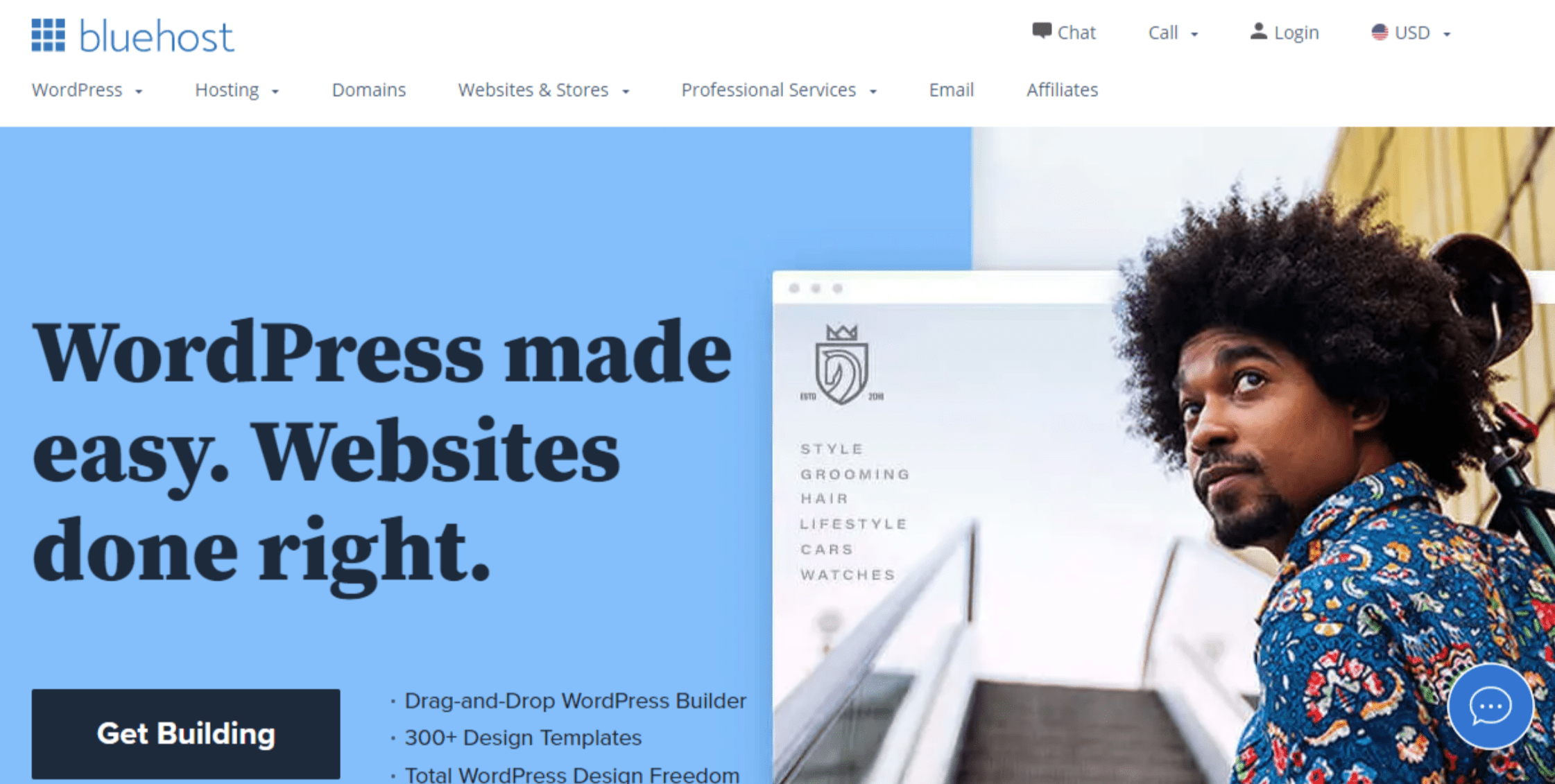 Plans and Costs: Shared – $2.95 | Online stores – $12.95 | Manage WordPress – $9.95
Bluehost is one of the most popular hosting services for freelancers given its frequent promotion by social media influencers. This is, in part, because of its user-friendliness and its 24/7 customer support feature. It is also officially recommended to site owners by WordPress.
Overall, however, Bluehost's basic plan lacks a lot of features like website security tools and unlimited or SSD storage. To get those, you'll have to upgrade to the more premium options. Although Bluehost does integrate well with WordPress and its design templates are very high-quality, the missing features may be a deal-breaker for some users.
Hostinger

Plans and Costs (monthly): Single – $1.39 | Premium – $2.59 | Business – $3.99
Hostinger is a shared hosting service, and it is one of the most affordable options out there. This hosting provider has server locations in North and South America, Asia, and Europe. It offers both regular backups and a 99.9% uptime guarantee. You can also purchase additional SEO tools from Hostinger that help you analyze your technical SEO performance.
Because it only offers shared SEO hosting, Hostinger may not be the best choice for large or fast-growing businesses. If you're looking for a provider to stick with long-term, you should consider paying more for a VPS host.
A2 Hosting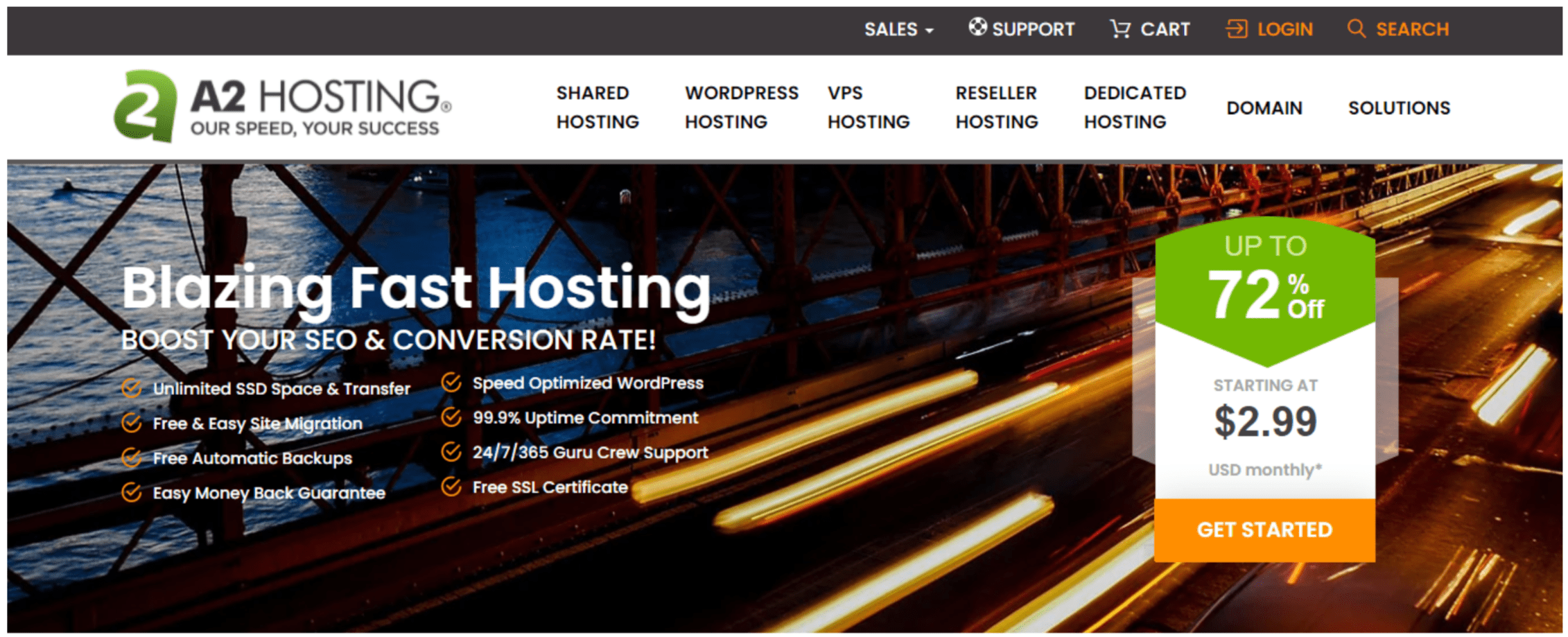 Plans and Costs (monthly): Shared – $2.99 | Reseller – $18.99 | VPS – $4.99 | Dedicated server – $129.99
A2 Hosting is one of the top providers for website security. It comes with security features like 2-factor authentication (2FA), automatic backups, firewall protection, and a variety of SSL certificate options.
From an SEO standpoint, A2 Hosting lacks some of the same tools that other SEO web hosting providers offer. This service, however, is a good choice for scalability because it has so many different types of plans. If cost is your number one concern, you should look elsewhere, as A2 plans are a little costlier than other brands.
GoDaddy

Plans and Costs (monthly): Economy $4.50 | Deluxe – $6.00 | Ultimate – $8.50 | Maximum – $19.99
GoDaddy is a multifaceted business that offers website and email hosting, SEO tools, website building options, and more. You can integrate GoDaddy with popular platforms like Drupal, Joomla, and Python which is handy for a seamless SEO strategy with multiple tools and resources.
The downside of GoDaddy is that its hosting services aren't as comprehensive. Its less expensive plans don't have important features like SSL certificates, site migration capabilities, or automated backups. From a performance standpoint, GoDaddy has less consistent customer support and a less-than-ideal uptime average of 99.1%. If site speed and technical assistance are important to you, GoDaddy might not be the best choice.
Get a complimentary SEO audit
Marketers continue to turn to Google for increased brand awareness and website traffic. And web hosts make it possible for users to access sites' SEO-friendly content. To get the best of both worlds, consider an SEO hosting service that gives you the foundation to optimize your website for search engines. This allows you to manage your site data in an effective way while providing an overall better user experience.
Want to see how you're doing with SEO? Get an instant SEO audit below. Or, schedule a free consultation to see how intent SEO can boost search traffic revenue by 700%.