While SEO strategies for small and medium-sized businesses are relatively similar, bigger enterprises are in a world of their own. There are tools dedicated to enterprises, marketing agencies that serve only them, and a major difference in processes that move the needle. And that's why we distinguish between SEO and enterprise search engine optimization.
What is enterprise SEO?
Enterprise SEO refers to search engine optimization for large, established businesses. How large? Some say to be an enterprise means you have to be a member of the Fortune 1,000; others claim it's about the size of the organization; while others still maintain it's more about the size of the website, its domain authority, and its impact on the company.
Regardless of how exactly you define "enterprise business," the general consensus seems to be this: Enterprises are much bigger and more authoritative than your average small business. Their presence often spans countries and continents, and their website has a much bigger effect on revenue overall. Compared to small businesses, there are three major things that impact the way you do SEO for large enterprises.
Why enterprise-level SEO is different
When you're doing SEO for a bigger business, everything is magnified: problems, fixes, the time it takes to complete projects, and the impact of even small initiatives. Here are three key ways that make SEO for enterprise companies different from SEO for other businesses:
An enterprise website has a major impact on the company's bottom line.
Executing digital marketing campaigns takes a lot of planning and intraorganizational collaboration.
An enterprise website can have thousands, even millions of pages.
Together, these three things affect the way in-house SEO teams and outside SEO agencies work with large enterprises. Here's how:
Traditional SEO techniques aren't always applicable
"Enterprise SEO is like turning a ship" says Anna Crowe for Search Engine Journal. There are a lot of moving parts. Change one of them for SEO, and it will affect countless others. Crowe goes on:
"For instance, you may be tempted to create new pages to replace legacy content. But you have to consider how those changes will affect the inbound links and domain authority those pages have acquired over time. That's the double-edged sword of an enterprise site. They often enjoy all the perks of amazing brand authority. But they have to be careful not to undermine it while keeping content and SEO fresh."
Not only do such SEO tactics affect countless assets, and by extension, the site and its revenue, but they're also much harder to implement with so many team members and pages involved. That brings us to the next issue…
Workflow is a priority
Seemingly simple tasks that work for smaller businesses become much more difficult to implement for a large organization. Large companies operate across departments — marketing teams, web development, design, IT, sales, etc. — and many times across national and global properties, too. Getting buy-in, even for a small task, can be difficult when that small task has such a wide scope.
That means workflow is more a priority for enterprise businesses. With enterprise SEO, a search engine optimizer has to bring more than knowledge and experience. They also need a system for scaling small tactics across pages, countries, and teams. To use Crowe's analogy, they have to be able to steer the ship effectively.
Small SEO tactics can have a big impact on the bottom line
There's a famous marketing experiment in which Expedia removed a single field from a high-value form and generated an extra $12 million in revenue.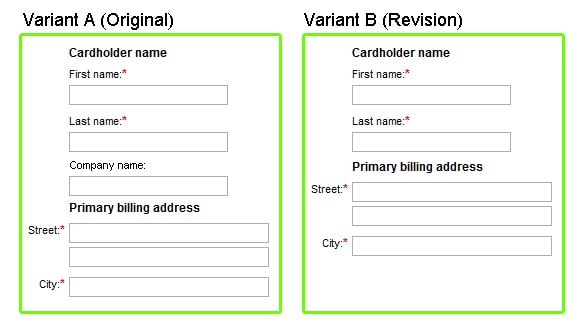 For most businesses, this kind of optimization would have an effect so small it wouldn't be worth mentioning. For enterprises, though, a small optimization like this multiplied over many pages and visitors can translate to big gains.
The size of an enterprise isn't all bad news for optimizers. With a system and process to scale your SEO campaigns, you can make major organizational gains with very basic techniques. Whether it's a small increase in page speed or controlling for duplicate content, these things can move the needle far more with large-scale applications across so many web pages.
There's greater SERP competition
Short-tail keywords bring the most traffic, but they're also the hardest to rank for. There's a lot of competition for them on page one of SERPs. Top positions are almost always occupied by websites with high domain authority and far more resources than the average small business. That's why smaller businesses are better served by focusing on long-tail keywords.
Enterprises, on the other hand, are better equipped to win traffic from those SERPs. Enterprise SEO still focuses on long-tail keywords, but it also emphasizes higher-level, short-tail keywords to boost brand awareness and traffic.
There are more branded searches
Enterprise businesses are more likely to end up in other people's content. Whether that's reviews, or in blog posts and news articles, this content can have a major impact on the brand's general perception. And that can contribute to gains or losses in revenue.
According to one case study, a major furniture retailer had been plagued by negative content in highly visible positions on SERPs. With the help of an enterprise SEO agency, the brand pushed that content to less visible positions by ranking its own positive content above them. When that happened, it recovered more than $32 million in monthly revenue.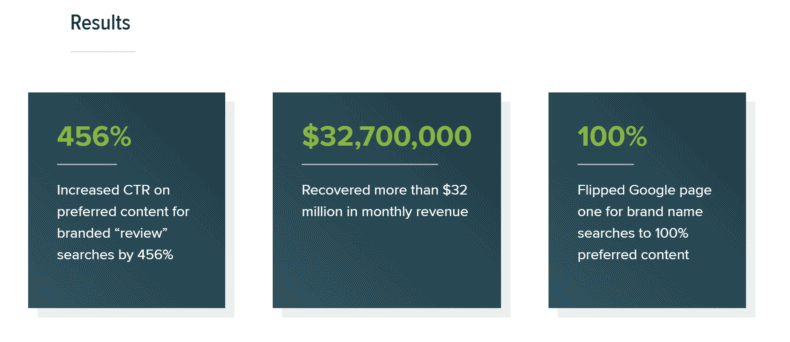 Key focuses of enterprise SEO strategy
The differences between enterprise SEO and other kinds mean that you need a different strategy to rank in high-value positions. Based on these differences, here are some enterprise SEO tactics that should be considered:
More planning for an abundance of audience segments
A bigger business means more customers. And more customers means a variety of preferences for finding your brand.
Enterprise SEO shouldn't only be focused on traditional organic search. It should consider voice search, visual search, YouTube SEO, etc, where most smaller brands wouldn't consider wasting their time.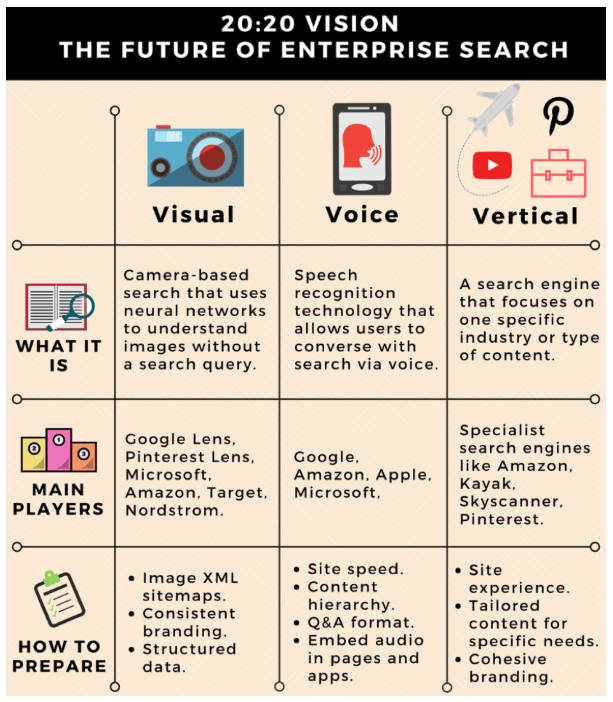 It also needs to take into account the numerous forms of intent, angle, and format, for effective SEO content marketing. Accommodating user experience in search is a much greater priority for big brands, considering their segments are likely to represent a much greater number of customers.
An emphasis on reputation management
When bad reviews, news stories, and other negative content ranks highly for branded searches, it can mean a major loss in revenue for the brand. Where the average small business doesn't have to worry about this too much, enterprise SEO makes it a priority.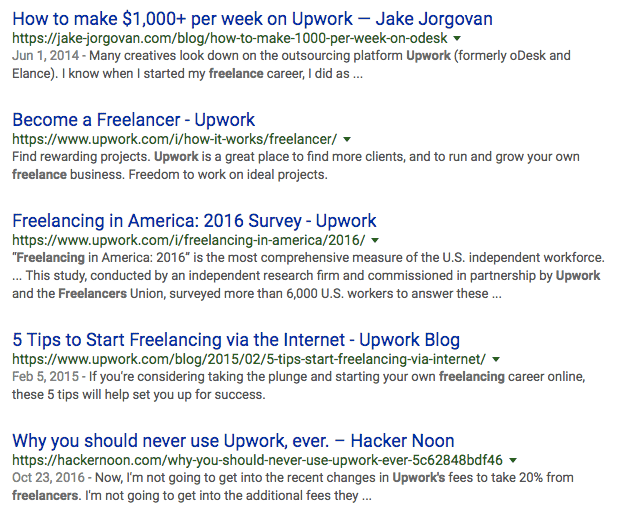 Search volume for branded terms is likely to be much higher for enterprises, simply based on their size and audience. And so are reviews and news articles. If searchers' first impression of you is a trove of negative content, you may find yourself losing out on millions per month like the furniture store above.
More focus on scalability with SEO solutions
Small tactics across vast numbers of pages. That's what an enterprise SEO company has to be prepared to implement.
This requires a system for carrying out the marketing strategy, but also technology to support it. Automation is key here. It can help with keyword research, finding website deficiencies, monitoring backlinks and tags, PPC, link building, high-quality content creation, social media, and more.
Some popular enterprise SEO tools for on-page, off-page, and technical SEO:
Google Search Console
Google Keyword Planner
SEMRush
Clearscope
Moz
Ahrefs
Answer the Public
DeepCrawl
ScreamingFrog
Woorank
Botify
Learn more about enterprise SEO systems, features, and platforms in this blog post from BrightEdge.
A combination of broad and narrow strategies
It's usually small, local businesses that get more benefits from local SEO. But considering enterprises can span towns, countries, and continents, enterprise SEO services may need to include both broad and local keyword strategies.
Consider a national clothing retailer with an online e-commerce site, but also individual local stores. With a population that purchases both online and in-store across the country, the company needs to own both broad and local keywords to draw both types of searchers.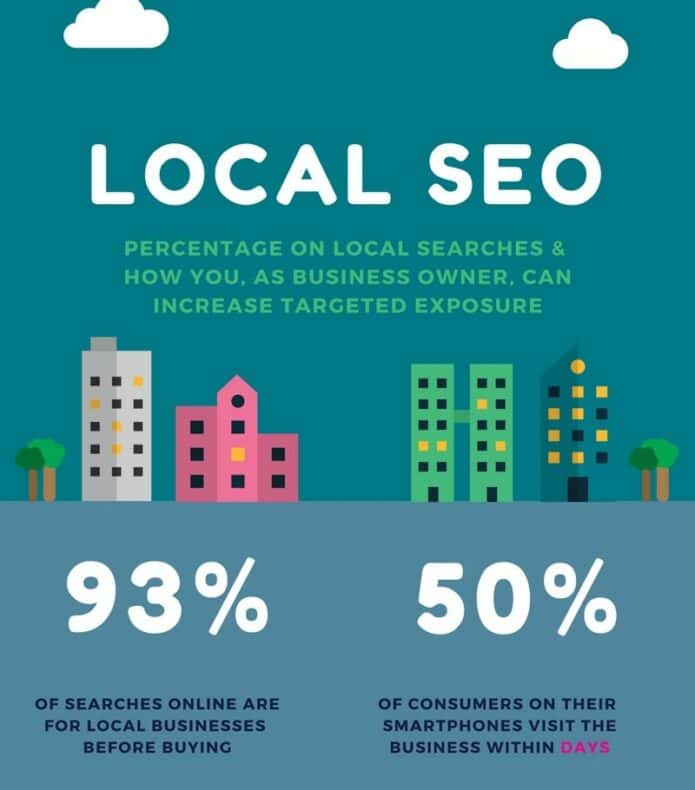 Upkeep is ongoing
A small company won't lose much business by moving a few places in search engine results. For enterprises, on the other hand, losing a few positions to your competitors can mean a significant difference in traffic and revenue.
That's why enterprise SEO efforts are nonstop. Searchers never stop searching. And when your competition has an abundance of resources and budget to steal those searchers from you, falling behind for even a brief period of time can mean losing position in search engines. You have to constantly fight to stay at the top.
Get a free SEO audit
Enterprise SEO isn't like SEO for small or medium-sized businesses. It takes attention to detail, and the ability to scale foundational strategies across thousands — even millions of pages.
Want to see how your web page grades on 40+ key SEO issues? Get a free, instant SEO below. Or, schedule a free consultation to see how intent SEO can boost traffic value by 700%