In 2021, there are an estimated 1.7 billion websites on the internet for Google to index, with more than half a million new sites each day. While that number increases year over year, there are still countless websites that haven't yet implemented search engine optimization (SEO) strategies.
Given the number of competitors who haven't yet tapped into the power of SEO, you probably have a bigger advantage than you know. If you've optimized your website but aren't seeing the results you want, you may be missing a few key ingredients. Luckily, there are many ways to improve search engine rankings without paying for expensive ads or spending hours a day on your website.
How to improve search engine rankings in 2021
A truly impactful SEO strategy is constantly evolving. That's because Bing and Google ranking factors update frequently to accommodate users' changing needs.
With billions of searches each day on Google, it can be easy to get lost in the search engine results pages (SERPs). But your strategy doesn't have to be difficult or time-consuming in order to increase your SEO visibility. Here are 37 ways to improve your search engine rankings in 2021.
1. Consider conversational keywords
Keywords are a key part of every content marketing strategy. In order to find people who are interested in your content, you need to understand how they would look for it. Conversational keywords can unlock SEO opportunities that your competitors might be missing out on.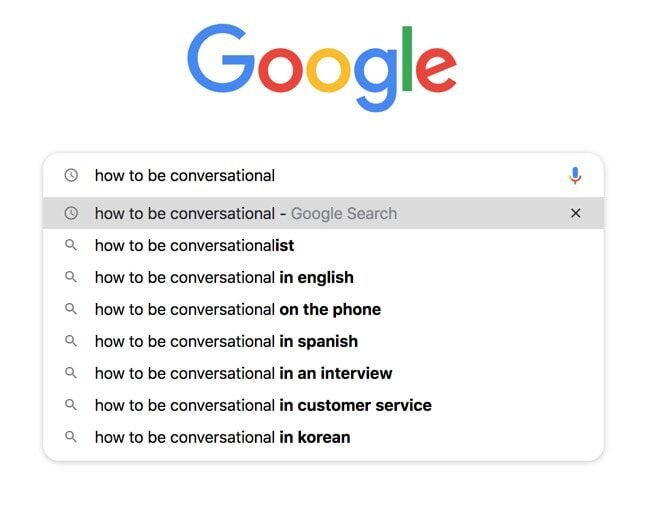 This is an excellent approach to optimize for voice search which grows each year. How would your audience ask Alexa or Siri for the type of content you provide? The answer to that question can help you find conversational search terms that will increase the relevancy and rankings of your web pages.
2. Write a great meta description
On search engine results pages, you need to take advantage of all the space you have. The meta description underneath your SERP listing is where you can convince users that they should click through to your page.
Writing a good meta description is all about understanding the user search intent behind your target keywords and appealing to the wants and needs of your potential customers. Make sure yours elaborates on the meta title to give users a better idea of what to expect on the following page, and don't forget to include the focus keyword.
3. Make FAQ pages
Voice search is only growing across the globe, and it has now taken over as a primary touchpoint in the buyers' journey: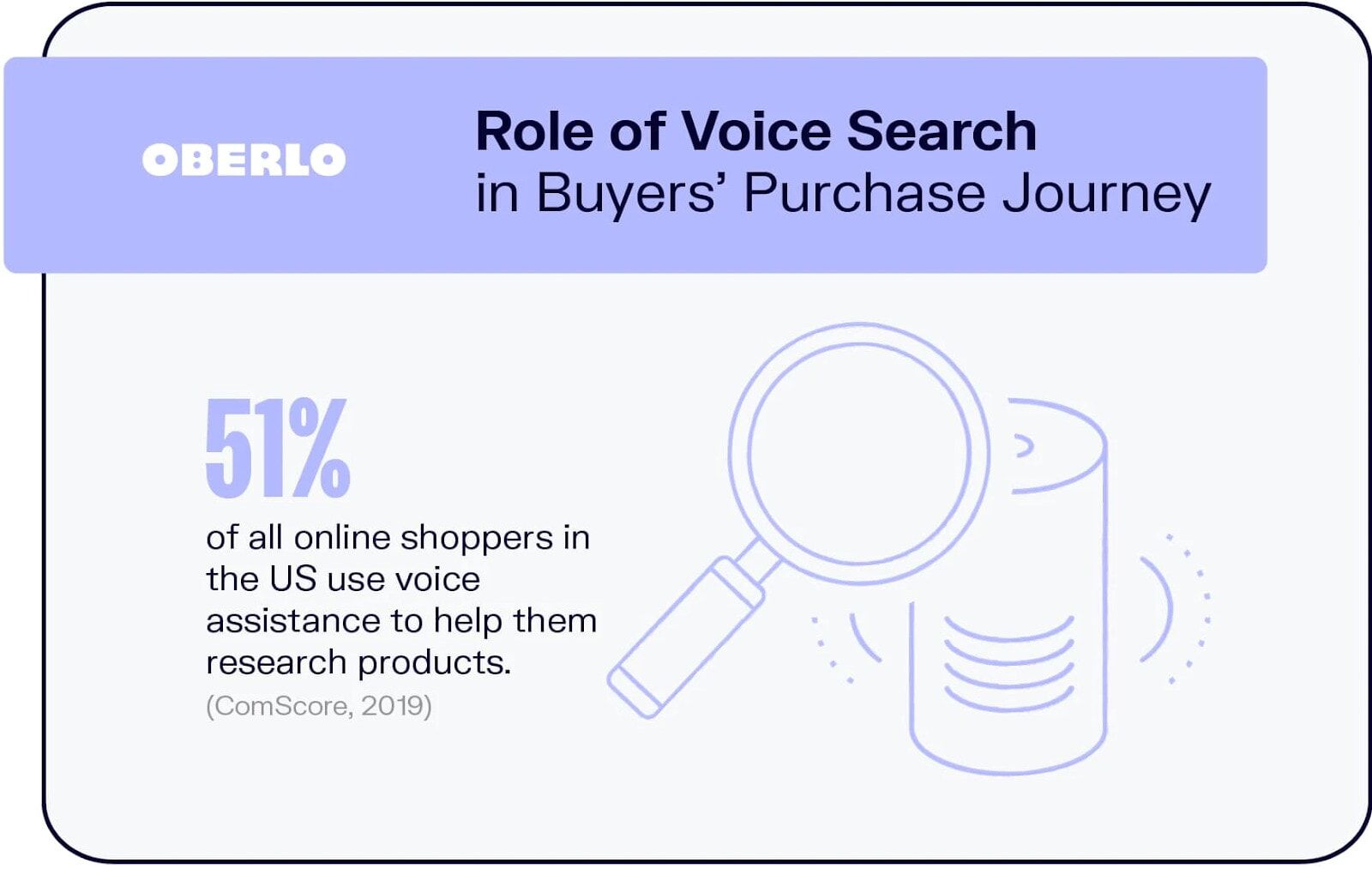 One way to improve your search rankings is using FAQ pages that voice technology uses to answer questions. Brainstorm common industry or product-related questions that users would need answered and add FAQ pages for them on your site. As long as you optimize the page, these answers could help bump your content to the top of SERPs.
4. Test and readjust for mobile-friendliness
Given Google's mobile-first indexing process which emphasizes smartphone and tablet content, you should regularly test your website's compliance. Use the Google Mobile-Friendly Test to see how your site is performing and find ways to improve.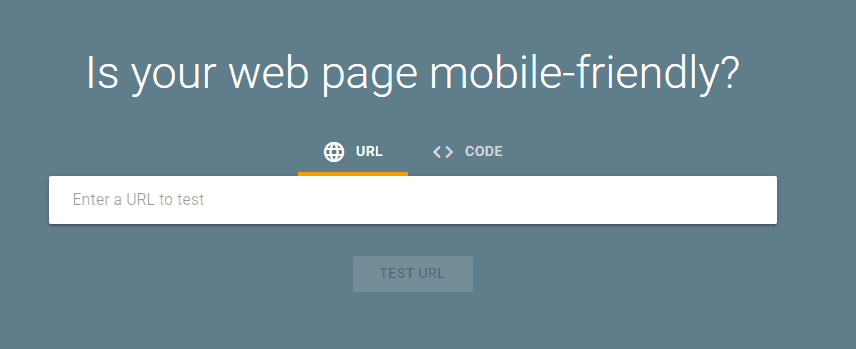 It's not enough just to run a test. Take a look at the recommendations that Google gives you for improving and follow through with them. Once the search engine sees that you have cultivated a great user experience across all devices, your content will have a higher ranking potential.
5. Add schema markup
You can further define your content using HTML code called "schema markup." This type of code basically describes elements like customer reviews, event dates, authors, etc. to the crawlers.
Adding schema markup to your web pages can help you generate rich snippets for your SERP listings. Overall, it doesn't take too much time and gives the search engine more context to display your content. There are tools and plugins that can help with this, too.
6. Monitor your Google Analytics performance
Every website has access to free Google Analytics insights. You should use the data from your site to make decisions about your digital marketing strategy.
Through this platform, you can monitor indexing progress, discover 404 errors, and analyze the organic traffic on your pages. Overall, Google Analytics is a powerful SEO tool for gauging performance and adjusting your approach.
7. Build NAP citations
Providing your brand's name, address, and phone number (NAP) is an essential practice for publishing an ecommerce website. People need to know how to get in touch with you.
Building NAP citations is the process of getting your contact information listed in relevant online business directories. This can increase the number of referrals you get from directories and boost your local SEO rankings. It also reinforces your brand to Google. The more NAP citations Google sees, the more it can be sure that you are who you say you are. Moz has a free tool that allows you to check the strength of your local listings.
8. Simplify your URLs
When it comes to URL structure, a minimalistic approach is best. In fact, including just your keywords in the slug can offer all the information that users and crawlers need to trust and understand the page.

Simple URLs make your site easier to navigate and can visually declutter your site (especially on the XML sitemap) so you can find things quicker.
9. Improve your internal links
You're likely already including internal links in your content. If not, you need to make sure that each web page has links to other areas of your website. Crawlers follow these links to find new pages that need to be indexed. And your site visitors also use them to navigate to other pages on your site.
If you already have internal links on your pages, you should audit them to look for a number of things, including:
Broken links
Links to low-quality or unimportant content
Orphan pages
Irrelevant redirects
Once you know where the issues are, you can implement SEO techniques to fix them. Make sure that the anchor text you use is relevant to the content on the linked page.
10. Include social sharing icons
Including social sharing icons on your website is a popular way to boost brand recognition. This allows people who view your content to share it on social media with just the touch of a button.
Although this won't directly improve search engine rankings in Google, it can increase your opportunity for backlinks and overall site visibility online. It's also important to remember that, although Google doesn't use social engagement as a ranking factor, Bing does take it into account.
11. Complete industry-leading research
An easy way to gain traction in your field is to complete relevant and insightful research. You don't need a large research budget or team to do valuable investigations for your industry. Simply use what you have. This could be things like:
Social media polls
Email marketing surveys
Competitor analysis
Case studies (great for service-based businesses)
Meta-research
Identifying industry trends
Whatever type of content you can create which helps advance your industry can ultimately help your rankings. Sharing your own business insights to help grow the overall size of your market (which helps competitors up their game, as well) can establish your brand as a leader. With increased brand recognition come better backlinks, potentially more guest posting opportunities, and more.
12. Organize with headers
It's possible that your content isn't ranking well because it is poorly organized. Take a look at your use of header tags. Are there enough headers to break up long-form content? Does your H1 tag have the focus keyword in it? Has the content been broken down from broadest topic to most narrow topic?
Good content organization signals the search engine to the quality of your content. Plus, it makes your page easier to navigate, improving your performance for user engagement metrics like dwell time and bounce rate.
13. Create a multimedia experience
Not everyone learns the same way, so it doesn't make sense that your content only comes in one format. You should use a mixture of videos, pictures, infographics, tables, charts, writing, etc. to inform or persuade your readers.
For blogs, this may come in the form of text and images, while ecommerce sites may use product videos and descriptions. Of course, this all depends on the user.
If the most valuable format for a particular keyword search term is a video, then consider making a video. If the most valuable format is an article, consider that. The way to find out is by searching the keyword term you're creating content for. If page one of search engine results shows mostly videos and infographics, you can be confident that the user prefers visual content for that search term.
14. Do long-tail keyword research
An Ahrefs keyword study found that of keywords with more than 10,000 monthly searches, 29% had at least three words in them.
Optimizing for long-tail keywords can earn you a significant online market share in your industry. Rather than running expensive PPC ad campaigns which don't even guarantee a higher click-through rate (CTR), look for terms that have less competition.
15. Publish customer reviews
Any successful SEO strategy is built around great content that serves the user. If you sell any type of product or service, publishing customer reviews is a powerful tactic. Not only can it gain you trust with potential clients, but it also can help you get rich snippets for your listings.
Although it can be scary to add public feedback, if you are confident in your product/service offering, this can be very beneficial to your search engine ranking.
16. Enhance your content readability
Search engines want to give users content that is easy to digest and understand. This is called "readability," and it's a big indicator of your web page's user-friendliness.
There are several tools like the WebFX Readability Test Tool or Grammarly that you can use to assess your content's readability. Once you know where your content stands, you can simplify it, make it more conversational, or change the formatting to enhance its user-friendliness and overall SERP ranking.
17. Eliminate pop-ups and animations
Have you ever gone to a website and been bombarded with video ads, email opt-ins, cookie policies, and distracting animations? It's overwhelming and comes across as spammy. Keep pop-ups out of the way of your content and make sure that you only include the essential notifications.
Consider moving your email listing notifications to the top of the screen like People Magazine did on their web pages:

This way, it is the first thing that users see, but it's not right in the view of your writing, product listings, etc. Avoid creating a negative user experience by reducing your use of animations (this will improve your site speed).
18. Submit an XML sitemap
Search engines can take a while to index content on your website. This delays your ranking and can make it difficult for searchers to find you.
Solve the problem by submitting an XML sitemap to both Google and Bing. Once they have the blueprint of your site, crawlers will be able to analyze and index content faster. The sitemap will help you rank better by improving crawlability.
19. Streamline formatting
Improve your ranking by creating visually appealing content that comes in multiple formats. Search engines like to display unique and easy-to-consume web pages for search terms.
Format your pages using elements like bullets, colors, capitalized text, and more. This will not only improve the flow of the content but it will also make it easier for crawlers to analyze, potentially leading to higher rankings.
20. Use responsive web design
Google's algorithm prioritizes mobile websites over desktop versions, and its index is made up entirely of content from mobile sites. This is because more than half of all search queries come from phones and tablets.
Luckily, popular content management systems like WordPress and Wix now have responsive web design features. This allows you to optimize your layout for mobile screens without creating an entirely separate website. Implementing responsive design will make your web pages more user-friendly, faster, and easier for crawlers to index.
21. Maintain an active social media presence
If you are struggling to establish a strong brand identity online, social media can help. They receive customer feedback, share website content, and show the relevance of your brand through activity on Facebook, Instagram, LinkedIn, etc.
Although Google doesn't use social signals as a ranking factor, remember that Bing and Yahoo do. In any case, social media helps brands form meaningful connections with their audience. Not to mention, studies have found a correlation between high rankings and high social engagement.
22. Eliminate duplicate content
Having duplicate web pages can lead to lower rankings because the search engine won't know which URL to display in the SERPs. If you have multiple pages with the same content, add a canonical tag to tell Google which one is the most important version.
This will clear up any confusion and prevent your pages from sabotaging each others' rankings.
23. Create effective image alt text
Search engine crawlers can't understand images the way humans can. They can't physically see them. Instead, they rely on something called "alt text," which is essentially HTML code that describes the content of an image. If an image can't load for some reason, the alt text will let the user know its contents: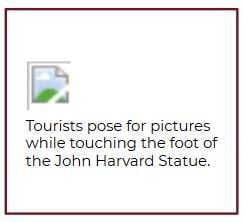 You need to add alt text so that crawlers understand your visual content, but you also should add it for your users. Alt text is what screen readers tell visually impaired users about images. Without it, the user will only hear "image" when they scroll across your visual content. Adding alt text improves your accessibility, an important component of your SEO ranking.
24. Include the keyword in your file name
While you've been focused on developing high-quality content, you may have forgotten that crawlers also view metadata. Including your target keyword in your file name provides extra information for the search engine to understand your web page during the indexing process.
25. Create infographics for your industry
Marketers are always looking for value-added images to break up their written content. By developing interesting and helpful infographics about industry trends and data, you can earn more backlinks from your peers.
This approach doesn't have to cost you money, either. There are many free tools like Canva that you can use to make interesting visuals for your website. When a content creator adds it to their site, they're likely to add a backlink to the source: you. If you can get backlinks from high-authority domains, the search engine will view your website as more reputable for your focus topics.
26. Write guest posts for other sites
In order to improve your credibility online, you need to grow your target audience and your brand visibility. A great way to do this is to publish guest posts on other sites in your industry.
Guest blogging gets your name/brand out there as an industry-leading source of information and can help you generate backlinks, too. Backlinks remain one of the most powerful ranking factors for Google search results.
27. Target local keywords
If you're having trouble competing in your industry, try ranking for local search terms. This is especially helpful for small businesses that have physical locations. Optimize for local keywords like "laundromats in Detroit" or "italian restaurant in Sacramento."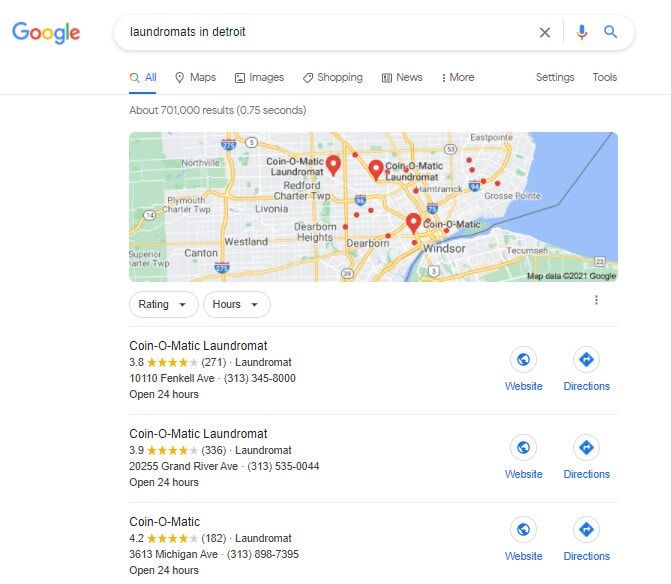 As potential customers search Google for locations nearby, the search engine will direct them to your site which has been optimized appropriately.
28. Check for blocked CSS, Javascript, and images
Older versions of mobile websites sometimes block CSS and Javascript data because they use to negatively affect the user experience. This is not the case anymore because of advancements in responsive technology that make it easy to properly display content on different devices. You can visit the Google Search Central YouTube page for how to unblock any of this data.
29. Pursue broken link building
An effective method for generating backlinks is called "broken link building." This is where you look for broken links on other websites, create a resource for the same topic as the broken link, and then message webmasters your new, better web page to use in their content.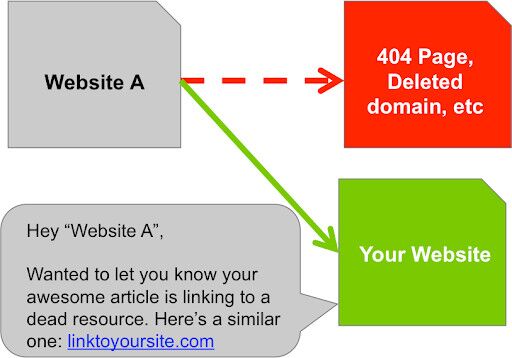 The benefit of this SEO strategy is that it allows you to help other sites that want to get rid of dead-end links while also helping yourself. If you need help, there are several broken link checkers and plugins that you can use.
30. Resize, condense, or compress images
Images take up a significant amount of space in the background of your website and slow it down. One way to reduce their impact is to resize them. The size of an image is expressed as dimensions (EX. 100 x 500 pixels) and is different than its storage space, which is expressed in kilobytes (KB).
Resizing involves cropping an image so that it has smaller dimensions. This means that the image has fewer pixels for the search engine to load, which speeds up your website.
Compressing images is an approach that can also reduce the KB storage an image takes up. When you compress your photos and infographics, make sure the resolution isn't too low. You don't want to end up with images that look unprofessional for the sake of smaller dimensions.
Caching will also condense your images. This is where the image is stored on a nearby server so the search engine doesn't have to download it every time someone pulls up the web page. After caching images on your website, you will most likely see increased page speed. It will also help users whose mobile devices won't need as much data to load large images.
31. Answer questions on message boards
Many people turn to message boards and Q&A sites like Quora for information. Become an active participant on these sites so that you have a chance to link to your website content. This can indirectly improve your SERP ranking while also increasing your direct traffic from external sites, an overall win-win. Quora answers have the potential to rank at the top of SERPs for particular search terms.
32. Link your Google tools
Make sure you have linked your Google Analytics Google Search Console profiles together. This can improve your rankings by giving you a better all-around view of your SEO performance. Tracking SEO metrics will help you learn where to focus your attention, allowing you to focus on activities with the highest ROI.
33. Do SEO for other platforms
Do you have a presence on platforms outside of your own website? For example, do you run a blog and have a supplementary YouTube channel? Maybe you sell products on your website but also have an Etsy shop.
There are specific Etsy SEO tactics that you can use to increase the visibility of your brand on other platforms. Same with YouTube. By optimizing for the other platforms that you're on, you may see better rankings for your website. This is because the search engine will see how active and valuable your brand is as a whole across the internet.
34. Assess your title tag
The title tag is one of the most important on-page SEO elements you can write. It is the connection between your audience and your content. Without a compelling title tag, you will have a hard time getting users to click on your web page. Consider this example:

Even though it was published in 2015, it still remains one of the top-ranking posts for content on hosting Thanksgiving. Ensure that your page title is 60 characters or less, includes your target keywords, and has a unique selling point (USP) to increase your CTR.
35. Remove images that don't add value
You should only include images that contribute to the overall quality of a web page. At the very least, any visuals should help the reader understand the content or provide important context. When you remove unnecessary images, you improve the value of your content and even page speed.
36. Write skyscraper content
When mapping out your content, use "The Skyscraper Technique," a creative approach developed by Backlinko. It is a three-step process that includes:
Researching top-notch industry content that gets shared a lot.
Making an even better version of the content you've found.
Email your awesome content to websites that have linked to similar pages in the past.
This approach doubled organic traffic to the Backlinko site.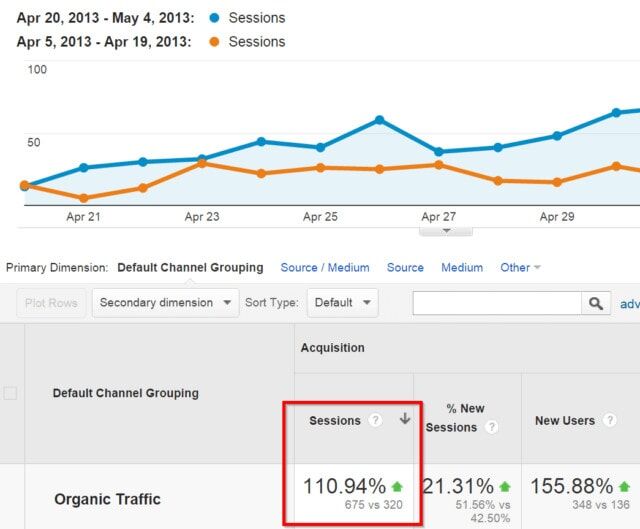 There are many ways you can develop new content with this method. From making longer or more thorough posts to improving on the format and design, it all depends on the opportunities you see within the competing web pages.
37. Claim your Google My Business (GMB) page
From 2016 to 2018, search queries containing the terms "near me" increased by more than 200%. Every business owner should have a Google My Business listing field out in its entirety.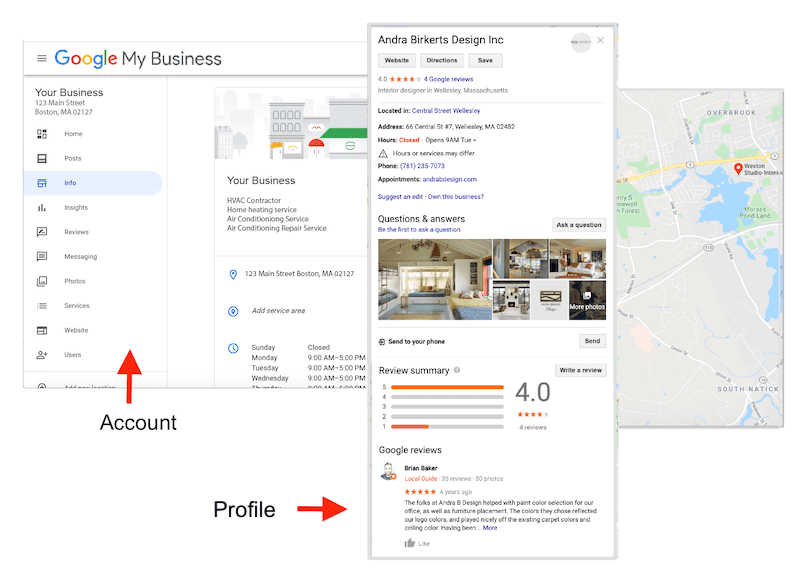 This is where users go to find important contact information, location, and website information for companies. If you haven't claimed your GMB listing, you are also potentially missing out on a significant amount of web traffic from Google Maps.
Get a complimentary SEO audit
Although SEO is a widely known digital marketing strategy, many businesses still struggle with optimizing their content. Following these methods can improve your organic search traffic and build your brand's online presence without running expensive PPC ads.
Want to see how you're doing with SEO? Get an instant SEO audit below. Or, schedule a free consultation to see how intent SEO can boost search traffic revenue by 700%.