Microsoft's Bing search engine doesn't get much credit for being a valuable search engine, despite handling billions of searches per month. What's more, the people who use Bing have higher average incomes than Google users, representing a valuable market for ecommerce businesses.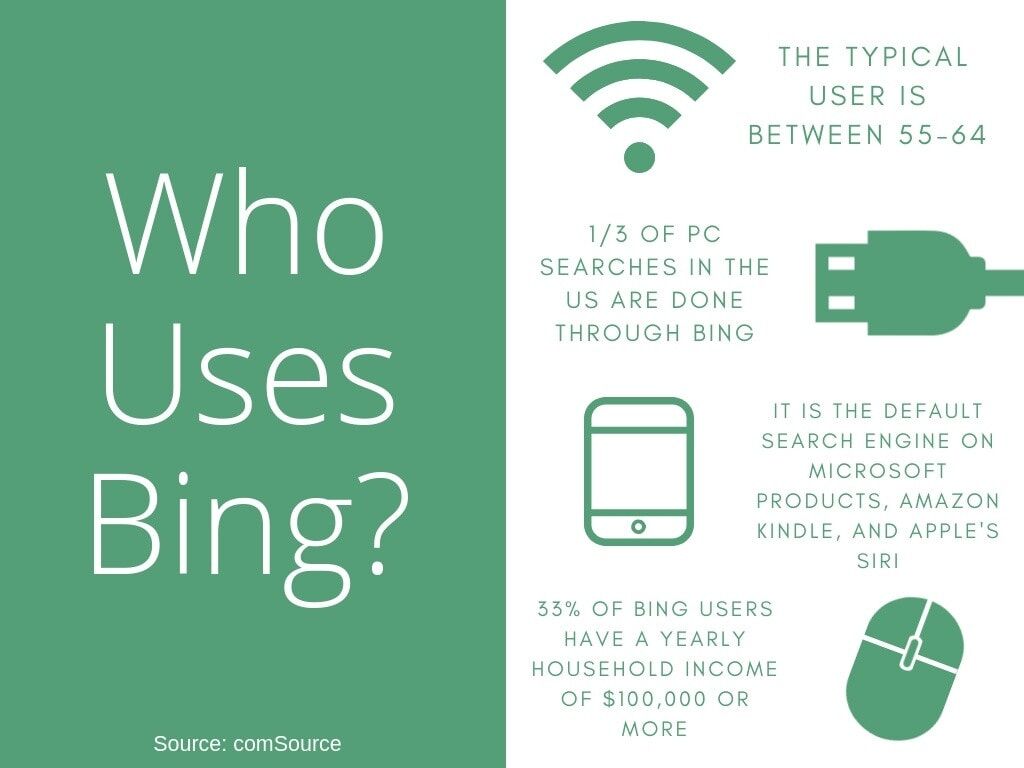 Many businesses fail to optimize their content for Bing. This presents a unique opportunity for you to capture a larger market share in your industry without spending as much time, energy, and money as you would on Google. Understanding Bing ranking factors is the first step to succeeding with Bing search engine optimization (SEO).
Bing ranking factors for 2021
It's true that there are general SEO techniques that can enhance the quality of any website. Even so, it is important to remember that not all search engines treat website components the same. The techniques that work well for Google don't always translate to the same success on Bing.
Each search engine analyzes web pages differently to determine which pieces of content are the most valuable for a given search query. Knowing the most important Bing ranking factors will guide you along as you develop a marketing strategy for your website. Here's what Bing prioritizes as ranking factors:
Page load time: Page load time is an important user experience SEO metric that Bing uses to rank content. Having a slow-loading page can increase your bounce rate and turn users away from your site. As such, it reflects on the quality of your site as a whole.
User location: To provide searchers with relevant information, Bing considers their location along with the web page's hosting country and language. This makes the results page more helpful to the user.
Mobile-friendliness: While Google holds the majority of mobile searches, Bing still wants to see that a website caters to many devices. This ranking factor looks at things like content size, spacing, and readability to determine the site's functionality and accessibility.
Backlinks: Bing considers backlinks as a sign of content's credibility and overall quality. It focuses mostly on the source of backlinks (credible site vs. spammy site) and their age (new links vs. old links). Backlinks from sites with higher domain authority scores can boost your SEO performance more than links from younger or low-quality sites.
Freshness: Content needs to remain "fresh" so that the user has the most accurate information possible. If the content belongs to a niche that changes regularly, it should be updated appropriately.
User engagement: The way that users interact with Bing search results plays a factor in how content is ranked moving forward. Click-through rate (CTR) is one of the engagement metrics that gives Bing insight into content's relevance and quality. If a page doesn't receive very many clicks in the SERPs, it can be a sign that the information presented in the listing isn't useful to users.
Social signals: Content's performance on social media can increase its ranking. When a web page has been shared many times, Bing interprets this as a sign that it should also be sharing the page in SERPs. It will even scan social platforms for information to display in its knowledge panels.
Keyword usage: Bing likes content to have exact matches of search keywords because they are easier to understand. Having the target search terms directly in your content will help the search engine understand where to display your pages. Keywords should be in the written content, meta tags, alt text on images, and pretty much anywhere else where crawlers might go for more content.
You can visit the Bing Webmaster Guidelines for more information on these and other ranking factors. These factors differ from the ranking criteria that Google uses, but there is some overlap between the two. Here's a graphic from Matthew Woordward that does a great job of summing up the important Bing ranking factors.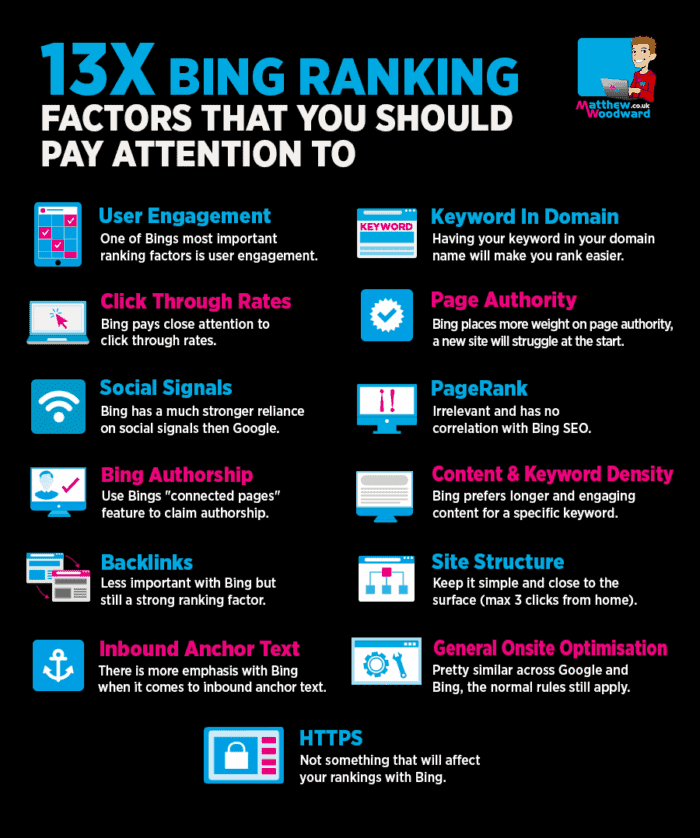 Bing vs Google: How are they different, and which is better?
Although most successful SEO strategies involve optimizing for both Bing and Google, there are noticeable differences between the two. Before you decide on your content marketing strategy, learn more about the advantages of each search engine.
While some types of businesses may benefit more from Google SEO, others may see better results with Bing SEO.
How they're different
The most obvious difference between Bing and Google is their market share. Google has a 92% share of the global search market while Bing has a 2% share. If you factor in Yahoo search results, which are powered by Bing, the 2% share goes up to nearly 4%.

When it comes to performance, Google's algorithm is more sophisticated because it can analyze and interpret complex, semantic search terms. Bing is also capable of doing this and it gets better every year, but it hasn't quite reached the same level of accuracy and understanding as Google.
Especially for SEO purposes, Bing ranking factors are more transparent and widely available to the public. This can make it easier for marketers to develop an SEO strategy.
Based on the ranking information provided by Bing and Google, here are a couple of the ways that the two search engines rank content differently:
Backlinks: Google puts more emphasis on quantity while Bing focuses more on quality.
Social signals: Bing uses social media signals to understand brand credibility. Google uses social media signals primarily when it comes to backlink analysis.
Domain names: Bing favors official domains like .edu or .gov more than Google does.
Click metrics: Google hasn't explicitly stated that click metrics impact rankings, while Bing has.
Since these search engines have different approaches to ranking content, it can be difficult to figure out where to focus your attention. Given their unique points of emphasis, it is clear, however, that Google and Bing suit different types of businesses.
Which is better: Google or Bing?
Bing is a great place for local businesses to optimize their content. Sometimes these smaller brands have a difficult time competing with bigger brands in Google's vast search rankings. With lower advertising costs and the SEO influence of profiles on LinkedIn, Instagram, Twitter, etc., small companies can get a better foothold in their industry through Bing's SERPs.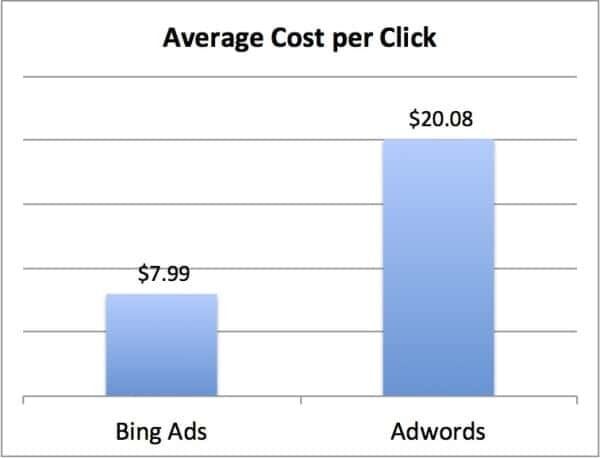 As far as overall SEO visibility goes, the Google search engine has a larger organic traffic market share. So ecommerce businesses will have greater access to potential customers on Google. And since ecommerce sites generally ship to many locations, they can handle the extra traffic from ranking on Google.
Also, if you decide to optimize for long-tail keywords, you should implement a Google SEO strategy. The Google algorithm can better understand these keywords better, so it is more effective at ranking content for them.
How to do SEO for Bing
Now that you understand how Bing ranks content, you can begin implementing some on and off-page SEO techniques. Here are some of the ways that you can create content that is ready to dominate Bing SERPs:
Create high-quality content: You want to ensure that your content answers the user's search query. Research top-ranking posts for your keywords to determine the format, style, organization, etc. that Bing wants to display.
Focus on social: Unlike Google, the Bing ranking algorithm takes social engagement into account when ranking its results. If you focus on building your following and engagement on social media, you're more likely to rank well in the Bing search engine
Ensure your site is crawlable: In order to rank, you have to be accessible to Bing crawlers. Search for your website on the Bing platform and submit an XML sitemap so that the indexing process can go faster. You can do this under the Bing Webmaster Tools dashboard.
Write excellent title tags and meta descriptions: Your SERP listing is what stands between customers and your content, so it needs to be well-written and enticing. Since Bing uses CTR as a ranking factor, you should take extra care when crafting these HTML meta tags. Make sure that your meta descriptions have no duplicate content across pages. Your title tag should clearly state the topic of the content in 60 characters or less.
Build links: Use white hat SEO tactics to generate top-notch backlinks from other brands in your industry. As you add internal links on your own site, make sure you use relevant anchor text that accurately explains the linked page's content.
Incorporate local SEO: Dominate the search results by filling out your business profile on Bing Places (see image below). Make sure you fill out the listing in its entirety and include your brand, name, address, and phone number (NAP) information on your site's homepage. You want customers to be able to find you easily.
Do keyword research: Remember that Bing prefers exact keyword matching when it crawls content. As you do your research, look for phrases that you can naturally incorporate in your writing. You can also use close synonyms for certain words, as long as the synonym doesn't change the meaning of the search.
While Google's algorithm can be secretive and difficult to accommodate at times, Bing SEO techniques are directly correlated with improved rankings. The transparency of Bing's ranking process ensures that the content reaches a higher standard while discouraging black hat tactics. By following these Bing SEO guidelines, you can grow your industry market share and develop more user-friendly content that will serve you well in the long run.
Get a complimentary SEO audit
With this information about Bing ranking factors, you can put your energy into techniques that you know will yield direct results in the SERPs. And since many businesses neglect Bing optimization due to its smaller market share, this can give you a competitive advantage if you're struggling to gain visibility on Google.
Want to see how you're doing with SEO? Get an instant SEO audit below. Or, schedule a free consultation to see how intent SEO can boost search traffic revenue by 700%.