According to w3techs, Drupal is used more by highly trafficked sites than any other CMS, and it's the choice of some of the world's biggest brands, like Tesla, Nasa, and the Emmy Awards.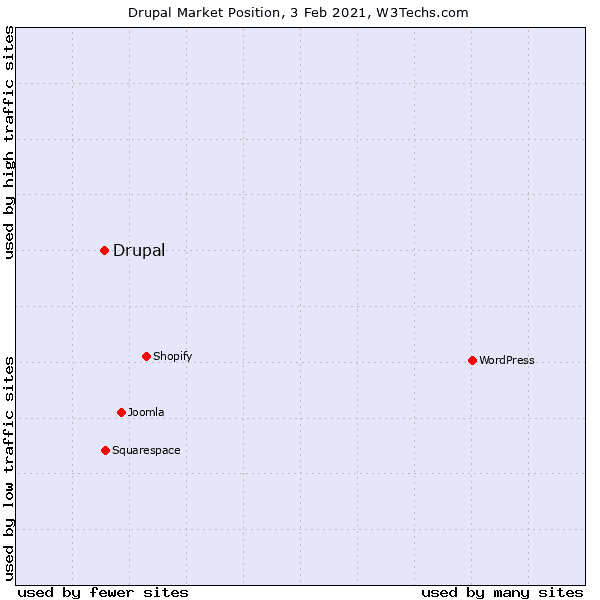 If your site runs Drupal, you're in good company. But you're also up against stiff competition. Drupal SEO is a way for site owners to win more organic traffic from their competitors in search engines. Helping them do it are website add-ons known as Drupal SEO modules.
What is Drupal SEO?
Drupal SEO (search engine optimization) is a marketing strategy used to improve the search engine ranking of websites built with the Drupal platform. With a higher ranking comes more traffic from search engine rankings like Google, Bing, and Yahoo, which means more potential customers on your site.
Unlike PPC, search engine optimization is an organic marketing strategy, and as such requires less budgetary commitment. SEO is also unlike other marketing strategies in that it can compound ROI over time.
Is Drupal SEO-friendly?
Drupal is known for its customization features. There are so many options that for inexperienced users it can feel like too many. Compared to other content management systems, the learning curve is steeper. But the platform is known for several SEO-friendly features, like:
SEO-friendly URLs
Highly effective taxonomy
Automated page title and description
Custom content types and fields
Despite these advantages, Drupal's customizability is also its biggest shortcoming, according to some. You can do so much that you're not sure what needs to be done.
In short, Drupal provides users with more options but it can be hard for users to know where to start. That's why Drupal provides add-ons, known as Drupal modules, which help users accomplish various tasks like SEO.
Drupal SEO modules make building and optimizing your website much easier. They can tell you what is required for high search engine ranking performance and give you the ability to meet those requirements.
The 28 Best Drupal SEO Modules for 2021
Succeeding with SEO is less about which content management system you use and more about how well you use it. That's why we've compiled a list of the best modules you can use to make sure that your Drupal website ranks as high as possible.
Pathauto module
Complicated URLs can make it hard for search engine crawlers to know how to index your site. The Pathauto module creates clean URLs using content from the page. It will analyze page title tags, headers, and the body of your pages to pull out words that will make an SEO-friendly new URL.
Drupal SEO Checklist module
The SEO Checklist module has an exhaustive list of elements that need to be defined in your site. It will make sure your site is complete by providing you a to-do list with timestamps to let you know when your task is done. It reviews page title tags, paths, page content, flags duplicate content, and much more.
Schema.org Metatag module
Do you want your search engine listing to look a certain way? Shema.org Metatag module will help you alter it. You can customize the way your schema looks on SERPs, allowing for more robust search listings that can include images and reviews. This module returns structured data and tags so that you can update your HTML to make your site look great on results pages.
Google Analytics module
Google Analytics is a staple in webmaster tools for understanding the performance of digital marketing campaigns as they relate to your website. Use this module for its insight into site visitors, behaviors, demographics, traffic, conversions, and more.
XML Sitemap module
If you want to include or exclude specific webpages from your sitemap you can use the XML Sitemap module to do it. This module helps you create your own sitemap to make pages indexable or invisible for search engines.
Redirect module
Redirecting traffic from webpages that may not exist, or webpages that have moved, helps users browse your site without interruption. Redirect specific pages or create a global redirect using the Redirect module. Create, monitor, and alter your redirect strategy to help your users get where they need to go and make the most of your site.
Real-time SEO module
The Real-time SEO module helps you understand how your pages' search engine optimization is performing right now. It verifies if your content shows up in search results while checking for specific criteria in your pages like their length, keyword density, metadata formatting, and more.
Alternate hreflang module
Defining the language for your site helps make sure that your pages stay in front of the right audience. The hreflang module enables you to set the written language of your page's copy for certain locations. This is for sites that have audiences that speak multiple languages.
Google Tag Manager module
Manage all of your tags in one place with Google Tag Manager. You'll be able to control your analytics, remarketing, and other tracking cookies on your website with this versatile tool.
Cron
Take care of automatic updates to Drupal's CMS with Cron. Cron schedules automated software updates and other server related tasks for webmasters so that your site is well maintained on an ongoing basis.
Similar By Terms module
If you're stuck on what to do next, where to get ideas, or what your competition is saying, the Similar-by-terms module can help. It will analyze the terms used on your webpages and return a view of links to similar content. This will give you inspiration for how to word your ideas, topics to discuss, and a deeper understanding of your industry.
Taxonomy Title module
The taxonomy page allows you to classify and organize your site's content with specific keywords or tags. Using the Taxonomy Title module, you can override your taxonomy page title and H1 tag.
Linkit module
Linkit makes an easy to use link editing interface so that you can edit internal and external links without having much technical expertise. It will save links for you to use so you don't have to constantly copy and paste. Its easy-to-use interface takes the technical requirements out of link building.
D8 Editor Advanced Link module
If you are using Drupal 8, the D8 Editor Advanced Link module works similar to Linkit but can do more. It can help alter UTM tracking codes by defining title, target, class, id, and rel fields so that your analytics reports reflect the origins of your traffic.
Footnotes module
If you have ever had to create footnotes for a page, you know formatting the information can be a hassle. Take the guesswork out of formatting and let the Footnotes module create footnotes for you automatically while you focus on your page's content.
Require on Publish module
If you want your site to require certain fields — like author, date, pictures, or anything else when a new piece of content is published — you can use the Require on Publish module to make sure that your requirements are met every time a post goes live.
Auto Recommend Content Tag
Content management systems and search engines use content tags to help categorize information according to topic. Content creators input tags as part of the metadata that search engines use to bring the right content in front of the right searchers.
The Auto Recommend Content Tag module recommends tags and keywords as you write based on the words in the body and title of the content. Keep your SEO strategy on track to success by using the right words recommended by this module. They will help make sure that your content is displayed to search engine users who are looking for it.
Drupal SEO Tools
The Drupal SEO Tools module is an all-in-one SEO suite. Keywords, meta descriptions, title tags, paths, redirects, sitemaps, and more can all be defined here. Make your site readable for search engines by defining metadata for their crawlers to make sense of.
Google AMP module
AMP is a framework for building websites optimized for speed. It accomplishes this with lightweight versions of traditional code, as well as other features, like the AMP CDN. For Drupal users, the AMP module will help turn regular Drupal pages into lightning-fast AMP versions.
Search 404 Module
404 errors show up when a user tries to go to a page that your website can't find. This sometimes happens when they follow broken links or are misdirected in some way. Users who encounter them will find themselves frustrated and they may navigate away from your site. That's bad for your search engine rankings. The Search 404 module takes the broken link path and, instead of giving a 404 error, brings users to an internal search within your website.
Alinks module
Internal and external links are made easy in this module. Give the Alinks module a list of links and keywords. It will automate your linking strategy to pages on your site and elsewhere by creating links as you build your page content.
SEO Compliance Checker
Get an ongoing SEO audit of each of your pages. The SEO Compliance Checker module analyzes alt tags, keyword use, titles, keyword density, headers, and more. It will let you know what you're doing well and what needs some work.
Menu Breadcrumbs
Use the Menu Breadcrumbs module to add a breadcrumb menu line to the top of your website, allowing your users and search engines to easily navigate the site and its pages. It lets users know where they are in the navigation and helps them move around to other pages they may be searching for.
Power Tagging module
Get an analysis of all of the words that your site uses and suggestions for other words that you can use to improve your search engine rankings. The Power Tagging module will help guide your content and metadata as you create your site. This module recommends words that you can use in all areas of your site's content to help improve your SEO rankings. It shows you the kinds of words that others are using on the web surrounding your topics. Increased use of the suggested keywords will help place you towards the top of search engine rankings by showing search engines that your site is relevant to what users are searching for.
Honeypot module
Protect all of your site's forms from spambots with Honeypot. Honeypot adds fields to your forms that users can't see. If a spam bot fills it out, their response to your form is filtered out and won't bother you. This feature makes sure that only real people can submit form responses effectively.
Link Checker module
Link Checker makes sure that none of your hyperlinks return 404 errors. The module will alert you if links are broken, which allows you to fix them before they become a problem for your users.
Content Optimizer module
For another thorough look at your website's metadata and content, use the Content Optimizer module to ensure your content meets search engine standards. It provides a checklist of what you need and an analysis of where you stand with your current site. It will review your image alt text tags, headers, meta descriptions, page titles, and more.
Site Verification
Prove to search engines that you own your site with verification. The Site Verification module will allow search engines to show you your site's search data and it will allow you to change how crawlers index the site. This module will help you verify your site to make it crawlable for search engines and allow you to start receiving search data. Additionally, you can change your tags and other search engine facing data with this module to give crawlers and search engine users an up-to-date view of your site's content.
Get a complimentary Drupal SEO audit
With thousands of modules on Drupal, there are many paths to making sure that your site has everything it needs to rank well. If you want help ensuring that your website has all the right content, tags are optimized, XML sitemap is complete, and all is well for your search rankings you can use these modules to help.
Want to see how you're doing with Drupal SEO? Get an instant SEO audit below. Or, schedule a free consultation to see how intent SEO can boost traffic value by 700%.