During its 2019 developer conference, Google shared that it would begin indexing and displaying podcasts on search engine results pages (SERPs). The announcement changed the game for hosts who traditionally relied on other methods of growing their audience, like paid ads and word of mouth.
There are currently more than 750,000 active podcasts on the Apple Podcasts platform alone, and episodes from these shows have begun to make their way onto SERPs. Today, if you want to draw new listeners who are searching for content like yours in Google, you need a podcast SEO strategy.
What is podcast SEO and why is it important?
Podcast SEO (search engine optimization) is a digital marketing strategy that aims to generate organic search traffic to your podcast episodes. Although podcasts focus primarily on audio content, Google can now crawl these files for relevant information. During this process, the search engine will transcribe the material and present it in a way that helps users.
Implementing SEO techniques on your podcast episodes can make the content more understandable to crawlers. Making your podcast crawlable helps the search engine by giving it a wider variety of content to display to its users. And this helps you by exposing your show to a larger audience.
As you improve both the audio and written content of your show, you increase its value to users. The more credibility, relevance, and value you demonstrate, the more likely your episodes are to climb search engine results. Over time, this may lead to greater visibility and more podcast subscribers.
How to use podcast SEO to generate search traffic
What makes podcasts so unique is the way that people consume them. Unlike blog posts and articles which need to be read on a screen, users can consume the content in a podcast from virtually anywhere. In fact, the most frequent audience members listen to episodes while they are on the go.
But the engagement doesn't end there. With podcast SEO, you can expand the limits of your show content by presenting it in different ways. Through methods like transcription, social outreach, and some SEO best practices, you can generate search traffic and grow your target audience.
1. Consider creating a website for your podcast
While Google can crawl and index audio files, it excels at analyzing written content. Many marketers choose to create a website for their podcasts. On these sites, they post things like:
Show notes
Blog posts for each new episode
Background information and/or credentials for the hosts
Show history and origin information
Contact details
Links to all the platforms where the show is posted
These pieces of information give crawlers more context for the show. They increase the podcast's discoverability by offering the search engine a variety of content to display on SERPs.
Plus, this widens the potential audience. Since some listeners find their podcasts through Google, having a website puts your show information where competitors might not be vying for visibility.
Some of the most popular content management systems for creating a website include WordPress, Joomla, Drupal, and Magento. Many of these platforms enable podcasters with no coding experience to build user-friendly websites with visual editing technology.
2. Start with keyword research
Much like blogging or article writing, creating new podcasts requires keyword research. While brainstorming ideas for your episodes, consider topics that are related to your overall theme. For example, if you have a sports podcast, you might look into search terms related to popular athletes, teams, or trends.
You can use online tools like Ubersuggest or Google Keyword Planner to cross-reference your ideas with search volumes and keyword difficulty. You want to find keywords that are both desirable and attainable to rank for. Long-tail keywords are perfect for podcast SEO because they often mirror the way that people talk.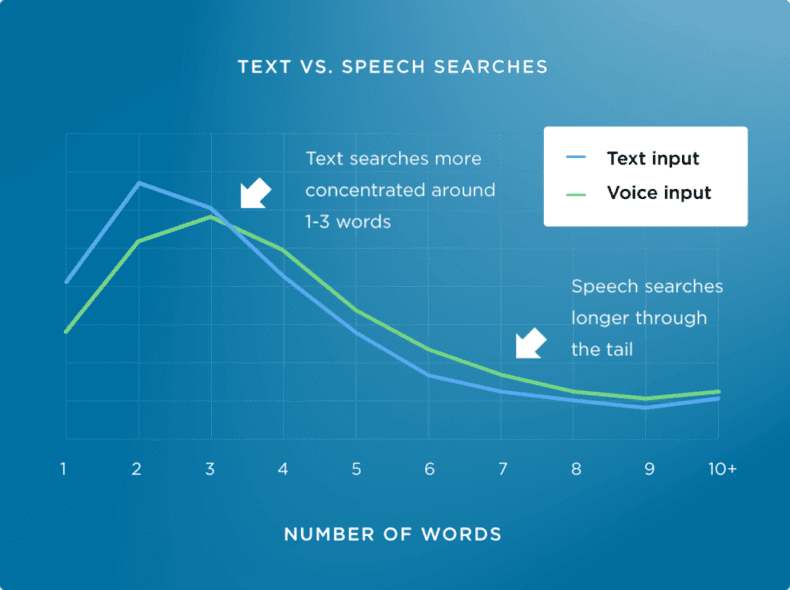 Once you've found relevant keywords, incorporate them throughout your show and related materials. This means:
Saying keywords during the show
Adding them to transcripts and social media posts
Putting keywords in the podcast title
Using them in the episode title tag, meta description, and images (for written show content)
Your keyword research should help you uncover search terms that align with your show's main goal. What are your listeners searching for? How can your podcast offer it to them? Creating your content around these keywords greatly impacts how the search engine ranks your content, and whether you generate quality traffic.
3. Create valuable content
Creating valuable content is the bedrock of great SEO results. Before recording an episode, plan out its basic structure. The show doesn't need to sound rehearsed for it to sound organized. You can still guide the conversation naturally.
List out all of the points you want to cover throughout the show. What is the most logical order to put them in? This improves the overall user experience by making it easier for listeners to follow along and process the different points.
When bloggers organize written content, they use header tags, jump links, and subfolders to organize information. Podcasters can do the same thing by putting timestamps on their episodes.
This is an increasingly popular strategy for people who post podcasts on YouTube: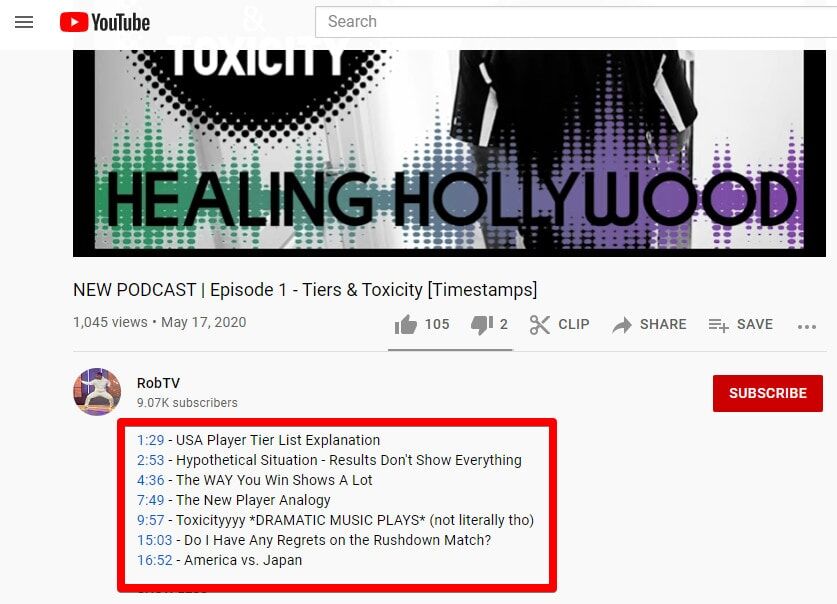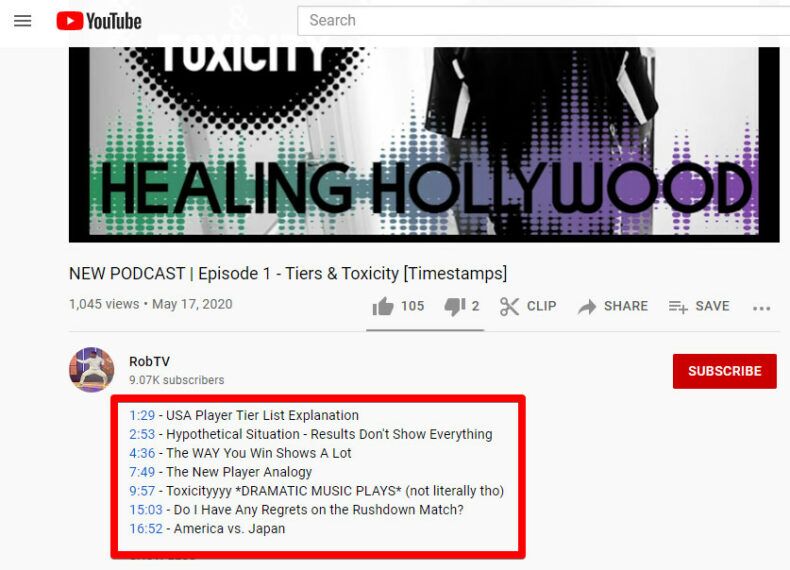 That's because it lets users hone in on the most valuable and relevant parts of the content and saves them time. You can also add subtitles to podcast videos for increased accessibility.
Some podcasting platforms let you create clickable timestamps and/or chapters. If you can't add timestamps, though, simply put them in the written content. For example, you might write something like this:
8:33 – We discuss using gray hat tactics for SEO.
12:44 – We discuss how to use H1s in an article."
Any chapters should have keywords in the titles. This helps the Google algorithm know that the content somehow relates to the keyword. Just be wary of keyword stuffing which can decrease your show's perception among crawlers and users.
For more podcast SEO tips on creating valuable episode content, check out this planning guide from Improve Podcast. It covers topics like show length, theme, and narrative structure to keep listeners engaged.
4. Transcribe your content
Another way to increase your podcast traffic is to transcribe individual episodes. Having a human-made transcription, as opposed to an auto-generated one from Google, reduces the potential for errors.
Google transcription technology isn't 100% accurate and won't be able to produce error-free results. The average podcast transcription costs $1 per audio minute. If you don't have time to transcribe your own podcast, this is an affordable and more accurate alternative to auto transcription services.
When you transcribe your content, you can publish it as a blog post or create separate episode pages. No matter which strategy you choose, you'll end up with the podcast in two different forms. This increases your potential audience by improving accessibility for deaf and hard of hearing users and tapping into the market of interested users who simply don't like the podcast format.
5. Add internal links to your transcription
If you have transcriptions, make sure to add internal links to them. Internal links are an on-page SEO must-have because they are how Google's search crawlers find new content.
As crawlers go through content, they will follow and access links to discover pages that they haven't crawled yet. The more podcast pages that get crawled, the higher your potential SEO visibility.
Internal link building also gives your site structure and makes it more navigable:
Consider creating SEO pillar pages for the various topics that you cover on your podcast. They can help you gain credibility and demonstrate your show's value to the current literature in your niche.
If you choose anchor text that closely matches the linked page's main topic, you can also increase the relevance of the content. This practice can even improve user engagement metrics by keeping visitors on your website.
6. Post your content on multiple platforms
One of the primary goals of SEO is to increase organic search traffic. And you can't do that without the help of podcast directories. In order to get clicks, you need to engage with your audience. Posting your content on multiple platforms is one of the best ways to do it.
You can't assume that all users find shows through the same podcast platform. To increase your Google search visibility and improve your bottom line metrics, post your content on sites like:
Although not all of these platforms have the same size audience, a listener is a listener. This technique introduces your show to more people and can help you tap into new demographics and target markets.
7. Optimize your metadata
Every web page has associated metadata that crawlers analyze. This includes both user-facing and background data like:
SEO-friendly metadata includes the use of keywords and descriptive language. Elements like alt text improve your podcast's visual content for users with vision impairments. If you create a podcast website, these are absolutely essential.
Since Google now crawls both the audio and written content, it's important that your metadata accurately describes the main topic. If your metadata optimization doesn't match the information in your audio, it can confuse crawlers, which can lead to suboptimal search rankings.
8. Build backlinks to your episodes
If you want to rank on page one of SERPs, you almost always need a strong backlink profile. Backlinks are links that other sources make to your podcast or website. They remain one of the top Google ranking factors because they demonstrate credibility. Each external link acts as an upvote that tells Google how valuable and relevant your episode is to the target keyword.
Here are some of the best ways to build backlinks to your episodes:
Collaborate with another podcaster on an episode.
Create a podcast that discusses an industry trend.
Discuss proprietary research or data.
Make a long episode that dives into a topic in great detail.
Publish high-quality episodes that feature industry experts.
Create shareable infographics to go along with your written podcast content.
Supplement audio content with a comprehensive and visually engaging blog post.
The best way to earn backlinks is to consider them during the development stage of your content strategy. Ask yourself why someone would link to a piece of content on your main topic.
Before you even record an episode, think about how to make it shareable. Generate supplementary written content that enhances the audio so that others will want to recommend it to their listeners or readers.
9. Promote your content across social channels
No comprehensive SEO strategy is complete without social media content marketing. After you've created podcast content that is optimized for user search queries, provides useful information, and gives crawlers essential context, you need to promote it.
Platforms like LinkedIn, Instagram, Facebook, Tik Tok, and Twitter help you connect and engage with a larger audience. Make sure you have at least one social media profile that you update regularly. This can help you:
Generate more organic traffic.
Earn backlinks from others in your industry.
Learn more about your audience.
Answer questions from your listeners.
Announce new episodes and series.
Conduct polls and find new topics of discussion.
Popular shows like the Real AF Podcast have large followings and use social media to deepen those relationships with their audience: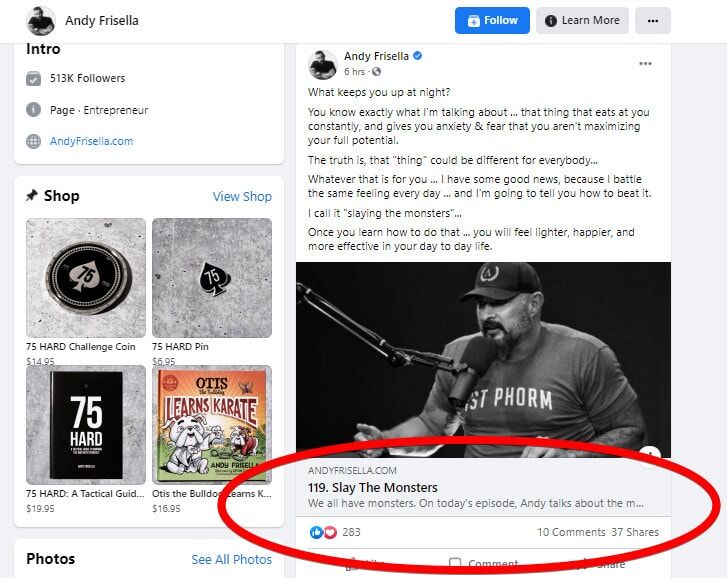 It's also important to note that social signals are a Bing ranking factor. The more active and engaged you are on social channels, the more reputable you seem to the search engine. As the best way to connect with your audience, having a social presence is essential to building a strong listener base.
Get a complimentary SEO audit
Podcasts have risen in popularity over the past two decades, creating massive and engaged audiences across all industries and interests. Because Google now crawls these shows for relevant content, adopting a podcast SEO strategy is essential to gain new listeners via search results.
Expanding your audience through these techniques further shows Google, Bing, and Yahoo how much value you have to offer and can dramatically increase your overall visibility online.
Want to see how you're doing with SEO? Get an instant SEO audit below. Or, schedule a free consultation to see how intent SEO can boost search traffic revenue by 700%.