Between 2016 and 2021, the number of Pinterest users tripled. The site's revenue also increased dramatically, fueled by Pinterest ads and the growing opportunity for users to make money on the platform.
Among those users are businesses that invest in digital marketing. To boost their return on investment, marketers are increasingly using what's known as a Pinterest SEO strategy. Today we cover what it is, how it works, and what you can do to boost the visibility of your brand on the Pinterest platform.
What is Pinterest SEO?
Pinterest SEO is a content marketing strategy aimed at making posts more visible in the Pinterest search engine. Pinterest is one of the most popular tools that bloggers use to promote their content online. In fact, it has nearly 450 million monthly users – making it a major potential source of traffic.
Unlike Instagram, Facebook, LinkedIn, etc., Pinterest is not considered a pure social network. Although users can use the platform to be social, mostly pinners use it to find information and inspiration. Since they don't have to rely on user engagement as heavily as other social platforms, bloggers and websites of all sizes have the potential to gain visibility on Pinterest.
And because Pinterest marketing doesn't rely on posts going viral, your efforts compound over time. This can lead to more sustainable, long-term growth.
The term "Pinterest SEO" can also refer to using Pinterest to boost SEO in more conventional search engines outside of Pinterest. These include Google, Bing, Yahoo, DuckDuckGo, etc.
Does Pinterest help SEO?
Pinterest is an essential part of many brands' search engine optimization (SEO) strategies. Primarily they use it to drive traffic to their websites. But really, its potential impact depends on where you want to increase your SEO visibility.
Social signals are a well-known Bing ranking factor, but Google has stated that they do not use performance on social sites to rank content. That doesn't mean, though, that Pinterest isn't useful for Google SEO.
For example, having a strong Pinterest presence can help you earn backlinks which are essential to off-page SEO success. It also builds brand awareness and credibility.
With professional-looking pins, you signal to users that the content you're providing is of the same quality. Because Pinterest allows you to use a mix of images and text, you may reach more users who might not have clicked on your web page in a standard Google result.
How does the Pinterest search algorithm work?
The results that users see on Pinterest come from a ranking algorithm that tries to find the most relevant content for the search. This is the same process that other search engines use to display content.
However, instead of relying on your website content (like Google, Bing, and Yahoo do), Pinterest is a visual search engine. It relies on the information in your individual pins (including the images) to form search results.
The Pinterest algorithm also focuses on the quality of the associated website/brand, the pin, and the pinner when it ranks content. It tries to filter out pins from untrustworthy sources while filtering out irrelevant web pages.
Each pin you create needs to tell the algorithm which search terms are most relevant to the post. That means that the bulk of your Pinterest SEO strategy relies on how well you can optimize your pins. Here are some ways to do it:
Use high-quality, professional images.
Write intriguing titles that pique users' interest.
Include alt text on all images so that your pins are accessible to visually impaired users.
Add hashtags to make pins more relevant to specific topics/categories.
Make images using the optimal Pinterest ratio.
Provide detailed descriptions that help users understand the importance or relevance of your pin.
You must fill out all of the fields that Pinterest gives you. Unlike website blog posts, pins have a limited amount of space to convey relevance. To tell the algorithm why your post is relevant, you need to add keywords to critical areas like the pin's title, description, and alt text.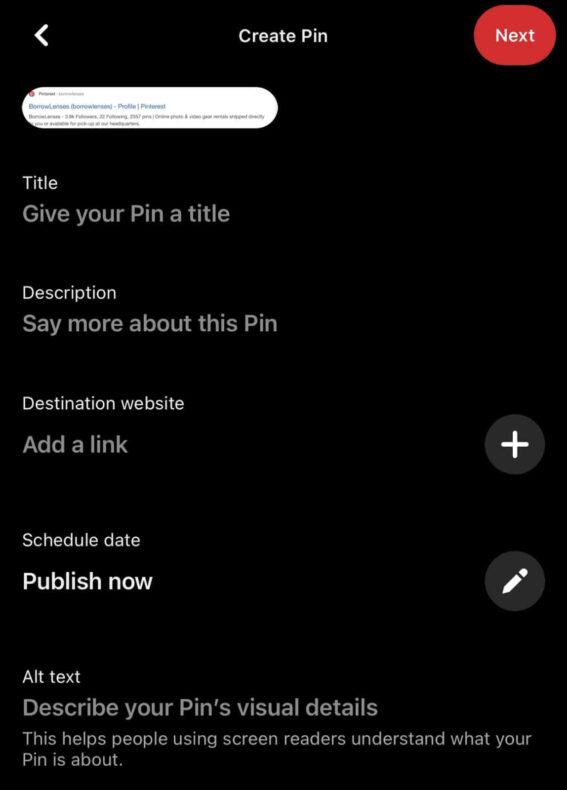 If you leave any of these fields blank, you miss an opportunity to prove your pin's value. With correct context, the algorithm will be able to accurately categorize your content for relevant user searches.
11 Pinterest SEO tips for 2021
Free from the pressure to tally likes, comments, and shares that come with social media platforms, Pinterest users can explore more freely. Pinterest SEO is relatively straightforward and extremely effective when done correctly.
These tips will help you create the SEO-friendly pins and content that you'll need to build a following and convert Pinterest traffic into site visits.
Prioritize relevance
On Pinterest, relevant content is high-quality content. The search engine relies on context clues to offer users only the most specific and helpful pins possible. You must prioritize relevance to grow your audience on Pinterest. Your pins need a specific audience.
The Pinterest boards that you create on your account should be tailored to specific topics and interests. All of the pins within those boards should be related to the main topic in some way. If they aren't, this will make the board less relevant and therefore less valuable.
Instead of making a board just for recipes, consider breaking them down by meal (EX. "lunch recipes" or "breakfast ideas"). This type of specificity will help your board seem more relevant for a given search term.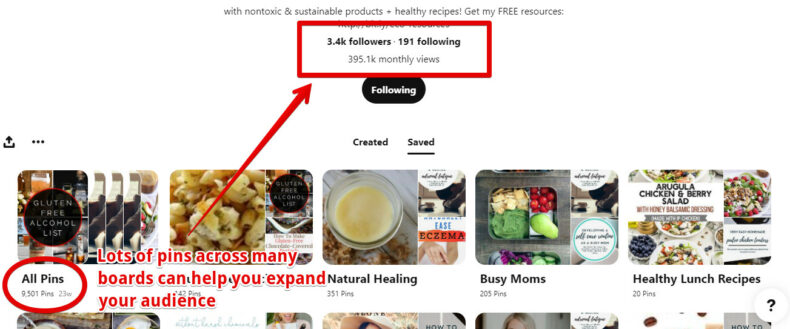 By curating content with relevancy in mind, you set yourself up to get found by the people who are specifically looking for what you've created. And the more views and repins you get, the easier it will be to gain new followers and website visitors.
When a user repins your content, it may get views from their followers. These may be users who wouldn't have seen your pin otherwise. So, although engagement doesn't directly factor into your Pinterest rankings, it can expose your content to additional users who are connected to your current audience.
Create new content consistently
You have to produce pins that keep pace with your industry. Without fresh content, you'll fail to stay relevant, and you may find that fewer people see your content as a result. Maintaining a consistent content creation schedule is the easiest way to avoid this issue.
If you create in a trendy niche like home decor or fashion, you may have to produce new content more often. But quality and consistency over quantity is always the way to go. After all, the content you put out there needs to be something that users want to repin and save.
Posting high-quality, original content once a week is better than posting content that's been recycled around the internet every day. Or, worse, content that is poor quality or irrelevant to your audience.
Use a tool like Tailwind to schedule out pins in advance and automate the publishing process. Ecommerce brands and influencers rely on this resource to grow their audience without having to constantly update boards. Also, look into joining some Pinterest group boards. These allow you to grow your traffic because they expose your content to a more specific audience.
Make your content as engaging as possible
To show up in users' home feeds, your content needs to be as engaging as possible. This means that it should be eye-catching and speak to the user's needs. Your pins will compete against hundreds and thousands of other results. So, even though engagement signals like comments and likes don't impact Pinterest rankings, you still need to make content that commands users' attention.
When someone first logs into Pinterest, they see content suggestions in their home feed (aka "Smart Feed"). These suggestions are based on:
Posts they've already clicked on or saved
Boards they've visited or posted in
Topics they follow or have searched for

If someone clicks on your pin or visits your board, Pinterest will remember. Making eye-catching images that satisfy user search intent will help you boost engagement.
For how-to-guides, think about adding step-by-step instructions in the pin image. If you've written a blog post about kayaking, include an image of the destination or gear that you used.
Avoid low-resolution or generic images that make your content seem less credible. Vivid colors, capitalized text, and bold prints are just some of the elements that may get your pin noticed in search results.
Improve page speed
Having a fast website is essential for providing a great user experience. In fact, the average site's bounce rate more than doubles once it takes longer than three seconds to load: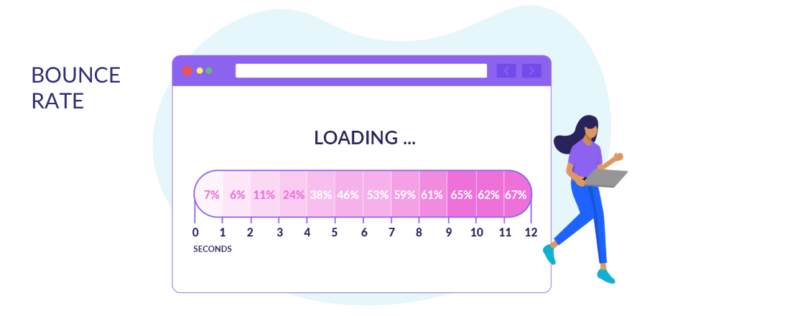 If someone clicks on your pin and the site takes too long to load, they'll likely return to Pinterest. That makes having a fast website essential if you want to convert Pinterest users.
There are several ways to improve page speed for a better user experience:
Do image SEO to reduce the amount of time it takes photos and videos to load.
Eliminate unessential pop-ups and notifications.
Upgrade your site's hosting platform.
According to Google, your site's speed directly affects how you perform on certain SEO metrics.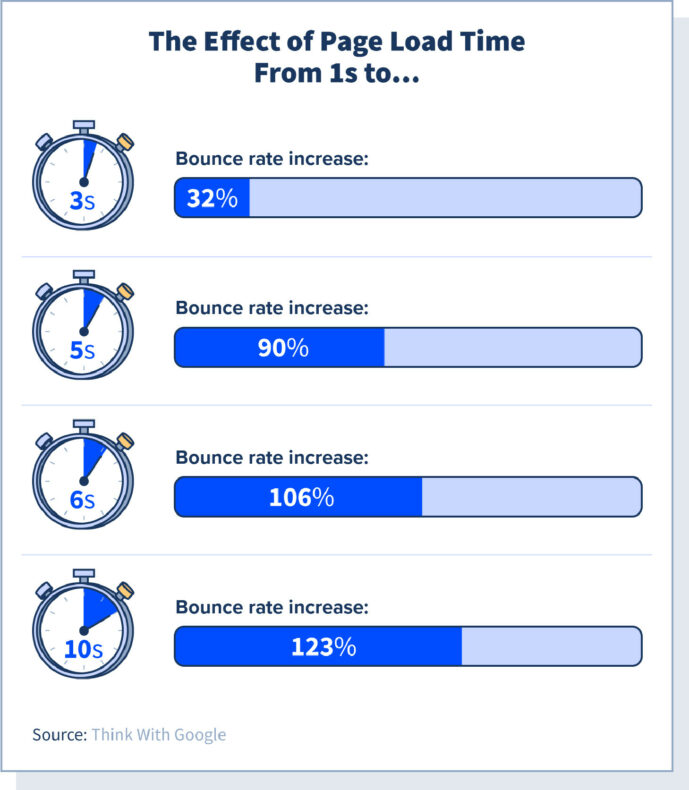 Implementing these and other techniques will help you retain the traffic that comes to your site from Pinterest.
Pin from a business account
Small business owners, large brands, and content creators alike should set up a Pinterest business account to generate traffic. This type of account allows you to:
Optimize boards for increased traffic
Monitor Pinterest analytics
Claim website domains for increased brand awareness
Run ad campaigns on the platform
Pinterest for business owners will track metrics on promoted pins, ad costs, conversions, and more. Lifetime analytics will allow you to track your SEO progress to see if the strategy is working or not. If, however, you have already been pinning from a personal account, convert it to a business account and start growing brand visibility as soon as you can.
Conduct Pinterest keyword research
Before creating your content, do keyword research to find out what content is in demand. There are two main ways to do this on Pinterest:
Use Pinterest ads manager. When you go to create a Pinterest ad, you can select target keywords for the campaign. The ads manager will then tell you how many monthly searches there are for that term and how big your audience might be.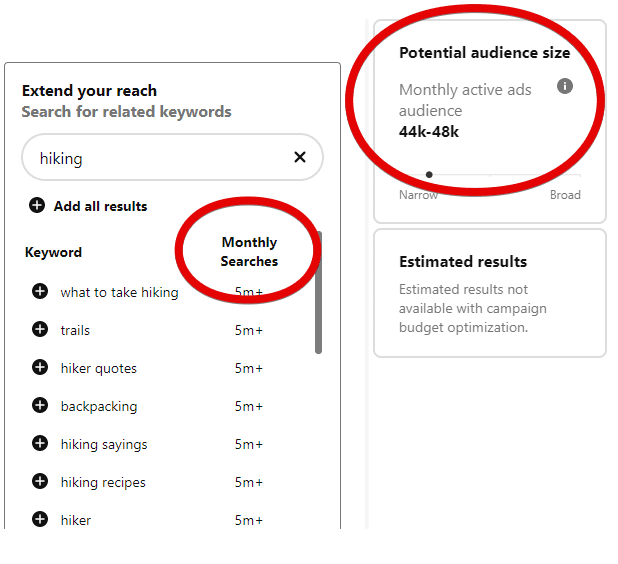 This will make it even easier to find relevant keywords that users are searching for.
Use guided search. Once you type in a word or phrase that you're interested in, Pinterest will generate related terms in the search bar.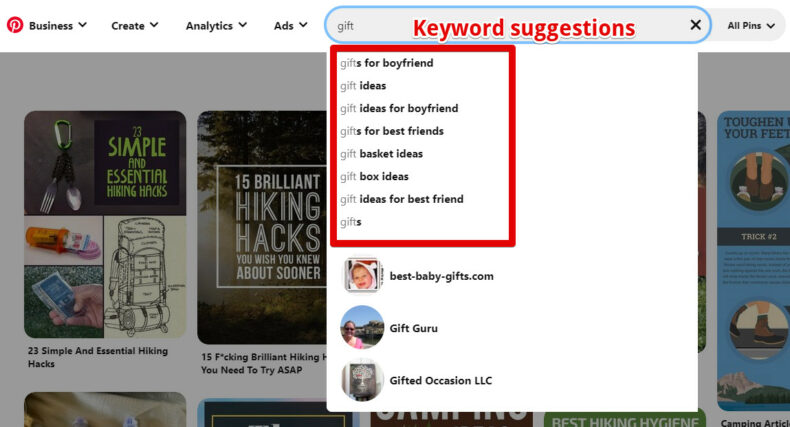 These suggestions are usually high-volume search terms intended to help users find more helpful content. But they are equally as valuable for business owners looking to find the right keywords for their web pages and pins.
Create keyword-rich boards
Aside from individual pins, Pinterest also ranks and displays users' boards. Take advantage of this by creating keyword-rich boards that align with your website's niche. You should have a board for every main topic and subtopic on your site.
Start by making boards for the most general concepts. If you have a recipe blog, for example, basic terms like "baking" are a good idea. Then, you can move onto more specific board titles like "baking desserts." You can even create a third level of long-tail terms like "desserts recipes for large groups." This makes it easier to rank for specific keywords that are directly within your target audience.
Your board names should accurately reflect the pins you've posted in them. If not, you will create a poor user experience that negatively impacts your brand perception on the platform.
Don't forget to fill out your board description as well. This tells users what they can expect from the content moving forward and helps them decide whether or not to follow the board. Plus, Pinterest analyzes these descriptions to find the best collections to show users.
Optimize your pins with keywords
Use keywords in the pins themselves to further increase your relevance. You can add them to the pin title and description. Targeting long-tail keywords is an effective approach. Although they have less search volume, long-tail words reach a more specific audience. This means that you might be able to increase your click-through rate (CTR) by providing a highly-targeted piece of content.
For example, you can optimize for the keyword "DIY," but you may end up lost in the results. Instead, try "DIY ideas for blogging," and you'll end up in a search result with less competition and a more relevant audience.
Pinterest also uses text overlay to understand the content. Incorporating a keyword in the pin image text may help users understand the connection between the image and their search without having to read the entire description.
Use relevant hashtags
Adding hashtags to your content is another way to demonstrate its relevance. Do this by putting them at the end of your pin descriptions. That's so they don't interrupt the rest of the text you've written.
Unlike hashtags on other platforms, users can't click on Pinterest hashtags. They act more like keywords than anything else. But, putting tags in the description is just one more way to tell the search engine which topics your content goes with.
Optimize for visual search
Since Pinterest is a visual search engine, you have to cater to the visual experience. This means optimizing your Pinterest images to the fullest. All of your images should:
Show users what the content is about
Be of a high-quality resolution
Include a title and description
Use a 2:3 aspect ratio
The aspect ratio is important for avoiding truncation (your Pinterest images being cut off from view). No matter what pixel size your images are, they should follow this ratio for the best results:

In addition to Pinterest image SEO, you should also optimize images on your website content. Once you add a source URL to your pin, the search engine will pull images from the web page to develop rich pins. Adding alt text, resizing, and compressing images will go a long way to show Pinterest and Google how useful your content is.
Get a complimentary SEO audit
With hundreds of millions of active users, Pinterest is one of the largest and most unique places to reach your target audience. Creating relevant boards and optimizing both your Pinterest profile and content will build credibility and may boost your organic traffic share within your niche.
Want to see how you're doing with SEO? Get an instant SEO audit below. Or, schedule a free consultation to see how intent SEO can boost search traffic revenue by 700%.