The cost of ranking in search engines can add up given how competitive some search terms are in Google Ads. Minimizing costs is made even more difficult by price variations across industries. That's why you can't just rely on paid search results, you need a search engine optimization (SEO) strategy as well.
SEO is generally more affordable than PPC advertising and it can dramatically widen your audience. But popular keywords can feel almost impossible to rank for, especially when you're just starting out. To gain traction on search engine results pages (SERPs) most businesses need to target long-tail keywords.
What are long-tail keywords?
Long-tail keywords are terms that have lower search volumes among users and less competition among competitors.
Keep in mind, though long-tail keywords may have low search volume, they represent the majority of all user search queries: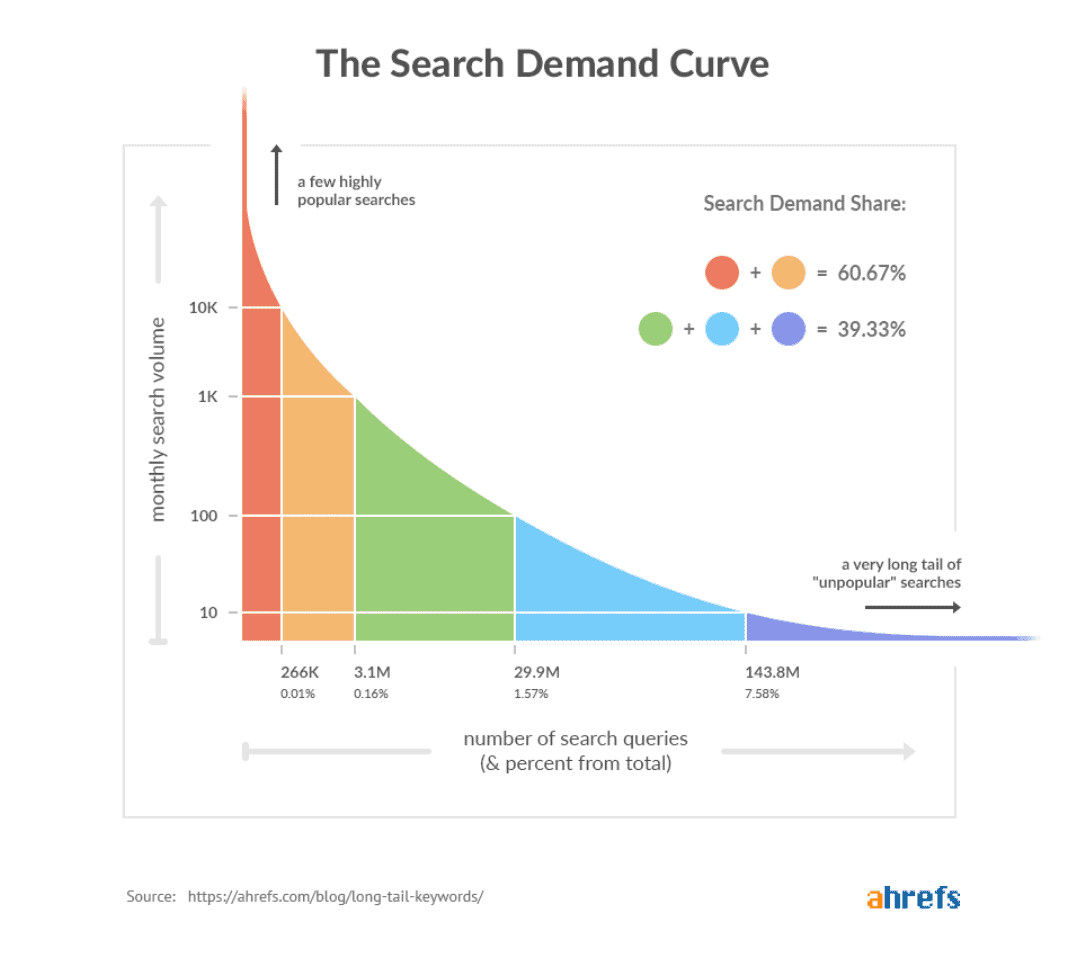 Examples of long-tail keywords in the outdoor adventure niche would be:
"How to stay warm while winter camping"
"Down vs synthetic sleeping bags"
"Best sleeping bags for women"
"Packing a sleeping bag for hiking trip"
You'll notice that all of these long-tail queries have to do with the subject of sleeping bags. But if the user were to just type "sleeping bags" into Google, they would see results for purchasing sleeping bags from places like Amazon and Walmart: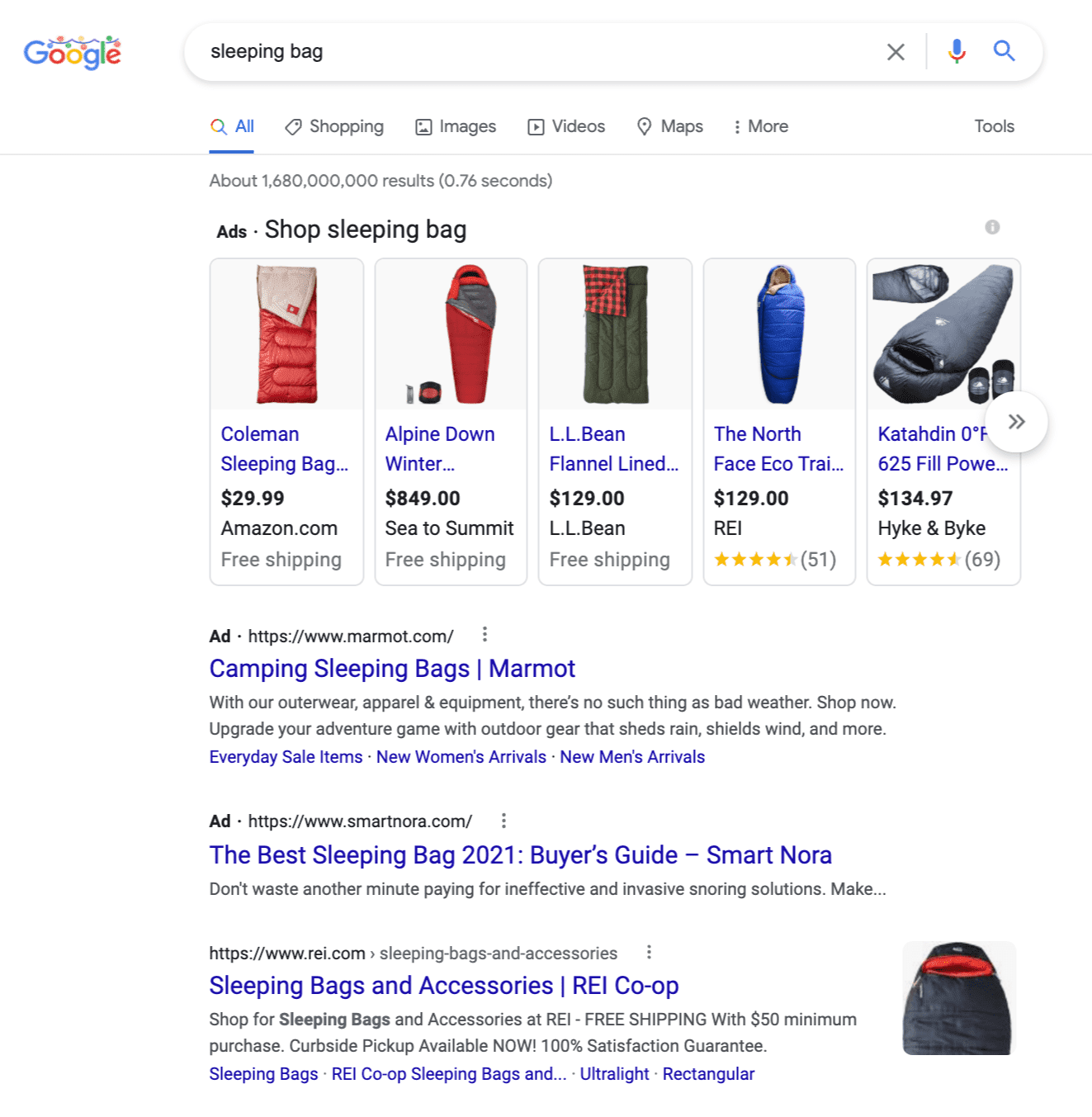 Broad terms like this are known as "short-tail keywords." They are often high-volume but very competitive as well. And for users, search results for these short-tail keywords are often too broad to satisfy the user's reason for searching.
That's why people search for long-tail keywords. They want to narrow down Google results to see more specific results. This helps them find the specific product or service they need, whether it be sleeping bags for winter or the better option between down or synthetic sleeping bags. For marketers, long-tail search queries offer many SEO benefits that help them secure higher search rankings.
Why are long-tail keywords the secret to SEO revenue?
With the sheer number of queries made each day, directing organic search traffic to your website can feel impossible at times.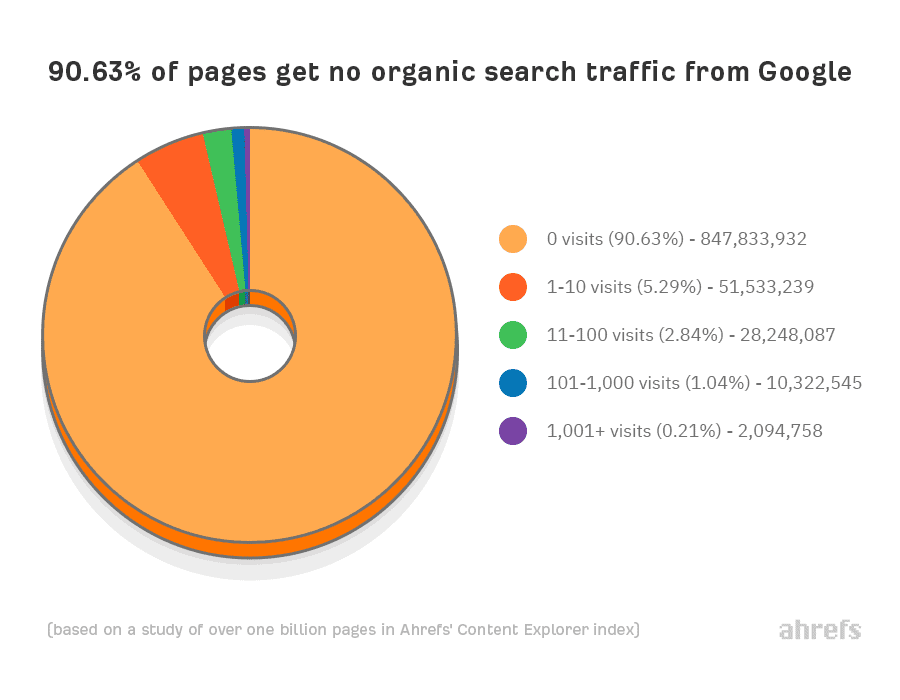 But having a long-tail keyword strategy has been proven to boost more than just traffic. It turns out that despite drawing less traffic volume from searchers, long-tail terms contribute to several key areas of SEO performance.
Low competition: There is less competition because these terms are very specific to a smaller subsection of searchers. This means you are competing with fewer pieces of content and PPC ads.
Easier to rank: Because fewer brands target these keywords, they're easier to rank for in search results. A case study by Reboot showed that after targeting long-tail keywords, one client ended up with 37 top-ten rankings in Google.
More relevant: The long-tail optimization strategy often leads to more relevant blogs, articles, etc. for your audience. And when you create content that solves a user's problem, Google has a better perception of your site's relevance within your niche.
Better conversion rates: Once someone has done more product research, they have a better idea of what they want to buy. That means their searches are more specific and they're more likely to make a purchase when they find what they're looking for. That's why long-tail queries produce higher conversion rates than short-tail ones.
Suited to voice search: Voice search technology is growing at a rapid rate. This means more people are making searches in the form of questions and full sentences. Long-tail keywords are great for capturing popular voice queries in your niche.
Reflect consumer search trends: Having fresh content is essential for maintaining high SEO rankings. Long-tail keywords often reflect current trends within each industry. By targeting them, your content remains fresh and relevant to users' interests.
Less expensive: Because fewer brands optimize for specific long-tail keywords, running an ad campaign for them is overall less expensive. In this example from WordStream, a long-tail keyword with fewer monthly searches would cost half as much as a related term:Targeting terms like this frees up money in your digital marketing budget. That's money you can reinvest in other areas of your business.
The impact that long-tail keywords can have on your website's SEO is undeniable. Finding the right terms for your niche, however, can be a challenge. That's why it helps to have a plan you can follow.
How to find long-tail keywords: Proven methods
The number of potential long-tail keyword options is essentially unlimited, given that there are millions of new keyword searches per day on Google.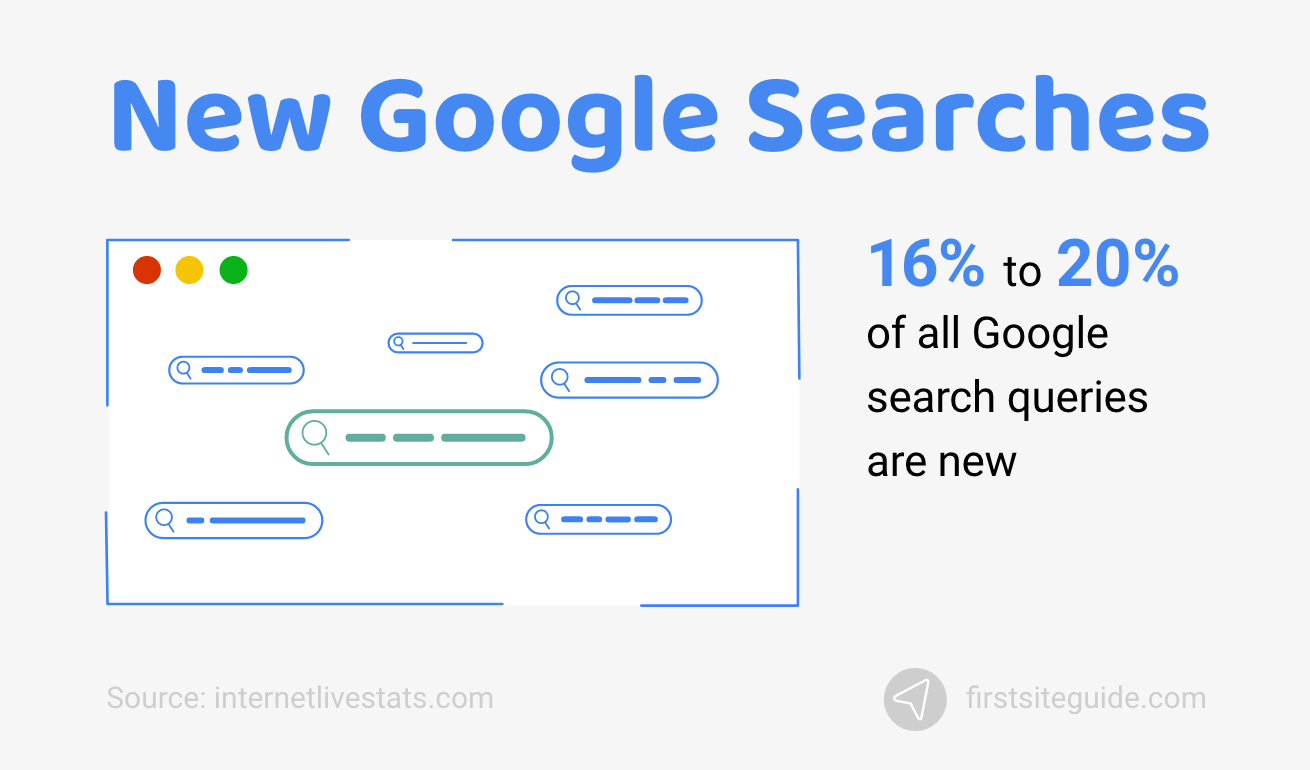 Not all of these keyword phrases will be relevant to your web content. Follow these strategies to find keywords that align with the needs of your target audience.
Clearly define your audience
Before you can find relevant search terms, you need to understand your audience. Create buyer personas to define who you want to reach and what they need. Personas should include demographic information (age, income, etc.) and your customer's pain points.
If you understand your audience's problem, you can focus on keywords that relate to it. This eliminates keywords that are connected to the head term you're targeting but irrelevant to the specific needs of your audience.
Use Google SERPs to find clues
SERPs are full of valuable information to help you find new long-tail keyword phrases. Since Google is already tracking user interests, you know that the related keywords you find in search results have some sort of existing audience.
The "People also ask" section is an easy place to discover popular questions for your main topic.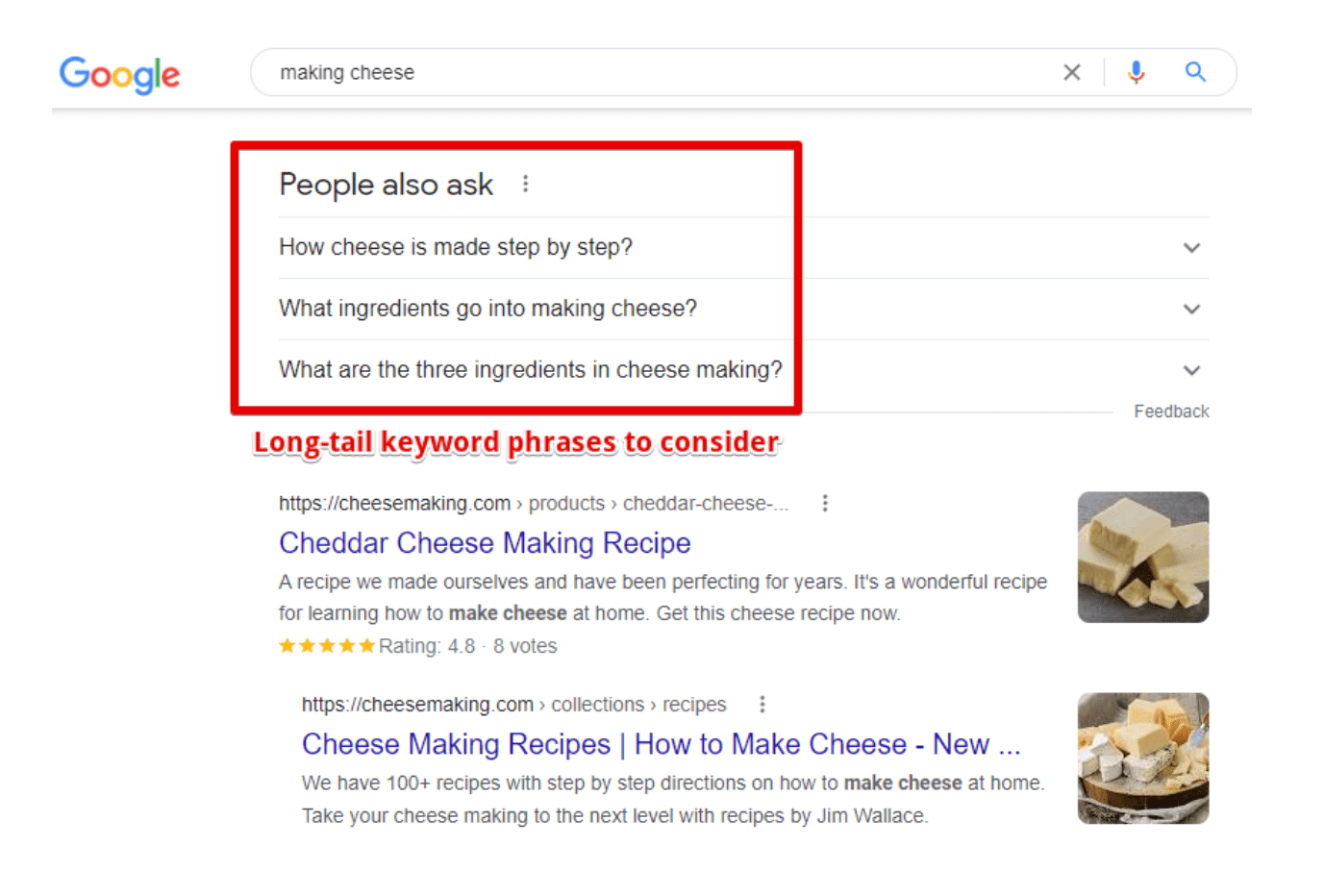 The questions in this section may cover a variety of interests. In this example, all three options are informational topics, giving you an idea of what kind of content users want to see. If you know that people want informative content, you can use that to guide future keyword research.
Another helpful SERP feature is Google autocomplete which suggests related search phrases.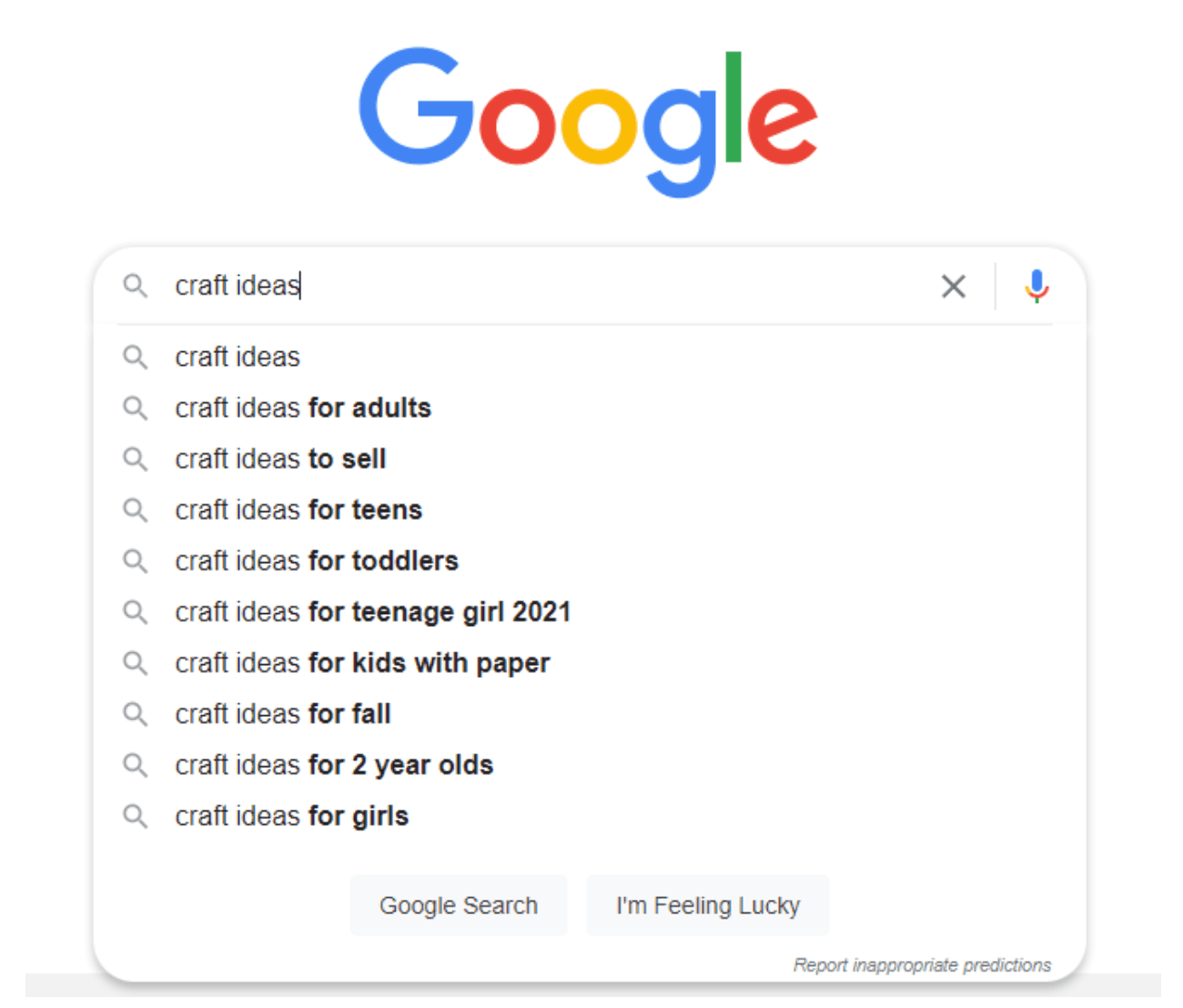 In the early stages of your research, you can use this feature to see similar topics that cater to a more specific audience. This process can be cumbersome, but it can be very effective for finding valuable long-tail keywords. Make sure you're specific with your searches though. Instead of searching broad terms like "why," "how," etc., make sure to use a main keyword like "craft ideas" so you don't get random results back.
Explore industry forums
Exploring industry forums has two major benefits. First, it helps you understand your audience better by seeing what they already know and what they want to learn. Second, it allows you to make note of popular threads and discussions that you can use for your website content.
Take this example from Motorcycle Forum. A user creates a thread and prompts others with a question or topic. In this example, the main keyword is "no title bikes:"

As you scroll through the thread you can identify various target long-tail keywords like:
How to get a new title for a bike
What does a bill of sale mean?
Which states require a bill of sale?
Should I buy a motorcycle without a title?
You most likely won't find these in the forum verbatim. But after reading through responses, you should be able to identify popular keywords. You can then investigate further by using keyword research tools like the Ahrefs Keyword Explorer.
Use keyword research software
There are hundreds of tools available to help you do keyword research. Google Keyword Planner is a free tool that marketers use to discover new target words and phrases.
It gives you two main ways to find long-tail keywords:
Search for a specific keyword (or multiple keywords at once) and generate a list of related terms.
Input a specific website and the planner will analyze it to provide a list of search terms related to the site's existing content.
If you have more room in your budget for research, consider paying for subscription-based keyword research software. Popular options include the Moz Keyword Research Tool and SEOCockpit.
The benefit of these types of SEO tools is that they pull data from across the internet to find you the best keyword options. They cross-reference search volumes with competing websites' keyword rankings. This prioritizes potential keywords based on the likelihood that you'll rank for them.
Once you find the right long-tail search terms, you need to plan out your content. A dedicated content creation strategy helps you produce relevant, high-quality web pages that search engines want to display on SERPs.
How to use long-tail keywords effectively
It's one thing to choose long-tail keywords, it's another thing to use them. You want to make sure to follow these techniques when implementing keywords throughout your content. They will help you avoid common SEO mistakes and produce higher-quality web pages.
Satisfy search intent
Google wants to display content that answers users' questions and solves their problems. Writing this content is called "satisfying search intent," and it is essential if you want to earn and maintain high rankings.
Users have four main types of motivation for searching for a keyword. These motivations are known as "search intent:"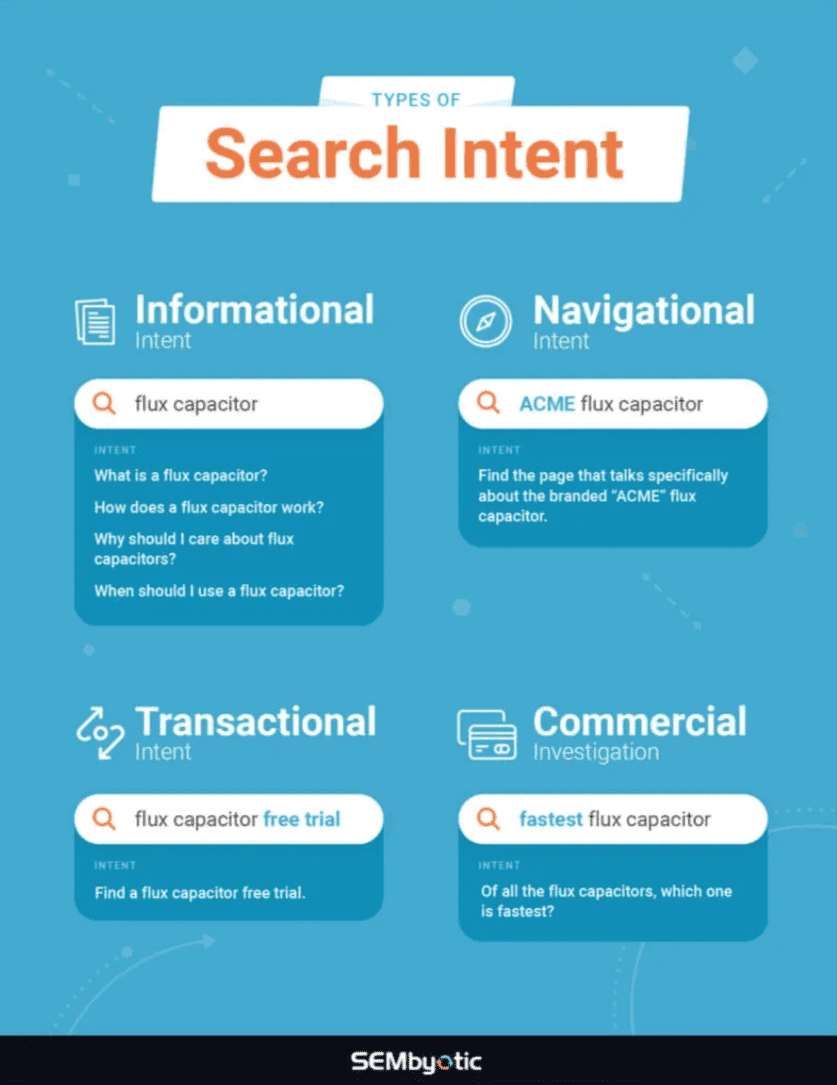 In order to rank well, the content you write has to correctly address the user's search intent. It should offer a solution to their problem.
If your content doesn't do this and users keep leaving your page to go back to SERPs, Google will think that you're not providing enough value. As a result, your content will rank lower and reach fewer people.
To satisfy search intent, you need to map the buyer's journey and determine what type of content works best for your long-tail keywords. Doing these two things will put you on the right track to producing top-notch content.
Map the buyer's journey
Running parallel to search intent is the buyer's journey. It starts with the user becoming aware of a problem and ends with the user purchasing a solution to that problem.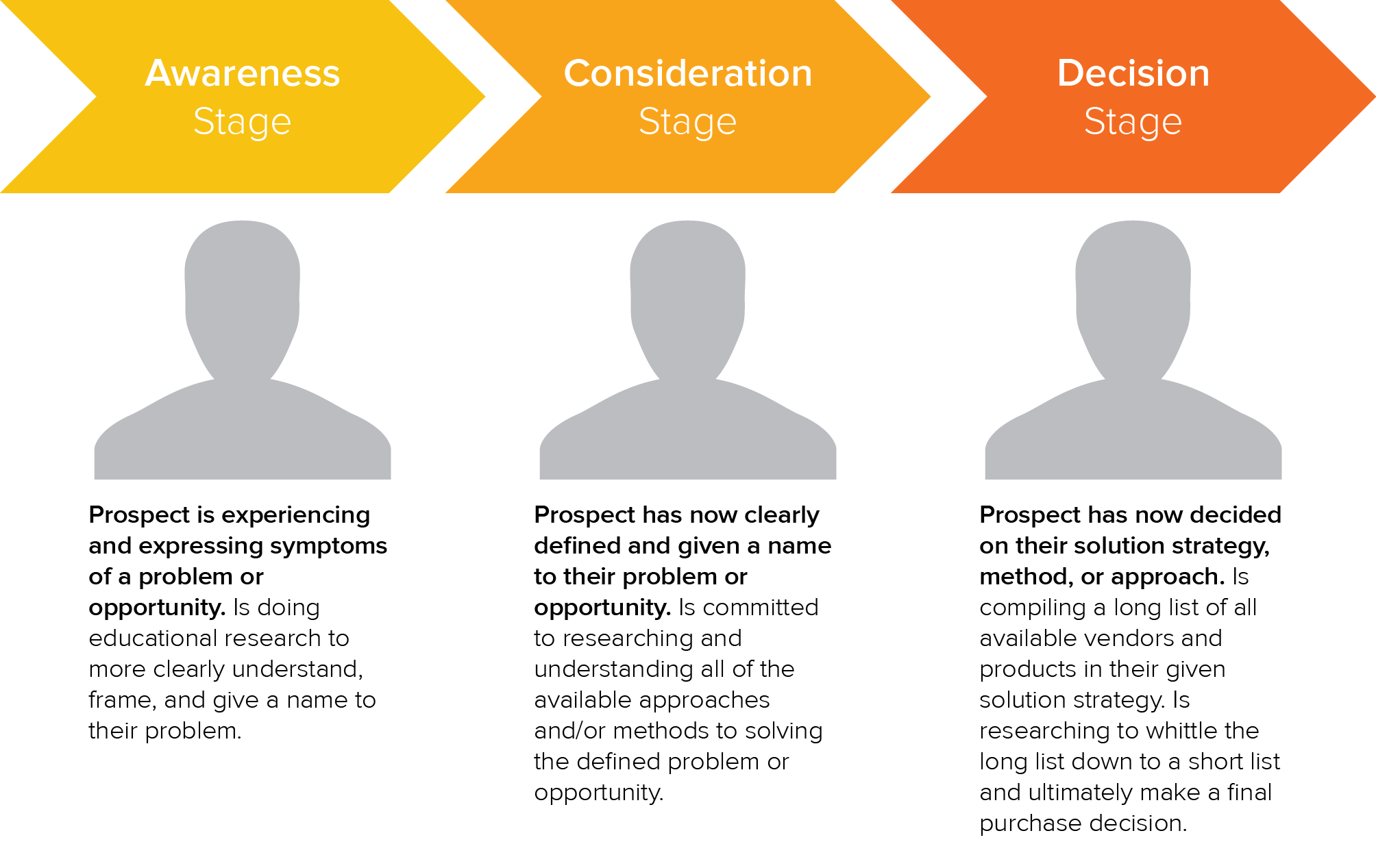 Someone with transactional search intent, for example, falls within the decision stage. They are ready to make a purchase.
On the other hand, someone with informational search intent is somewhere between the awareness and consideration stages. They're still trying to learn more about their problem and/or possible solutions.
Using the buyer personas that you created during your keyword research, determine where your audience lies within this journey. This will give you insight into the best way to solve the problem reflected in your long-tail keywords.
Choose the right type of content
Use the SERPs to determine what kind of content to create. You'll want to search for your long-tail keywords and open the top-ranking posts. As you read through the existing content, make note of these elements:
Tone: Is the content formal or casual?
Format: How has the content been laid out?
Type: What type of content is ranking? Listicles? Case studies? Blogs? Articles?
Visual: Does the content have a lot of visual elements like images and infographics?
During this research, also look for things that are missing. How can you add to the current content offering to provide even more value?
You may even find that your long-tail keywords have very little competition in terms of value. This may be an opportunity to set a new standard and establish your presence within your niche.
Incorporate keywords correctly
When incorporating long-tail keywords throughout your content, make sure you cover main SEO areas. These include:
URL: Put your target keywords in the slug. This helps users understand your content when they see the URL in search results.
Image alt text: Use them in your image alt tags to increase accessibility while demonstrating relevance.
Headers: Not every header needs to have your keywords in it. If you can naturally fit them in your H1 tag and others (when applicable), this won't hurt your SEO.
Written content: You want to aim for a keyword density of 1-2%. This means that for every 100-200 words, you should use your long-tail keyword at least once. Don't forget that readability is an important on-page SEO factor. Make sure your keywords sound natural within the content.
Meta tags: Your title tag and meta description should also include the target keyword phrase. Try to put them as close to the beginning as possible.
Avoid keyword stuffing in each of these areas. The last thing you want to do is make Google think you're practicing black hat SEO. This can lead to Google penalties and weaken your overall credibility.
Promote your content
Once you've created exceptional content, you have to promote it. External promotion is important for building authority and improving brand awareness. While Google doesn't officially use social signals as a ranking factor, they are correlated with search rankings, and they're also a Bing ranking factor. Promote your content by:
Sharing it on social media
Posting it on industry-related forums and/or message boards
Sending out a post notification to your followers
Another important component of content marketing is having a solid link-building strategy. You'll want to share your content with the intention of earning backlinks from others within your niche. This increases your authority and demonstrates to Google that the content is relevant to users.
Tools for long-tail keyword research
There's no doubt that long-tail keywords can improve your search engine rankings. But choosing the right ones can take valuable time away from the rest of your content creation process. Find them more efficiently with the following keyword research tools.
(Note that these are not all free tools. Many have a free trial period but all of them require a subscription for extended use.)
AnswerThePublic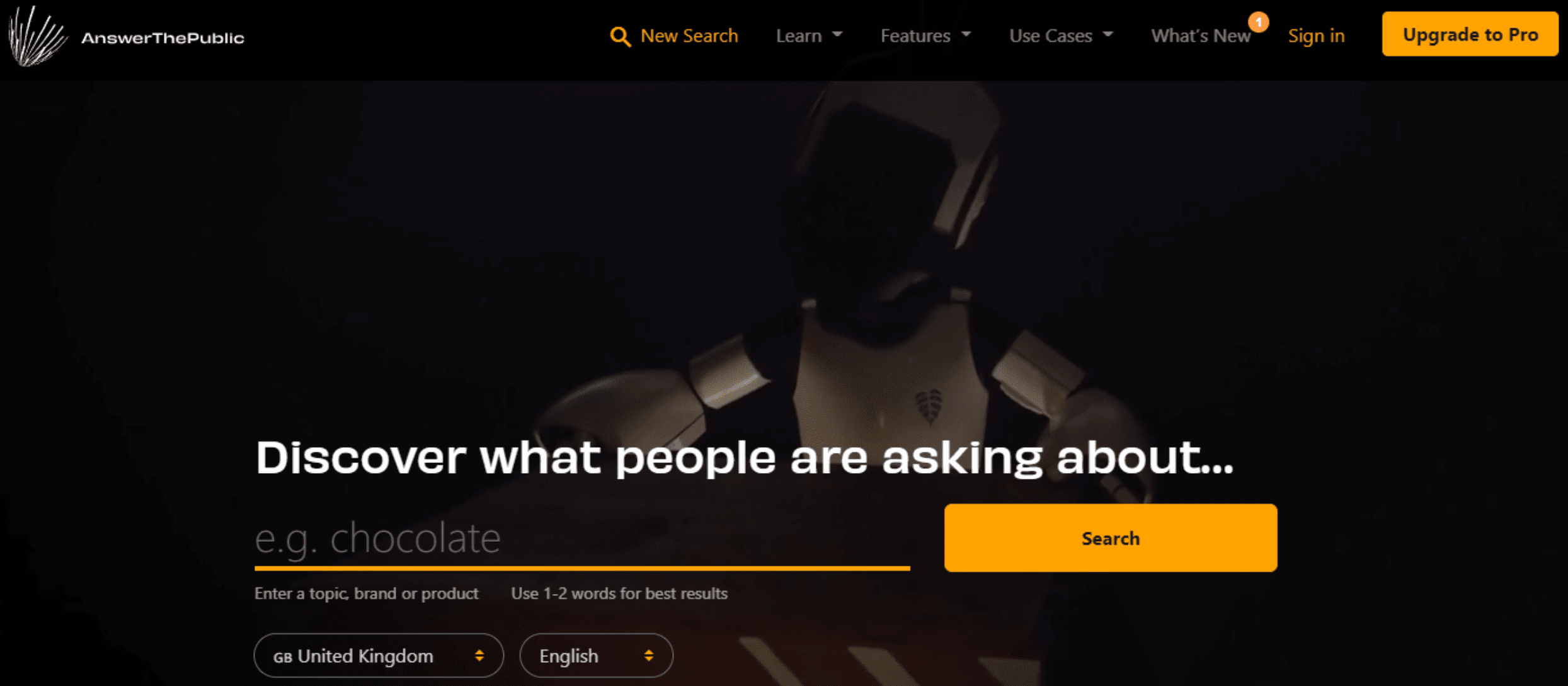 AnswerThePublic is one of the most popular long-tail research tools out there. Once you type in an initial keyword, it generates other relevant suggestions based on public search trends. This includes frequently asked questions and comparison keywords (EX. "Toyota vs. Honda). Note that AnswerThePublic doesn't provide data on keyword search volume. If seeing search metrics is important to you, this may not be the best tool.
Semrush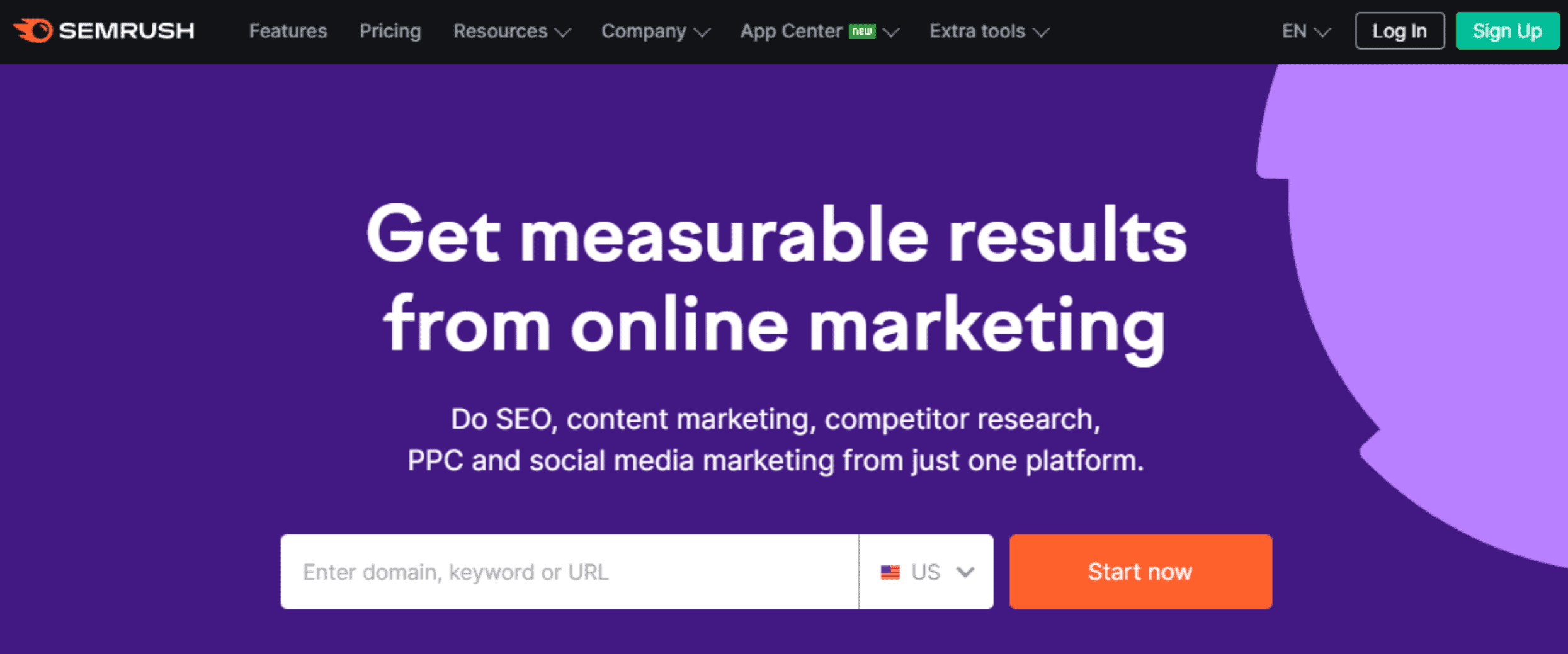 Popular brands like Apple, Tesla, and Samsung all use Semrush to inform their SEO strategy. This tool offers sophisticated keyword research parameters that allow you to find the most relevant terms out there. It offers keyword breakdown by search engine, geographic location, and competitor rankings (among others). These insights are invaluable when trying to find the most relevant search terms for your target audience.
Google Trends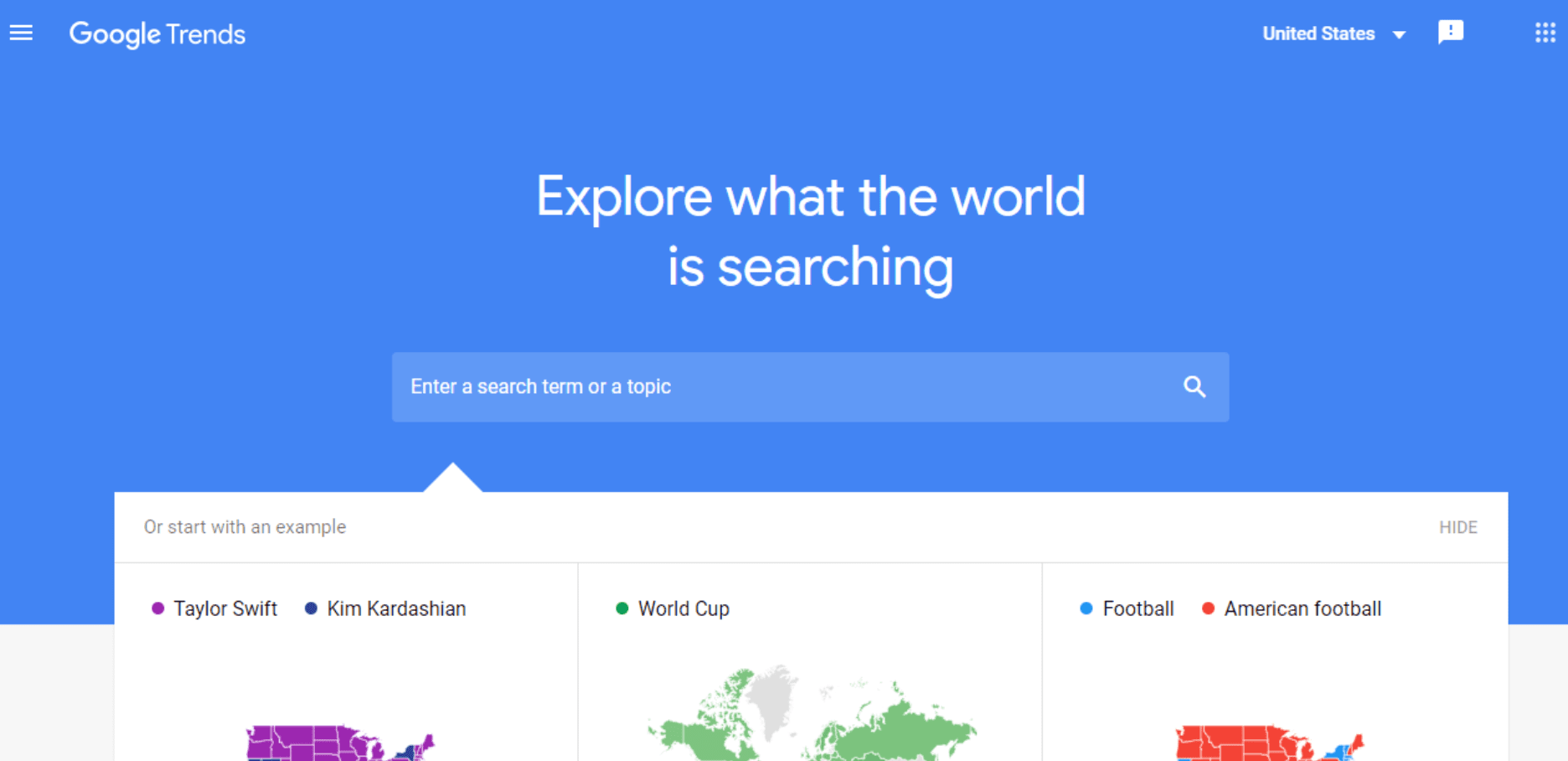 For simple keyword ideas, check out Google Trends. When you enter a term, the tool shows you search trends for that topic within Google. You can see the topic's popularity by region and over time. You can also view related topics or search queries, and you can compare one topic to another.
LongTailPro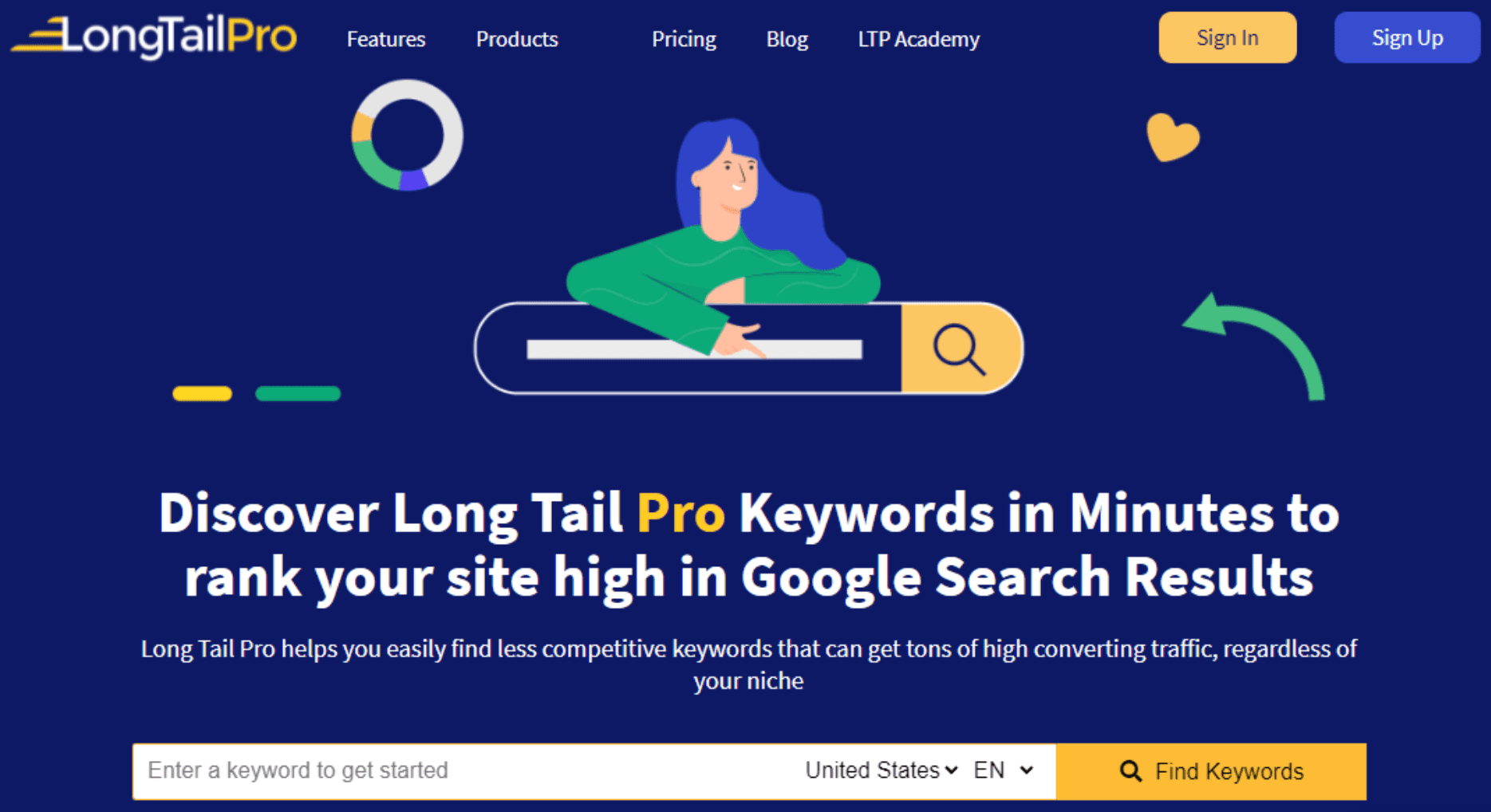 LongTailPro has several types of analyses for keyword research. They include:
Keyword Competitiveness
SERP Analysis
Rank Tracker
Backlink Analysis
Site Audit
These options give you insight into both long-tail keyword opportunities and how your existing target keywords are performing in search results.
KWFinder

KWFinder is a great research tool for beginners and SEO experts alike. It assigns potential keywords a difficulty score which you can use to compare multiple options. Keep in mind that the results for this tool are limited only to the Google search engine. If you want to do comprehensive research for multiple search engines, this won't be your best option.
Get a complimentary SEO audit
Getting on the first page of search results can be difficult even if you pay for ads space on Google SERPs. But targeting long-tail keywords is an extremely effective SEO technique that will give you access to a more specific audience, boost your conversions, and make your content more likely to rank higher in search results.
Want to see how you're doing with SEO? Get an instant SEO audit below. Or, schedule a free consultation to see how intent SEO can boost search traffic revenue by 700%.