Researchers estimate that you have less than ten seconds before a user decides whether or not to leave your website. With countless competing web pages for any given search term, it is daunting to come up with a way to stand out. But many marketers are sleeping on perhaps the most important location on their website: the homepage.
For users, the homepage is the launchpad to the rest of your website. For search engine crawlers, the homepage is important for ranking other pages on your site. It can signal how important pages are to your business, how key a page is in relation to other content, and the homepage also helps crawlers find their way to other valuable web pages. Homepage SEO techniques allow you to make the most of this page while increasing your site's usability.
Why is it valuable to optimize your homepage for SEO?
When it comes to traditional content marketing, many businesses focus on publishing supplementary content like blogs and articles in order to rank for key search terms. While having a well-rounded website full of useful and relevant content is surely an advantage, it's also important to have a strong SEO foundation.
The Google algorithm will rank website homepages in the search engine results pages (SERPs) if they demonstrate user value. Look at the results for "music streaming services" on Google: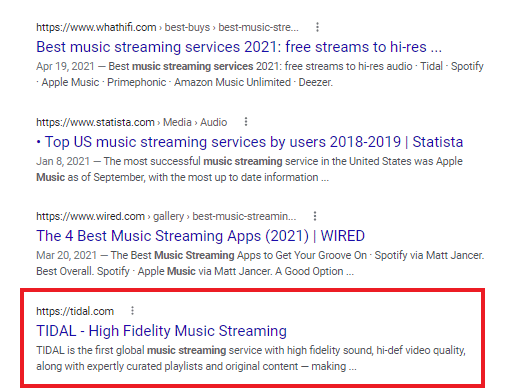 Notice that the 10th result on the page is the TIDAL streaming service's homepage. This is likely because it uses the keyword "music streaming" in its title and description, and because much of the content on the site is related to music streaming.
If you search "content marketing" in Google, you'll see the homepage for Content Marketing Institute ranking on the first search engine results page. If you search "social media," you'll see the homepage for Social Media Today ranking on the first SERP, too. These are both highly valuable terms that can drive massive amounts of traffic.
As far as SEO visibility goes, having your homepage rank for your focus topic is a major advantage. Every time a potential customer browses for that term, they will see your brand in the results. Repeated exposure to your business may improve your brand recognition, equity, and overall credibility of your business in its industry.
Implementing a homepage SEO strategy can boost your site's rankings, as long as you use the page effectively. This involves having relevant content and user-friendly web design which ensures that visitors will navigate to other pages on your site.
Best practices for homepage SEO
Developing a homepage for SEO means that you publish high-quality content that helps users find what they need. If a user comes to your website looking to browse or purchase products and services, your homepage needs to help them do research.
You can include many types of information on your homepage, including:
Navigation menus
Social media links and posts
Product or service descriptions
Company history
Customer testimonials
Deciding exactly which elements to include on the homepage takes time. Once you've done keyword research to choose a digital marketing approach for your site, follow these best practices for homepage SEO success.
Optimize homepage title
The homepage title tag is the connection between your website and every user who sees it on the SERP. Many marketers default to including just their business name in the title tag, but this is a misuse of precious real estate. Yes, you should make sure to include your brand in the title, but you can also include more information about the type of content you offer.
Some things you include in your title are your domain name or brand name, focus keywords, and user-relevant information. Here is a great example to consider:

Rather than just insert their name in the title, Spotify chose to use its homepage title to pique users' interest and invite them in. Then, with the description below, they explain more about their streaming services.
Be careful to keep your title under 60 characters, or you risk it getting cut off from the page:

Even though this title is cut off, it still goes beyond the brand name to list information about the products that Zappos sells. Put some genuine thought into your title tag, especially if you are a new business that needs to build brand recognition.
Optimize homepage meta description
Whether you want your homepage to rank for a specific keyword or not, you should optimize its meta description. If your website landing page happens to rank on the first SERP, it can be a powerful content marketing tool.
This is an excellent place to include valuable information about your brand's products, services, content, etc. It should aim to convince users to click on your homepage. One effective way to do this is to include a call to action (CTA). The CTA should line up with the goal of your business.
A charitable organization might call users to volunteer or donate money. On the other hand, an ecommerce website might ask users to purchase a product or sign up for an email listing.
This meta description does a great job of explaining why Zillow is a good place to find home listings:

From this description, the user can see why Zillow is a credible website (it has millions of listing options) and has a clear CTA (use our site to search for homes and rentals).
Beyond the CTA, writing the perfect meta description involves other elements like:
Addressing user search intent
Describing the homepage's content
Avoiding keyword stuffing
Providing unique information that's not covered in the title
Using no more than 160 characters
Overall, your meta description needs to demonstrate the credibility of your brand and the goal of your business.
[granwehr-cta title="Get personalized homepage SEO strategies" text="Want SEO strategies tailored to your homepage? Talk to a proven consultant."
Optimize homepage images
The very best landing pages provide a multimedia experience, and images are a major part of this overall appeal. Having images on your homepage makes the content more interesting and keeps users engaged.
You want to make sure that the images you use serve a purpose. After all, excessive photos can slow down your site's loading time, weakening your overall performance on top user experience SEO metrics like bounce rate.
Eye-tracking research by the Nielsen Norman Group found that the best images provide more information and go beyond pure decorational purposes. Once you've chosen the visuals for your homepage, make sure you add alt text to describe them to the search engine. This will boost your content's accessibility and user experience scores.
Optimize H1 tag
The H1 tag on your homepage is arguably one of the most important headers on your entire website. Crawlers use the H1 tag to understand the main topic of a page, and the homepage represents your website as a whole.

Check out this attention-grabbing H1 from the TIDAL website, as you saw before, ranks within the top ten for "music streaming services" on Google: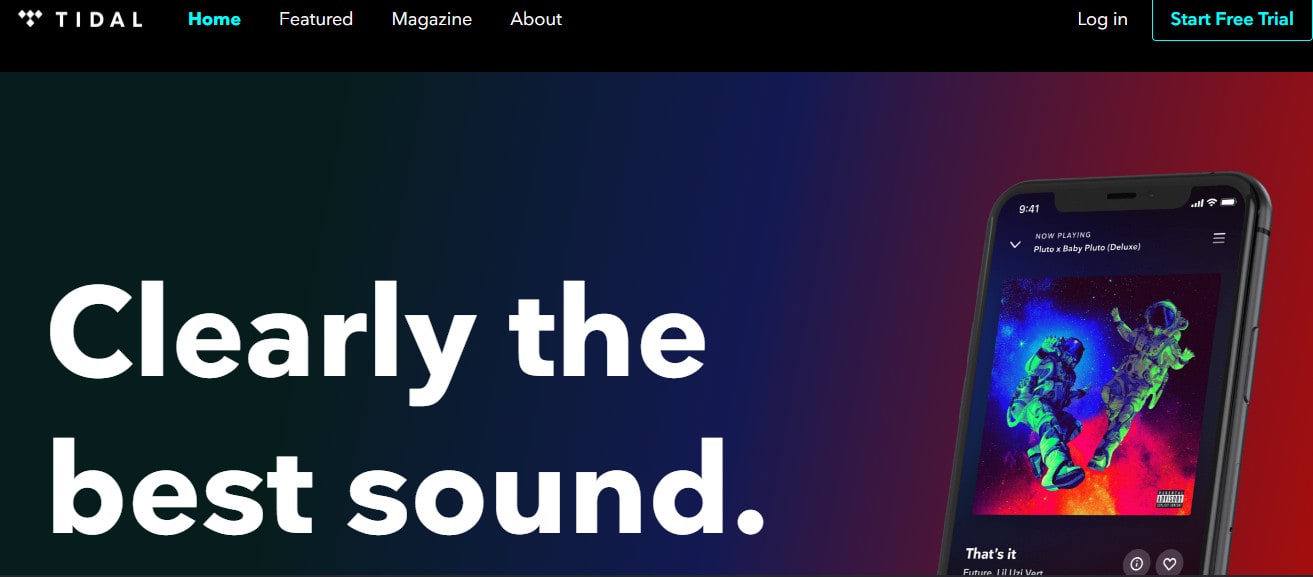 This H1 is simple and persuasive, making a bold statement about the brand's position in the market that makes users want to learn more.
You want to make sure you include your overall target keywords in your H1 tag so that crawlers know what niche you're targeting. If you need to, you can include more than one of these tags. In most cases, however, you should only need one H1 on the homepage. This will direct the search engine's focus on just one main topic.
Use schema markup
Schema markup is HTML code that defines various information on your web page. It is helpful for your homepage SEO because it increases the chances of generating a more enticing SERP listing called a "rich snippet."
Rich snippets enable brands to display more than just a title tag and meta description on SERPs. That's because they have used schema markup to tell the search engine what valuable pieces of information are on their homepage.
Reviews, images, ratings, and more, can accompany listings that use schema to describe their content. With a bigger, more appealing search engine listing, you have a better chance of improving the click-through rate (CTR) of your homepage.
Improve page load speed
One of the most important UX factors is page speed. Users are more likely to leave if your website takes too long to load:

Unless the user is specifically interested in your website, they will often return to the SERPs to find a faster page with the information they want. Especially for ecommerce sites, having a quick homepage may be the difference between getting a sale or losing a customer. Improve your page load speed by:
Signing up with a quality hosting provider
Removing obsolete background data files
Implementing image optimization tactics
Using animations and pop-ups sparingly
These are just some of the ways to boost your SEO performance through page speed. When you follow these techniques, you may notice that your visitors stay longer on your homepage and navigate to more pages before ultimately leaving your site.
Use good internal linking
The crawling process begins on the homepage. In order to find new content on your site, crawlers rely on a network of links to internal pages. They follow these links from page to page, collecting content, data, and information as they go.
When you are missing internal links, the crawlers may not be able to access everything. In this internal linking example from Moz, the crawler can't get to pages C and D because there are no links: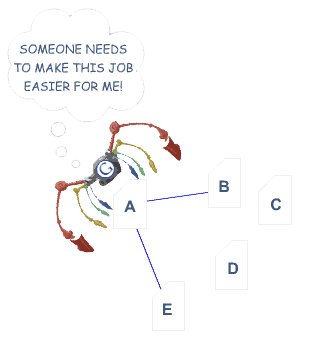 Adding links to only the most important pages while neglecting the other pieces of content can negatively impact your site SEO. After all, what's the point of creating content that no one can access? Internal linking helps crawlers understand not only the focus of your content, but the structure of your website, as well. Make sure that the anchor text you use for your links is relevant to their content.
Notice how the anchor text for this link on Taste of Home's website leads straight to a corresponding blog post about the keywords "pie crust secrets:"


Remember that pages which are only accessible via search boxes will not be indexed. If you are struggling to develop a link-building strategy, you can subscribe to the Yoast SEO Premium WordPress plugin. It has an internal linking suggestion tool that helps webmasters develop a solid link structure.
Focus on UX
Research has shown that for every one dollar invested in UX, a business can see sales returns of up to $100. UX studies allow digital marketing businesses to collect user data and discover what works and what doesn't. Heat maps, user recordings, surveys, and A/B testing are just a few ways to collect data like this.
At the end of the day, both UX web design and SEO aim to satisfy searchers to the fullest extent. Through an understanding of user search intent and the type of organization/layout that people want to see, you can overtake your SERP competition.
Remember your audience and what type of information they're looking for on your site. When it comes to homepage UX design, the smallest details can have a major impact.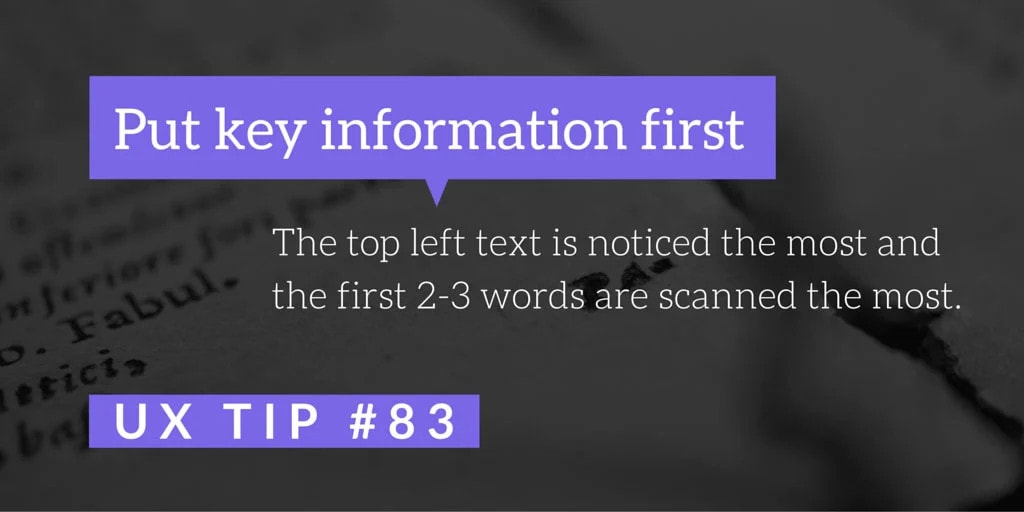 Some of the simplest yet most effective UX techniques are:
Increasing readability with sufficient spacing between bullets and lines of text
Using large font sizes and avoiding condensed fonts
Simplifying the homepage content as much as possible
Providing relevant information on the homepage without making it too long
Adding a navigation menu
Making links obvious to the user
Putting user experience at the core of both your content creation and webpage design will ensure that your homepage grabs users' attention and keeps it. Plus, it develops excellent content that can earn you valuable backlinks for SEO.
Simplify site structure
Nothing turns away users and confuses crawlers like a complicated site structure. You need to make it easy for people to find relevant information, and the best way to do this is to have an effective organization of topics.
Effective websites are often hierarchical in structure, listing topics by size and importance. A homepage SEO best practice is to have about three to four levels of organization: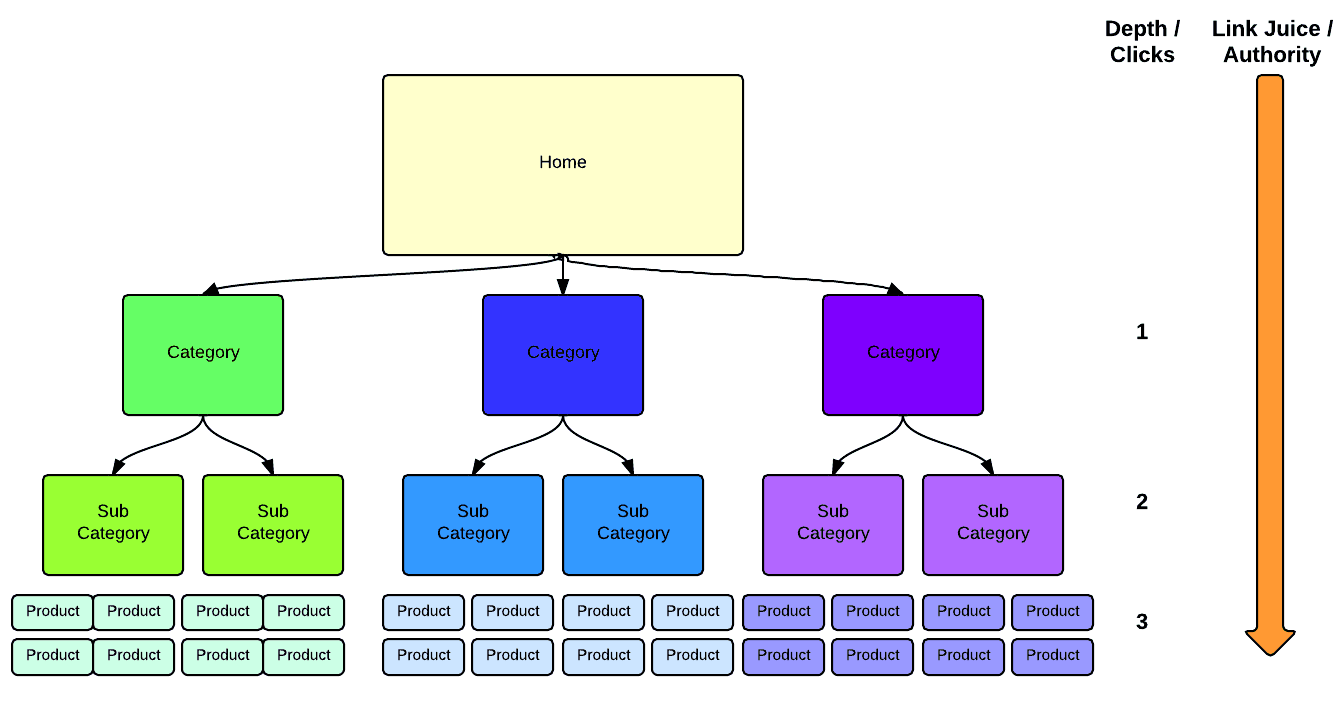 Users should be able to get to any webpage from the homepage, which requires you to carefully plan out your website structure. One effective way to help users is to provide a navigation menu either on the top of the page or on the sidebar.
You want to plan out the structure before adding content (if you can) because the more pages you have, the harder it can be to re-organize your site.
Prioritize mobile-friendliness
Most search engines place a heavy emphasis on mobile-friendliness, especially given that 61% of organic search visitors come from mobile devices, and that figure has been increasing steadily over the past decade: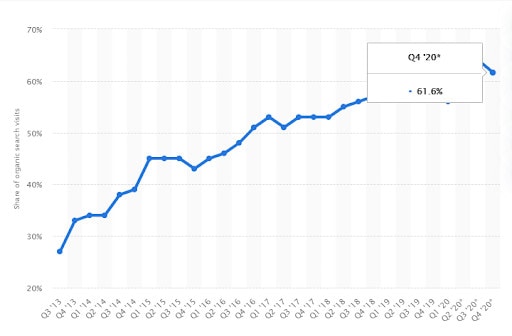 The Google search engine crawls and indexes information from the mobile versions of websites – regardless of whether a search is done on mobile or desktop – which is why optimizing for phones and tablets is so important.
You can prioritize for this indexing process by implementing these mobile SEO best practices:
Use responsive web design.
Eliminate any unnecessary or unintentional nofollow or noindex tags.
Incorporate local SEO tactics (build NAP citations, fill out Google My Business profile).
Set up Google Search Console notifications for your mobile and desktop versions.
Having a mobile-friendly website can increase your customer reach and potentially decrease your bounce rate. This can be extremely beneficial to local businesses who compete for in-store traffic generated from search terms like "restaurants near me."
Get a complimentary SEO audit
As the primary gateway to all pages on your website, the homepage needs to provide quality content that is easy to read and access. You want to use this space as the face of your brand, showing visitors exactly what type of value you provide. Following these best practices for homepage SEO can increase user dwell time, help crawlers index your content better, and grow your share of global and local traffic.
Want to see how you're doing with SEO? Get an instant SEO audit below. Or, schedule a free consultation to see how intent SEO can boost search traffic revenue by 700%.