A 2018 study by Omnisend found that landing pages have the highest conversion rate of all email marketing signup methods. They can be a powerful tool for marketers to promote their products and services, but they don't always get the traffic you need to drive growth.
Implementing a landing page SEO strategy can help show up in more search engine results. More visibility can mean more traffic, and more traffic means more opportunities to turn visitors into customers.
What is landing page SEO?
A landing page is the web page that users land on after clicking through to a website. Users can get to these pages from places like emails, ads, and basically any other digital location. Unlike most other web pages, landing pages are designed to get users to take some action – sign up, download, buy, etc.
Traditionally, landing pages include elements that help with conversion, like distraction-free navigation, a call-to-action (CTA), persuasive copywriting, etc. Design-wise, these pages are usually simple and effective. Here is a comparison of a homepage (left) and a landing page (right) to consider: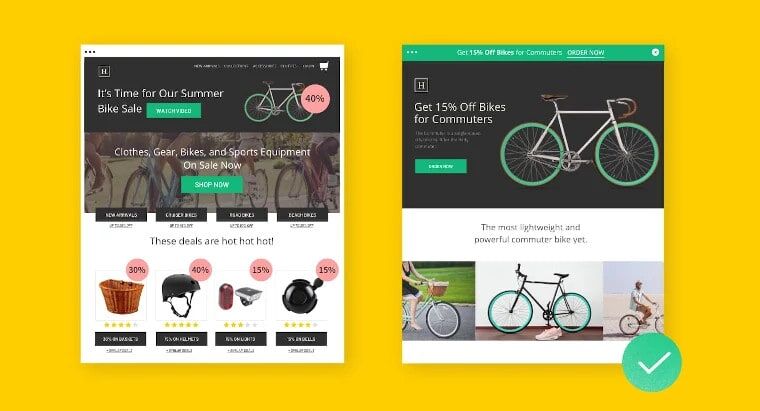 By removing distractions, you keep visitors focused on your offer. This keeps them from clicking any number of links that a homepage might offer to generic website visitors. The idea behind a landing page is that you target it to a specific audience with a specific goal, so you don't need to accommodate several different types of visitors the way a homepage would. You only need to accommodate one.
This makes landing pages an essential marketing tool for any lead generation strategy. Primarily, landing pages are crucial for PPC ad campaigns. This is why they often don't show up on search engine results pages (SERPs) – marketers typically don't optimize them for SEO.
Web pages need content and links for searchers to find them, but most landing pages have very few of these components. This can make it difficult to rank for relevant keywords when other brands are dominating on SERPs.
That's where search engine optimization (SEO) comes into play. Sometimes, optimizing your landing pages for SEO can actually generate more conversions than simply using them for paid ads.
Landing page SEO refers to the process of configuring your landing pages so that they rank higher and attract organic traffic. This approach focuses on providing user-friendly, valuable content, which also makes the page more appealing to crawlers.
Unlike the traditional landing page approach of "less is more," this SEO strategy helps you reach a wider audience, increasing potential conversions in the process.
9 proven tips for landing page SEO
Just because landing pages are commonly used to convert ad traffic doesn't mean that you can't use SEO best practices to drive organic search traffic to them as well. Here are proven SEO landing page tips to attract users to your website from SERPs.
Let long-tail keywords guide you
Choosing the right keywords for your landing page is crucial to its success. Depending on the industry you're in, it may be challenging to choose short-tail search terms. In the competitive fitness industry, for example, this would include keywords like "healthy recipes" or "home workouts."
It's typically easier and more effective to choose long-tail keywords. These are related keywords that have lower search volumes but higher conversion rates.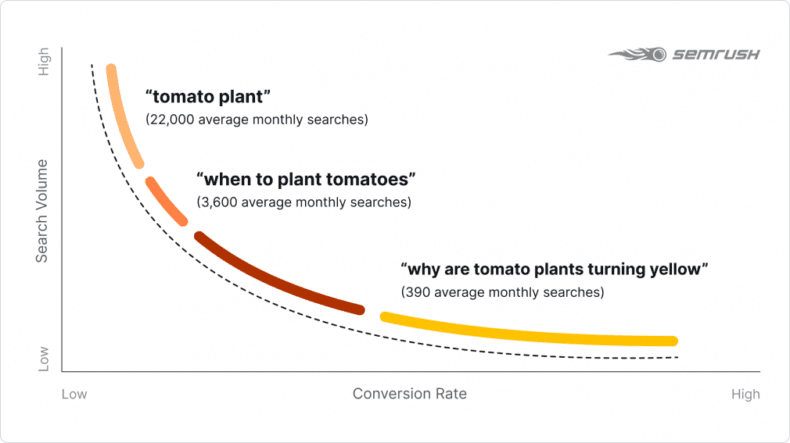 They provide a great opportunity to earn higher rankings and have a higher potential click-through rate (CTR) for your pay-per-click (PPC) ad campaigns. This is because they are more specific, meaning the users searching for them usually have a better idea of what they want.
During the keyword research phase, you need to find keywords that align with your ad campaign's main objective. Consider the fitness industry example from before:
Industry: Fitness
Main objective: Get users to sign up for a beginner's home fitness challenge.
Example long-tail keywords: beginners home workout plan, fitness challenge to do at home
Once you've chosen your keyword, you need to incorporate it throughout your landing page. Add it to your title tag and meta description, URL, page content, alt text, and file names to ensure that Google knows the page's main topic.
Uncover search intent
The majority of landing pages are geared towards conversions. This means that your target users for these pages most likely have commercial or transactional search intent:
Commercial: The user is researching a potential purchase.
Transactional: The user is looking to purchase a product or service.
This means that the content you put on an SEO-friendly landing page should give users the information needed to move forward in this search process.
Bullets and images are great tools for highlighting the benefits of what you're offering. This Conductor ad lists out the benefits of its platform in a clean and organized way:
Here's an example from Colony Roofing in Virginia, which uses an interactive feature to show users the benefits of their services:

Use bold colors strategically to draw users' attention to your CTA. Notice how this QuickBooks landing page from a Google ad has bright green accents that are easy to see and pull your attention to action items: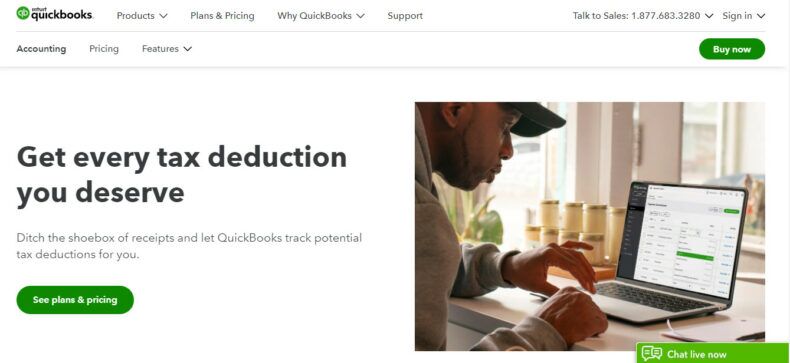 One of the best methods of grabbing user attention is incorporating an image and an attention-grabbing headline at the top of your landing page. Then, break the content down into several sections that are well-organized and descriptive. This gives the appearance of a traditional landing page while offering content to help with keyword rankings.
Remember that Google will crawl any available text, but it can't read images the same way as written content. Text within your images provides value to users, but you must make sure to mark it up so crawlers can understand it as well. For any images you add, incorporate alt text, so the user-friendly images are also helpful to crawlers.
Combine landing page design best practices with on-page SEO
Landing pages are made to convert users. And user experience is at the heart of this goal. Many qualities make a page effective at persuading people to fulfill your CTA. Some of these include:
To achieve these and other qualities, you need to blend on-page SEO techniques with high-quality website design. Combined, these elements make your landing page both appealing and practical.
Here are some tips for implementing both elements on your site:
Create a visual hierarchy that places the most important content at the top of the page. This includes the CTA and essential information like pricing. Then, use subheadings to expand on SEO content like product/service features, history, and manufacturing process.
Write a magnetic headline that matches the message of the referrer. Consider this example from an Airbnb ad for home listings in New York City. Notice how the H1 tag tells the user exactly what they should do on the page: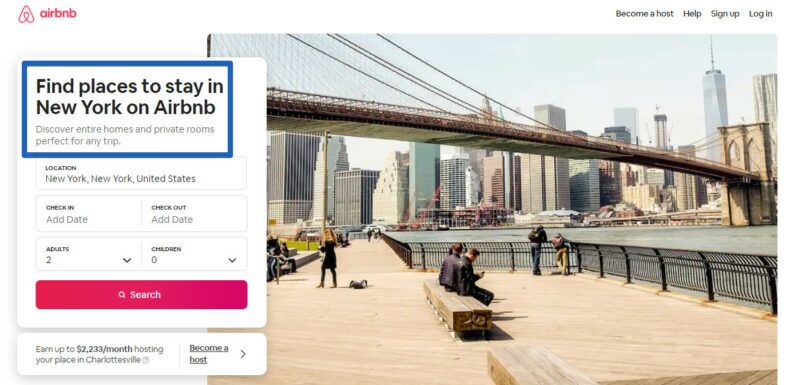 Make sure that the page matches the branding on the rest of your website. Use the same color scheme, graphic style, font, and more to create a professional, clean, and focused look. This will instill trust and make your landing pages more visually appealing.
Use personalized SEO copywriting to speak to user needs and motivations. This means focusing on your content's quality rather than targeting a certain page length. Include essential information and organize it in a way that flows well for optimal user experience.
Write a compelling CTA using action verbs and playing on common user emotions like excitement, fear, or curiosity. You should pinpoint the motivations that would drive a user to buy or sign up for what you're offering.
While creating this content, make sure you optimize it for SEO:
All of these techniques (and more) focus on how users feel when they visit your landing page. Do they feel that you have the solution to their problem? Do they have a clear idea of what makes you stand out within the market? Do they have all of the information they need to make an informed decision?
If you've answered 'yes' to all of these questions, your landing pages will be more likely to perform better on key SEO metrics like impressions, keyword rankings, and user dwell time.
Leave your seasonal landing pages online
Earning high rankings can take time, especially if your industry is competitive. For many ecommerce businesses, popular holidays mean seasonal landing pages designed to earn a share of increased online spending.
While your ads run, your SEO visibility in search results may increase. But once you take your landing page down, you have to start all over again. This is frustrating for many small businesses who try to compete with larger brands for top spots on SERPs.
Rather than creating new landing pages for each holiday or season, keep seasonal pages up year-round, so you never have to start over. Tweak them for each successive year so that they remain relevant without needing a complete overhaul. This allows you to increase visibility by capitalizing on momentum from past marketing campaigns.
Use an SEO-friendly URL
Users like straightforward SERP listings. Every detail matters. From the title tag to the content on the page, each area of your website provides an opportunity to create a great user experience. The URL is no exception.
Having a complicated, nonsensical URL may turn users away from the page. Instead of using an auto-generated URL containing random characters, create your own.
The web address should reflect the page's main topic. In this example from RC Gutters, the target keyword "seamless gutters" is used in the URL to describe the page: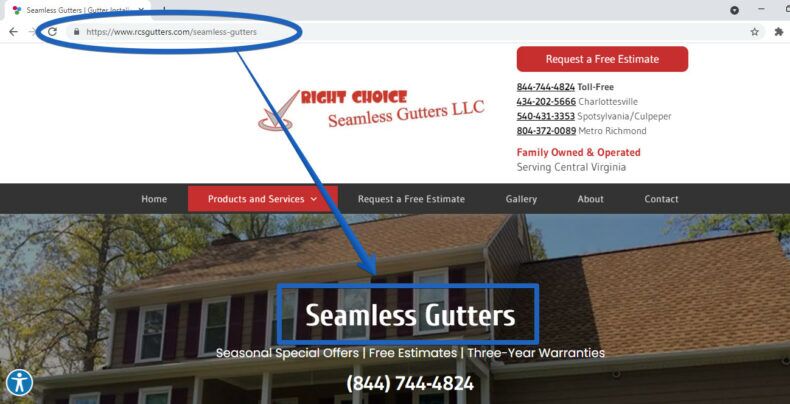 This simple format eliminates any doubt and confusion for the user. Before clicking to this page, users will know that it will have content related to seamless gutters. If that information is relevant to their search, they will be more likely to click on the page.
Improve page speed
A slow website creates a poor user experience. If users have to wait too long for your page to load, your bounce rate will likely increase. The more often this happens, the less likely users will be to return to your website:

This is why page speed is one of the official Google ranking factors. Fast web pages directly correlate to positive user experience (which is Google's ultimate goal).
To improve your page speed, start by testing your website using Google's PageSpeed Insights Test. These are just some of the ways to decrease page load times and ensure a better user experience:
These changes will make users more likely to visit your page. That's because Google will see how user-friendly your content is and be more willing to display it in search results.
Providing an excellent experience ultimately makes visitors more likely to stay on your landing page. And with a longer dwell time, your chances of converting visitors increases.
Ensure your landing page is mobile responsive
If you haven't done mobile SEO on your landing pages, they won't rank high in search engine results. That's because the majority (61%) of organic search engine visits in Q2 of 2021 came from mobile devices.
Optimizing your website for mobile devices is an essential component of any digital marketing strategy. This involves configuring your landing pages so that they look good and function well on any sized screen.
Most content management systems like WordPress and Wix now have responsive design capabilities. These features allow you to change your landing pages' layout on phones and tablets so that it is more user-friendly. After implementing a mobile SEO strategy, you should audit the site to make sure everything works.
Google's Mobile-Friendly Test tells you what works and what doesn't:

Once you've tested your site, you can make the necessary adjustments and publish your landing pages. This ensures that users coming from mobile search results will have a better experience and be less likely to leave the page.
Secure your landing page
Another important search algorithm ranking factor is security. Google wants to know that your site is reliable and safe for users to visit. One of the easiest ways to demonstrate its security is to switch to HTTPS. This encrypts the information that's passed between the server and browser to protect user data.
HTTPS is important for SEO because search engines will flag sites without it as potential threats. When users see security warnings, they'll return to SERPs to find a different resource. By using HTTPS, you establish user trust and prevent your landing pages from being flagged.
Build backlinks
A link-building strategy is essential for better rankings. Backlinks, or links from external sources (referring domains) to your web pages, show Google that you have relevant and high-quality content. They demonstrate that other websites trust you as a source of information. This builds your credibility and ultimately makes you likelier to earn top rankings.
A 2020 Backlinko study of 11.8 million search results found a strong correlation between high SERP positions and a large number of referring domains.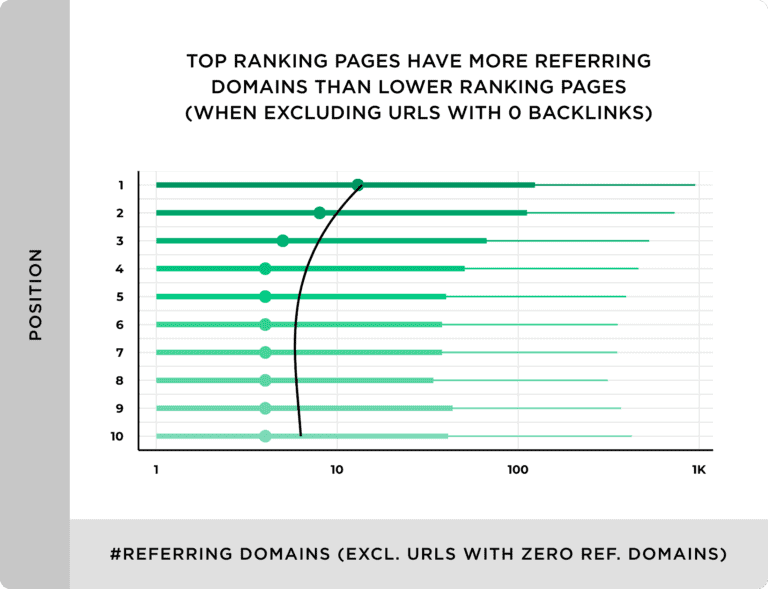 You can build backlinks on landing pages by:
Remember that Google considers both the quality and the number of backlinks that you have. The more links, the more credible you seem. The better quality the referring domains, the more that Google trusts those backlinks.
Get a complimentary SEO audit
Landing pages are one of the most powerful conversion tools that you can use. Landing page SEO can help you drive more visitors to these pages than just paid advertisements. The more people who see your page in Google search results, the more potential customers you're exposing your landing page to.
Want to see how you're doing with SEO? Get an instant SEO audit below. Or, schedule a free consultation to see how intent SEO can boost search traffic revenue by 700%.