Finding the best SEO companies isn't easy. Sure, you could search "best SEO company" and click the top Google results, but that's not guaranteed to get you what you're looking for.
A lot of those top results are long lists and review sites. And some of them aren't as clear-cut as their makers would have you believe. That's why I sorted through 7 of the top lists of the best SEO companies to find which is easiest to use, the most informational, the most credible, etc., to help you find a provider that's right for you.
1. Best SEO Services and Companies list from Clutch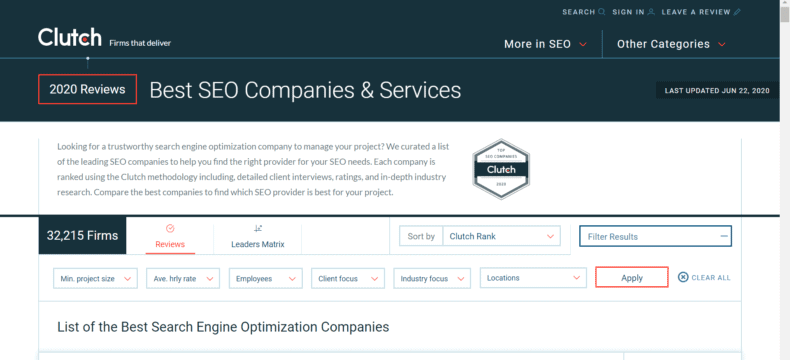 This list from Clutch ranks over 32,000 SEO firms using the "Clutch methodology," which takes into account client interviews, ratings, and in-depth industry research.
On the main list page, you'll get a brief overview of each SEO service agency that includes a rating of how SEO-focused the agency is, along with testimonials, rate ranges, company size, and location. It's pretty comprehensive.
You can sort SEO professionals by sponsored listings, verified companies, Clutch rank, number of reviews, review rating, and company name. And you can even get more granular, filtering by average rate, size, and more.
When you click through a company profile, you'll get even more information about the provider, like their focus areas, industry, services, and even a portfolio of their work.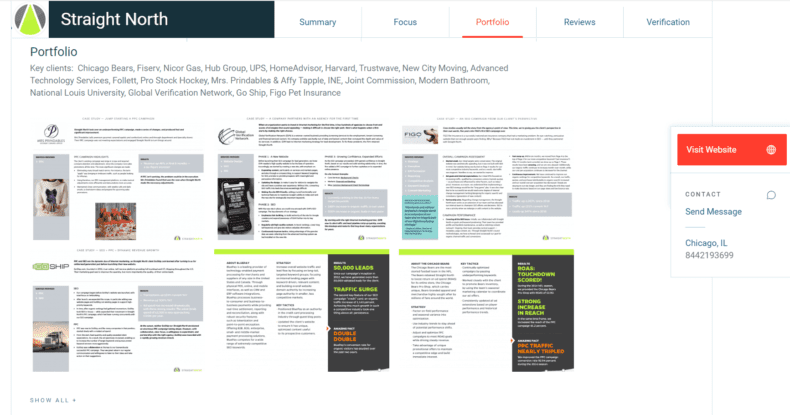 Keep in mind that when you look at these rankings, the default is to show top sponsored (paying) companies. To rank by Clutch rank, you'll have to go to the "Sort by" drop-down and select "Clutch rank." According to Clutch rank, the top SEO providers are the following:
Straight North — Chicago, Illinois
Ignite Visibility — San Diego, California
Infront Webworks — Colorado Springs, Colorado
SEO Brand — Boca Raton, Florida
Big Leap — Lehi, Utah
Titan Growth — San Diego, California
SEO Inc. — Carlsbad, California
Victorious — San Francisco, California
WebFX — Harrisburg, Pennsylvania
Coalition Technologies — Culver City, California
2. Top SEO Companies list from Upcity
Upcity's rankings of the top SEO companies include nearly 4,000 providers. Next to Clutch, this list seems the most comprehensive. Not only does it feature a lot of providers, but it gives you substantial information on each. When you click through to a provider's individual profile, you'll see their rates, reviews, services, platforms they support, and even a portfolio of work.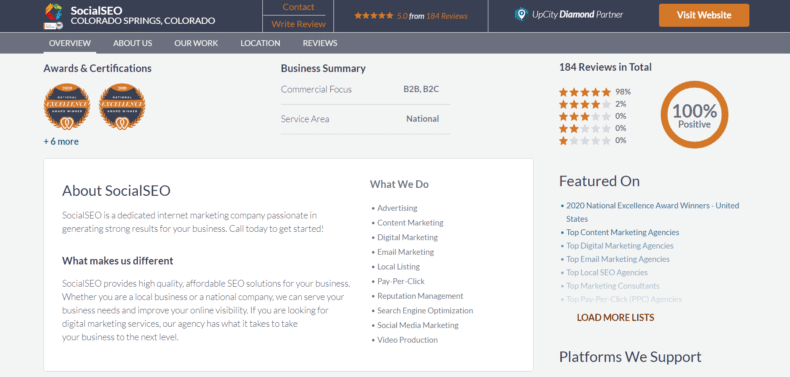 To rank their providers, Upcity takes 8 factors into account: profile completion, engagement rate, reviews, third-party reviews, presence in search engine results, business location data, domain authority, website speed, and user experience. The best SEO companies on this list include:
WebFX — Harrisburg, Pennsylvania
SocialSEO
Revlocal
Vivial
Coalition Technologies — Culver City, California
Smartsites Digital Marketing Agency
M16 Marketing
Fair Marketing Inc
Insignia SEO & Web Design
Kobe Digital
3. The Top 100 Search Engine Optimization Companies from TopSEOs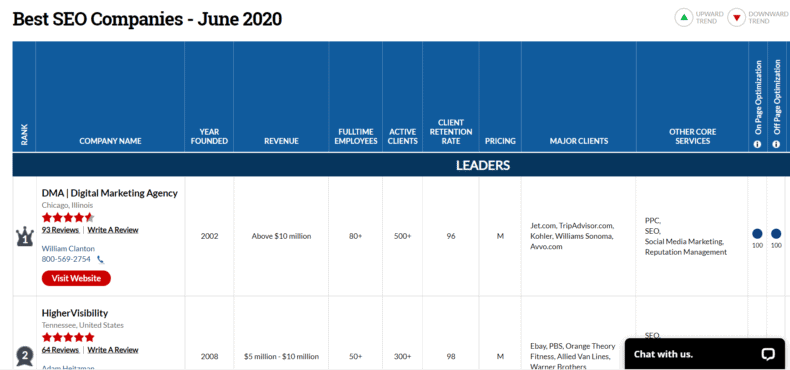 This rankings list is from TopSEOs. The great thing about it is its ease of access. Ranking categories are separated by columns, and they're all on one page, which makes it easy to evaluate a company quickly.
You can see pricing, client count, major clients, services, and even skill in off-page and on-page optimization. And when you click through a company name, you can see in-depth information about a provider like you can on Upcity and Clutch. That includes clients, reviews, case studies, videos, whitepapers, webinars, and more.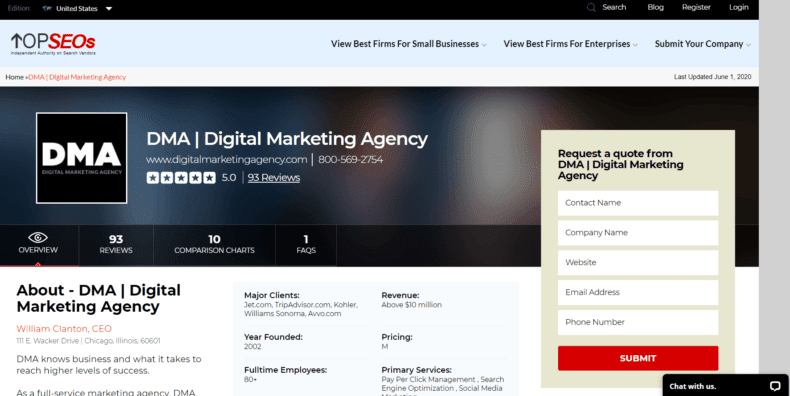 According to this list, top SEO providers are:
DMA, Digital Marketing Agency — Chicago, Illinois
Higher Visibility — Memphis, Tennessee
Spiralytics Agency — Los Angeles, California
marketingagency.io — Newark, New Jersey
WebMarketingAgency.com — Savannah, Georgia
Thrive Web Design — Boise, Idaho
Top Floor Marketing — Alexandria, Virginia
Web1SEO — West Palm Beach, Florida
Fastech Solutions — Vancouver, Washington
Smartsites — Paramus, New Jersey
4. The Top 100 SEO Services list from The Manifest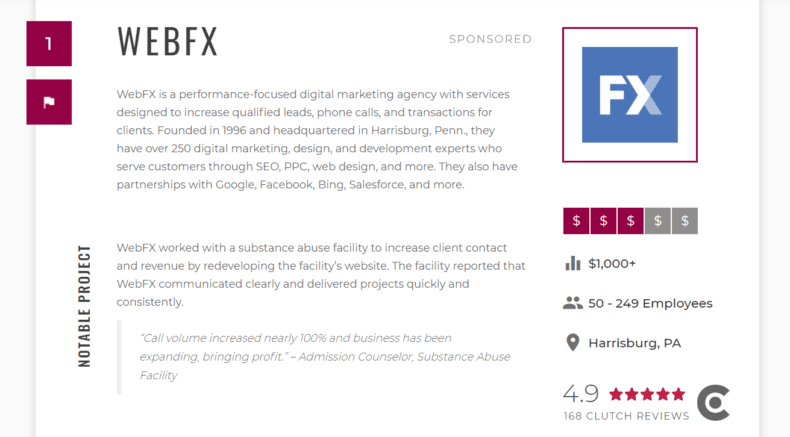 These rankings from The Manifest are what the company considers "The best SEO companies in the world." You'll see some from the UK, India, Canada, and Ukraine, but the vast majority are from the USA.
Browsing this list of 100, you can see company size, cost range, reviews, notable clients, location, and awards. The reviews seem to be based on the first list from Clutch, but unlike Clutch, this list has no individual in-depth profiles for providers. Clicking an SEO company name will take you to its website.
As you look through, keep an eye on the "Sponsored" label in the upper-right corner of the listings. Some placements are paid. The ten best SEO companies on this list include:
WebFX — Harrisburg, Pennsylvania
Ignite Visibility — San Diego, California
Coalition Technologies — Culver City, California
Sure Oak — Brooklyn, New York
Directive Consulting — Irvine, California
Big Leap — Lehi, Utah
Webmechanix — Columbia, Maryland
The SEO Works — Sheffield, United Kingdom
Local SEO Search — Toronto, Canada
PBJ Marketing — Washington, DC
5. The Best SEO Companies list by Web Design Rankings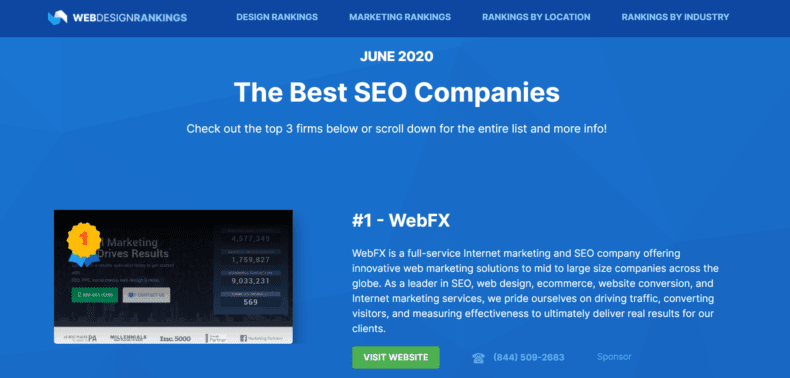 This list titled "The Best SEO companies" features 45 SEO companies from around the world. According to the team at Web Design Rankings, it was made with several factors in mind:
We've done the research on all these SEO agencies, too, looking at their history, work, pricing, reviews, and more to determine which are the top SEO firms in the world.
As you look, know that two of the top five providers are sponsored. And as you get further down the list, you'll see there's not much information about each provider.
Unlike some of the other lists, there are individual profiles for service providers, which is good for helping you gather more information on a provider. However, they only feature a short summary of the company and reviews. The top-ranking providers here are:
WebFX — Harrisburg, Pennsylvania
Elsner Technologies Pvt Ltd — Ahmedabad, India
Fractl — Delray Beach, Florida
SmartSites Digital Marketing Agency — Paramus, New Jersey
Techmagnate — New Delhi, India
inSegment — Newton, Massachusetts
Scorpion — Valencia, California
Matchbox Design Group — St. Louis, Missouri
Coalition Technologies — Culver City, California
ResultFirst — Noida, India
6. The Top 50 SEO Company Rankings of 2020 from Best SEO Companies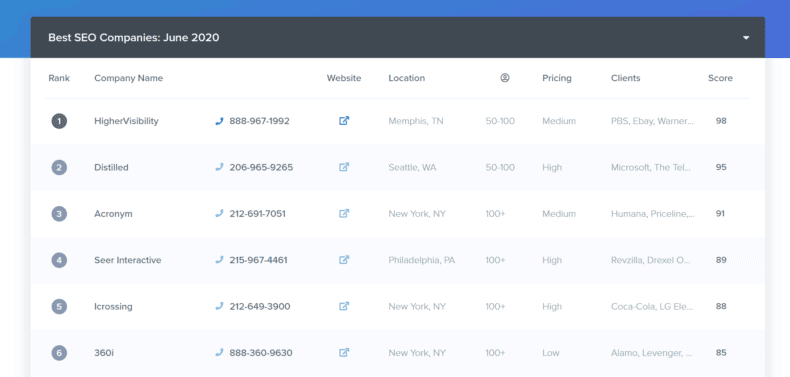 BestSEOcompanies.com says this about their list of top SEO agencies:
The following is our complete list of the top SEO company rankings in the United States. We have evaluated several hundred SEO firms for the list, but have narrowed it down to the top 50 SEO agencies as ranked by our scoring system.
What does their scoring system look like? Says the company:
We look at several different data points ranging from the effectiveness of the SEO firm's own internal search engine optimization efforts to the quality of their customer service.
On the page, you'll find a list of 50 digital marketing companies with information separated by category: company name, phone number, website, location, size, pricing, clients, and score. Unfortunately, since there are no in-depth profiles of each company, this is all the information you'll get.
According to this list, the best SEO agencies include:
HigherVisibility — Memphis, Tennessee
Distilled — Seattle, Washington
Acronym — New York City, New York
Seer Interactive — Philadelphia, Pennsylvania
Icrossing — New York City, New York
360i — New York City, New York
Sapient Razorfish — New York City, New York
Wax Interactive — San Francisco, California
Bruce Clay — Simi Valley, California
Brick Marketing — Boston, Massachusetts
7. The 2020 List of Top SEO Agencies from OuterBox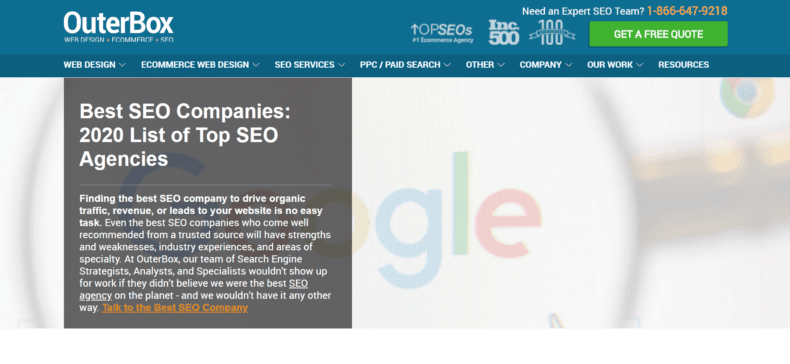 This rankings list is from Outerbox. It starts with a pitch from the company itself, and once you get into the actual rankings, the creator of the list ranks themselves number one. It's hard to feel like this list is impartial.
On the plus side, this list comes with some tips on how to choose a provider, and also separate lists for e-commerce SEO and small business SEO — though it's unclear on what criteria these businesses are ranked. According to this list, top performers include:
OuterBox — Akron, Ohio
Boostability — Lehi, Utah
Media Web — Hudson, Massachusetts
Titan Growth — San Diego, California
Straight North — Austin, Texas
SEO Brand — Boca Raton, Florida
SEO Inc — Carlsbad, California
Higher Visibility — Memphis, Tennessee
Ignite Visibility — San Diego, California
WebFX — Harrisburg, Pennsylvania
Digital marketing services to look for in an SEO company
Every SEO agency needs a set of marketing solutions that enable them to improve your online presence through search. As you explore your options — whether they're an SEO consultant, freelancer, or agency — here are some services you should look for:
Link building:
This SEO strategy uses techniques like social media marketing and guest blogging to increase your number of high-quality backlinks. Backlinks are links from other websites to yours, and the more high-quality backlinks you have, the more valuable Google perceives your website to be.
Pay per click (PPC)
Search engine optimization is a method of inbound marketing. It focuses on unpaid methods of attracting traffic through search engines. But, it's only one half of the umbrella category search engine marketing (SEM). The other half refers to digital advertising tactics that fall under the category term "pay per click." These have to do with generating traffic through paid advertisements placed on search engine results pages. If you have any plans of someday using paid advertising in your marketing strategy, it's a good idea to look for an SEO agency that offers both PPC and SEO services.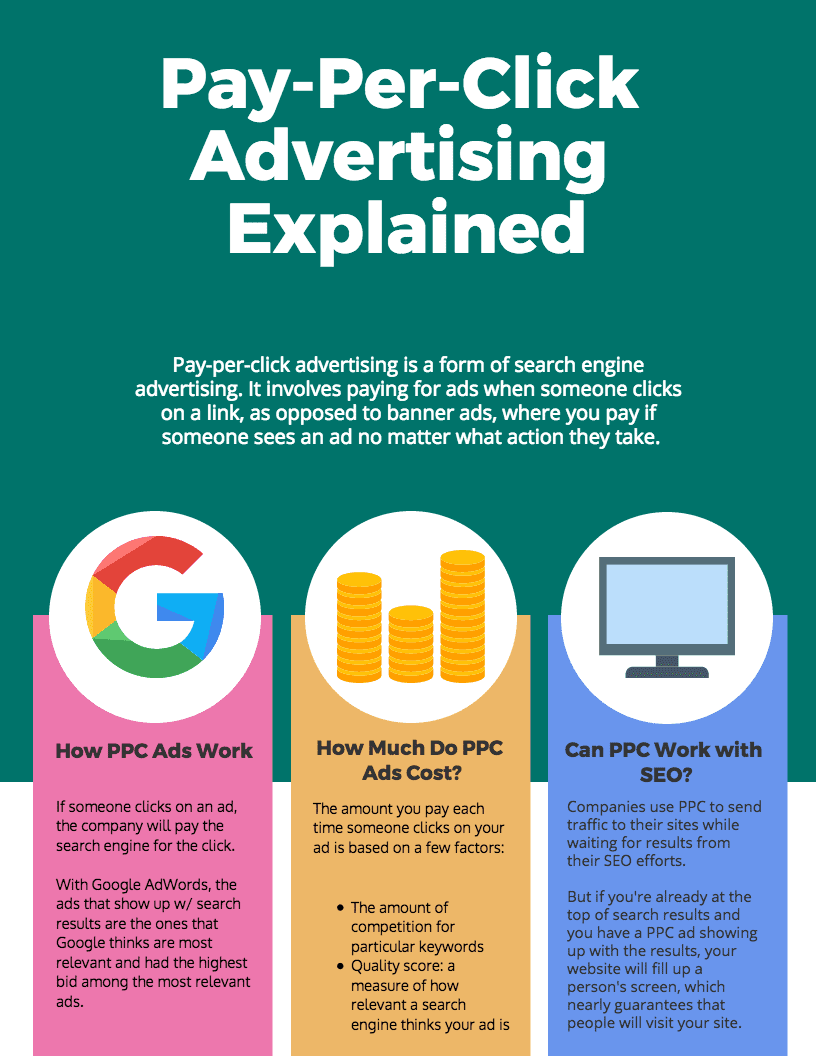 Local SEO
Some companies who engage in SEO do most of their business in a specific area. For these small businesses, local SEO is a must-have. This strategy helps storefronts get found when someone does a Google search for local products and services, like "plumber in Phoenix, AZ," or "law firm in Dallas, TX," or "hardware store near me."
Keyword research
When you want to figure out how people are finding your business in Google and Bing, you do what's called "keyword research." It commonly involves examining SERPs with SEO tools — like Moz, Google Search Console, Ahrefs, Clearscope, etc. — to uncover search terms that may lead to potential customers. Once you know these keywords, you can run content marketing campaigns to meet the search intent of your target audience.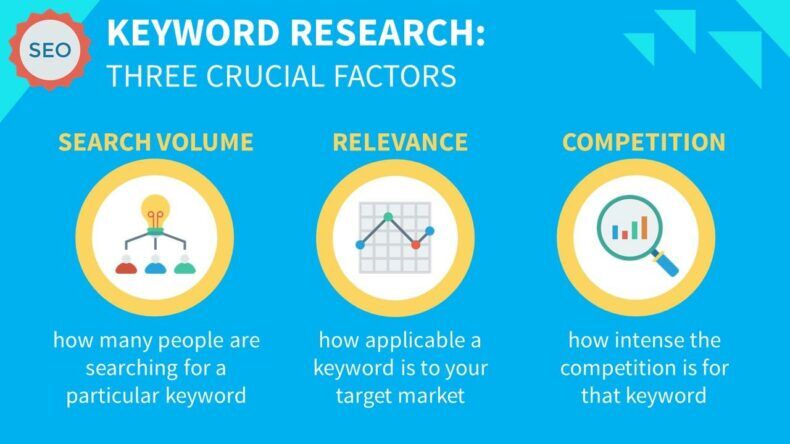 Content marketing
You can't have SEO without content creation. This work comes after keyword research when you create web pages featuring your newly discovered target keywords. With the help of a marketing team that includes strategists and content creators, you can use content marketing to position yourself on SERPs with articles, blog posts, videos, and more, to earn website traffic from search engines.
Technical SEO
Most SEO strategies that fall under on-page and off-page SEO don't require technical knowledge to do well. But there's a third category of SEO techniques, known as "technical SEO," that require more specialized knowledge to complete. These are tactics that improve the infrastructure of your site, and they involve things like robots.txt files, canonical tags for duplicate pages, HTML sitemaps, and even page speed adjustments. Good SEO specialists know how to use these technical strategies among many others, to make sure your pages work well for both users and search engines.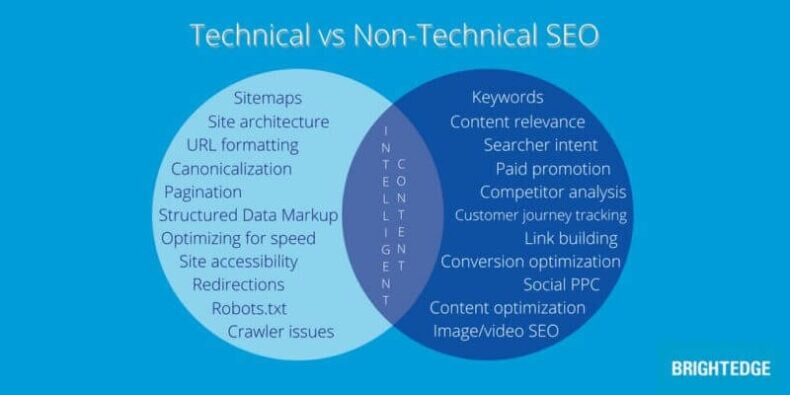 Web design
More people access the web via mobile than desktop, and Google's goal is to provide the best user experience. That's why website design is so key to SEO now. Today, top SEO firms can oversee the web development of mobile-first websites, so they work well across all device types. Since Google's introduction of mobile-first indexing, the mobile site design has become a priority for businesses that want to rank well.
How to evaluate the best SEO companies
You have the lists, but how do you choose from them? What should you look for as you evaluate potential SEO services? Here's a quick checklist:
Know your own business needs and goals. Being able to express your own business metrics and goals will help an agency figure out if they can help you. Some marketing firms excel in different areas and industries, and if they know what you need from them, they're in a better position to tell you if they can offer it. You might think you only need SEO, but then find out that conversion optimization, email marketing, and lead generation services could help, too. If that's the case you may want to consider a full-service internet marketing agency as opposed to a niche marketing company like an SEO firm.
Find someone with experience in your industry/niche/size. SEO isn't exactly the same from industry to industry. The principles are, but the strategy changes. For example, SEO for an e-commerce brand on Shopify won't be the same as SEO for a local real estate agent. The same is true from small to medium and larger businesses. The details of SEO aren't the same. Look for a firm that has a staff of SEO experts in your industry, niche, and size.
Look for a history of success. There are signals you can look for to evaluate an agency's work history. The most important are testimonials from past clients to show a positive track record over years of experience; case studies of the firm's work methods; and examples of SEO campaigns that they've used to help businesses similar to yours. Remember to look outside of the agency's website for reviews (like on Clutch, for example), since they're more likely to be honest and unfiltered.
Take advantage of an SEO audit. Most SEO teams offer a free consultation or SEO audit to prove they can find and solve issues with your website. They'll evaluate your web pages and tell you how the agency would go about fixing them. Taking advantage of this is like taking your car to the mechanic. Listen to what they have to say, but get a second and third opinion to see which firm seems the most capable and trustworthy.
Don't be afraid to ask questions. Some business owners don't ask many questions about a firm's SEO services because they're afraid of looking ignorant. But understanding what you're paying for is a major part of deciding which firm to go with. Don't be afraid to ask questions. This is also a great way to test an agency's temperament. If they're frustrated with you after only a few questions about their services, it's a red flag. They're not who you want to be in business with long-term.
Get a free SEO audit
SEO services can be expensive, and it's important to trust an agency before you enter into a long-term contract with them. Don't just look for proof that they know what they're doing, ask for it, too. The best marketing agency/client relationships start from a place of open communication.
Want to see what a marketing agency will find when they do an SEO audit of your website? Get a free SEO audit below, instantly. Or, schedule a free consultation to see how intent SEO can boost traffic value by 700%.