Over 800,000 websites choose WooCommerce as an ecommerce solution, making it the most popular WordPress plugin ever.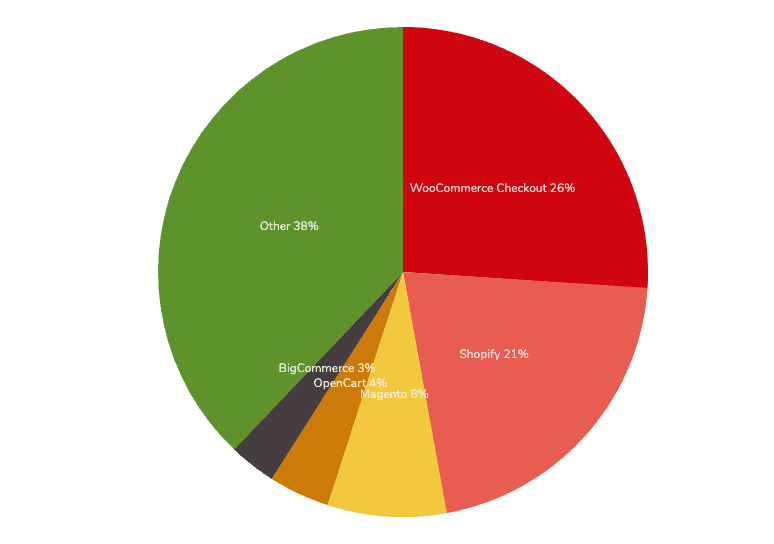 It's used by more sites than Magento, OpenCart, and BigCommerce combined. As worldwide ecommerce sales continue to rise rapidly, its users are turning to an equally popular marketing strategy to generate traffic, leads, and sales: WooCommerce SEO.
What is WooCommerce SEO?
WooCommerce SEO (search engine optimization) is a digital marketing strategy used to improve the search engine visibility of WooCommerce stores. It involves using tactics like keyword research, content marketing, link building, and more, to make these sites appear higher on search engine results pages (SERPs).
The higher your appear on SERPs, the more likely you are to generate organic traffic from search engines like Google, Bing, and Yahoo. More traffic translates to more potential customers on your ecommerce site. With nearly 40% of ecommerce traffic coming from search engines, SEO is a strategy that WooCommerce site owners can't afford to ignore.
Additionally, SEO is an organic digital marketing tactic, and as such, requires less budgetary commitment than paid advertising tactics like PPC (pay per click). What's more, the ROI from SEO can actually compound over time with relatively little ongoing maintenance.
Is WooCommerce SEO-friendly?
This question is a little more complicated than "Is Shopify SEO-friendly?" or "Is Magento SEO-friendly?" The reason is WooCommerce is different from many of its competitors. Here's what some popular marketing blogs had to say about it:
Sazzudul Bari, WPManageNinja:
"That's the real question! Is WooCommerce SEO-friendly?
The answer is YES. Let's put some words to simplify the answer.
There is a difference between having an SEO friendly site and ranking higher on SERP. When we say that WooCommerce is SEO-friendly, it means that it has some sort of SEO features built-in that can be used to optimize your site for SERP by the SEO experts.
This is probably the place where WooCommerce differs from Shopify. Because WooCommerce isn't a standalone platform, rather it's a plugin that needs to incorporate with the WordPress ecosystem. WordPress is the SEO friendlier CMS and WooCommerce inherits most of these SEO functions."
Ben Pines, Elementor:
"The short answer is 'yes.' Much like WordPress itself, WooCommerce is SEO-friendly…but you'll need the help of an SEO plugin to unlock that functionality.
With the right plugin, you'll be able to make all the search engine optimizations that you need to rank your store in Google. You can add SEO titles/descriptions to your single products and category pages, include breadcrumbs, add structured data, and more."
Jacinda Santora, OptinMonster:
"What about WooCommerce? Is WooCommerce SEO friendly?
Short answer: yes, WooCommerce is SEO friendly.
The longer answer is that WooCommerce is built using code optimized for SEO but doesn't actually have much in the way of SEO features. Where WooCommerce really shines is in its integration with WordPress and all of the plugins that are available."
The bottom line:
Unlike ecommerce platforms like Shopify, Magento, and BigCommerce, which come complete with templates and page builders along with ecommerce features and built-in SEO tools, WooCommerce is only one part of a WordPress ecommerce site. It's not a standalone platform. It's an integration that turns your WordPress site into an ecommerce store — allowing you to take payments, showcase products, and create shopping cart functionality, etc.
So, the answer to "is WooCommerce SEO-friendly?" is: It's as SEO-friendly as WordPress. And WordPress is very SEO-friendly if you install the right SEO plugins and follow best practices.
Some popular SEO plugins for WordPress include the Yoast SEO plugin, RankMath, Broken Link Checker, and these others. Now, for SEO best practices…
The best WooCommerce SEO strategies for your online store
Though the ecommerce platform you choose does impact your SEO, mostly your SEO success will depend on you. You have to prove to Google that your site is high-quality and valuable in three areas of SEO: on-page, off-page, and technical. To that end, are some SEO tips to help sell your WooCommerce product:
Prove your value with on-page SEO
To Google, a website is valuable when it provides an answer to a user's search with information that is comprehensive, relevant, and easy to use/consume. Google only wants to send its users to high-quality sources of content. Is your content high-quality? To prove it, a good on-page SEO strategy includes:
Keyword research. This will help you discover the terms your visitors use to find your product. Once you know them, you can create content — blog posts, product descriptions, category pages, product images, etc — that uses these terms to signal to Google that you have content relevant to user searches. SEO tools like Moz, Ahrefs, SEMrush, and others, can help you with this.
Search intent satisfaction. If you're trying to rank for the term "bluetooth speakers," it's important to know what Google users are looking for when they search "bluetooth speakers." This is called search intent. You can determine what Google wants to show users for a particular search term by studying search engine results pages for that term. In this case, you would Google "bluetooth speakers" and use the results to guide your content creation. Here are the types of search intent you should know.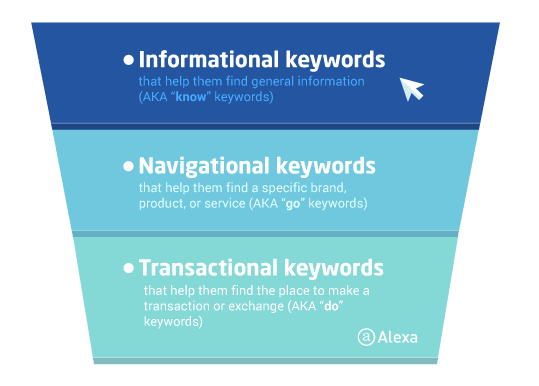 High-quality content. It's one thing to satisfy search intent, it's another to make your content more valuable than what's currently on page one. And if you want to rank on page one, your content does have to be better than your competition's. Along with satisfying search intent, your content should have high production value, with well-written copy, expertly designed images, and original videos. Google Analytics can help you determine which content is performing well and where it's lacking.
Optimized SERP click-through rate. Meta titles and meta descriptions are the text that make up search engine listings. Even though these aren't official ranking factors, they do contribute to SERP click-through rate (CTR), which SEO experts believe to be a powerful ranking factor.
Organized content. Both your site structure and content should be organized. Pages should be grouped in a hierarchy from homepage > product category page > product subcategory page > product page > product variation page, etc. This helps visitors quickly and easily find the content they're looking for, and it also helps them browse from more broad product categories to specific products.Your physical content should be similarly organized, with a single page title and a single H1 header on each page, as well as a hierarchy from H2 to H3 and H4, etc, based on how content sections relate to each other.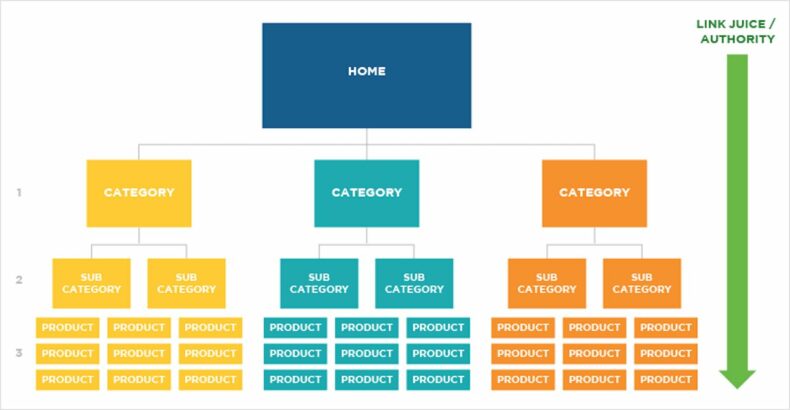 Optimized image filenames and alt text. Filenames should be short but descriptive. Use a few words to title the image and format the name with dashes between words. If you can get your focus keyword in the name, all the better, but don't force it. With image alt text, write a sentence describing what the image shows as though you were describing it to someone who couldn't see it (since that is the primary purpose of alt text), and include your keyword if you can, but again, don't force it.
Internally linked content. Internal links — links from your pages to other pages on your site — help visitors navigate to other pages on your site. They also help search engines understand your content, and they can even boost the ranking power of other pages (when you link from a higher ranking page to a lower ranking page). For best SEO, ensure your anchor text includes your target keyword.
Prove your authority and trustworthiness with off-page SEO
Google looks at more than your website to determine if you're a trustworthy and high-quality source of information. It wants to see how other web users are engaging with your content. Are they reading, sharing, and linking to your content? Google will take these as signals that you are a valuable source of information.
The most powerful signal is backlinks — links from other sites to yours. The way Google sees it, if other people are willing to link to your content from their content, they trust you enough to send their users to you. They're essentially vouching for your content. To Google, the more high-quality backlinks you have, the more trustworthy and authoritative you seem. Here are ways to generate them:
Use social media to broaden your audience. Generating backlinks starts with good content. But if no one sees that content, it won't get read and shared. Social media marketing can broaden your audience, creating opportunities for people to share your content. Research has shown that there is a correlation between social shares and backlinks.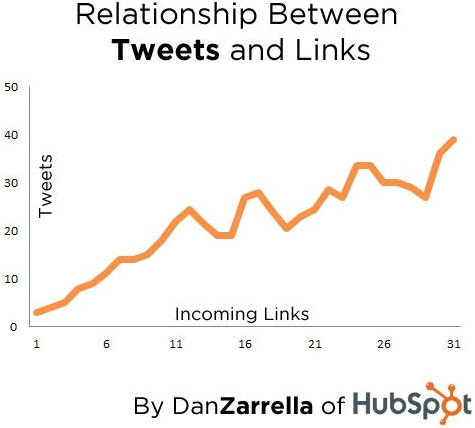 Capitalize on partnerships. Have any partnerships with other brands? Vendors? Influencers? These are perfect opportunities to get exposure to new audiences and generate links back to your ecommerce site. Many times it's as easy as asking for a link back. If it's not, think creative — like partnering for a product release on an influencer blog.
Commit to link-building tactics. Some strategies result in backlinks, and others are used strictly for the purpose of generating them. Link-building strategies are strictly for the purpose of generating backlinks. These include fixing broken links, finding unlinked mentions of your brand, creating digital coupons, and more.
Improve your site performance with technical SEO
All the trustworthiness and authority in the world won't matter if users and search engines can't access your content easily. Technical SEO is about making sure your content
Develop an XML sitemap. Normally Google has to crawl all your pages through internal links. But sometimes it misses pages if they're not adequately linked to. Prevent this from happening by creating an XML sitemap (a map of all your website's pages) and submitting it to Google through Google Search Console.
Use a robots.txt file. You may not want all pages to be crawled and indexed the same way, or at all (like shopping cart pages, admin pages, etc). When you want to give Google specific directions on how to crawl a page, like how frequently, or you want to keep a page out of Google search results completely, you can create a robots.txt file.
Prevent duplicate content with canonicalization. Sometimes you'll have the same piece of content in two different places on your website, like the same product title and product description on two different category pages. To Google, this will look like duplicate content, and Google will only index one. To prevent Google from crawling and indexing the wrong one, you can use the canonical tag.
Structure your data with schema markup. This kind of labeling markup better organizes your content for search engines, and it can also result in rich snippets on SERPs, which are more robust SERP listings that can include images, deep links, reviews, branding, and more.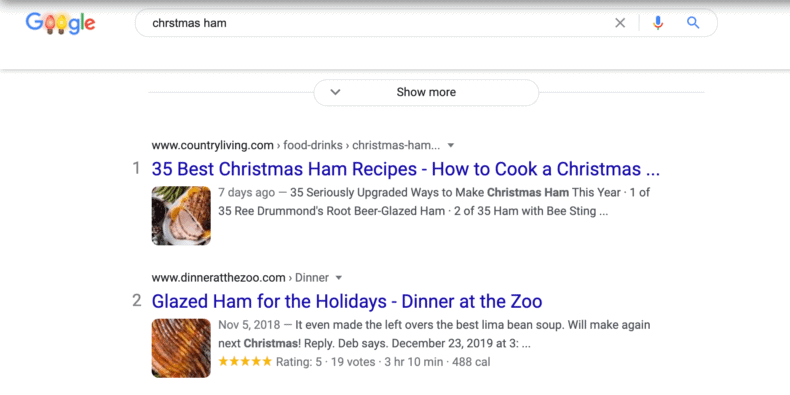 Improve page load speed. Google has already made page speed an official ranking factor. If your pages load slowly, it will negatively impact your SEO. There are lots of ways to speed your pages, like removing excess images, minifying JavaScript and CSS, or even building pages with AMP.
Create SEO-friendly URLs. SEO-friendly URLs are short, descriptive, and they contain your keyword. They shouldn't contain a string of random letters and numbers. Users should have an idea of what they'll see on the next page just by looking at your URL. When your URL is simple, it will also help search engine crawlers better understand and rank your content.
Focus on the mobile user experience. Users access the internet more from mobile than desktop, which is why Google has committed to mobile-first indexing. The search engine will index your mobile site first, and then your desktop version. If your site doesn't look good across all screen sizes, it can hurt your search engine ranking. Track your progress with Google's mobile-friendliness test
Get a complimentary WooCommerce SEO audit
SEO is among the most cost-effective and powerful ways to grow your WooCommerce site. Solutions like Shopify, Magento, and BigCommerce make it easier for beginners to build an ecommerce website from scratch, but if you're comfortable building a WordPress website, WooCommerce is the better option for brands that want to fully customize. Also, WordPress SEO is far superior to any other CMS due to the vast number of SEO addons available.
Want to see how you're doing with WooCommerce SEO? Get an instant SEO audit below. Or, schedule a free consultation to see how intent SEO can boost search traffic revenue by 700%.