Some might be surprised to find that PrestaShop is a more popular choice for high-trafficked websites than the CMS mainstay Joomla.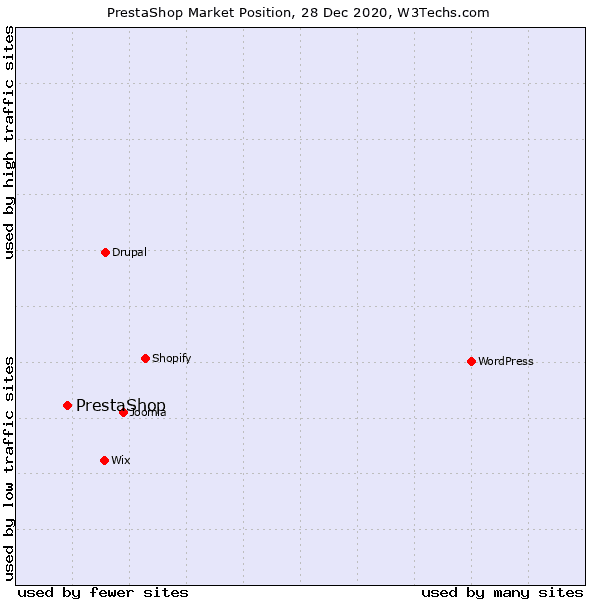 As search becomes an increasingly important source of traffic for ecommerce sites, PrestaShop users are turning to a proven method of generating leads and sales from sites like Google and Bing. It's known as PrestaShop SEO.
What is Prestashop SEO?
PrestaShop SEO (search engine optimization) describes a set of marketing tactics used to make PrestaShop websites appear higher on search engine results pages (SERPs).
The higher your page ranks on SERPs, the more likely you are to generate traffic from search engines. This translates to more potential customers to your ecommerce store at a long-term cost lower than traditional advertising. What's more, SEO can deliver compounding ROI over time with comparatively little maintenance.
15 PrestaShop SEO best practices for beginners
Succeeding with PrestaShop SEO requires knowledge of on-page, off-page, and technical SEO tactics. If you're trying to make your PrestaShop store appear higher in search engine results, the following 15 SEO tips will send you on your way.
1. Discover how people find your business
SEO tools like Google Search Console, Ahrefs, Moz, SEMrush can help you find the words people search to find your business and its products. Once you know these, you can create a strategy to use them in your content: product names, product descriptions, blog posts, page titles, meta tags, headers, etc. to communicate to Google that your content is relevant to users' queries. Now when users do a Google search for a particular term you've optimized for, there's a greater chance your content shows up in search results because it contains that term.
2. Make your content easy to consume
Google wants to serve content to users that's easy to consume. Organize your content with page titles and HTML header tags. Use one H1 on each page, and then H2s, H3s, H4s, etc, to create an informational hierarchy. Here's an example of how to use them: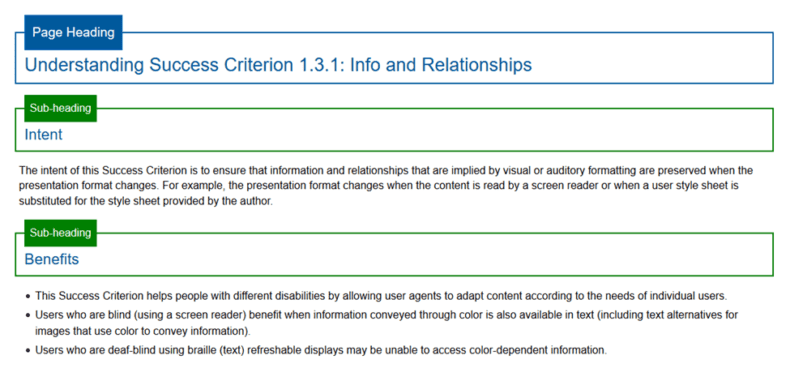 3. Focus on search intent
A user searching "travel backpack" is likely looking to buy a travel backpack. This search will return many product pages. On the other hand, a user searching "backpacking across Europe" is likely looking for a blog post or article containing information about backpacking across Europe.
In other words, the intent of the searchers is different. One wants to buy, the other wants to learn. To create content that ranks in search engines, you have to understand the different types of search intent.
4. Optimize SERP CTR
SERP click-through rate is a metric that many SEO experts believe to be a factor that contributes to search engine ranking. By clicking through your search engine listing to your page, a user is indicating to Google that your page is deserving of exploration.
To improve the likelihood that your listing gets clicked, make sure you're creating great meta titles and meta descriptions. These are the elements that make up your search engine listing.
A title should be compelling and stand out from others on the page. What do you offer that the other listings don't? Meta descriptions are great for elaborating on what visitors can expect to see when they click through. Here's an example:

5. Make your pages load fast
Since Google has admitted that page speed is an official ranking factor, this is something you should treat with high priority. There are many ways to improve page speed. Some of the most popular include compressing CSS files, minifying JS, using a cache, and building pages with AMP. To speed your pages in the PrestaShop platform specifically, you can go to "Preferences," then "Performance," and then…
Smarty section, set Force compile to "No", and Cache to "Yes".

CCC section, enable all points except "High risk HTML compression".
6. Contribute to other sources
Online stores can earn backlinks through contributions like guest blogs, interviews, PR pitches, or by forming strategic partnerships. Consider other businesses related to yours which you're not in competition with. Are they open to a relationship? Maybe a joint campaign or a cross-promotional product release? How about sponsored posts from a popular influencer in your industry? These all represent ways to earn backlinks from your partner and their audience.
7. Create an organized site structure
Your page needs to prioritize the searcher experience. In other words, it should be easy for people to visit your website and find what they're looking for quickly. Starting with the home page, your content should be broad — offering visitors a number of categories to choose from — and then it should get more specific from there, with category pages, subcategory pages, and product pages, like this: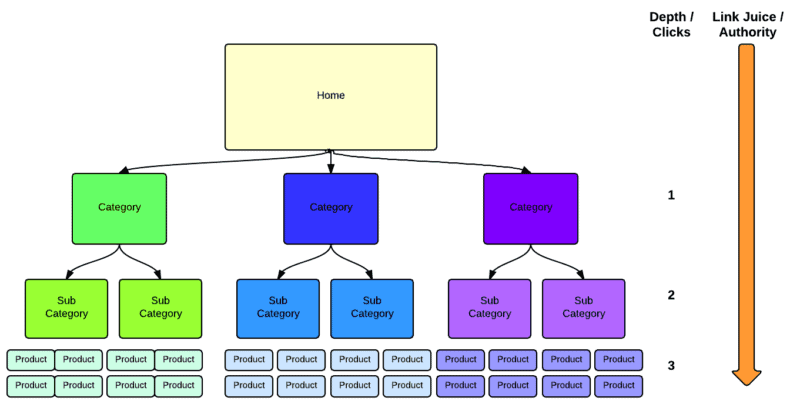 8. Don't ignore social media marketing
Research has shown that the more social media links a piece of content has, the more backlinks it has. Sharing your content on social networks puts it in an ecosystem made for content amplification. Retweets and shares from followers get your content in front of people who may want to share it with their own networks, and maybe even link to it from their website.
9. Engage in scalable link-building tactics
Some SEO tactics are purely for link-building purposes, like fixing broken links and looking for uncredited mentions of your brand, and other tips you'll see on this SEO checklist.
10. Tell Google where to find your pages
An XML sitemap is a file that tells search engine bots where to find your pages so they don't miss any and leave them out of search results. This can be created with tools like Google Search Console and Bing Webmaster Tools.
11. Use a robots.txt file
There are some pages you'll want Google to crawl in a very specific way, or to leave out of search engine results altogether — like admin and shopping cart pages. To communicate these things to Google, you can use a robots.txt file.
12. Use the canonical tag when it's needed
On ecommerce websites, it's not uncommon for there to be two identical pages with two unique URLs. Sometimes the same product will be in two different website categories. For example: Patio furniture might be on the "furniture" and "outdoor" category pages.
When Google sees two identical pieces of content with different URLs, it will consider this duplicate content and index only one. To make sure that Google indexes the one you want it to, you can use the canonical tag. Applying this to a particular page will communicate to Google that it should crawl the canonical URL. This is also valuable in telling Google which version of your site to crawl: the "www" or non "www" version.
13. Label with schema markup
Schema is a labeling language that can better organize information for search engines, enabling you to appear on SERPs with rich snippets, which are more robust search listings that can include product reviews, images, and deep links to other pages on your site. Addons like the PrestaShop SEO module "Structured Data Schema Markup & Rich Snippet" can help you set up schema for your site.
14. Write SEO-friendly URLs
A good URL helps search engines and users understand/navigate pages effectively. To create a search engine-friendly URL, make yours secure (use SSL), short, descriptive, and include your focus keyword. Specifically in PrestaShop, make sure you go to "Preferences," and then "SEO and URLS," and set Friendly URLs to 'yes.'
15. Ensure your pages are mobile-friendly
Without effective mobile functionality, you can't expect to achieve peak SEO ranking. That's because Google uses mobile-first ranking, which means it will index your mobile version before the desktop. Most PrestaShop themes come built-in with mobile functionality, but you can test to see how yours does with Google's Mobile-Friendliness test.
Get a complimentary PrestaShop SEO audit
Though opinions are mixed on how good PrestaShop is for SEO out of the box, it comes with tons of addons and plugins that users can improve their SEO with. Want to find out how you're doing with PrestaShop SEO? Get a free SEO audit below. Or, schedule a free consultation to see how intent SEO can boost traffic revenue by 700%.