Some searches return more than a billion results – far more than any user could ever sift through. What many people don't know is that you can easily narrow down these results using what are called "Google search operators."
Once you understand how to use them, search operators can transform the way you search. They ultimately make it easier to find information faster, and they can be a valuable resource for finding SEO (search engine optimization) opportunities and areas of improvement as well.
What are Google search operators?
Google search operators are special commands that help you make more advanced searches. They come in many forms, and each operator performs a specific function to eliminate irrelevant results.
Imagine, for example, that a user wants to buy a new car. They already know that they want to buy either a Honda or a Toyota vehicle, and they want to narrow it down to just one manufacturer. If they type "honda vs. toyota" into Google search results, however, they get too many choices:
Using a search operator, they can make sure to only find web pages with "honda vs. toyota" in the title:

This makes the results more manageable and will help the user find what they want faster. The benefits of operators extend to businesses as well. With the ability to find highly specific results, site owners can do more efficient research and more relevant information from the search engine.
Can Google search operators help with SEO?
You can use advanced search operators and Google search commands for many areas of your SEO performance.
They are extremely useful for domain research, which involves auditing your own content. This is especially true for technical SEO issues that you may not be aware of. Exploring your domain's presence in search engine results pages (SERPs) is something that every SEO should be doing.
Externally, search operators allow you to identify opportunities and/or data points you might have otherwise missed. You can find:
Competitor posting frequency
Q&A threads in your industry
PR and collaboration opportunities
Infographics related to your content
Guest post opportunities
And that's just the beginning. Here's how to use them to make your searches more efficient.
Advanced Google search operators
Over the years, Google has introduced new operators while others have been deprecated (mostly due to lack of use). These include search operators like "daterange:" (which required the Julian date format) and the hashtag search operator (which was for the old platform Google+)
There are at least 25 operators available to use. These give users more flexibility during the search process. From an SEO standpoint, they can also make it easier to do things like discover link opportunities and find duplicate content.
Here are 25 advanced Google search operators that you can use to your advantage:
Search term: Find results containing exact-match search terms (using quote marks). This eliminates any results with just synonyms for your query.
Example: "hiking shoes"
Define: Pull up the definition of a word.
Eample: define:hike
AND: See listings that are relevant to both search terms. This is Google's default operator.
Example: black AND shoes
(): Make complex searches by grouping certain operators/terms together.
Example: (black AND white) Nike shoes
Source: Pull information from a specific website in Google News (New York Times, Washington Post, etc.).
Example: covid19 source:cnn
Movie: Get details about a specific movie (cast, plot, showtimes, review, etc.).
Example: movie:stillwater
#..#: Find information within a certain range of numbers. This is typically used to get results from within a year range.
Example: camry 2018..2021
* (Asterisk): Narrow down results by matching words and/or phrases within the same listing.
Example: living on a prayer * pear
AROUND(X): Find any web pages who have two terms within a certain proximity of each other. You put a numerical value in the parenthesis to tell Google the maximum number of spaces the words can be apart.
Example: umbrella wyoming AROUND(4)
Cache: View the most recently cached version of a webpage.
Example: cache:nike.com
Loc: Identify pages in a certain area that have your specific keyword.
Example: loc:new york city donuts
Filetype: See results of a certain file type (PDF files, HTML, TXT, PPT, etc.). This search can be done with the "ext:" operator too (see example).
Example: porcupine mountains michigan filetype:pdf
Example: porcupine mountains michigan ext:pdf
In: Convert measurements from one unit to another. You can use this for weather, money, etc.
Example: 17 dollars in euros
Weather: Find the weather in a given area.
Example: weather:baltimore
– (Minus sign): Tell Google to exclude results containing a certain word or phrase
Example: shoes -nike
OR: Find results for multiple search terms. This shows listings for either one of your terms or both of them at once. You can also use the pipe operator (see below) to look up results.
Example: hike OR kayak
Example: hike | kayak
$: Look up specific prices.
Example: hiking poles $30
Map: Tell Google to display a map for your search query.
Example: map:detroit
Intext: Discover any web pages that have your search term in the content.
Example: intext:hike
Allintext: See listings containing all of the specified words within the content's body text.
Example: allintext:green horse farm fence
Inurl: Get results with your search term in the URL.
Example: inurl:hike
Allinurl: Find listings whose URLs have all of the specified words in them.
Example: allinurl:green horse
Inanchor: Detect pages that are linked to with one or several words in the anchor text.
Example: inanchor:dream car
Allinanchor: Discover the pages that have been linked with anchor text using all of the words you search for.
Example: allinanchor:dream car
Intitle:  View pages that have a certain word or phrase in the title.
Example: intitle:waterproof hiking
Allintitle: Explore pages with all of the specified words somewhere in the title.
Example: allintitle:waterproof hiking shoes
Site: Pull up results only from a specific site.
Example: site:benefits.gov
Stocks: View stock information with a specific company's ticker.
Example: stocks:amzn
Related: See websites that are related to the one you search for.
Example: related:harvard.edu
The use of these basic search operators is simple, and it's an effective way to narrow down search results. When doing keyword research or industry research, you may end up with too many pages to explore. Making your Google searches more specific helps you find the most relevant content, websites, and resources.
How to use Google search operators for SEO
Successful website optimization relies on an understanding of how search engines work. So it's no surprise that knowing how to use search operators can enhance your overall SEO strategy. These are some of the ways that you can filter search results for SEO purposes.
Find duplicate content
Having duplicate content on your website or in other locations across the web can negatively impact key SEO metrics. It can confuse search engine crawlers and prevent your content from ranking highly on SERPs.
There are two main ways to find duplicate content using search operators.
1. Search for duplication outside of your website.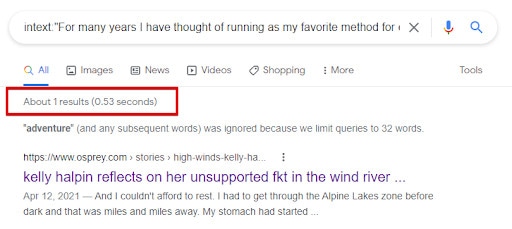 The "intext:" operator allows you to search for copy taken directly from your site when you also use the "search term" operator and add quotation marks around the excerpt. Notice how this blog post has zero duplicate content, as the original from www.osprey.com is the only result.
2. Search for duplicate content within your domain.

If you want to check for duplication on your site, you can use the "site:" and "search term" operators. This excerpt from a legal disclaimer on www.sansburylaw.com shows 21 results including that duplicated boilerplate text:
In cases where other sites have stolen content or you have accidentally published duplicate pages, these search operators will help you quickly find errors so they don't weaken your rankings.
Identify problems with indexing
You can also use SERPs to find indexation issues. Whether you're looking for pages that shouldn't be indexed or want to verify that others have, here are a couple of Google search operators to plug in:
site:yourwebsite.com (find out how many total pages are indexed)
site:yourwebsite.com/blog (narrow down to just blog pages indexed by eliminating the homepage address)
site:yourwebiste.com/category (check to see if your WordPress category pages accidentally got indexed)
If you know you've written 100 blog posts, for example, but only see 72 indexed pages in search results, you may have a technical SEO error that's blocking crawlers.
You may also find links within your domain results that lead to 404 pages. One way to find these types of pages is to search for subdomain pages using a wildcard operator:
site:*.yourwebsite.com -www
This should return results in any subdomains on your site. You can scan the results for any pages that should have been excluded from search results. Here is an example of a 404 page on a subdomain that needs to be removed from Google's index:

Finding indexation issues is essential to get all of the right content in search results. Search operators help you target your web searches to locate these issues faster.
Find link building opportunities
Having a diverse and high-quality backlink profile is crucial to higher rankings. In fact, top-ranking pages have 3.8 times more backlinks (on average) than the lowest-ranking pages.
Marketers use many off-page SEO techniques to earn links from other sites. This improves credibility and increases potential rankings. The first step to getting backlinks is to find referring domains that you can target.
Here are the top five ways to find backlink opportunities using Google search operators.
Find resources pages
A resource page is a web page that contains links to many related pieces of content. Getting resource page links is a great source of traffic, especially since it requires little work.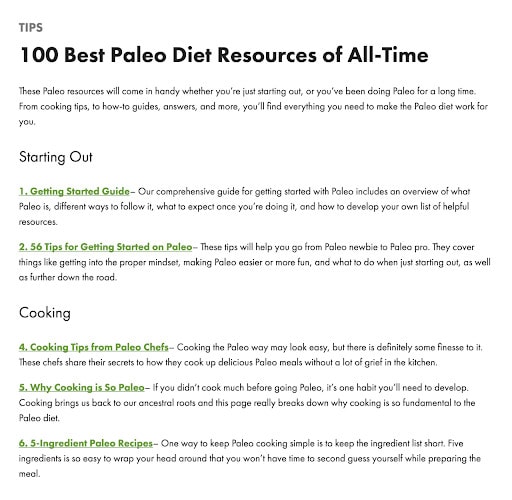 To find resource pages that you can submit your content to, use the "intitle:" search operator. For example:
intitle:hiking AND intitle:resources
You may also try using the "inurl" search operator:
(inurl:resources) hiking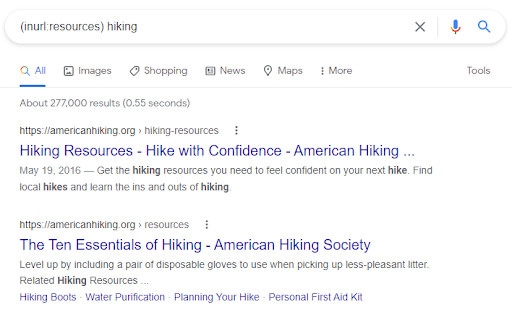 This will return any webpage that has "resources" in the web address and that has to do with the subject of hiking. It returned 277,000 pages in the Google search.
Without search operators, however, the results you get are much larger with more than 300 million pages:

By using search operators, you've narrowed down the field. This will make it easier to find resource pages (which are likely now right at the top of the SERP).
Identify posting opportunities
Many times, blogs will have a page where people can apply to write a guest post. This section usually says "write for us." You can find guest posting opportunities by reaching out to individual sites or search for which sites are already looking for external writers.
Add your desired content niche and the keyword phrases that blogs would use to find people:
hiking intitle:"write for us"
hiking intitle:"guest post guidelines"
hiking inurl:"guest-post"
Writing guest posts is an effective way to get backlinks from relevant publishers. These search operators and other variations will streamline the process of finding places to submit guest posts.
Find sites that feature infographics to pitch yours
Making shareable infographics is an easy way to earn more traffic from backlinks. Lots of sites will publish these images because they are a highly shareable form of content marketing that doesn't often take too much time to produce. .
Find websites that frequently feature infographics using a combination of the "inurl:" and "intitle:" search operators:
hiking inurl:infographic intitle:infographic
Make sure you include the keyword or main topic of your infographic at the beginning or end of your search. This ensures that you only find relevant referring domains.
You can even do a Google image search for a popular infographic to find sites that have linked out to it. This is another way to identify places where you can pitch your own images.
Find unlinked mentions
Oftentimes, content creators will mention a brand, person, product, etc. without linking to it. These are known as "unlinked mentions," and one way to find them is to use the "intext:" search operators:
(intext:"Nike") -nike.com
Putting the – operator at the end is essential because without it, you'll just get a bunch of results from the Nike website. You may also add the search term "review," as many brand links come from product reviews.
Once you find them, unlinked mentions can be a relatively easy place to earn backlinks. All you have to do is reach out to the website owner and ask if he/she is willing to give you a link.
Identify sites linking to competitors
Similarly to unlinked mentions, you can also see where your competitors are earning backlinks. Use these search operators to identify pages that have referenced others in your niche:
allintitle:review (intext:adidas OR gymshark OR "new balance")
Make sure you group search terms appropriately so the search engine knows exactly where it should be looking for them. Finding sites that link to your competitors helps you make a list of the most-promising referring domains to reach out to.
Find internal linking opportunities
When you create a new piece of content, you want to make sure you add internal links to it. This makes it possible for the search engine to find and index the web page. Plus, it increases the page's potential traffic, as users can now visit it from other related pages.
The best internal pages to link from are the ones where you've already mentioned the new content's keyword. Insert your content details in the Google search box to pull up any existing keyword references:
site:yourwebsite.com/blog -yourwebsite.com/blog/newpieceofcontent intext:"new content keyword"
Here is an example: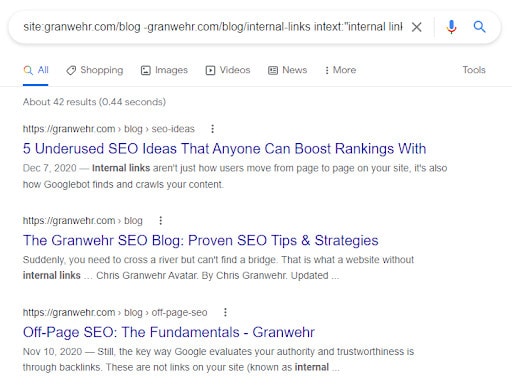 From this search, we know that there are 42 pages on our website that currently reference "internal links" somewhere within the text. This makes it easy for us to simply go to some of those pages and link to our new content.
Get a complimentary SEO audit
Without a way to narrow down results, Google users are often left with an overwhelming library of content to sift through. Google search operators solve this problem by helping you find what they need faster. Site owners should use these tools to find new SEO opportunities within their industry and to monitor their own site's performance.
Want to see how you're doing with SEO? Get an instant SEO audit below. Or, schedule a free consultation to see how intent SEO can boost search traffic revenue by 700%.