Most brands and bloggers understand the importance of incorporating links in their content. But 41% of marketers view link building as the most difficult SEO strategy to implement.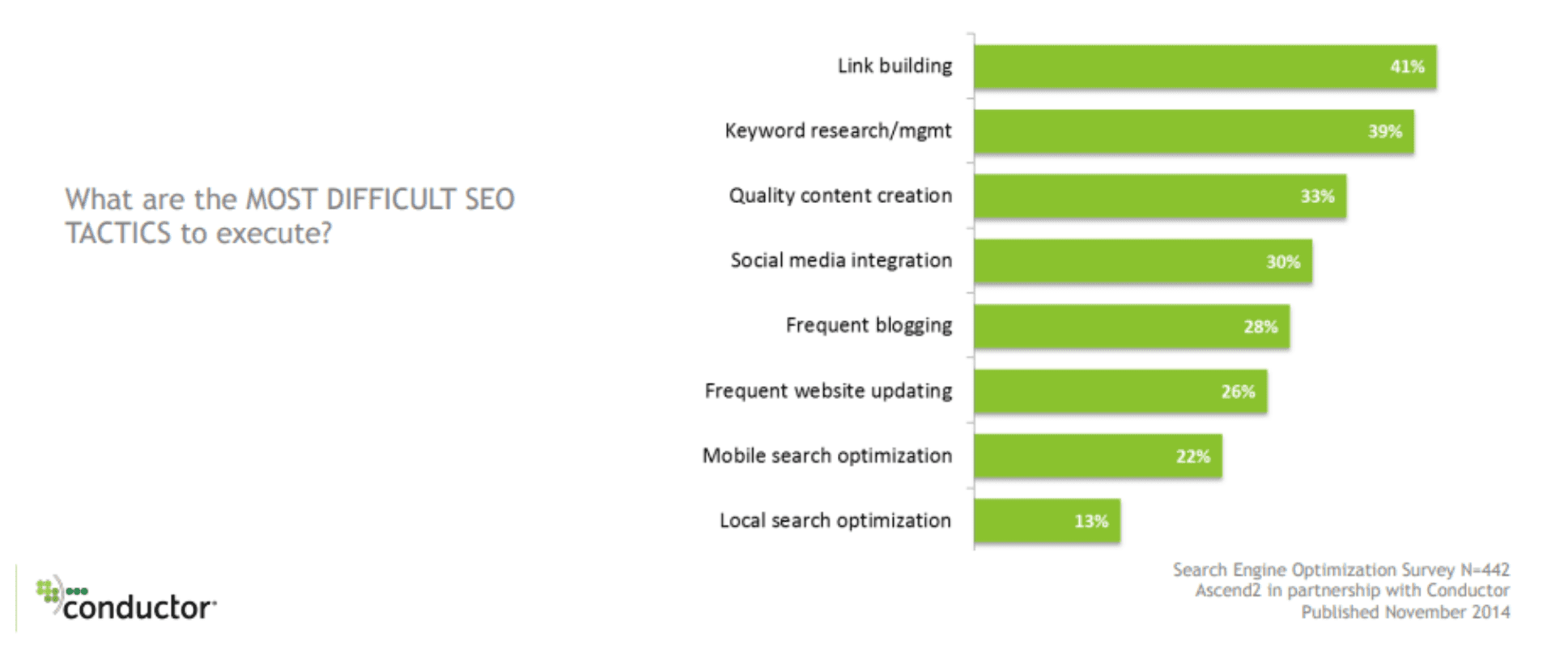 If you are struggling to develop an effective link-building strategy, you may want to reconsider how you use anchor text. Choosing the right type of anchor text ensures that crawlers and users get more value from the links you put in your content. And this improved user experience can have a positive impact on SEO metrics, which can mean higher rankings, more traffic, and faster growth.
What is anchor text?
Anchor text is hyperlinked text. It refers to the word or words that users click on to get from one web page to another web page. Its purpose is to transport users to destinations that are relevant to the origin resource. Here's an example:

Anchor text is one of the three main parts of a hyperlink:

The HTML syntax you would manually add to create a hyperlink is:
<a href=http://yoursite.com>INSERT ANCHOR TEXT HERE</A>
Hyperlinks are important for providing context and giving users additional information that you can't put in your own content. Anchor text links users to content and helps them decide whether or not they want to visit a web page. It saves them time and creates a better overall experience.
Types of anchor text and the best time to use them
You can make your anchor text whatever you want. But there are many different types of anchor text to choose from. It's important to consider your options depending on what kind of link you want to provide.
Exact match: The target keyword of a linked page is its anchor text.
Example – "hiking boots" and "best backpacks"
When linking out to more information on a topic, use exact match anchor text. This helps create relevance between the link and its content. Make sure to only choose an exact match if it sounds like natural language within the text.
Phrase match: Long-tail keywords are used instead of a singular keyword.
Example – "best hiking boots for women" and "backpacks for long trips"
If you want to expand on a single keyword, you can turn it into a long-tail keyword. This adds depth to your anchor text profile. It may also help your content rank for additional keywords and demonstrate content's relevance to your main topic
Branded: A brand name or person's name serves as the anchor text.
Example – "Granwehr" or "Lebron James"
Use branded anchor text when you need to link out to another brand's website. You should use this type when you have a well-known colleague, CEO, or important personnel that Google might recognize. Another time to use it is when you want to send users to a site's homepage or other branded assets, like a social media account(s), insead of a specific piece of content.
Branded keyword: The main keyword is used along with a specific brand name.
Example – "Nike running shoes" and "Google optimization tools"
Branded keyword anchor text allows you to create a stronger connection between a source/brand and your main topic. Use it when you want to be more specific about the resource that you're linking to from another brand.
Generic: The writer uses a generic phrase as the anchor text for a call-to-action.
Example – "click here" and "learn more"
Generic anchor text is great for call-to-actions. They make it clear where users can find a resource, ad content, or additional information.
Partial match: Generic words like "amazing" or "learn about" are added to the primary keyword to create a new type of anchor.
Example – "learn about backcountry camping" and "amazing sleeping bag options"
Partial match anchor text is good for making links more enticing. It is also good for providing extra context or making links flow more naturally within written content.
Naked links: A page is linked using a URL. In other words, it has no written anchor text, just the web address.
Example – "https://ahrefs.com"
Naked URLs are best for citing sources. They demonstrate transparency because they don't manipulate users into clicking on a page that they don't want to visit.
Image: An image is used as a link, so the alt text for that image becomes the link's anchor text.
Example – "hiking the Appalachian trail with camping gear"
As long as you've provided well-written alt text, linking through images can be a helpful practice. Think of product images for example.
Random: No keywords or call-to-actions are used within the anchor text.
Example – "research has shown" and "experts agree"
A linked resource is attached to anchor text which doesn't match the page's content. You want to avoid this type of anchor text because it can be confusing to users.
Why is anchor text important for SEO?
Anchor text is important for SEO because it tells search engines what a page is about. Crawlers analyze a link's anchor text to determine which keywords it most closely relates to.
In the past, webmasters used to create keyword-rich anchor text to boost their rankings. They essentially used target keywords to manipulate Google into thinking their links were relevant.
Then, in April 2012, the Penguin update targeted a variety of black hat SEO tactics designed to trick crawlers. This included link schemes, which included low-quality links with keyword-stuffed anchor text. Such links manipulated PageRank to make a piece of content seem more relevant than it actually was.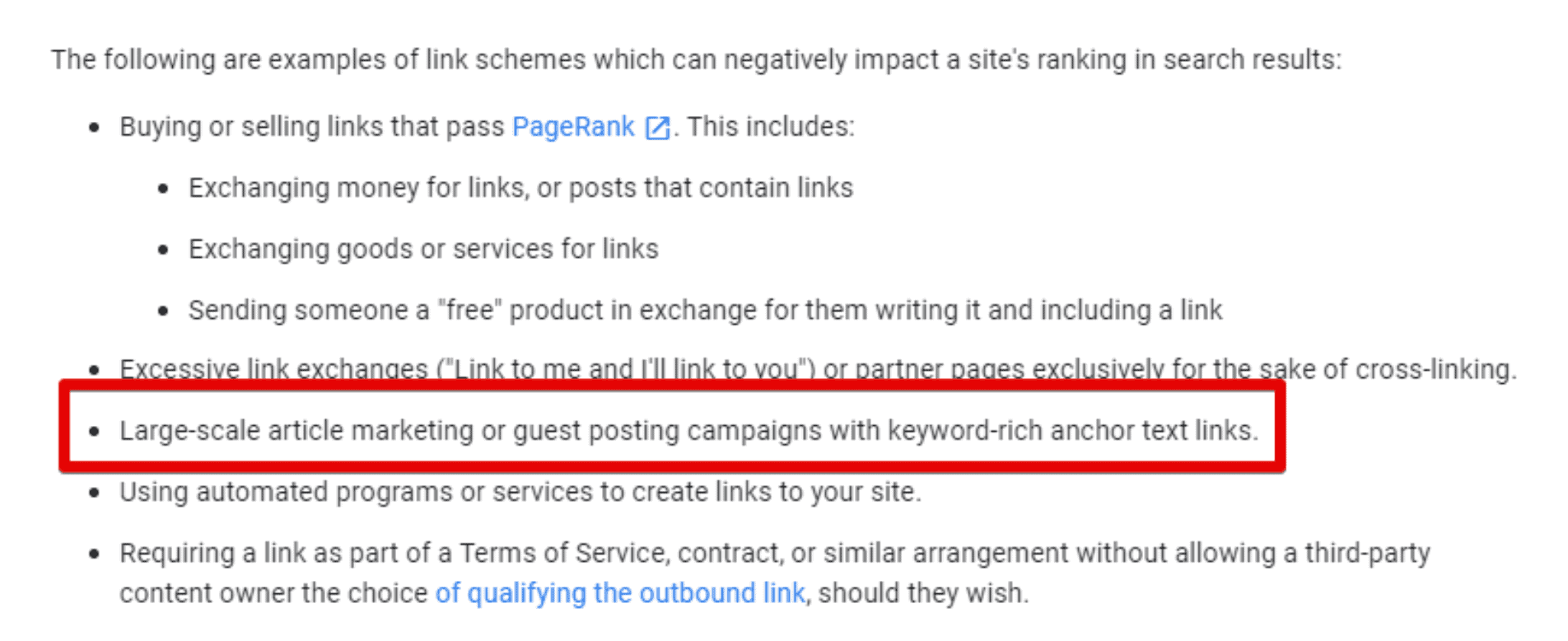 The Penguin algorithm update meant that SEOs couldn't rely on anchor text as a ranking factor anymore. They had to create user-friendly anchor text instead. If the content on a web page didn't match its link text, the page's rankings would drop. This remains true today.
Your links need to have accurate anchor text so users know exactly what they can expect on the corresponding page. Creating misleading link text will create a poor user experience.
Anchor text best practices
Because of Google's updates, you don't always have to use exact match keywords to build your link profile. There is more room for creativity so you can optimize anchor text without sacrificing user experience.
Deciding which type of anchor text to use is the first step. From there, optimizing hyperlinks is all about being clear, concise, and relevant. These qualities make for more clickable text that can improve your search engine rankings.
Match link text with content
Remember, the Penguin update has helped Google understand semantic language even more. This means that relevancy is more important than keyword usage in anchor text. Make sure your anchor matches the content you're directing visitors to. If it doesn't, users may feel confused, or worse: duped. And that could result in a loss of trust.
It's also important that you have natural anchor text as well. If a keyword sounds awkward for a specific part of your content, pick a similar term that sounds better. At the end of the day, being clear will make both backlinks and internal links appear less spammy and more user-friendly.
Don't be generic
In most cases, it's best to choose specific anchor text. Generic phrases and random words don't give users a good idea of what to expect on the linked page.
Consider an example from Small Door Vet. This link takes the user to a veterinary manual where they can learn more about poisonous plants.

Imagine if the author had written "click here for more information about poisonous plants for dogs" and used 'click here' as the anchor text. This would have required users and crawlers to rely on surrounding text to understand the purpose of the linked content. Avoiding generic terms puts less stress on users to make inferences or waste time on sites they don't want to visit.
Be brief
For the most part, brief anchor text is very effective at getting the point across. You don't need a full sentence to tell users the main topic of a web page. Stick to short phrases when possible.
For example, the anchor "hiking tips" provides the same context as "hiking tips you should commit to memory." The shorter version, however, gets rid of the unnecessary details to only leave the key information. This helps crawlers index the link faster and leaves no doubt as to the point of the linked content.
Maintain low keyword density (mostly)
There is such a thing as over-optimization when it comes to anchor text. You should use exact keywords as anchor text only when they directly relate to the linked content. Remember, keyword stuffing used to be a popular internal linking strategy that can now result in a Google penalty.

For SEO content, you should be shooting for a keyword density of 1-2% (one or two keywords for every 100 words of text). Because you want to be brief, consider only the most relevant terms possible. This won't hurt your on-page SEO as long as you're properly incorporating keywords throughout the rest of your content.
Make sure it's clear your text is clickable
Users should be able to easily identify linked text. You can make anchor text more clickable by underlining or bolding it, as well as using a different text color. The default is blue, underlined text, but you can change the link format through your HTML code.
In this example from Natasha's Kitchen, the author has chosen to do all three:
This ensures that users can find the links that you've taken the time to provide. Keep in mind, users are used to seeing blue hyperlinked text across the web. Changing the color or adjusting the format from what they're used to could result in confusion that negatively impacts clicks on your links.
Surround your anchor text with relevant content
What happens when you use random anchor text? How does the search engine know what the link is about?
A 2004 Google patent gives insight as to how this happens. The patent covers a process where Google uses surrounding text to determine a link's main topic.
Here is an example of what random anchor text might look like. This comes from a Politico article about Brexit in the European Union (EU):
The anchor text "ramped up the rhetoric" on its own doesn't help Google or users understand what the linked article is about. Surrounding terms, however, let them know that it has to do with UK Brexit minister David Frost and the EU.
You should make sure that your links are surrounded with similar relevant content. This ensures that even if the topic of the article is not immediately obvious, Google can still infer its purpose.
Get a complimentary SEO audit
Digital marketing professionals agree that link building is one of the more time-consuming and difficult SEO strategies to implement. Using the right type of anchor text, however, can improve the performance of your internal and external links. Anchor text that is specific, brief, and relevant makes links even more clickable and likely to generate organic traffic to linked content.
Want to see how you're doing with SEO? Get an instant SEO audit below. Or, schedule a free consultation to see how intent SEO can boost search traffic revenue by 700%.