Google search might have the largest market share of search engines around the world, but there are dozens of alternative search engines that your potential clients are using.
If your search engine optimization strategy is to be as wide-reaching as possible, you need to understand them. Here are some of the most popular search engines in the world that people use instead of Google.
Bing

Microsoft's Bing is probably the best alternative to Google in terms of size. It ranks 2nd in the search engine market (if you don't count YouTube and Amazon) and is the top Google alternative. Just like Google, Bing tracks your search history through your search terms, so it's not going to be the first choice of privacy-focused searchers.
Bing was originally launched in 2009 by Microsoft after the failure of Live Search (launched in 2006) to compete well with Google and Yahoo.
Bing doesn't work quite the same way as Google. While Google's crawlers will continually crawl websites to look for new pages and updates to existing pages, Bing doesn't crawl pages, and it prioritizes backlinks less than Google does.
Bing's algorithms are better at some things than Google—for example, it's better at understanding media and provides a better video search option.
Because Bing is so great with multimedia, it makes it more important than ever that you optimize your multimedia for search. One great feature of Bing is that you can blow up thumbnails in image search just by hovering over them in the SERP.
Bing is as easy to use as Google and provides many similar features, like image search, translation, and Bing Rewards. Bing is the default search engine for many users of Microsoft Edge (formerly Internet Explorer).
Yandex

While Yandex might not have a large share of the market in the world overall, it dominates about 50%–60% of the Russian market, so especially for international businesses, it cannot be ignored.
Yandex was started all the way back in 1997 by a company called CompTek (which eventually changed its name to Yandex). It's ranked the 5th largest search engine in the world.
It's the largest tech company in all of Russia, and it also dominates the European market. Behind Baidu and American search engines like Google, Bing, and Yahoo, it's a massive search engine that you should submit your website to no matter where you're located.
Yandex is similar to Google in that its features include email, music, images, and language search (it's especially good at Russian language search).
If you run an e-commerce business, you should at the very least submit your website to Yandex. If you plan to break into the Russian market, you'll want to create a Russian version of your website.
DuckDuckGo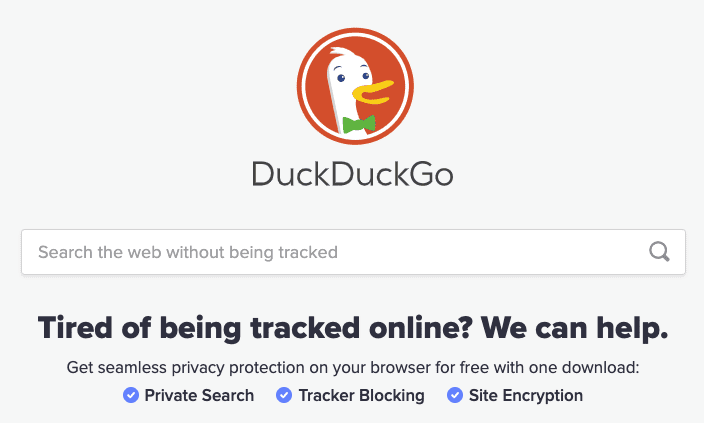 DuckDuckGo is known for being a private search engine—one that protects its user's data—and while that's always been its major selling point, it's an effective search engine in its own right (despite the fact that it doesn't use tracking cookies to provide a better user experience).
DuckDuckGo was founded in 2008 and eventually became the default browser for the privacy-focused Tor Browser. With around 100,000,000 searches a day, it's much bigger than most people believe.
That being said, DuckDuckGo gets most of its results from other search engines, including Yahoo, Bing, Yandex, and Wolfram Alpha, but it also uses its own crawler, so if you're optimizing for Bing, you're optimizing for DuckDuckGo.
Search queries in DuckDuckGo are treated similarly to Google in a number of ways (minus the tracking). You'll get Instant Answers—answers that appear at the top of a search engine results page (SERP)—just like you might on Google.
DuckDuckGo is also relatively family-friendly given that information like your IP address isn't being tracked, so it's a good option for children.
For those who prefer as much privacy as possible, combining Tor and DDG, along with an encrypted homepage, allows for end-to-end encryption. DuckDuckGo is available as a Chrome extension for Chrome users.
Yahoo
According to Wikipedia, Yahoo was founded in 1994 and was not originally an index, but rather a directory of other websites. Its original name was "Jerry and David's Guide to the World Wide Web." Yahoo stands for, "Yet Another Hierarchically Organized Oracle." During the dot-com bubble, it was one of the most valuable tech companies around.
Yahoo, unlike many other internet companies at the time, survived the dot-com bubble burst but still suffered, with record low stock prices. It continued to try to compete with Google, offering free email services with 1 GB storage, but as history shows, Google won that battle.
In 2017, then-CEO Marissa Mayer, who was the youngest CEO of a Fortune 500 company, stepped down after Yahoo was acquired by Verizon.
Yahoo mail still exists and is widely used, with 225 million users, and Yahoo still gets almost 600,000,000 searches a day, so it's not out of competition at all and it's certainly worth targeting. That being said, if you're targeting Bing, you're targeting Yahoo.
Yahoo has a number of interesting features, like the ability to specify the order of search keywords in search queries and the ability to compose emails from the Yahoo search box, but for most businesses, the important thing to know is that when you're optimizing for search on Bing, you get Yahoo thrown in as a bonus.
Ask

Ask, formerly known as Ask Jeeves, was founded in 1996 as a question-answering website. Its focus was solely on answering questions at first, but in 2006, it became a full-fledged search engine (and the word "Jeeves" was dropped). Ask had its own proprietary algorithms that nevertheless were unable to compete with the likes of Yahoo or Google.
Ask began using semantic search in 2009 to better answer questions. This functionality means that it is able to better understand what users are searching for by understanding how words are associated with each other (rather than just looking for keywords peppered into a search query).
In 2014, Ask acquired ASKfm, which is described as "the world's largest Q&A social media network."
Because Ask doesn't allow you to submit a URL or sitemap, there's nothing you need to do to get your website added to their index. They will crawl your website automatically.
Wolfram|Alpha

Wolfram|Alpha is a different kind of search engine than Bing or Google and is more like Ask in that its goal is to answer questions rather than provide you a list of websites. For example, you can type in mathematical questions, like "What is the square root of 64?" and it will compute the answer for you.
That being said, it's also great for other kinds of questions, like looking up who a historical figure was or learning about chemistry. It's a great resource for students especially, but anyone who studies or is interested in these kinds of factual questions can find a lot of value in this search engine, especially academics.
Wolfram|Alpha was originally release in 2009 and includes a massive database of questions and answers. Eventually, a mobile app was released in that same year. The Brave web browser features Wolfram|Alpha as one of its default search engines.
Though Google does index some search queries from Wolfram|Alpha, there's no SEO value here for businesses as Wolfram|Alpha isn't providing links to websites.
BoardReader

Created in 2006, BoardReader is a search engine that indexes message boards. You can type in a query, and then it will find the most relevant answers from message boards across the internet.
What's interesting about BoardReader is that it doesn't just give you the most recent postings about a particular topic, but instead tries to give you relevant answers, meaning answers that it thinks will answer your search query best.
It has about 16 billion documents indexed as of May 2015 and uses Sphinx, a type of search engine.
What's important about BoardReader in terms of SEO is that, just like on Google, answers to questions that have been posted in message boards are going to rank on this search engine.
That means there's some SEO value in spending time on industry-related message boards and answering questions. It can generate some traffic, and it can definitely enhance your brand's image and reach. It implies that using keywords/keyphrases in answers to questions on message boards is valuable as it can show up on BoardReader.
Ecosia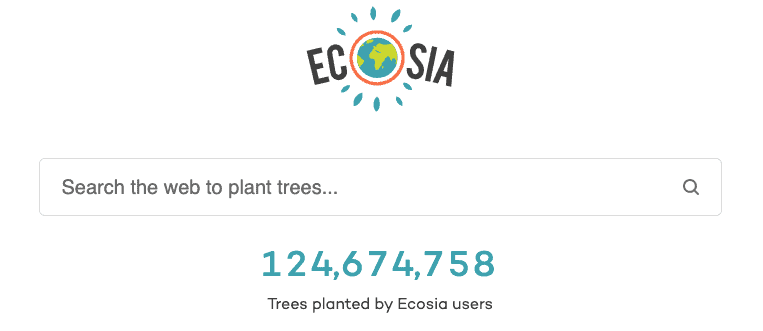 Ecosia is a privacy-focused search engine that was started in 2009 with the goal of donating its profits to nonprofit organizations that focus on reforestation. If you're serious about green initiatives, Ecosia should be your search engine of choice. They claim that every search results in 1 kg of CO2 captured and that they have planted over 124 million trees. They're based in Berlin, Germany.
Searches on Ecosia are encrypted and aren't stored, and they don't sell your data, so they're a great choice if privacy is your focus.
For businesses, if you've optimized for Bing, you're optimized for Ecosia as Ecosia uses Bing's algorithms (along with some enhancements)—it's a nice alternative search engine to be aware of (and potentially use) because of its benefits to the planet.
StartPage

StartPage, located in the Netherlands, is a search engine that claims to be more private than any other search engine in the world. It was started in 1998 as a metasearch engine (an aggregator of the results of other search engines) and has about 2 billion searches a year as of 2017. Vivaldi uses StartPage as a default search engine, and it was the default search engine of the Tor browser for a number of years.
What's important about StartPage being based in the Netherlands is that it is not subject to the Patriot Act in the US, which means it doesn't have to comply with certain surveillance programs (part of what makes it private).
As far as your business is concerned, because StartPage essentially uses Google search results, if you're optimizing for Google, you're optimizing for StartPage.
Qwant
Qwant is another privacy-focused search engine that's based in France that was launched in 2013. It has about 10 million searches a day, so it's by no means in competition with the big search engines, but it's good for searchers who are focused on privacy.
It's pretty big in France as it's the 105th most visited website in that country, and it's the default search engine for Chrome users in France. Because it's in the EU, it has the added protection of the GDPR (General Data Protection Regulation) that helps to protect the personal data of users. In 2018, the French government decided that all government searches should be done on Qwant.
Because Qwant is based on Bing, if you've optimized your website for Bing, then you're optimized for Qwant. This is especially important if you're interested in your content showing up in the French market.
Search Encrypt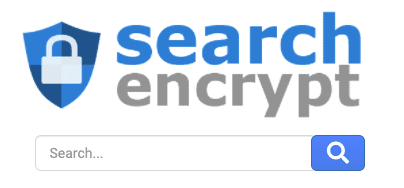 Started in 2016, Search Encrypt is another privacy-focused search engine. It encrypts your search, provides you with relevant results, and then displays them to you, deleting your browser history after 30 minutes of inactivity.
It allows you to use Amazon for shopping and to use other search engines, it just intercepts searches that might be tracked or that include your personal information and sends them through their own privacy-enhanced search engine.
If you've optimized for the other large search engines, then you're optimized for Search Encrypt.
Disconnect Search
Disconnect Search is a search engine similar to Search Encrypt in that it allows you to use other search engines, like DuckDuckGo or Bing, to browse the web privately. In 2015, it was the default search engine of the Tor browser.
The company that runs Disconnect Search (Disconnect Mobile) also provides a number of other privacy solutions, including VPNs and other mobile apps.
For businesses, there's nothing to do here in terms of search engine optimization because this isn't a search engine, but rather a tool that lets you access search engines privately.
Searx
Searx is another privacy-focused search engine, but unlike Disconnect Search and Search Encrypt, Searx is a metasearch engine, which means that it takes the results of many different search engines and combines them into one list of results (rather than just encrypting your searches).
Searx doesn't share your IP addresses or search history with the search engines that it gathers its results from. While Google and other search engines provide tracked redirect links on a search engine results page, Searx just provides the link itself.
It was initially released in 2014 and continues to be regularly updated. It uses search results from over 80 different search engines, so it's another case of: if you've optimized for Bing and Google, you've optimized for Searx.
YippySearch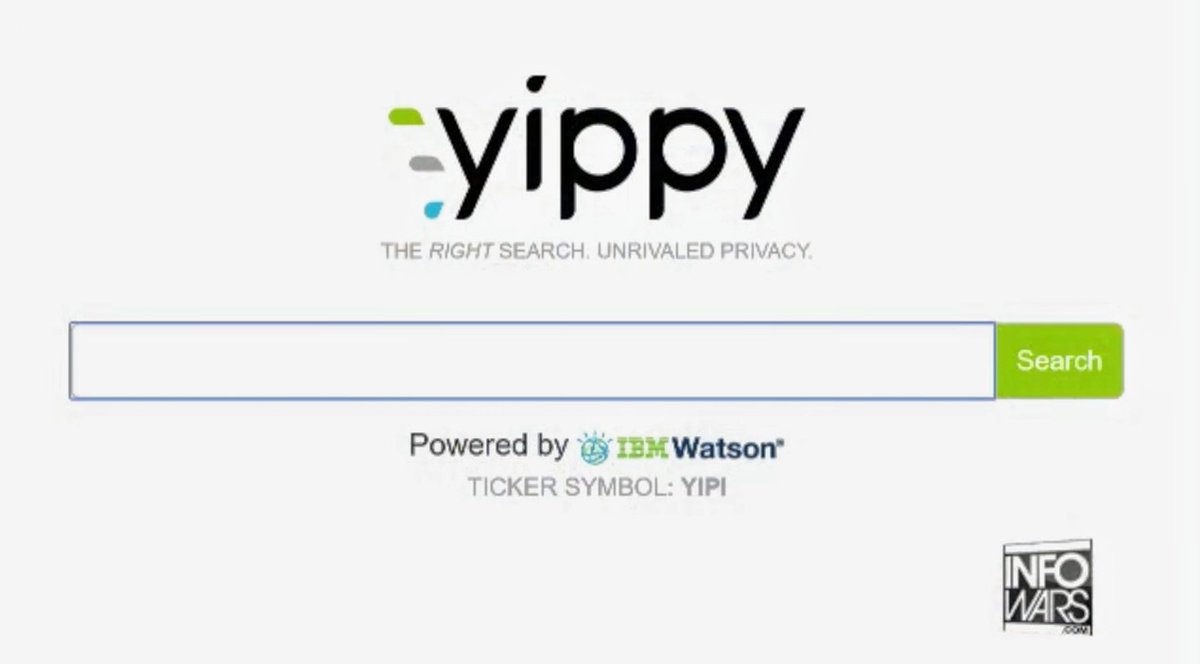 While YippySearch no longer exists for browsers, it does exist as a mobile app for Android Devices (you won't be able to download it on the app store). It was originally a metasearch engine (it aggregated search results from multiple search engines), and it was released in 2004 as Clusty.
It was once powered by IBM Watson and supposedly delivered "fair" search results. It was developed using technology from Carnegie Mellon University.
MetaGer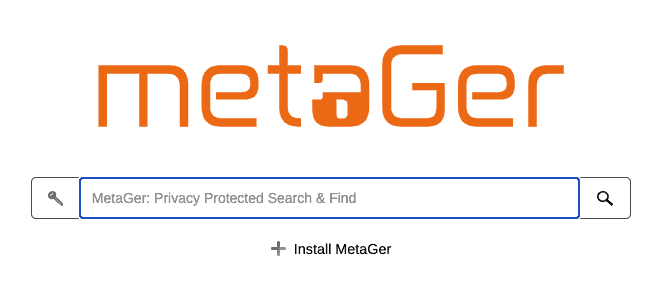 MetaGer is a metasearch engine that combines the results of multiple search engines into one. This is also known as an aggregator. The advantage of using a metasearch engine is that it doesn't have its own index, but rather uses the indexes of many different search engines to give you the best results possible.
MetaGer is open-source software (which is recommended by Creative Commons). It claims this allows for examination and checks, as most open-source software does, so that anyone can check and see if it really is as private as it claims.
Privacy is built into the search engine, so you don't have to worry about your personal data being collected and sold.
As far as your business is concerned, as long as you've optimized for the big search engines, you don't have to worry about doing anything here because they're using the results from other search engines.
The best search engines for privacy
There are lots of internet search options out there, but if you're focused on privacy, there are a few that stand out above the rest.
Essentially, a private search engine is one that doesn't track your activity. Web search doesn't have to result in intrusive ads following you everywhere and predictions of your searches seeming a little too acdurate for comfort.
Likely the most private search engine that still gives you the best user experience is StartPage because it uses Google's algorithms (minus the tracking). You can surf all your favorite web pages without worrying about being watched or monitored by marketing companies.
Here are some other privacy-focused search engines:
Get a complimentary SEO audit
No matter what search engine you choose to use, the best SEO strategy is to focus on Google and Bing for the US market (though Yandex and Baidu are important if you want to break into global markets).
Ultimately, Google is the leader in search. If you've optimized for Google, you're optimizing for almost every other search engine in the world.
Want to see how you're doing with SEO? Get an instant SEO audit below. Or, schedule a free consultation to see how intent SEO can boost search traffic revenue by 700%.