Should you submit your website to search engines in 2021?
The short answer is "yes." While it's not always a necessary part of search engine optimization (SEO), it can offer a number of benefits. Here's a quick beginner's guide on how to do it.
Do I need to submit my website to search engines?
Do you need to submit your website to the major search engines and request indexing? Will search engines and crawlers be unable to find your website if you don't submit it to search engines?
The answer is no, you don't need to do this, and search engines will be able to find your website and the pages on your website, but you'll likely want to do this. Here's why:
Google crawls new websites regularly, but it can take weeks for it to discover a new website. This means you're missing out on organic traffic or the chance to rank.
When you submit your website, it gives search engines one more way of understanding what web pages are on your website so that it can better serve that content to searchers.
It also doesn't cost you anything. You can do this for free, and you can do it quickly.
Finally, it's a way to quickly show search engines when you have new content instead of waiting for them to recrawl your site.
For new sites, submitting to Google gives your new website a better chance of being indexed quickly. You're telling Google that you exist so that you don't have to wait for Google to discover your website.
Not submitting your site might only hold you back for a few weeks or months, but that's a significant period of growth that you're missing out on. If you're investing in content—especially if you're paying content writers to create content for your new website—it doesn't make sense to wait if you don't have to.
Submit your website to Google
Google is the largest search engine in the world, so getting your website on Google's index should be your first priority. Many other search engines also use Google to index their own content, so by submitting your website to Google, you're also submitting to other search engines.
Locate your sitemap URL
When you're submitting your website to search engines, you're really just submitting your XML sitemap. Your XML sitemap may be located in one of two places on your website:
mysite/sitemap.xml
mysite/sitemap_index.xml
Once you've located your sitemap, you can submit it to Google.
Plug your sitemap into Google Search Console
Once you've located your sitemap, you'll go to Google Search Console (formerly Google Webmaster Tools) to submit it to Google. Click on the "sitemaps" option and input your sitemap. If you have more than one sitemap, as in the example above, you'll want to submit them all.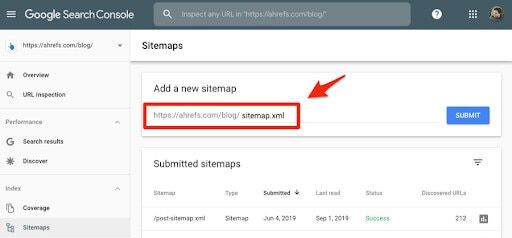 Check to see if your site is indexed in Google
Even though you've submitted your website to Google, it's going to take some time for Google to index your website. It still needs to crawl it, and then it needs to understand what your pages are about before it will add them to Google's index to be served to searchers.
However, you can continually check to see if your website has been indexed or not, though keep in mind that it may still take a few weeks, or even months.
Search Console has a tab called "coverage" that you can check to see if your website has been indexed.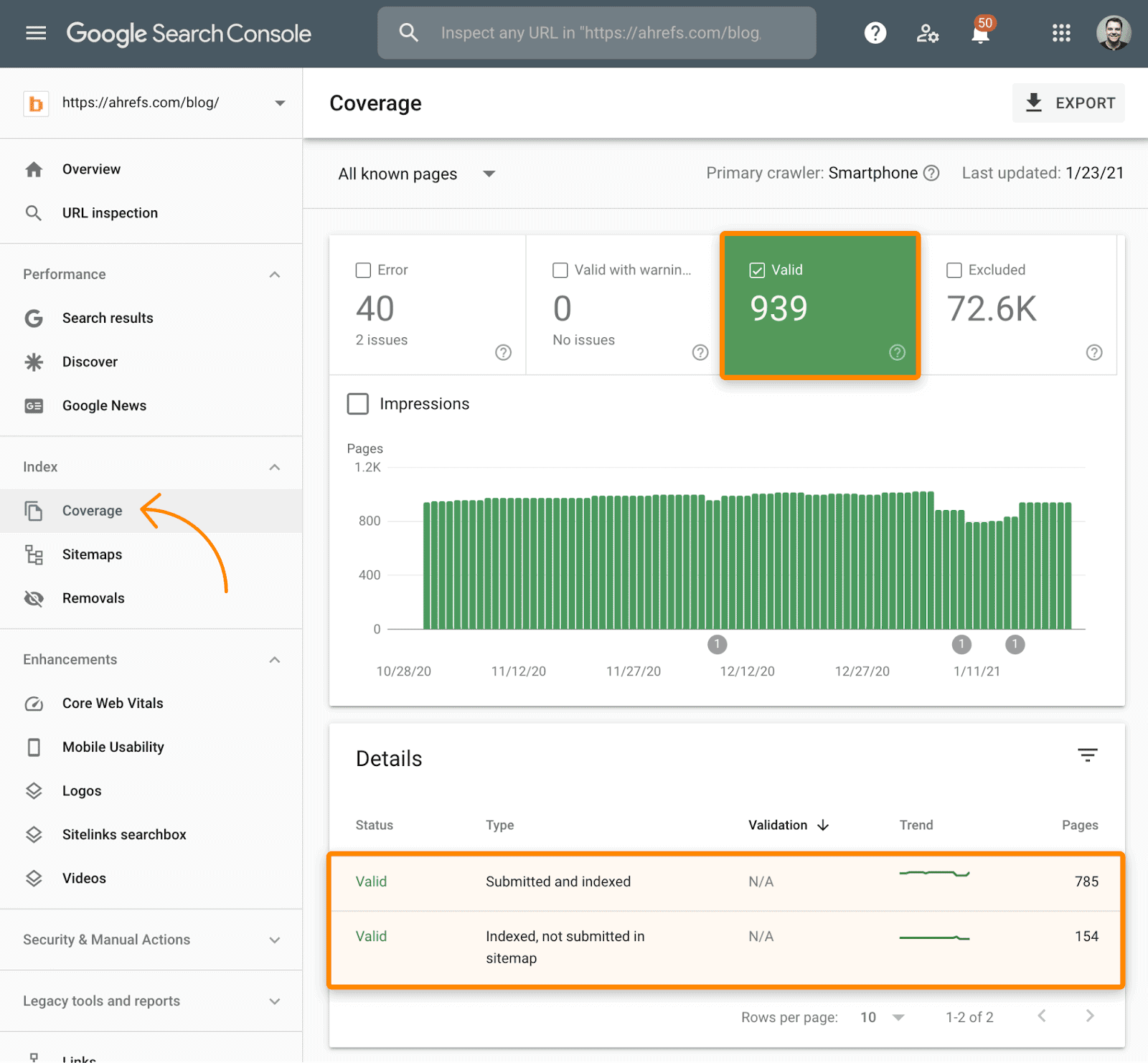 First, check to see if your pages have a "valid" status. Then, check to see the type. This will tell you if your website has just been submitted, or if it's been submitted and indexed, or if it's been indexed but not submitted.
You can also use the URL inspection tool to check individual page URLs, like your homepage, to see if your website appears on Google.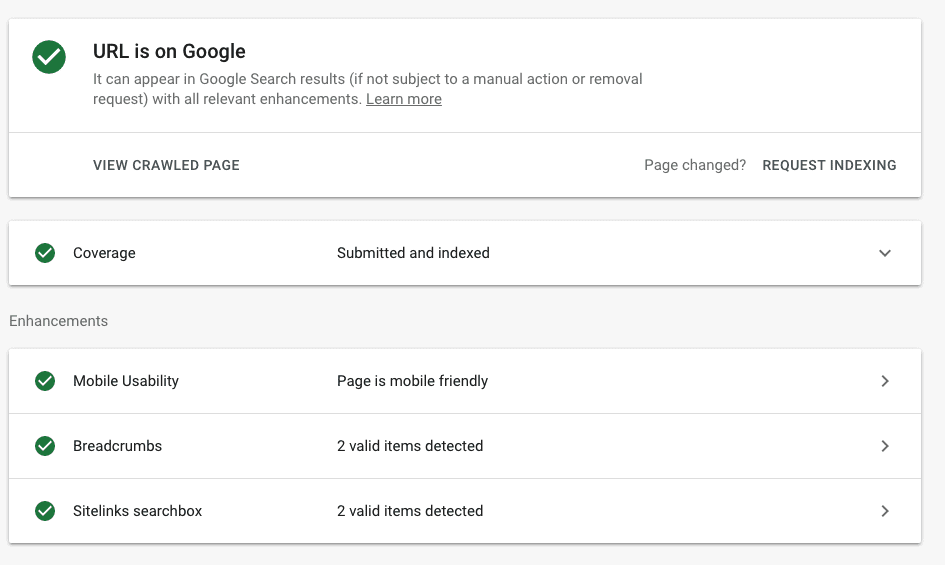 It can take between 4 days to 4 weeks for your website to be indexed. Ultimately though, Google's web crawlers will find your website, crawl it, and add individual web pages to Google whether you submit your XML file or not.
You can follow this step-by-step tutorial to submitting your website if you need more help.
Submit your website to Bing
Bing is one of the most popular search engines in the world, gets more than a billion visits each month, and has about 3% of the market share for search, so a website submission to Bing should be your next priority.
Plug your sitemap into Bing Webmaster tools
Bing Webmaster Tools also include an XML sitemap submission tool.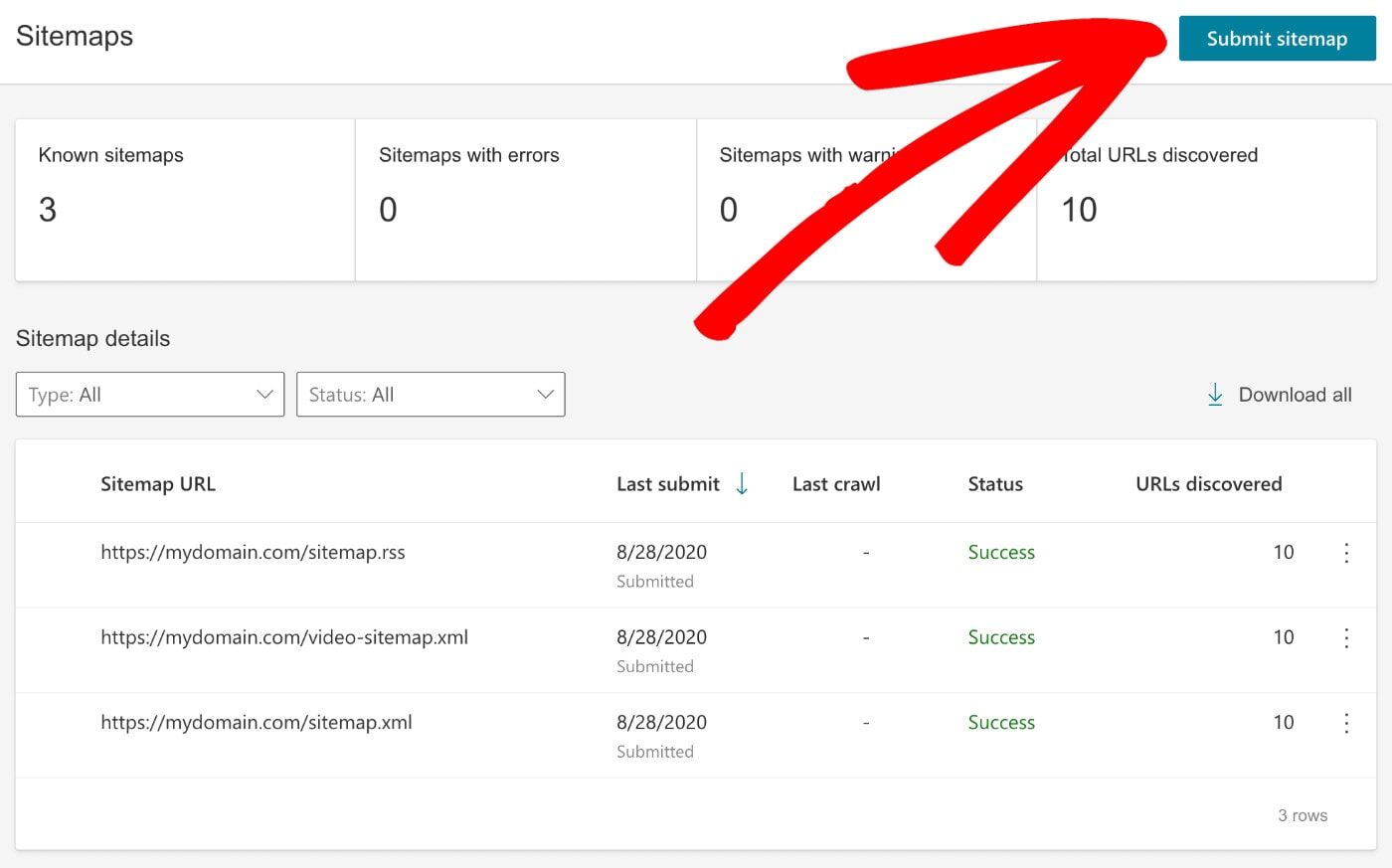 If you have a WordPress website, you can use Bing's SEO plugin, which will automatically submit URLs for new pages on your website. This WordPress plugin can help ensure new content has a better chance of showing up on Bing's search engine results pages (SERPs) quickly.
Submit your website to Yahoo
A search engine submission to Yahoo isn't necessary (and isn't possible) because Yahoo Site Explorer is now Bing Webmaster Tools. If you've submitted to Bing, you've submitted to Yahoo.
According to Yahoo, "You can manage how your website appears in Yahoo Search by using meta tags and your robots.txt file. Yahoo Search results come from the Yahoo web crawler (Slurp) and Bing's web crawler."
It can take 6–8 weeks for your content to show up in Yahoo search results.
Submit your website to DuckDuckGo
DuckDuckGo may not be the biggest search engine in the world, but it still gets an impressive 100 million searches a month, so you might be wondering how to submit to them to get a piece of that traffic.
DuckDuckGo does not have a way for you to submit your sitemap file, so you just have to wait for this search engine to index you with its crawler, DuckDuckBot.
According to DuckDuckGo, "DuckDuckGo gets its results from over four hundred sources. These include hundreds of vertical sources delivering niche Instant Answers, DuckDuckBot (our crawler), and crowd-sourced sites (like Wikipedia, stored in our answer indexes). We also, of course, have more traditional links in the search results, which we source from Bing, Yahoo, and Yandex."
Note that DuckDuckGo does not source information from Google, so submitting your sitemap to Google isn't enough to show up on DuckDuckGo.
Because Bing is one of the major ways that DuckDuckGo finds your website, as long as you've submitted your XML sitemap to Bing Webmaster Tools, you will have essentially submitted to DuckDuckGo as well.
How do I submit new pages to search engines automatically?
Google Search Console will automatically continue to submit your XML sitemap to search engines periodically once you have submitted it yourself, as will Bing Webmaster Tools, especially if you have the Bing WordPress plugin, so you won't have to worry about those two once you have submitted your XML sitemap using those tools.
However, many search engines will also periodically crawl your website automatically and index your web pages based on those crawls, so in effect, the search engines are automatically indexing new pages.
One way to make sure search engines are aware of new pages is to create internal links. Internal links are links from one page on a domain to another page on the same domain (as opposed to backlinks, which are links to your website from another website).
When crawlers crawl your website, they'll follow your internal links to find new content. They also help search engines to better understand what your content is about by using anchor text. Anchor text is just the text that makes up your link. It's called anchor text because it uses the HTML anchor tag.
Do I need a submission service?
Some businesses offer to submit your website to search engines on your behalf. These aren't necessary. All search engines have a clearly documented way to submit your site for crawling and indexing, and in many cases, signing up for submission services can mean ending up on a spammy email list. Says SEO, Shaun Anderson:
It's easy to forget many are ignorant to what seems, to the experienced, an obvious waste of money. I was looking at some free of the free search engine submission tools available recently and a great many of them are simply lead generation tools to get your email address.
You put your website into the tool with your email, and this company has now been alerted you need SEO services.
If you're lucky, you'll only receive the odd unsolicited email.
If you're unlucky, you've just been added to a spam list to be forever bombarded with low-quality SEO services, guest post requests, directory submission services, penguin proof link building strategies and emails telling you about undetectable link networks and the latest traffic exploding WordPress plugin."
What are some things I can do to make crawling and indexing easier for Google?
Because Google and other search engines mostly find new pages and index your website by crawling it, you should do all you can to make it easier for Google to find new content and understand what that content is about so that it can index it properly.
Use effective internal linking
Internal links help Google understand what your content is about and learn about new content. Search engine crawlers will actually move through the internal links to find and index all the pages on your site.
Linking pages internally—old pages to new pages and new pages to old pages—gives you a better chance of ranking new pages more quickly and helping search engines understand what the most important pages on your website are.
For example, if you have many different pages that all link to the same page on your website (like many blog posts that all link to a services page on your site), then Google is going to use those internal links to understand that the services page is an important page.
Internal links are also great for users. It helps them to find new content on your website that's related to the content they're currently consuming.
To effectively link internally, you need to do a few things.
First, you need to link from old content to new content. By doing this, you let crawlers know that new content is available. Those old pages are going to be regularly crawled, so the crawlers will follow these new links, see the new pages, and then index them.
Second, you need to use descriptive anchor text, and you want to include keywords in the anchor text. Those keywords are used by crawlers to figure out what the content is about so that they can better understand how to index that content.
Separate content with headers
When crawlers try to understand what a web page is about, they look at things like backlinks to the page, internal links from other pages to that page, the anchor text in those links, and headers (among other things).
Headers organize content and create structure. They tell crawlers what a page is about by order of importance. Your title tag/H1 tells a crawler what the entire article is about. It includes keywords that crawlers use when indexing so that Google can decide which searches this content needs to rank for.
Your H2s further divide the content. They will often contain related keyword phrases. Search engines can further understand what content is about by seeing these related phrases.
For example, in an article titled "How to Build a Gaming Computer—A Step-by-Step Guide," there will be subheadings like, "Choosing the right motherboard," and, "Choosing between SSD and HDD."
These related keywords, because they're in H2s, will show crawlers that they are important pieces of content—not quite as important as the title tag/H1, but still important. Crawlers will evaluate these sections and will understand that searchers who, for example, are searching for "SSD vs HDD," might be served this article because that section answers that search query.
Create a simple site structure
Site structure refers to the way that the pages on your website are categorized or grouped. A clear site structure helps crawlers to figure out how pages are related to each other and what the overarching topic is that each page falls into.
By grouping your content into categories by topic, you give more information to search engines to help them better understand what each page is about.
For example, if you have a product category on your website called, "Computer Monitors," and you have a number of computer monitors that all include make and model numbers, alongside product names, but aren't explicitly called monitors, a crawler can still figure out that they're all computer monitors because of the category they're in.
Category pages can also rank on Google by themselves, which is another good reason to have them.
Site structure is also useful to users. A good menu is going to help people find content on your website easily. If you're using a CMS like WordPress, you can have multiple menus that make navigation easier for your users. You can also easily create categories in WordPress.
Get a complimentary SEO audit
You don't need to submit your website to search engines, but doing so can help search engines quickly understand what your content is about so that it can more effectively serve it to searchers. It can give you a slight edge, getting your content in front of the people who need to see it a little bit faster than it might otherwise.
Want to see how you're doing with SEO? Get an instant SEO audit below. Or, schedule a free consultation to see how intent SEO can boost search traffic revenue by 700%.