Powering over 75 million websites — including sites for Bloomberg, The Rolling Stones, and even the country of Sweden — WordPress is by far the web's most popular content management system (CMS). It owns 40% of the CMS market.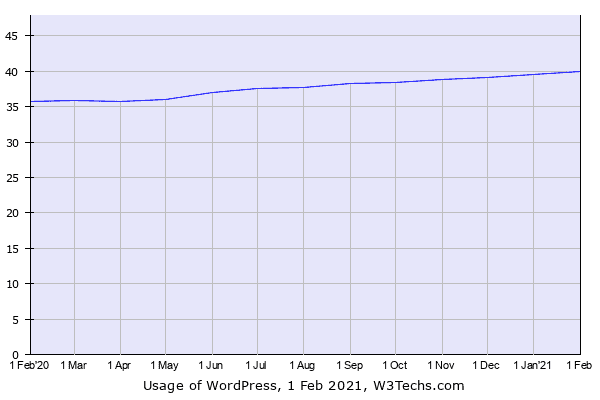 For WordPress users, this popularity translates to more competition, and as online consumerism grows, the fight for organic traffic only gets more cutthroat. Among the most powerful and sustainable ways to win that traffic is a strategy known as WordPress SEO.
What is WordPress SEO?
WordPress SEO (search engine optimization) is a digital marketing strategy aimed at increasing the visibility of WordPress websites in search engines like Google, Bing, and Yahoo. It includes tactics like keyword research, image optimization, link building, and much more.
Increasing your ranking on results pages is important to your business because it drives traffic from search engines to your website. The higher your ranking, the more potential customers will find your content, products, or services.
At its most basic level, WordPress SEO is a marketing strategy that focuses on providing valuable content to readers while making it easy for search engine crawlers to understand.
Is WordPress SEO-friendly?
Search engine optimization takes work. While WordPress won't do all this work for you, as the most SEO-friendly CMS, it will definitely help.
Even if you're a beginner, there are plenty of resources to help you improve the SEO of your WordPress site. Here is a roundup of some of the top reasons that WordPress is considered to be SEO-friendly:
Custom permalinks
Easy image optimization
Compatibility with most plugins
Impressive site speed
Focused on user experience
Mobile-friendly design options
Theme options created for SEO tactics
The WordPress dashboard is well-laid out and easily navigable for most users. Considering that more than a third of all website owners use WordPress, there is a wealth of knowledge available on how to use it.
13 WordPress SEO Best Practices for Beginners
The foundations of WordPress SEO aren't complex. Here are 13 SEO best practices you can use to improve the SEO of your WordPress site.
Choose a top-notch hosting provider
To own a plot of internet real estate for your business, you need to start with a hosting provider. Without it, potential customers won't be able to find your website online.
Many SEO experts will recommend BlueHost as a hosting provider. It performs really well for page speeds which can heavily impact your WordPress SEO performance. But there are plenty of other top hosting providers to choose from.
Install an SEO-friendly theme
In order for your SEO efforts to succeed, search engines like Google need to be able to analyze your site. While there are thousands of WordPress themes to choose from, not all of these make it easy for search engines to read and crawl your pages.
There are many online guides that WordPress website bloggers have created to help you find the perfect SEO-friendly theme. Just a few features you should be looking for are fast loading speed, mobile-friendliness, organized code, and the ability to easily optimize the many elements of your content — meta title, description, images, etc.
Check your site visibility settings
There's a very simple setting on WordPress that can hide your site from the rest of the world. And it will prevent both search engines and their users from accessing your site.
If you are not seeing your site on search engine results pages (SERPs), your visibility settings are probably hiding it. To fix this error:
Go to the admin page of your WordPress site
Go to the "Settings" section and find the "Reading" subsection
Scroll down to the "Search Engine Visibility" area
Unclick the option that says "discourage search engines from indexing this site"
Click the "save changes" button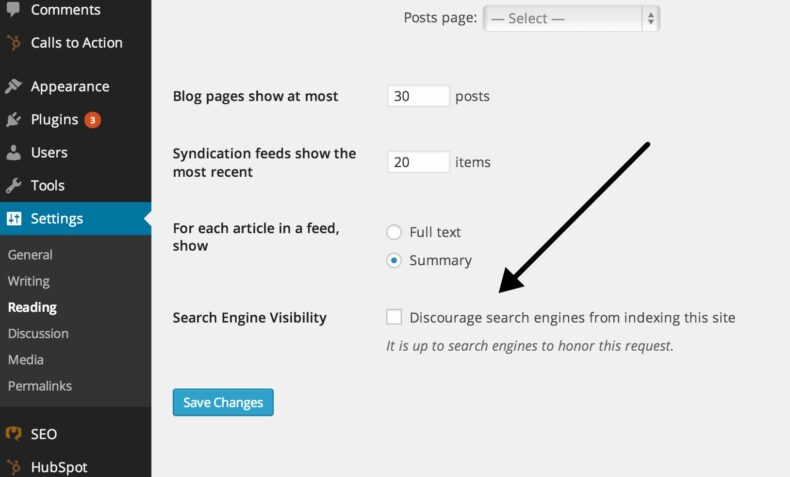 Pick an SEO-friendly permalink structure
When you start a website, you get to choose the format of the address your visitors will see in the URL bar. This is often referred to as the URL structure or permalink structure. Pick something that is short, descriptive, and easy to understand. People prefer to send and receive simple URLs that reference what's on the webpage.
Enable breadcrumbs
Website breadcrumbs are a set of navigation steps designed to improve user experience. They usually show at the top of the page. If you have a lot of pages on your website, breadcrumbs remind users how they got to the page they're on.

Not only do they improve user experience, but they also help boost your WordPress SEO because they show up in SERPs. This gives users a preview of where they are going on your website.
The best way to enable breadcrumbs on a WordPress blog or website is to install a plugin to do the work for you. Follow a comprehensive guide to installing breadcrumbs in WordPress which will also give you plugin recommendations.
Choose between WWW or non-WWW domain
When you initially name your website, you will have the chance to decide whether you want the URL to begin with "www" or without "www."
The nuances between these options really don't have much impact on your WordPress SEO, although some SEO experts make the argument that most internet users type websites without the "www" today, and that this could lead to more traffic to your page.
The most important thing isn't necessarily which you choose — www or non-www — it's that you make a choice. If you don't, Google may treat the www and the non-www version of your web pages as two different versions and index both. This means your pages will be in competition with each other.
Install an SSL certificate
An SSL certificate is basically a form of ID verification between websites. When customers click on your page, they can see if you have a system in place to protect their information.
This certificate will encrypt customer information as it passes between their computer and the server hosting your WordPress website. This protects your clients' information while increasing your credibility. If you don't have an SSL certificate, potential clients may receive messages from their computer telling them that your site might not be safe to visit.
This certificate is especially important for ecommerce websites that deal with sensitive payment information. There are lots of great guides on how to set up an SSL certificate, a process which isn't too complicated.
Install WordPress SEO plugins
There are lots of great tools to help you track your WordPress SEO performance. These are called plugins. They are essentially extra tools you can add to your CMS that will analyze your SEO components while you edit.
Yoast SEO plugin and SEMrush are two of the most popular plugins, as is the All-in-One SEO Pack. This software comes in multiple levels of free and paid. WooCommerce is an extremely helpful plugin for certain brands, too.
A WordPress plugin provides real-time updates about important SEO factors like readability, word count, keyword use, and more. While most SEO practices can be done without plugins, the most efficient way to achieve results and a bigger return on your time is to employ the help of these tools.
Create an intuitive site structure through internal linking
Search engines are constantly looking for new content as they build their catalog of information to share with users. They use what are known as "crawlers" to discover new information. Crawlers start out on a web page and then follow the links to other sites, collecting new content for their databases as they go.
Having a simple site structure and including internal links in your material makes it easier for crawlers to find and analyze your pages. Internal linking is when you link to more of your own pages. By directing readers to other pages on your site where they can learn more about a topic or claim a resource, you improve the user experience and overall flow of your website.
To make your content as easy to navigate as possible, make sure you're organizing content on your website from broad to more specific. For example, if you were an ecommerce site, your structure might look like this: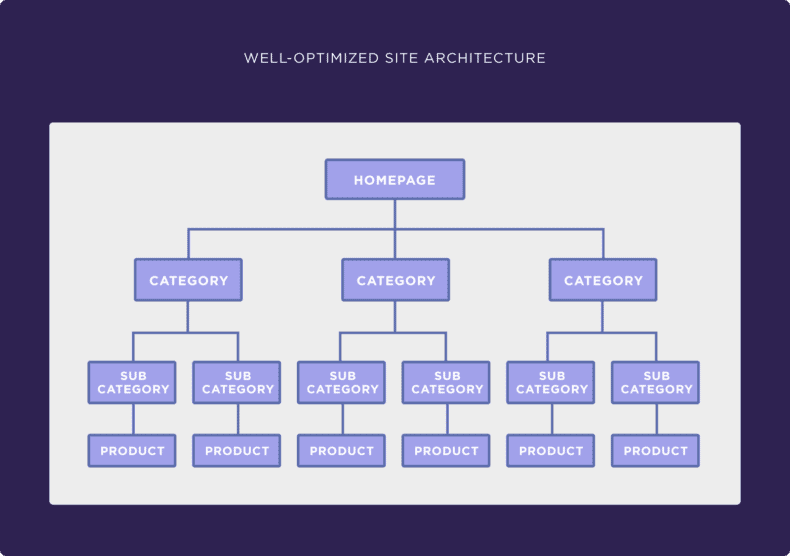 This helps visitors quickly find what they're looking for. They start at the homepage or a product category page and move to more specific areas of information as they narrow down their options.
Make sure that if you're hyperlinking text, you choose short and descriptive anchor text. Visitors should have an idea of what they'll see on the next page before they even click the link. Don't forget to routinely audit your content to make sure you don't have any broken links, which will hurt site metrics as well as SEO.
Design for mobile-friendliness
Part of optimizing your website is making sure that the content, format, and structure translate well across devices. You want to periodically audit your site on desktop, tablet, and mobile phone interfaces.
User experience will heavily impact your site's search engine ranking, and the way people use websites is different based on the device they're using. Since most people access the web via mobile now, it's important to make sure you prioritize mobile design.
Not only that, but Google has committed to a process called "mobile-first indexing," which means it will crawl and index information from the mobile versions of websites before desktop versions. You can't expect to rank well without a mobile-friendly version of your website.
Create and submit an XML sitemap
An XML sitemap is basically a blueprint of your website that search engines can use to navigate better. By listing out the most important pages, you can help improve SEO performance.
Both Bing and Google have their own plugins that help you create and submit an XML sitemap:
Google: Google XML Sitemap Plugin
Bing XML Sitemap Plugin
You can also use Bing Webmaster Tools and Google Search Console to check your sitemap. Overall, there are lots of XML sitemap generator tools that you can utilize to complete this step. It might not seem important, but it's something that will run in the background and bring traffic to your site without constant oversight.
Create high-quality content
To boost web traffic, you have to write about topics at the intersection of what you know and what people are searching for. After all, the hallmark of any great website or blog is its ability to provide useful content.
But how do you know that what you're writing about will be something people want to read? The answer to this question is a strategy called keyword research. This is a vital component of on-page SEO because it helps crawlers to identify the topic of your content and categorize and rank it appropriately for various search terms.
During keyword research, you'll look for which exact words and phrases people are searching in Google. After figuring out what terms people are searching for, you'll choose a focus keyword to build your content around. This will tell Google that when someone searches for that specific word or phrase, your website has relevant information on the subject.
From your post name all the way to the image descriptions and the content itself, proper keyword usage is vital. Keyword research is at the heart of SEO success because it guarantees that the focus of your content is something people want to read and are searching for frequently.
Write a great title tag and meta description
There are four types of meta tags, but the two most important are the title tag and the meta description. These are the lines of text that make up your search engine listing. When someone searches a question or phrase in Google, and your page shows up on the SERP for that question or phrase, the meta title and meta description is what people will use to decide if your page is worth visiting.
A title tag or page title is the "headline" you see on your search engine listing. When you're writing the title tag, be descriptive, use your keyword, promise a benefit, and come up with a way to differentiate yourself from others who have created similar content for the search phrase.
A meta description is below the meta title. Since there is a greater text limit for meta description, you can get a little more descriptive. In your meta title, use your keyword and let visitors know what they can expect to find in the content that will satisfy their search query.
Meta title and description aren't direct ranking factors, but they do contribute to SERP click-through rate (CTR), which experts believe to have an impact on search engine ranking.
Use schema markup
One of the most underrated but essential SEO tools for WordPress is schema markup. This is a labeling language that gives search engines like Google more information about your website.
When you use schema markup, anyone who views results for your site on SERPs may see a more comprehensive description of your business in the form of rich snippets. These are essentially extra details about your listing on SERPs that give potential users more information about the products you sell or services/information you provide.
If you are not an SEO expert or a professional coder, you may want to consider installing a schema markup plugin to help you utilize this tool.
Add alt text to your images and use optimized file names
When you use images in WordPress, it's important to use descriptions called alt text, which explain what's in the image. While the purpose of alt text is to enable screen readers to explain images to the blind and visually impaired, it also helps search engines understand the image in the context of the page.
Make sure to change the file name of any images you upload to match the picture. This will further help this software understand what it can't see. These practices improve SEO by providing browsers like Google more information about what's in your visual content, and it can also help you earn more traffic from Google image search.
Build backlinks
A backlink is a link from another website to yours, and Google treats this like an upvote, since it shows that the site considers you a valuable and trustworthy source of information for its visitors. The more upvotes you have from higher quality websites, the better your site appears to Google's algorithm. Here some link-building strategies you can use on your WordPress site:
Create infographics and visuals that others will want to share
Build online social media presence to interact with other brands
Offer to replace broken links on other websites
Write compelling content that others will reference
Research competitors' backlinks to build your own content
Use canonicalization for duplicate content
If you have several web pages with the same content, a search engine won't know what to display on its results page. This can ultimately prevent your site from showing up at all, which is the opposite of SEO.
To solve this problem, you can use an advanced WordPress feature and create a "canonical URL," which acts as the primary or go-to webpage for all those with similar content. When you create a canonical URL, you're telling Google which of your pages you want to show up on the SERPs. Utilizing this feature gives search engines a specific URL to display and improves your site's overall SEO performance.
Get a complimentary WordPress SEO audit
As a powerful, intuitive content management system, it's no wonder why WordPress powers more than a third of all websites on the internet. WordPress has capabilities that suit both beginners and experts.
With features to support most SEO tactics and compatible plugins to support the rest, WordPress is dynamic and malleable enough to help you execute on any or all of the strategies listed in this beginner's guide.
Want to see how you're doing with Volusion SEO? Get an instant SEO audit below. Or, schedule a free consultation to see how intent SEO can boost search traffic revenue by 700%.