With more than 496 million blogs and over 320 million monthly visitors, Tumblr's audience reach is large enough to make you wonder: "How do I get my posts found in a sea of content?"
Search engine optimization (SEO) practices — the ones used on mainstream content management systems like WordPress, Magento, Wix, etc — can be used to boost organic traffic to Tumblr blog posts.
Search engine algorithms determine which pieces of content provide the most value to users. And using Tumblr SEO techniques can help bloggers communicate to search engines, and users, that their content is valuable.
What is Tumblr SEO?
Tumblr SEO is a digital marketing strategy designed to help blog posts rank highly on Tumblr's search engine results pages (SERPs), and Google's search engine results pages, where users can easily find well-written and useful content.
With more than 170 billion blog posts to choose from, getting more viewers to your Tumblr blog can be challenging. This is why a Tumblr SEO strategy is integral in gaining organic traffic to your Tumblr homepage, blog, and posts.
Unlike other content management systems (CMS), however, Tumblr combines both blogging and social media into one platform, providing a unique experience for the user. As a result, Tumblr SEO practices are sometimes modified versions of standard SEO techniques that cater to a niche audience.
WordPress vs Tumblr vs social media
When developing a content marketing strategy, it's important to consider the functionality of your chosen publishing platform for your specific needs.
WordPress' popularity as a CMS is due to its high level of customizability, user-friendliness, and scalability for small businesses, large ecommerce enterprises, and everything in between. Plus, the amount of WordPress plugins available make it extremely versatile for independent bloggers.
On the other side, social media platforms like Twitter and Facebook provide an environment built on reacting to and sharing content. They give users small doses of engaging, easy-to-read information, graphics, and more to increase traffic.
Tumblr sits somewhere in the middle of these two platform types. With blogging capabilities for serious brands and a highly social and shareable media experience for everyday users, Tumblr combines elements like hashtags, photos, and more with the traditional blogging experience to create an entirely distinct platform.
9 Tumblr SEO tips for 2021
Because it's a blogging platform and social media site all rolled into one, some of the SEO techniques used on competing CMSs are modified slightly for use on Tumblr. However, if you're familiar with SEO basics, you'll recognize many of the on and off-page SEO practices used to improve the readership of Tumblr blogs.
Make sure Google can index your Tumblr blog
Before your homepage or any blog posts will show up on SERPs, you need to be sure that it's formatted for search engines to find. The crawlers that categorize, store, and present your information online (a process called "indexing") need to have access to it in the first place.
You can sign into Tumblr.com and go to the settings page to change this. Once there, go to the Directory and select "allow search engines to index your blog." After saving the preferences, your blog will be available for Google crawlers to index.
Start with keyword research
Keyword research is the process of determining your content's topic of focus. Researching what people are searching for in your industry is an important online marketing practice designed to guarantee your post's value to the audience.
The keywords you choose will depend on what goal you're trying to accomplish with your high-quality content.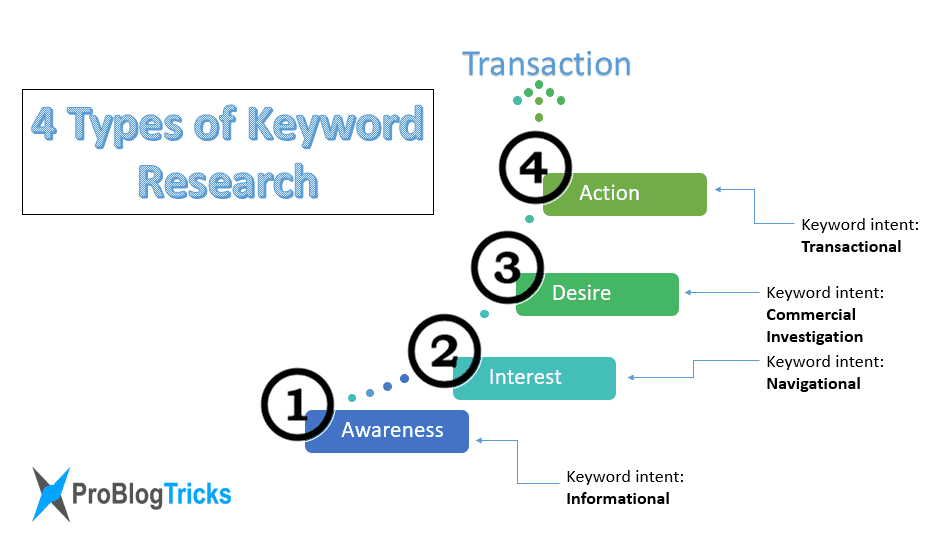 If you're trying to sell a product, you would be taking a different angle for your writing than if you just wanted to provide a helpful how-to guide.
By providing keyword-centered content, you will show search engines that you have something to offer the people who are searching for terms in your niche. As a result, the search engines will reward you with higher rankings on SERPs.
Post valuable content
Great SEO writing is centered around providing content that is useful for both search engine crawlers and users at the same time.
Valuable content is content that provides answers for its target audience. Any post should be able to answer the question or give the information that users are looking for when they search for that specific topic.
In addition, high-quality content should be visually appealing and easily digestible through the use of headers, images, infographics, and more. Tumblr takes this even further.
Because a majority of Tumblr users are part of the digital generation, they expect pithy content that provides a lot of value.

As a hybrid between a social media site and a blogging platform, Tumblr uses are looking for shorter posts with engaging visual components. Humorous content is something that engages really well on Tumblr. Popular post components include: memes, gifs, and quotes.
For example, instead of just seeing a quote, users might like to see it formatted in such a way that they could share it on Facebook, LinkedIn, Reddit, or other social media platforms.
Although you have the option to write full-length blog posts on Tumblr, users are more likely to consume and share something shorter.
Update your header tags
Implementing header tags is an effective method for improving the indexing process on your blog. Because headers break text into digestible sections, they simplify content for your readers and search engine crawlers that are trying to understand your content.
If you buy a premium Tumblr theme, you could have this capability built in as a tool. Otherwise, you will need to do some backend coding to add header tags to your content.
Create custom permalinks
Content that ages well is likely to rank high because it has proven its value over an extended period of time. Apart from the actual content itself, the post's URL is another element that should remain strong over time.
Permanent links ("permalinks" for short) are custom URLs that you can create for each individual post on your Tumblr account. A good permalink will include the domain name plus a "slug," which is the descriptive text that comes after the main webpage.
Try to make post URLs descriptive and easy for potential visitors to understand and type out. The permalink is also a great place to include your keywords and phrases. You can update this using CSS, Javascript, or HTML coding on your page.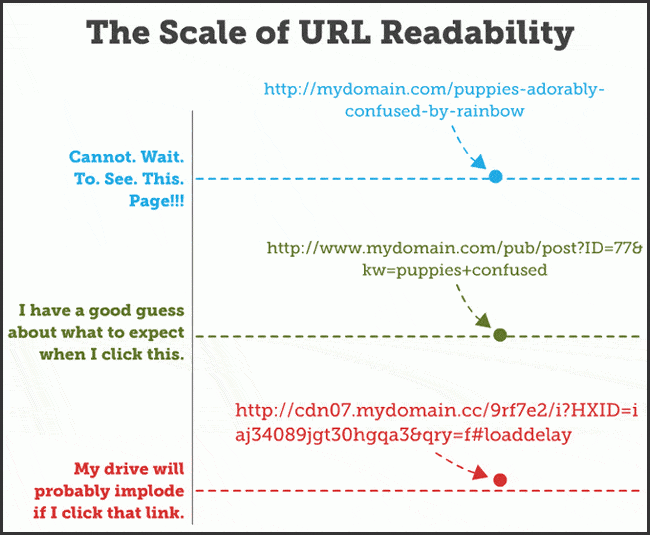 Providing easy-to-read permalinks is a simple way to improve your credibility and boost organic traffic because they show potential visitors that your page is safe and valuable. Plus, descriptive permalinks make it easier for search engines to categorize the pages on your blog because they will understand your content's focus topic better.
Tag your posts with relevant keywords
The tag feature is a great tool for increasing visibility on your Tumblr posts. For SEO purposes, you'll want to use your target keywords or phrases as the hashtags on their corresponding posts. This will indicate to Tumblr that your post belongs in that category.
When you tag a post on Tumblr, your post will show up on the overall "tagged page" that users can navigate to if they want more information on that word or phrase. Use this feature to make your Tumblr account more visible to other users who have similar interests.
Internally link your posts
One way to boost audience engagement is to provide a steady stream of valuable content in the form of links. Throughout your content, you should build links to other relevant pieces of content on your blog or Tumblr page.
When you incorporate these internal Tumblr links, choose their anchor text wisely. You want to make sure that the reader knows what type of information will be on the next page if they choose to click on the link.
Overall, internal linking is a way to add value that will translate into better performance on metrics like bounce rate and click-through rate. And since search engine crawlers find their way to your content through internal links, this will create a path for those crawlers to index your content.
Update your blog title and meta description
Using the "customize" tab on your Tumblr account is the easiest way to access backend or technical SEO tools. When creating your posts, it's important to pick a title that accurately represents the subject matter.
On SERPs, the title tag and meta description make up the information users will see before they click on your content. In order to optimize these areas for higher rankings, make sure to incorporate your keywords and phrases.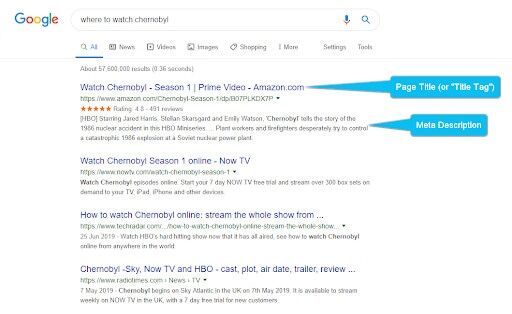 The meta description (the sentence or two explaining your post's content) should be less than 160 characters so it won't get cut off on the page. The post title should have less than 60 characters and contain your blog name plus any keywords or topics related to the content.
Generate Tumblr backlinks
An important part of any successful SEO marketing strategy is the generation of backlinks (also known as link building) — links to your content from other websites or Tumblr blogs. When other Tumblr users, marketers, or bloggers reblog your content, this communicates to search engines that your content is valuable. It will then improve your ranking in Tumblr and Google search results.
Tumblr backlinks present an opportunity to boost traffic, although they won't be as powerful as the type of backlinks you'd earn on another blogging platform. This is because Tumblr pages are considered subdomains, which carry less weight as a backlink source.
You'll want to use images in your blog posts, as regular posts are considered nofollow links, which means they won't be considered during the indexing process.
Get a complimentary SEO audit
Tumblr provides a unique content creation experience — the versatility of a blogging platform mixed with shareability you'll find on social networks.
The Tumblr SEO strategy tweaks some of the standard SEO practices to accommodate its younger audience, all while maintaining the same content standards. At its heart, Tumblr SEO is designed to improve your blog's ranking while providing valuable, purpose-driven content to users.
Want to find out how you're doing with SEO? Get an instant SEO audit below. Or, schedule a free consultation to see how intent SEO can boost search traffic revenue by 700%.