It's an equation that's hard to disagree with: Social media + SEO = more traffic, leads, and ultimately, more sales. Here's why:
Search engine optimization (SEO) is more powerful than social media when it comes to raw traffic: SEO drives 1000%+ more organic traffic than organic social media.
But social media is powerful on its own: Over 3.6 billion people use social media platforms.
With a potential audience that huge, investing in social media gives you the opportunity to reach those people who might not find you on search engines.
When used correctly, the right social media marketing strategy can help you boost SEO, reach a wider audience, and get your brand in front of the potential customers you want to reach.
Is social media an SEO ranking factor?
Social media is not a Google SEO ranking signal, but there is a long history of myth and fact behind this.
Though perhaps social sharing and other social signals were once used as a ranking factor, in 2014, Matt Cutts of Google specifically said that Google search does not use social as a ranking factor. This was later confirmed in 2016 by Gary Illyes of Google.
Still, marketers have done a number of studies on this matter and have found a correlation between content that ranks and social signals. The higher a piece of content ranks, the more likely it is to have a lot of social media interaction.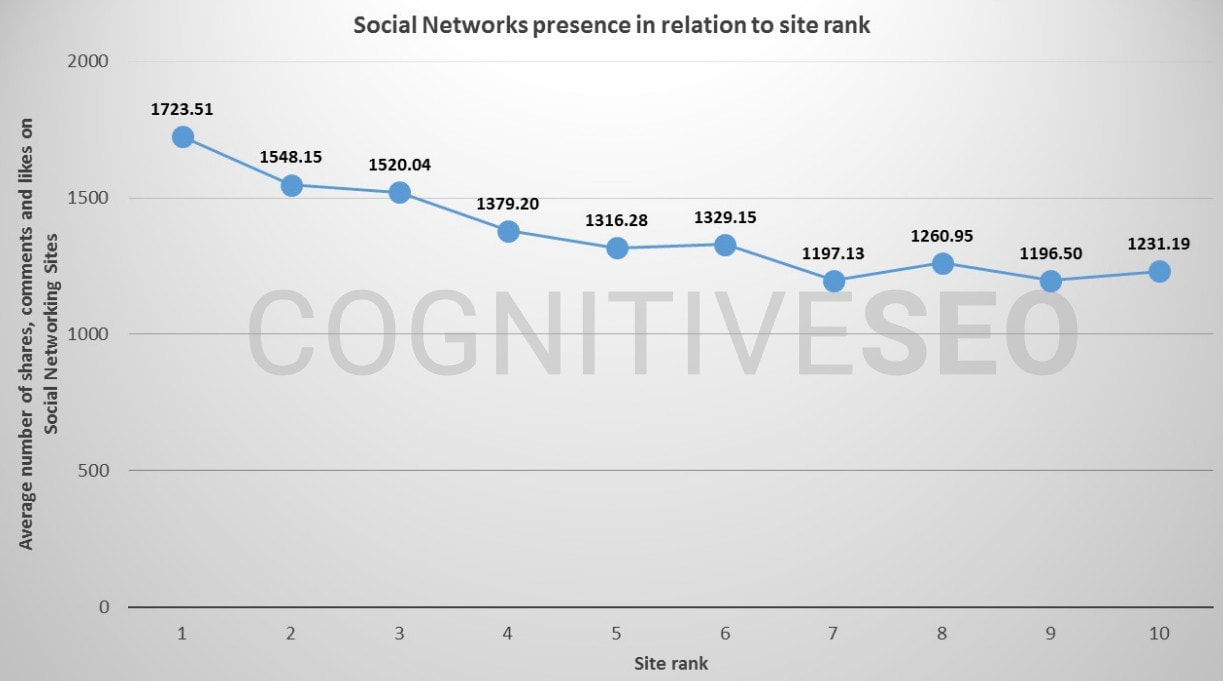 It's not likely that social shares and other social signals are causing a piece of content to rank higher, but rather that the content is high quality in the first place, and therefore naturally attracts shares, likes, etc.
Another important point to note is that Bing has confirmed social signals are a ranking factor — an important one.
That being said, Bing only has 6.7% of the global search market. It's a good idea to optimize for Bing, but most SEOs are going to focus on Google because of its huge 86.6% market share
Despite not being a ranking factor for Google, social mLOLedia can still help you improve search rankings in other ways.
How to use social media to improve your SEO
The best SEO strategy is wide-ranging, taking advantage of every avenue of driving search traffic to a web page. That means SEO should include social media. Here are 8 ways you can use social media to improve your performance in search.
1. Expand your concept of SEO
If you're trying to be found in search, you should be focusing on where searches happen.
While SEO has traditionally focused on search engines like Google and Bing, today marketers understand that customers use social media platforms similar to the way they use search engines.
They will type in search terms, research brands, and make purchases as a result of their actions on these networks. And so today it's important to rethink the role of social media platforms.
For example, YouTube is the world's second-biggest search engine. While not thought of as traditional social media, YouTube is a powerful arm of many digital marketing strategies. Many social media strategies focus exclusively on optimizing content for YouTube search because marketers understand that an audience of 2.3 billion users carries huge potential.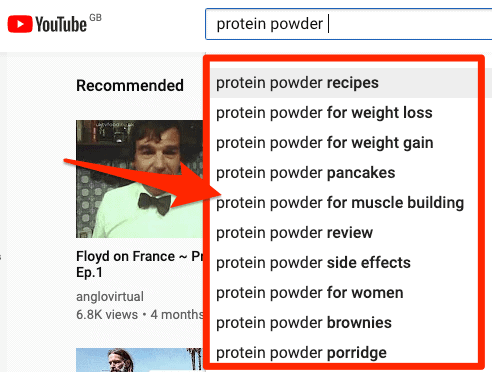 Ultimately, social media is just another place where you can implement a content marketing strategy to answer search queries. Businesses focus on creating high-quality content for their website, but what about Facebook, LinkedIn, or other social media sites? How can you repurpose your content to make it better suited for users on those platforms?
You might want to use keyword research tools specifically designed for those sites, like Keyword.io, which gives you keyword suggestions for YouTube.
You might want to change the length of your content or the presentation of that content. For example, on LinkedIn, you may focus on long-form thought leadership, whereas on Instagram you're going to have less room for content while the image becomes critical.
Even a video that you share might need to be changed for each social media network you share it on. YouTube might require extended videos, while you might get better results with a video on Facebook that's just a few minutes long.
Ultimately, you're looking at each social network, and you're asking yourself how you can create content specific to that network that is then likely to provide value to someone looking for that type of content.
Remember too that social media profiles also rank on search engine results pages (SERPs). These help you dominate branded search terms by taking up more space on SERPs. Claiming every social media profile you can for your brand is a good way to ensure you show up when your brand is searched for online.
2. Answer questions on Quora
Quora is a social network where users can post questions and get answers from experts. It can be a great content marketing tool for a brand. All you do is look for questions that have something to do with your industry, then answer them with useful, valuable content.
Not only does this help you to raise brand awareness if you do it often enough (you become an authority on Quora), but your answers can also get indexed by Google's algorithm.
In fact, Quora can be a top result for many searches.
For example, for the search query, "how to get rich in 5 years," an answer to the question on Quora is the 2nd result on Google.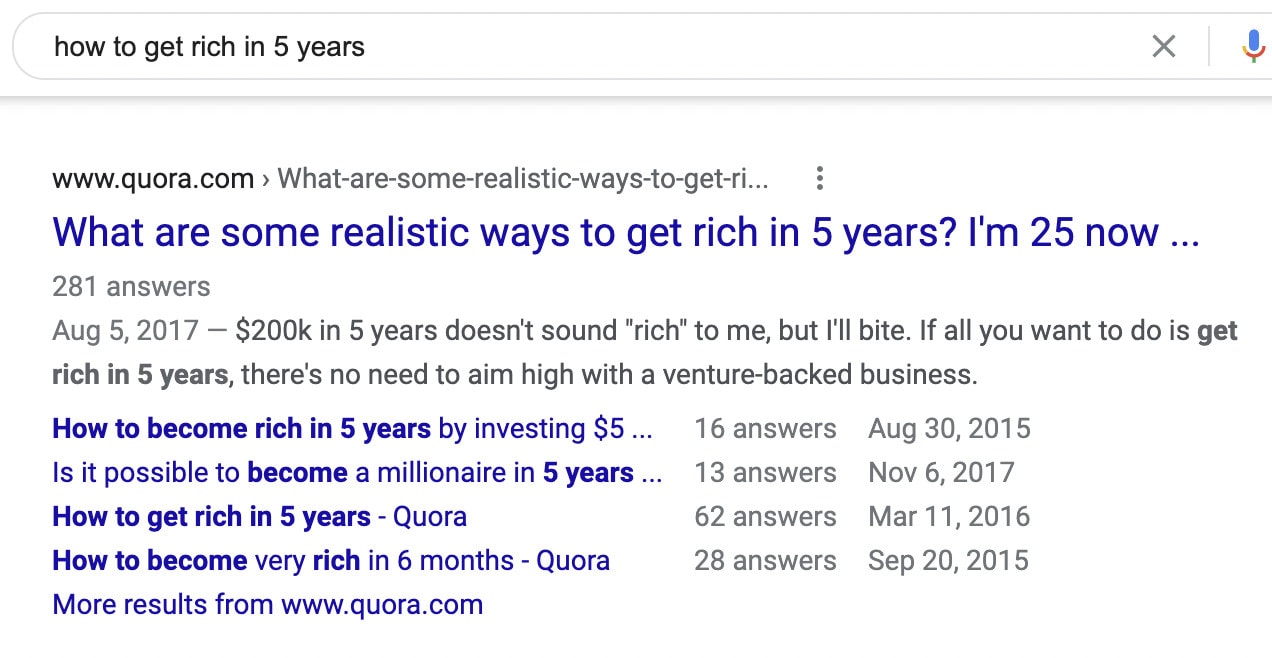 The post is from 2017 and it shows several dozen answers that searchers can find on Google. Even though this answer doesn't drive users to the writer's website, it's still exposure for the brand.
A personal finance brand would be a perfect fit for this question. They could answer the question with well-researched information, get their answer in front of the 300 million users on Quora, and become more visible as a result.
Additionally, including a link at the bottom of the answer allows them to potentially generate traffic, especially if that link invites readers to learn more about whatever topic their answer concerns.
3. Post to social media to get indexed faster
There are more benefits to social media shares than just getting your content in front of a new audience. According to Ben Walker of Transcription Outsourcing, posting new content and refreshed content to social media can help search engines index your content more quickly.
The way this works is a little complex. You're not directly telling Google that content needs to be indexed as you might with Google Search Console. Instead, you're indirectly signaling to Google that this content exists. The web page begins to have traffic on it, and this signals to Google that this content needs to be crawled.
4. Strategically share your content
The goal of both SEO and social media efforts is to get your content in front of your target audience.
Social media content should be shared not just as liberally as possible, but strategically. The idea is to get your social media posts in front of potential customers and social media influencers who are going to interact with that content in critical ways.
One way they can interact with the content is by sharing it. Even if a potential customer isn't ready to buy right away, by sharing your content with someone who might make a purchase, they're helping you reach your goals.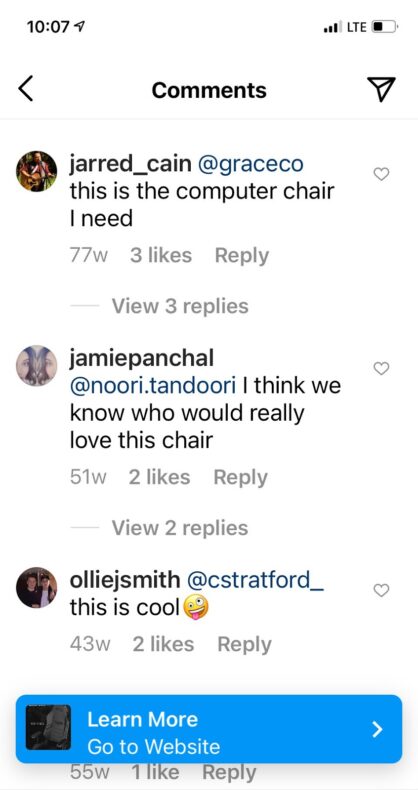 They can also comment on the content and show it to their friends or family members, as you see in the screenshot from Instagram.
Additionally, social media can be a link-building strategy. The more your content gets seen, the more opportunities to earn backlinks you have.
You'll want to get your content in front of social media influencers, like bloggers or YouTubers with massive followings, who may then link to your content if they find that it's valuable. You can do this by messaging them directly or by tagging them when you share on your accounts. They may also share that content with their audience, giving you more interaction, traffic, and opportunities for links from others.
Sharing with influential social media accounts is just one way to get more eyes on your content. Other more mainstream methods include using hashtags to get your content in front of people who are searching for particular search terms on the platform, or you can share your content in social media groups.
5. Build an audience
Social media is great for building a dedicated audience. Traffic from Google is not necessarily an audience. Sure, you can get readers from search engines who become regular readers, but there are also searchers who come for an answer to a question and then never return.
Social media followers are people who have actively chosen to see your content on a regular basis. They want to do more than just get an answer to a question — they want to build relationships.
Building these relationships can translate to regular readers and higher reach. Your content can then get in front of your audience's connections, and those connections can share with theirs. Your content has a chance to reach a larger audience than it would otherwise.
Because your regular readers are not just random searchers on Google, but dedicated fans, they already know your content is worth reading before they read it. That means they're more likely to consume your content, to spend more time on your content when they consume it, more likely to keep reading beyond that article, too. These metrics show search engines that your content is useful and valuable to readers.
6. Form relationships with other brands
Almost every type of business you can imagine is active on social media, which means that there are likely more than a few brands in your industry who are trying to do the same thing you are.
While some of these might be direct competitors, others won't be. Instead, they may offer products or services that dovetail nicely with what you sell.
Interacting with these brands on social media creates the opportunity to get your content in front of their audience (and vice versa). This sharing of audiences can lead both of your audiences to grow and intermingle, potentially giving you a new source of customers.
But it's more than that. You may form relationships that allow you to refer new business to each other. For example, a social media marketing company might suggest one of their partner web design brands if their customer needs a new website.
If that partner brand is you, and if they like you because you share their content on social media, then you might have just won some new business.
7. Identify influencer marketing opportunities
Influencers spend a great deal of their time on social media. They each have large audiences on various platforms, including email lists. Those existing audiences are your chance to interact with their audiences and get your content in front of them.
Influencers can also help you show up on search engines if they deem your content high-quality enough to share with their audience. Influencers are known to have highly engaged followings, and when directed at your content, can result in more meaningful visits.
Influencers can also help your SEO efforts by linking to your content. Many influencers hold influence because they are authorities in their space, which means the likelihood their website is trusted by Google is much higher. And earning a backlink from an authoritative website can do a lot to improve your own authority to Google's algorithm.
8. Serve your customers
Social media has increasingly become one of the ways customers ask for help. Many will bypass the phone, email, and even chatbots, and go directly to social media profiles of a brand when they have a question or a problem.
In fact, over 64% of Twitter users expect a reply from a brand within an hour, so not only are they expecting a response, they're expecting a fast response.
Many companies understand this and are using social media to communicate with customers. For example, Frontier Communication pinned this tweet to their Twitter profile during a winter storm. You can see by the comments that there were a lot of replies and interactions with this tweet from customers who needed help.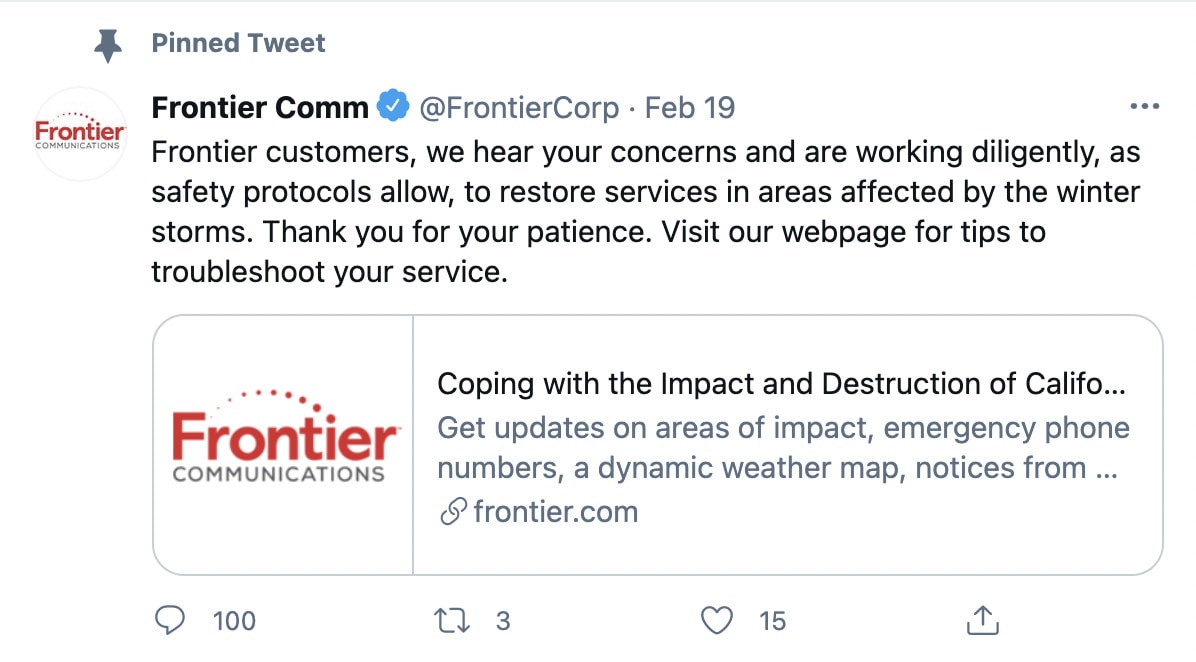 By using social media as a customer service tool, brands are able to provide a higher level of customer service, ultimately leading to more good reviews.
Reviews are especially important for local SEO. In fact, reviews are one of the most important ranking factors for showing up in the local pack.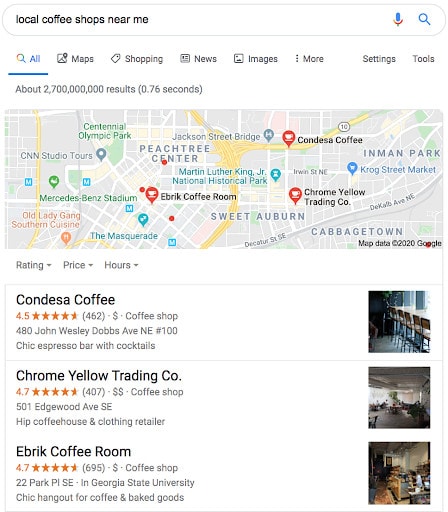 You can see in the image how many reviews each of these 3 coffee shops has. The more positive reviews your business has, the better for your SEO.
Get a complimentary SEO audit
To augment your SEO efforts, add social media marketing into your marketing mix. You can help Google and other search engines to better understand the value of your content, interact with influencers who can get your products and services in front of their audiences, and provide higher levels of customer service to get those valuable 5-star reviews.
Want to see how you're doing with SEO? Get an instant SEO audit below. Or, schedule a free consultation to see how intent SEO can boost search traffic revenue by 700%.