Unfortunately, generating SEO leads takes much more than SEO expertise. Search engine optimization is valuable at the top of the funnel for generating traffic, but to actually turn that traffic into leads, it takes a lot more. Luckily, there are lots of ways for SEO agencies and consultants to generate leads. Today we cover some of the most effective.
SEO Lead Generation: 10 Proven Marketing Strategies
SEO lead generation requires a mix of conversion optimization, salesmanship, and a lot of generosity. Here are 10 strategies shown to boost SEO leads.
Call in a favor
Cold calls and cold emails can sometimes work. But why settle for those when there are warmer prospects available?
For many SEO agencies, the most popular way to generate new business is by going to old business. Follow up with former clients and see how their SEO efforts are going.
Do they need additional maintenance? Do they know anyone else who might? If they can refer you to someone, make it easy for them to do.
Offer to write the introduction email, provide links to key landing pages, and even give a few case studies to prove you're an expert.
Form strategic partnerships
Old clients aren't the only people you should be reaching out to. If you're an SEO professional, partnering with digital marketing agencies that don't offer SEO can yield high-quality leads with very little effort. In an article for The Hoth, Clayton Johnson explains how he did it:
We called almost every web design, online PR, social media, and IT company we could find in the area and offered them 10% of any SEO business they'd send us. This worked great.
Some of these digital marketing agencies didn't provide SEO services, but they were asked about SEO all of the time. It was easy money for them to make, simply by referring a customer.
We would clearly explain and show our partners that we had a very good reputation and that we would immediately send them a check for 10% of the initial contract.
This worked so well that we eventually started sending our partners business for services we didn't offer, like IT services, and they would send us 10% finder's fees as well. Easiest money I ever made!
It may cost you a small portion of your new customer, but it's worth it to get other businesses to do the prospecting for you. Especially when you consider these are qualified leads that will be far easier for your sales team to handle.
If you're a niche agency, like a link building agency, try partnering with other small business owners who use the same strategy. An agency that specializes in Google penalty recovery or mobile web design, for example, would likely be open to trading qualified leads with businesses dedicated to building backlinks.
Target your landing pages like your ads
Most businesses go through the trouble of creating ads personalized to their target market. After that, though, they don't create targeted landing pages. They simply drive visitors to a home page, or a contact page, or the same generic landing page, and expect it to generate results.
It won't. A landing page should be tailored to its campaign. It should feature the same language, headline, and images that are in its referring ad. And it should be a standalone webpage, separate from your website's navigation, where visitors can consume your content and either convert or get off the page.
Without links to other pages, your landing page allows your visitor to focus on your offer. The same images, headlines, and content strengthen relevance and trust. And the more relevant and trustworthy your page is, the more likely your visitor is to convert on your offer. Here's an example of a targeted landing page from Glen Park at Long Beach: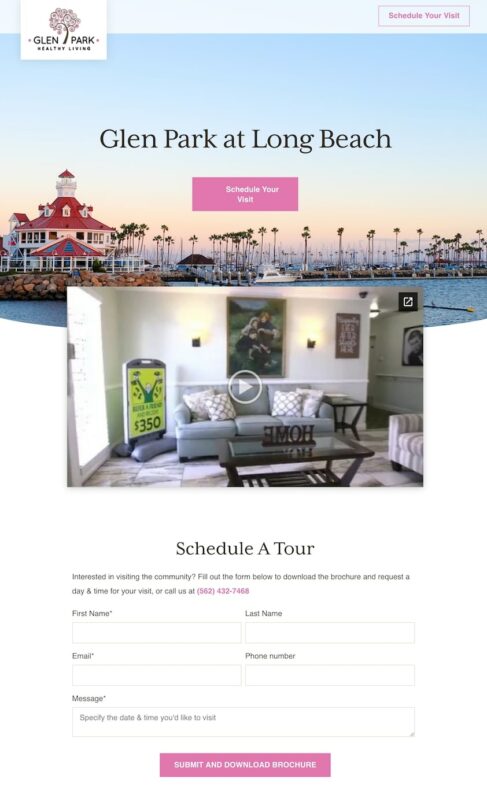 Get face-to-face
Over 50% of marketers say event marketing drives more ROI than any other channel. So meet your target audience where they meet each other. What niche are you in?
Research your target industry's events and meetups. Then show up, be personable (offer advice without going for the pitch), and bring a lot of business cards.
Bring the in-person touch online
Often, business owners forget that generating quality SEO leads isn't about selling your services to everyone you meet. It's about building a relationship. And in the same way, you can do that at events and meetups, you can do it online.
Potential clients congregate in shared spaces like Reddit, LinkedIn, Quora, Moz forums, and even comments sections of blog posts. Often they're looking for business advice. Providing helpful answers without the expectation of anything in return can go a long way toward building a relationship that may end in new business.
With each answer you offer, you prove your expertise. And even if the askers of the question don't become clients, there's a chance you'll earn referrals from them, or from future visitors who search for a similar answer and find your comment or post.
Offer a free SEO audit
For an SEO consultant or agency, there are few more valuable free offerings than an SEO audit. Customers get to learn what's wrong with their site, and you get to know the customer. Together you learn if you're a good fit.
Whether you do it manually or use an automated tool, SEO audits have been shown to generate leads at a high conversion rate, according to Johnson:
On average only 1% of people who visited our website would contact us for services. 1% is also the average conversion rate for all contact forms, according to a study by Formstack. The remaining 99% of our visitors would leave, and never contact us at all. Why was this?
I spent hours racking my brain on how we could get more visitors, who were already on our website, to give us their contact info before they left. That's when I came up with the idea of a free website audit tool in exchange for contact information.
So we built a free website SEO audit tool around 2008. Our visitors could instantly scan their website and see how optimized it was for search engines; however, in order to use our free tool, visitors would have to enter their contact information.
Leads started pouring in! It was insane!
I initially spent around $5,000 building a very basic audit tool that looked for 15 red SEO flags like missing metadata, robots.txt file, H1 tag, and a few other signals.
Our free website audit tool had about a 10-15% conversion rate, while our contact form was getting only 1%. Think about that. Instead of 1 out of 100 people contacting us on our site, we were now getting 10-15 people.
Luckily, you don't have to build your own SEO audit tool to generate leads like this. There are a number of free ones, like MySiteAuditor, that you can add to your website to start generating leads immediately. There are also a number of more in-depth ways you can perform a comprehensive SEO audit yourself, too.
Highlight social proof
For people to give you their personal information, they have to be able to trust you. And for most businesses and customers, trust is built on your website.
Online, the best way to show people that you're trustworthy is by showing them you've been trusted before. Testimonials of satisfied customers are highly effective here. Yours should include photos, names, and detailed positive accounts of a client's experience with your brand.
You can also showcase a count of your reviews, or your SEO clients served, or social media following. The higher these numbers, the more popular you are perceived.
Other signals can help boost lead generation, too, like security badges and authority indicators. Here's an example of social proof from Thrive, an SEO marketing agency: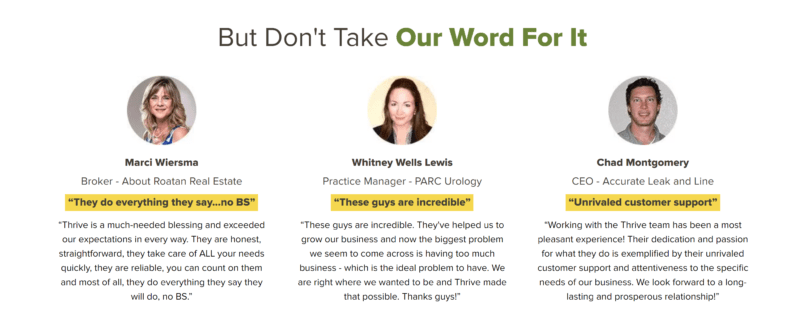 Add security badges
Social proof can convey that you're popular, but it doesn't convey that your website, or your service, is safe. This is the responsibility of security indicators.
Security indicators can come in several forms: Lock icons next to forms, privacy policy links, Better Business Bureau badges, and even antivirus software logos can help make your visitor feel safe completing lead generation form.
Showcase authority indicators
Social proof and security are powerful together, but authority indicators can be even more so. These are signals from governing bodies, peers, or organizations in the SEO industry that show you are an authoritative business in your field. This could be an award, a certification, or even a partner with a well-known brand. Here's a great example of authority indicators, again from Thrive:
Create high-quality gated content
According to HubSpot, 70% of marketers are actively investing in content marketing. The strategy drives traffic through blog posts, podcasts, social media, video, and more. But it can also help generate leads.
Gated content, like downloadable ebooks, tip sheets, templates, etc, can compel visitors to trade their personal information for valuable business advice.
Squeeze pages are landing pages that are great lead generators for light, top-of-funnel offers like newsletters and ebooks. They feature a valuable offer a very short form that includes only name and email (and sometimes just email).
Lead generation pages are for all your other offers. A state of the industry report, for example, is too valuable to give away in exchange for a simple email address. The more valuable your offer, the more contact information you can ask in return.
As for what kind of content to offer, here's a great graphic from Lucidchart on where they're most valuable in the buyer's journey.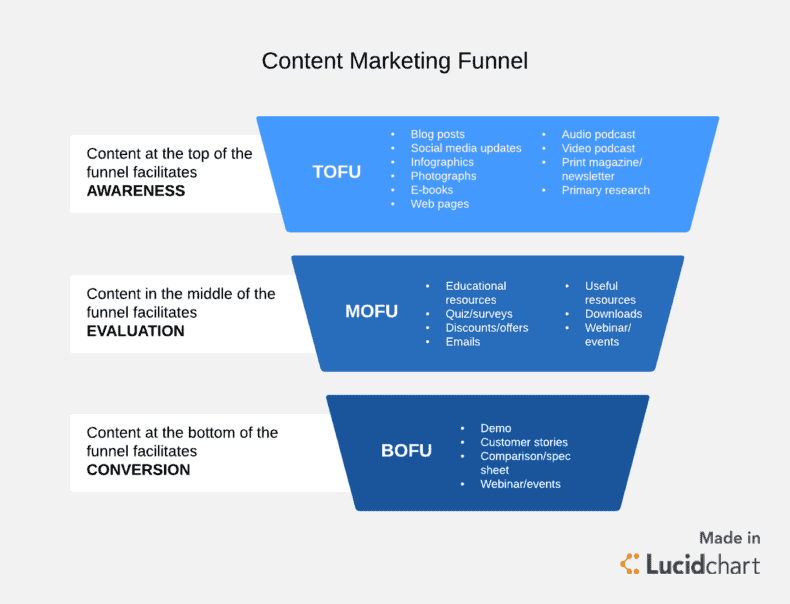 When combined with those two types of landing pages, newsletters, infographics, ebooks, and other content on SEO can be a major source of new leads for any SEO company.
Get an instant SEO audit
You can't generate maximum leads without steady organic traffic from Google search. Improve your SEO strategy by discovering what's wrong with your pages with an instant audit. You'll get grades on 40+ key SEO factors, plus an actionable list on how to fix your problems. Claim it free below. Or, schedule a consultation to see how intent SEO can boost traffic value by 700%.