Nearly 70% of all online activity starts with a search engine. That's why search engine optimization (SEO) is a fundamental digital marketing strategy for business websites that want to boost organic site traffic from search engines like Bing, Yahoo, and Google.
Whether you're an aspiring SEO consultant or a business owner who wants to drive growth, taking an SEO course is a worthwhile way to learn how to rank higher, drive more traffic, and generate more revenue from the billions of people using search engines daily.
At the same time, there are so many courses available that it's hard to know which are the most valuable. Today, we cut through the clutter to offer our take on where you should be looking to sharpen your SEO knowledge.
How we created this list
To create this list, we scoured search engine results pages and marketing blogs and also looked at ratings, reviews, and rankings. The resources we compiled all come highly rated, and they're established enough to remain relevant over time while progressive enough to update often.
To make things easier, we've indicated which tools are free and which are paid. We've also noted the pricing structure and target skill level for each paid resource. Resources 1-6 are SEO guides and resources 7-16 are SEO online courses.
1. MOZ – The Beginners Guide to SEO (Free)
Like its name suggests, the Moz "Beginners Guide to SEO" is designed for novice webmasters. Broken into eight chapters, it contains a key terms glossary, SEO 101 section, and explanation of search engine crawling and indexing.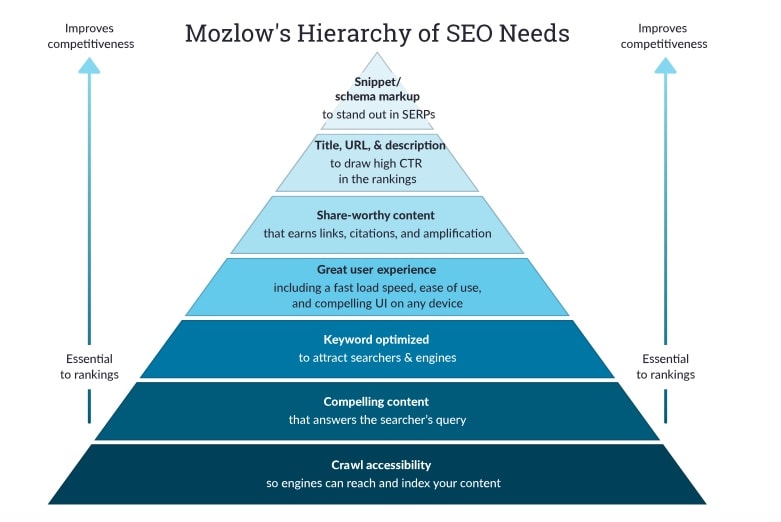 The guide's chapter on keyword research is particularly helpful for beginners. Its use of infographics makes it easy to follow and it covers the topic in detail. Plus, the key terms glossary is available on the top right of every page in case you forget what something means.
2. Search Engine Land – Guide to SEO (Free)
Search Engine Land's blog typically covers content for SEO experts and beginners alike. Its online Guide to SEO is no different. The guide is broken into nine chapters, each one focused on a different aspect of search engine optimization.
Some of the chapters cover basic topics like on and off-page SEO strategies, while others dive into deeper topics like search engine algorithms and how users think. If you want to tackle SEO one topic at a time, the structure of this guide will help.
3. Google – Search Engine Optimization Starter Guide (Free)
The Google Search Engine Optimization Starter Guide offers the ins and outs of how the Google search engine works, while providing approved best practices for optimizing content. Since Google is the web's most popular search engine, this is valuable to anyone who wants more visibility in search engines.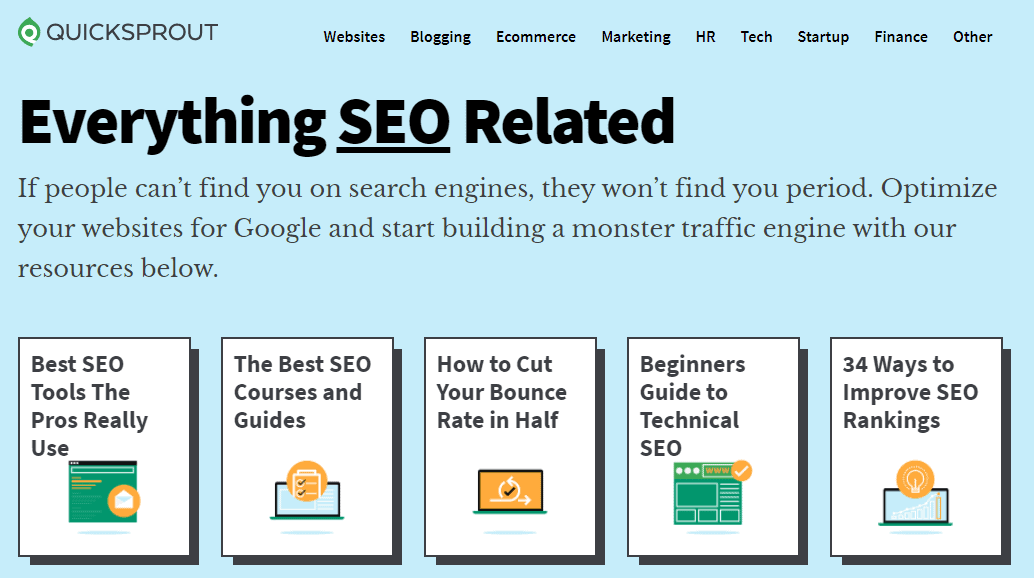 The guide is great for beginners, starting with key search engine terms, then going step-by-step into how to make your site more accessible to crawlers. For each topic, it gives you SEO mistakes to avoid. Plus, this guide links to helpful examples and tools like its Mobile-Friendly Test, and it's broken down into basic and advanced SEO tabs.
4. Shopify – The Beginner's Guide to Ecommerce SEO (Free)
The Beginner's Guide to Ecommerce SEO is a resource for anyone who wants to use SEO tactics to elevate their ecommerce sales performance. It shows you how to develop:
Ecommerce-friendly site structure
Optimized product descriptions
Amazon keywords and phrases
This is a good intermediate guide and provides helpful images, screenshots, and explanations to demonstrate how to complete the ecommerce strategies it covers.
5. Granwehr – The Complete Beginner's Guide to SEO (Free)
Our in-house beginners' guide to SEO provides an overview of how search engines work, what the three pillars of a successful SEO strategy are, and how to implement them. It covers topics like:
Descriptive HTML
Authoritative backlinks
Canonicalization
Schema markup
Black hat vs White hat SEO
And much more…
These strategies focus on producing high-quality content that boosts your organic search traffic. This guide is perfect for people just starting out who need background information about SEO and a simple place to start.
6. QuickSprout – Everything You Need to Know About SEO (Free)
QuickSprout is a digital business website that posts content on topics ranging from finance to tech. The website as a whole is divided into topics, but their SEO content is located under the "Marketing" tab.
The "Everything You Need to Know About SEO" guide is one web page of their compiled SEO content, and it has information on topics like using local SEO techniques and decreasing your bounce rate. This is a good resource for all skill levels, although with so many posts to choose from, it may be overwhelming to beginners.
7. Skillshare – SEO Today: Strategies to Earn Trust, Rank High, and Stand Out (Free)
Rand Fishkin is the co-founder of Moz, one of the leading SEO businesses in the industry. He put together an 11-lesson course on SEO best practices and it is on Skillshare, a professional development and learning platform.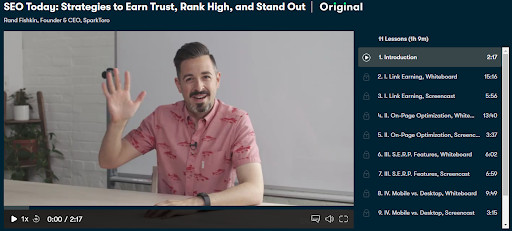 The course, titled "SEO Today: Strategies to Earn Trust, Rank High, and Stand Out" covers basic techniques like building backlinks and it is great for people with a foundational knowledge of SEO. It also looks at technical SEO tactics like mobile optimization and using schema markup to create rich snippets.
8. LinkedIn Learning – SEO Courses (Paid)
LinkedIn Learning (previously Lynda.com) offers more than 1,000 digital marketing or SEO courses on a wide range of topics and techniques. You can filter the courses by your experience level (beginner, intermediate, advanced), so there are resources for just about anyone.
These video courses can range from less than ten minutes to more than two hours and include titles like: "Local SEO," "SEO for Social Media," and "Code for SEO and Accessibility."
The LinkedIn Learning program costs $19.99/month and you can cancel it whenever you want. If you want to test it out, there is a 30-day free trial for any LinkedIn member.
9. Semrush Academy (Free)
Semrush is among the leading SEO tools used to boost organic traffic. The Semrush Academy is an extension of their optimization software and it provides courses on keyword research, link building tactics, and more. This program is best for webmasters who use Semrush software already, as many of the courses cover how to use Semrush tools.
All of the courses are free, you just have to register using an email address. Additionally, you can take Semrush SEO certification exams to put your digital marketing abilities to the test.
10. Reliablesoft – SEO Course Bundle (Paid)
Reliablesoft is a digital marketing agency that offers an SEO Course Bundle. There are four courses with more than 30 lessons to work through. The bundle includes the following:
Ecommerce SEO Course
Google Analytics Course
Keyword Research Course
The Complete SEO Course
It costs $180 but they often have sales where you can pay less than $100 if you're a Reliablesoft Student. Overall, the course appears to have lessons that tailor to both novice and skilled SEO levels.
11. HubSpot Academy (Free)
Unlike some of the other brands on this list, HubSpot is not solely dedicated to SEO. It is a content marketing and management, sales, and customer service software service.
As such, HubSpot Academy only offers a few SEO webinars, the most useful being a three-lesson course titled "SEO Training Course: Building Sustainable Traffic for Business Growth." It covers the basics of backlink building and HubSpot's own strategies for increased traffic. The courses on this platform are entirely free, and they're particularly useful for beginners with little SEO knowledge.
12. Yoast Academy (Free or Paid)
As one of the biggest names in search engine optimization, it's no surprise that Yoast also offers online marketing courses. The Yoast Academy platforms provides training on things like:
Effective SEO copywriting
Structured data
WordPress block editor
Blogging to satisfy user intent
International SEO techniques
You can access only some of the content for free, get the academy courses and the Yoast SEO premium plugin for $89/year, or purchase a bundle that includes the courses and all Yoast plugins for $199/year.
The free version is best for beginners, while the paid versions are better for intermediate or expert users.
13. ClickMinded – SEO Mini-Course (Free)
ClickMinded is an SEO company that was started by Tommy Griffith, the former SEO Manager for Paypal and Airbnb. It provides marketing support, materials, and frameworks for companies to simplify and streamline their SEO processes.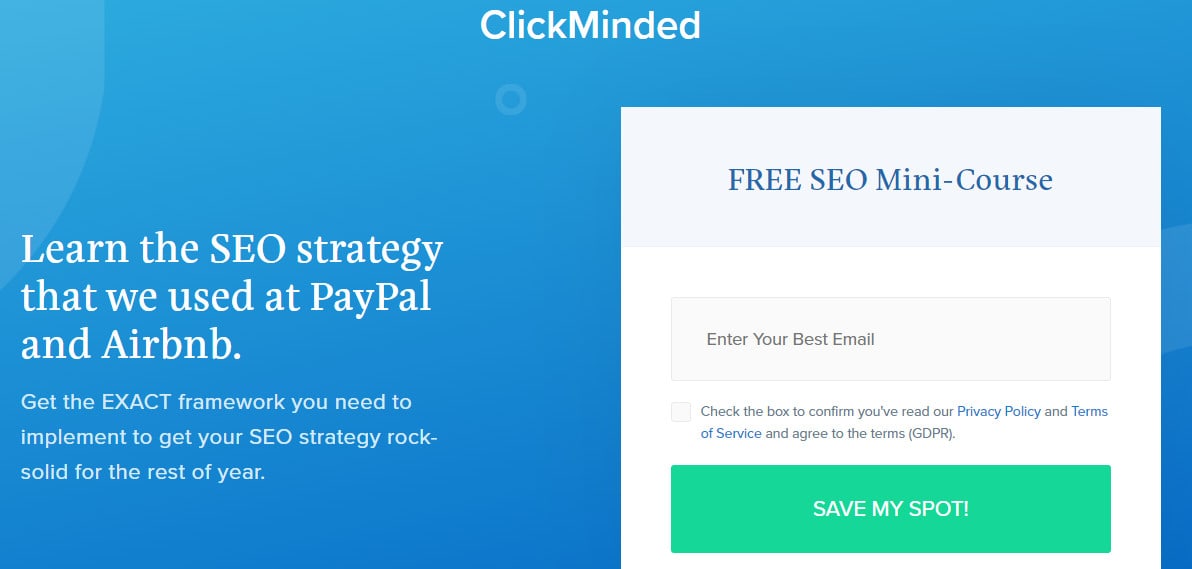 Their free SEO Mini-Course shares the SEO strategies that Griffith used to boost search traffic for former clients. This is a good beginner's resource for anyone who wants to see the impact of SEO through real-life case studies.
14. Udemy (Paid)
The online learning platform Udemy is an excellent resource for people who prefer video tutorials. Its thousands of SEO courses start at $11.99/each, and range from one hour to more than 17 hours long.
You can filter videos based on your SEO level, so there are courses for anyone. Much of the SEO content on Udemy is grouped in with digital marketing courses. This may be particularly appealing for professionals looking for higher-level strategy that goes beyond the techniques themselves.
15. The Blueprint Training (Paid)
Focused on helping SEO professionals scale their businesses, The Blueprint Training is a comprehensive resource platform for SEO agencies, freelancers, and consultants. It has been used by industry leaders like Moz, Ahrefs, Backlinko, and SEJ to improve their SEO services.
The Blueprint Training has free SEO templates and four courses available:
The Blueprint Goodie Bag – free
The Blueprint Framework – free
The Blueprint Training – $4,999
The Blueprint Platinum – $9,999
This resource is geared more towards intermediate to expert webmasters. To get full value out of The Blueprint Training paid courses, you'll want to have a more in-depth understanding of SEO techniques and strategies.
16. Coursera – Search Engine Optimization Specialization (Free or Paid)
Coursera is another online learning platform that offers courses to professionals, students, and businesses. Their "Search Engine Optimization (SEO) Specialization" course is free when you activate a 7-day free trial of the service. It is geared towards individuals with at least two years of business experience.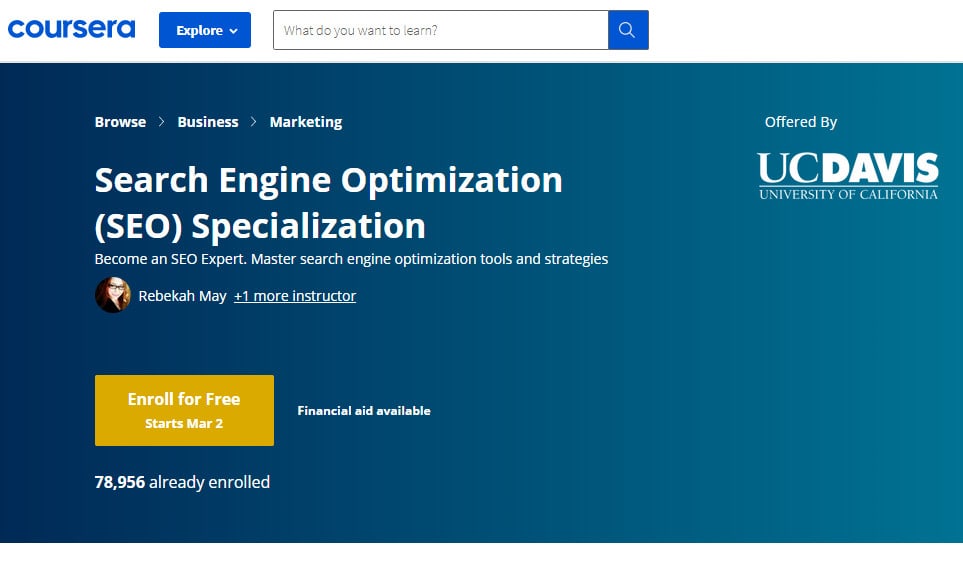 The course is offered by UC Davis: University of California and goes over fundamental SEO techniques. It also has lessons on connecting with influencers to build your audience. At a pace of 7 hours/week, it's estimated that the course takes five months to complete. You also earn a certificate of completion from UC Davis when finished.
Get a complimentary SEO audit
Becoming an SEO pro requires putting in extra learning hours to truly understand the ins and outs of how search engines categorize and index website content. Not only that, but it also involves learning how to apply that knowledge to your own brand.
These SEO courses and guides offer simple but comprehensive lessons that can push your knowledge to the next level. How much will that knowledge grow your business? That part is up to you.
Want to find out how you're doing with SEO? Get an instant SEO audit below. Or, schedule a free consultation to see how intent SEO can boost search traffic revenue by 700%.