Choosing a content management system (CMS) is a major step in building your online presence. And since 68% of online experiences begin with a search engine, it's important website owners factor in SEO-friendliness when they're picking a CMS.
Ghost is a CMS that's advertised as the simple alternative to WordPress. But does it come with the same SEO-friendliness you get on a WordPress site that's packed with SEO plugins? Can Ghost SEO compare to WordPress SEO? Today we explore…
What is Ghost?
Ghost is a content management system designed for bloggers. It's unique because it focuses more on the content publishing experience than the broad website building experience that competitors provide.
Many well-known brands power their websites with Ghost, including:
Duolingo
Tinder
The Stanford Review
Codecademy
Unsplash
Mozilla
While Ghost allows the creation of custom themes, it also has many pre-made Ghost themes and templates available, too. The ghost.org website describes its service as "creating the future of independent publishing."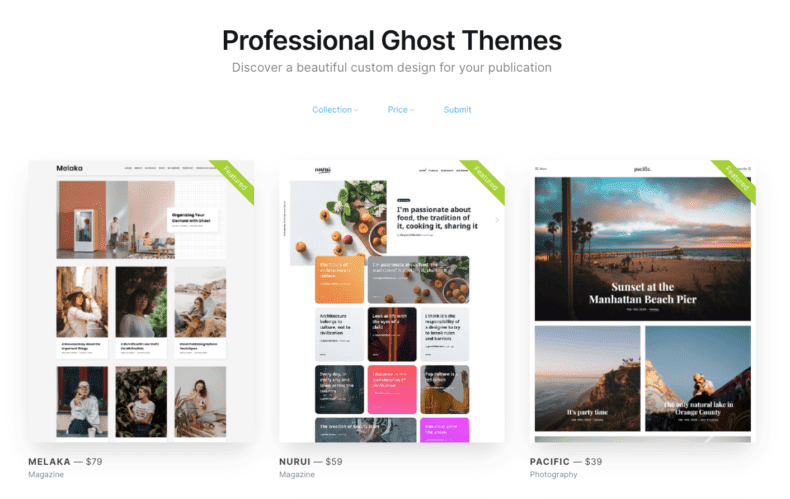 However, choosing Ghost as a platform to host your blog doesn't mean the content you post is going to be automatically optimized for search engine users. For that, you'll need Ghost SEO.
What is Ghost SEO?
Ghost SEO is a digital marketing strategy that is designed to bring more organic traffic to Ghost websites. SEO does this by improving the content, code, and other elements like images on your website, so that search engines like Google, Bing, and Yahoo will list it higher on their results pages.
A higher position, or "ranking," on search engine results pages (SERPs) is important because it allows more people to see your web pages as they search for information. Some of the SEO tactics that comprise Ghost SEO are:
Use of meta titles and meta descriptions
XML sitemaps
Site speed optimization
Rich text editing features to improve engagement with subscribers
Both large and small businesses can benefit from Ghost SEO features, as they are intended to streamline the optimization process without overwhelming users with plugins and extra tools.
Is Ghost SEO-friendly? Pros and cons
Often considered ready to use out of the box, Ghost's search engine optimization functionality comes from its built-in SEO features. These include:
Automatic XML sitemap creation
URL optimization
FB Open Graph tags
Google AMP support
Auto-generated canonical tags
Built-in SEO features like these save you time from finding and installing third-party plugins. Although you'll still need some basic coding knowledge to complete back-end SEO tasks, Ghost's interface makes it easy to navigate.
Speed is another advantage to Ghost. And since page speed is an official ranking factor, this isn't a feature to take lightly. Ghost has been found in some cases to work 19 times faster than WordPress, which is likely due to the fact that it runs on node.js technology and has the flexibility of a headless CMS.
Of course, Ghost does have some downsides to consider. In an article called "3 Key SEO Features I'd Like to See On Ghost," Jeremy Chevallier presents a few potential problems for Ghost SEO practitioners. His top three Ghost issues are:
No customization for canonical URLs
Duplicate H1/title tags
No custom alt text capabilities
While it does have built-in SEO features, Ghost only has three SEO integration options: Twitter, Facebook, and Google AMP. You can use the custom feature to create your own API integrations or to add any tools that have clientside embed or front-end integration capabilities. This typically works for any tools that use CSS, JavaScript, or HTML scripting language.
Although building these integrations will help you optimize metadata, this is an overall downside if you don't want to spend the time building a digital toolbelt to customize all the various aspects of your website.
Overall, Ghost's SEO tools are comprehensive enough for basic optimization, but they are less extensive than some of its competitors. This shouldn't pose an issue for bloggers who need a simple website that runs quickly. If your goal is more advanced optimizations, Ghost may not be the platform for you.
WordPress vs Ghost
Ghost describes itself as the "simple, modern WordPress alternative." So what exactly makes it different from the web's most popular CMS? Before we cover that, let's start with what's the same.
WordPress and Ghost are both open-source platforms compatible with third-party hosting providers. They also both offer their own in-house hosting services for an extra fee. The in-house hosting services for WordPress can be found at WordPress.com, not WordPress.org (the main free version of the CMS). The hosting service is incorporated into Ghost's pricing structure. The cheapest pricing options for both platforms fall right around $30/month.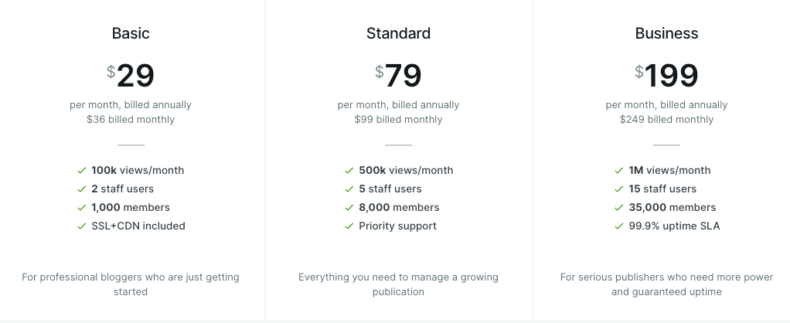 As for differences, the most obvious between these two platforms is that Ghost is a blogging platform while WordPress can accommodate many other types of websites, from blogs to ecommerce stores. As such, they have different approaches to editing.
The Ghost platform has a Markdown editor that allows you to use keyboard shortcuts for a blogger's quick edits. It also provides a user-friendly interface for developing rich content, which comes in many forms, including: optimized images, eye-catching descriptions on SERPs, and more.
WordPress features a WYSIWYG (What You See is What You Get) editor that is easy to use for most creators. While the interface for this editor is intuitive, it requires added plugins to truly perform to its potential, and some bloggers say content edited with WYSIWYG results in formatting issues in HTML.
From a technical standpoint, WordPress utilizes PHP code while Ghost uses node.js Javascript code. While WordPress plugins are what usually allows content creators to achieve SEO results, Ghost users typically rely on the built-in SEO features. Both platforms are easier to use with the help of SEO tutorials, step-by-step guides, or other third party SEO tools. For a quick look at the similarities and differences between the two platforms, the team at Geekinsta has put together a handy infographic: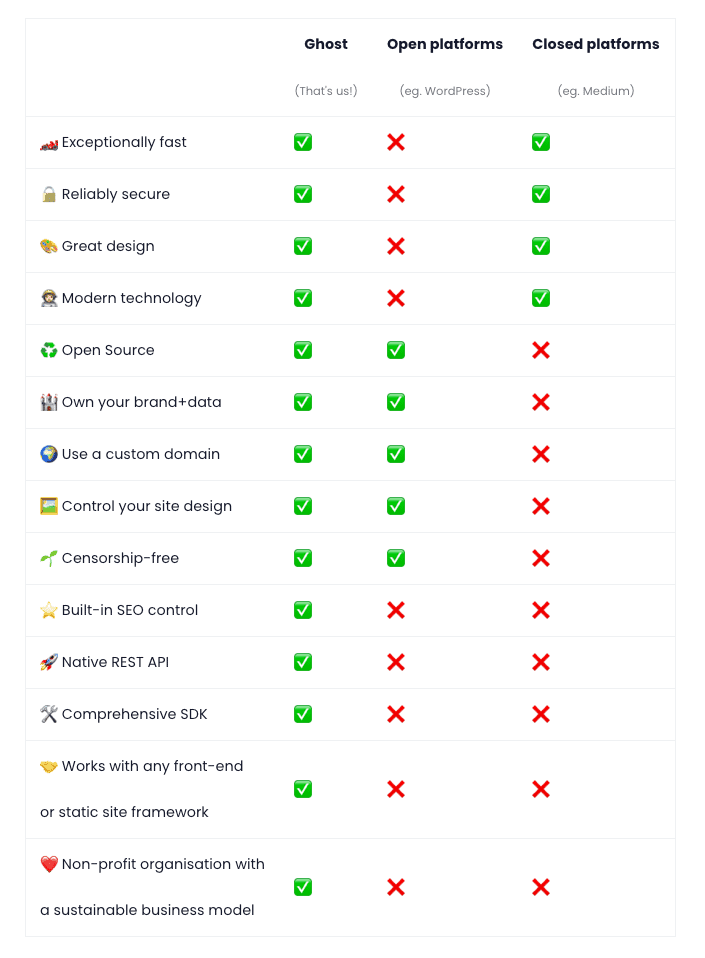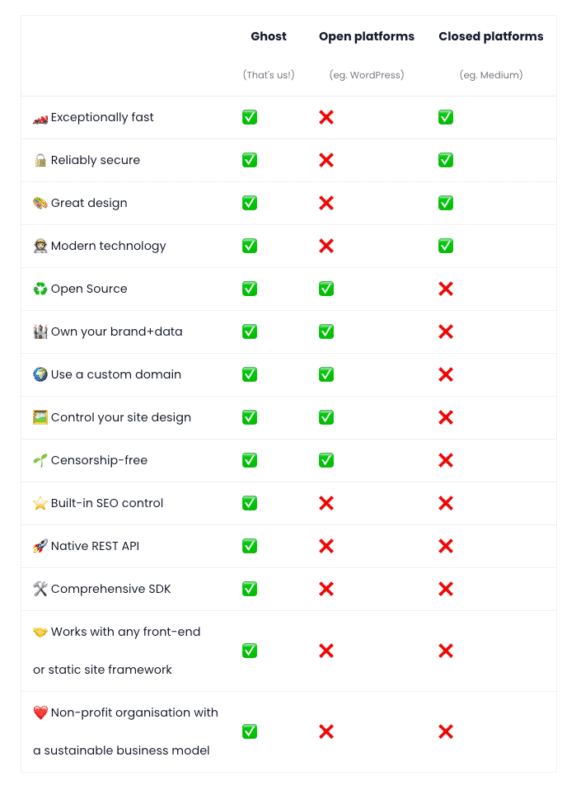 Get a complimentary Ghost SEO audit
All in all, Ghost is a clean, appealing platform for anyone who works in publishing and whose primary focuses are the quality of their written content, social sharing capabilities, and audience engagement. Ghost's SEO capabilities are sufficient for content publishing, but they might not be holistic enough for anyone running an ecommerce site or looking for advanced features.
A successful SEO strategy depends on a balance of valuable content, descriptive code that is easy for search engines to index, and detailed data on everything from images to customer ratings. If you're overwhelmed by design options or features and simply want to publish high-quality written content that incorporates the most pressing SEO tactics, Ghost is a great option.
Want to find out how you're doing in all areas of Ghost SEO? Get an instant SEO audit below. Or, schedule a free consultation to see how intent SEO can boost search traffic revenue by 700%.