Since Facebook is the 3rd most visited website globally with 2.74 billion active monthly users, Facebook SEO (search engine optimization) isn't something marketers can ignore.
Not only is it a massive social media platform with the potential to reach a huge audience, but it also correlates with search rankings.
In fact, a study by Moz found that Facebook comments, likes, and shares had a significant positive correlation with search rankings — more than other social media sites, including LinkedIn, Twitter, and Pinterest: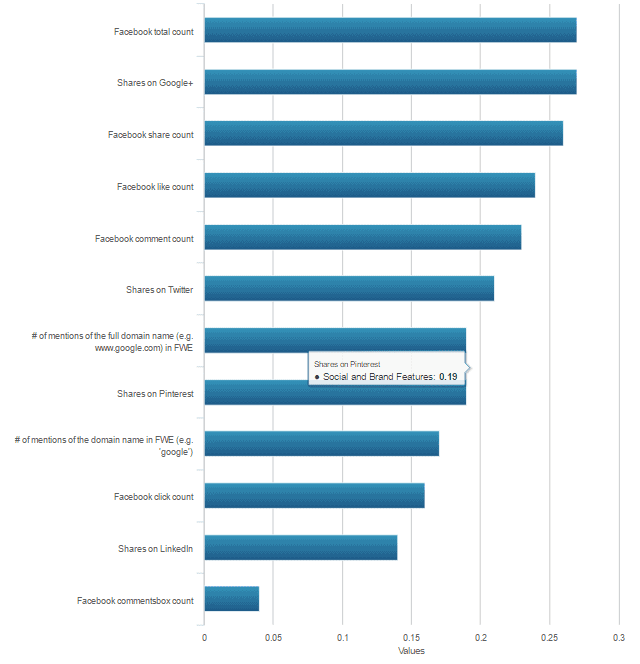 Here's how to build an SEO strategy around Facebook that has the potential to boost your search engine rankings.
What is Facebook SEO?
Facebook SEO can refer to optimizing your posts in Facebook search or using Facebook to boost your search traffic on Google search and other search engines.
Facebook SEO is all about visibility. It's about getting your content in front of more people so they will be more likely to visit your website and link to your content. The more that happens, the more likely you are to earn new customers and grow as a business.
Google searches rarely progress past the first search engine results page (SERP). If you want to show at the top of the first page of SERPs — in those coveted high-traffic spots — you an SEO strategy that takes your social media marketing strategy.
Is SEO still relevant in 2021?
SEO is absolutely still relevant in 2021. In fact, it's possibly more relevant now than ever.
Research shows that organic search is among the dominant methods of traffic generation — 53% of traffic to websites comes from organic search, and 83% of traffic from search engines alone (Google and Bing) comes from SEO (as opposed to paid search).
SEO is worth the investment (in one study, the ROI of SEO was over 200%), which is why marketers need to use every tool in their digital marketing toolbox to boost SEO, including social media.
Does Facebook help SEO?
Facebook both directly and indirectly helps with SEO.
First, it's important to understand what social signals are. Social signals are ranking signals for the Facebook algorithm, including likes, comments, shares, and views that refer to a specific webpage (or just to the Facebook post itself).
Essentially, they measure how Facebook users are engaging with a post (and, when applicable, an associated website page that the Facebook post links to).
Bing uses social signals as a ranking factor, but Google doesn't. Bing says that "Content that is popular and frequently shared on social media may rank better on Bing."
Google claims that social signals aren't a ranking factor, and while this may be true, social signals provide alternative methods of boosting SEO.
When you share a Facebook post, it does several things for SEO:
Gets your content in front of people who might share it (and thus get your web page and your brand more visibility, which in turn can lead them to visit your website and potentially make a purchase).
Increases the likelihood that those people will link to that content from their website (and thus get you backlinks).
Creates the opportunity for those people to click the link (and thus increase website traffic and click-through rates).
Make it more likely to engage with your content because they see it as a legitimate source (and therefore decrease the bounce rate and increase dwell time).
Points 2–4 are well-known ranking signals. Getting backlinks is perhaps the biggest potential benefit of sharing your content on social media, as it's the second-largest ranking factor behind high-quality content.
Another study found that when social media was the only source of promotion, one blog post they tested could get links just from social shares, and another blog post was able to get additional organic traffic despite the referral traffic from social media dying down.
To make the most of these potential benefits, it's important to understand how the Facebook algorithm works.
How does the Facebook algorithm work?
The Facebook algorithm is actually "multiple layers of machine learning models and rankings." Its goal is to provide the most relevant, useful, valuable content to users (rather than doing what it used to do, which was to present all content in order of posting time).
Given this, the algorithm uses ranking signals, including likes, shares, comments, view time, and time posted (among other signals), to determine the best content to show to each user at the appropriate time, taking into account the content they've interacted with in the past.
Here's a visualization of how it works: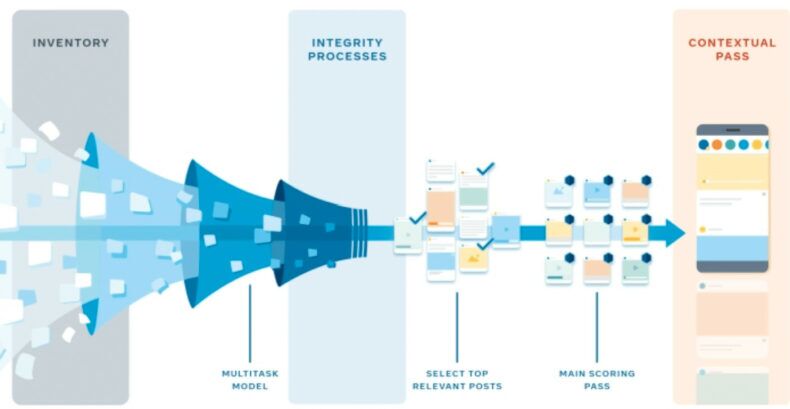 Facebook uses those ranking signals to score those posts and decide which posts are of the highest value to each specific user and then organizes those posts to (hopefully) increase engagement.
Facebook SEO tips for 2021
Because organic Facebook posts have an incredibly low reach (5.2%) and even lower engagement rate (0.25%), it's critical that you understand how to make the most of your Facebook page. Here are some SEO tips to help you rise above the average.
Build cross-promotional relationships
The most valuable aspect of social media is its ability to build relationships, especially with influencers in your industry. These relationships can lead to cross-promotion, which can then lead to more visibility and even relationships you can use for link building.
Many managers of Facebook business pages forget that this is the main benefit of social media, and it's often the case that when Facebook marketing fails, it's because businesses are too focused on putting out what are essentially organic ads.
If you instead use Facebook to build relationships with other businesses, you have the chance to get your content in front of their audience (and vice versa).
Further, it can augment your content marketing efforts. You might get these businesses to exchange guest blog posts with you, which can help you get high-quality content on your website and lead to an exchange of backlinks.
Remember, backlinks are the second most important Google search ranking signal behind high-quality content, so any chance for you to get both free content (in most cases) from another business and backlinks is a chance you need to take.
Create backlink opportunities by amplifying website content
Social media can help you promote your new content. The more people who see your content, the higher the chance that they will interact. And one of those valuable possible interactions is that they might see your content, find it useful for their own audience, and then link to it from their website.
Backlinks can be difficult to generate, so any backlink strategies you can come up with are worth investing your time in.
Certainly, backlinks can come naturally, especially if you have high-quality content, but high-quality content by itself will take time to show up on search, and it might not show up in front of the right people.
That's why Facebook is such a useful tool for content amplification. It gives you the chance to get your content in the newsfeeds of the right people, and you can even use Facebook messenger to send it directly to people you think might be interested.
Of course, if you're going to send direct messages to other brands, you should probably have existing relationships with them (which means interacting with their content and maybe even linking to their content in yours).
If you're giving them backlinks and forming relationships with them on social media, there's a greater chance they'll reciprocate.
Optimize your FB page for local search
Local SEO is a critical component of SEO for most small businesses (brick-and-mortar and otherwise).
If you want people to be able to find your business (and importantly, to leave reviews), then you need to have your Google My Business page set up in addition to your Facebook business page.
Setting them up means filling out critical information, like business hours, location, website address, phone number, and even a call to action (CTA), like "call now."
This gives Google another data point to confirm that your business is a real business and that all the data you've put into Google My Business is accurate.
This data point is a citation, which is just an instance of your business' name, address, and phone number (NAP) showing up on the web.
It's important that your business' NAP is identical across the web so that search engines can confirm your business' critical information from outside sources (not just Facebook, but other directories, like Yelp). NAP consistency is a local search ranking factor.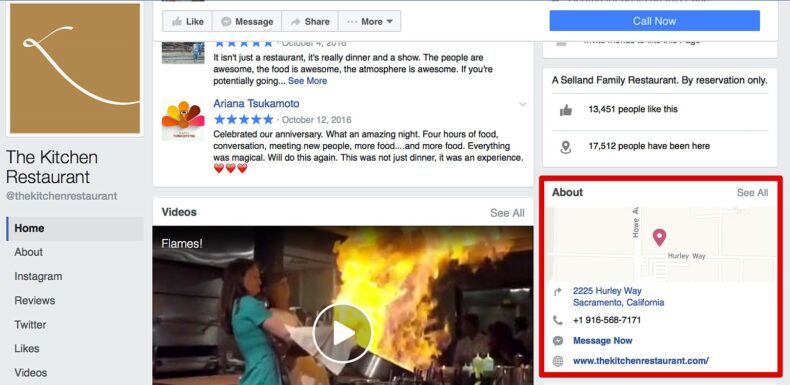 Remember, Facebook is the third largest website in the world. People use it as a search engine because it is a search engine. Potential customers aren't just using Google or Bing to find info about local businesses — they're using Facebook too.
It's also important to note that Facebook reviews can show up with Google reviews. Because reviews are the second most important ranking factor for local SEO on Google (behind setting up your Google My Business page), getting as many reviews as you can is important.
That being said, Facebook reviews don't "count" toward the number of Google reviews you have, but because they can show up on search, they can entice users to make a purchase decision.
84% of people trust reviews as much as they trust the recommendations of a friend, so any opportunity to get positive reviews is worth your time.
Optimize your page URL
When you create a page on Facebook, you don't have to accept the automatically generated URL that Facebook gives you. Instead, you can claim what's called a "vanity URL," which is just a custom URL on Facebook.
This is a great place to put in your brand's name and possibly a short keyword phrase. It's best if you have a page name that includes a keyword phrase, a name like "WOW Windows and Glass."
Your vanity URL then has the potential to draw in traffic from people looking for window and glass companies, and it also includes the branded name so that people searching for a specific company will find it. What's more, it gives the impression of a more professional operation.
Take advantage of Facebook Ads Manager
Facebook Ads Manager is a powerful tool that you can use to reach your target audience.
First, it can help you find relevant keywords that you can use in your Facebook posts.
Finding keywords
Just like in most forms of keyword research, you need to start with a seed keyword.
Then, you'll want to navigate through the ads manager to the interests section and plug in the keyword.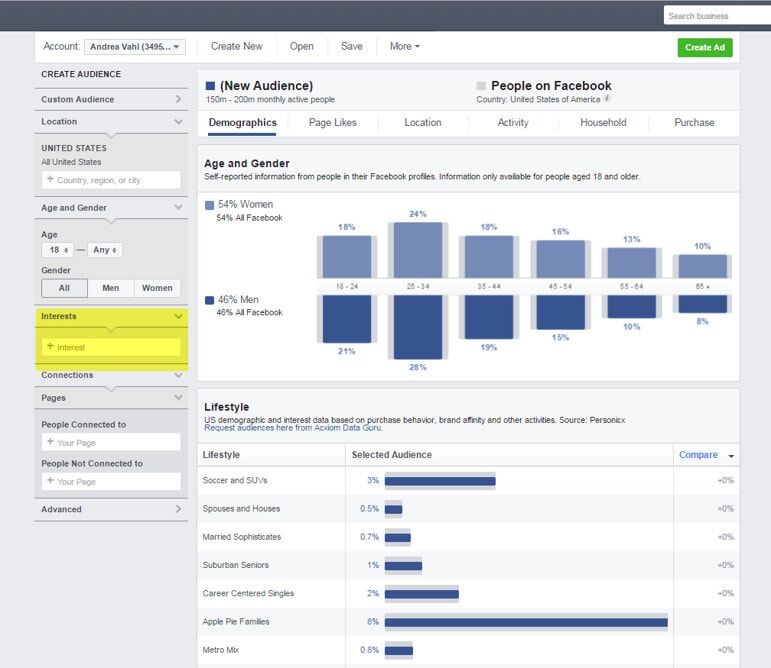 Once you've done that, you can check out the page likes section to see what interests pop up. You can then use that info to potentially come up with new keywords to target.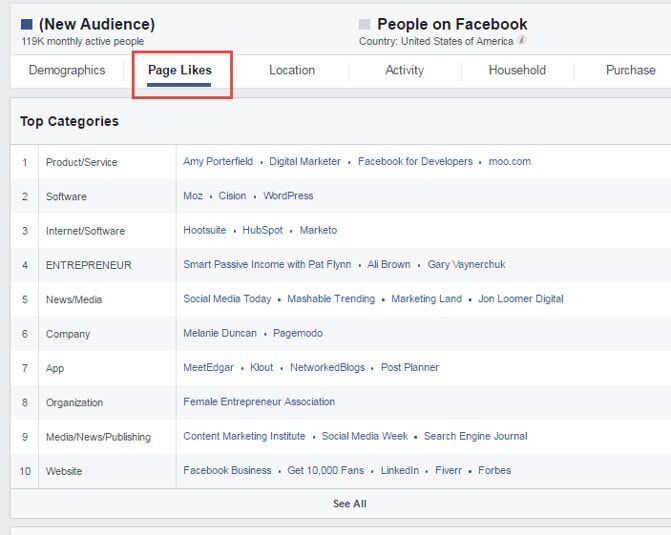 You can do the same thing in the Facebook Ad Audience area, plugging in keywords in the "detailed targeting" section to see what suggestions Facebook makes.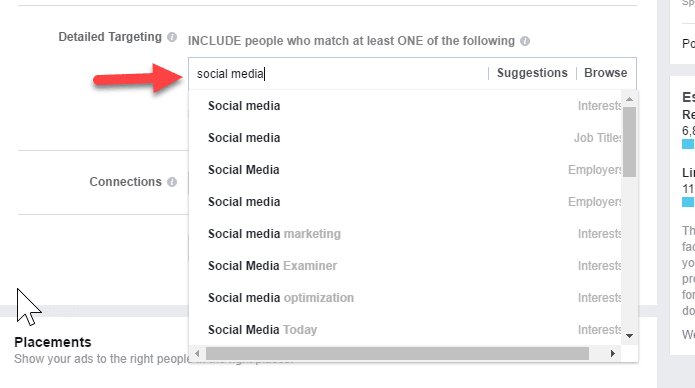 Once you have a list of keywords, you can use them in your organic posts and your Facebook ads.
Keywords are important because Facebook allows users to search via keywords. They can come across your posts, images, videos, and other content by using keyword search. Facebook has over 1.5 billion searches a day, so optimizing your posts with keywords is worth your time.
Though Facebook ads aren't going to help with SEO, they can still be a valuable way to supplement your organic marketing efforts.
Audience research
When creating organic posts on any social network — not just Facebook — it's important to know your audience. You can do audience research with the Facebook Ads Manager too.
Start by looking at the Insights tab. The Insights tab tells you about your page's audiences and your followers, giving you various metrics to inspect, like location, age, sex, and more.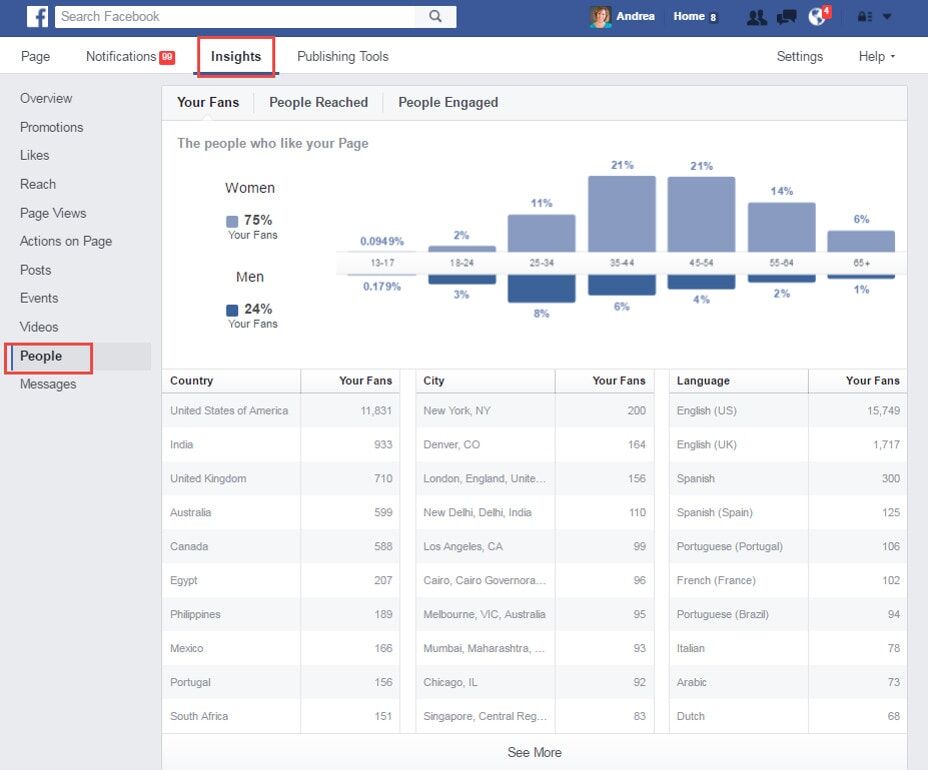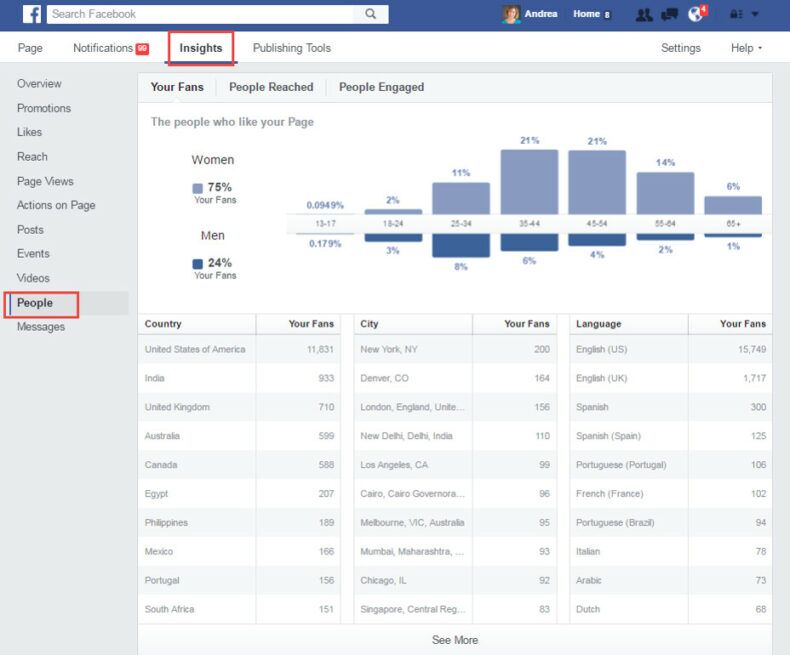 You can then check out the Audience Insights tool, plug in a keyword, and see detailed information, like demographics, psychographics, lifestyle info, and more.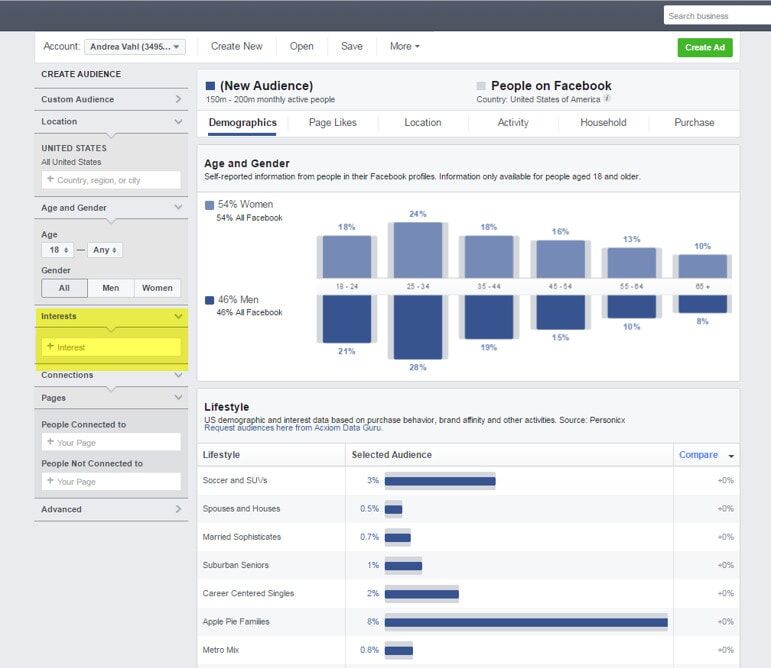 Competitor research
It's also possible to learn more about the fans of another page so that you can create organic Facebook posts that will resonate with them. Again, using detailed targeting, you can find brand names (usually listed as an interest).
In the image, Social Media Examiner is a brand that you can examine to see who their fans are, their interests, activities, geographic information, etc.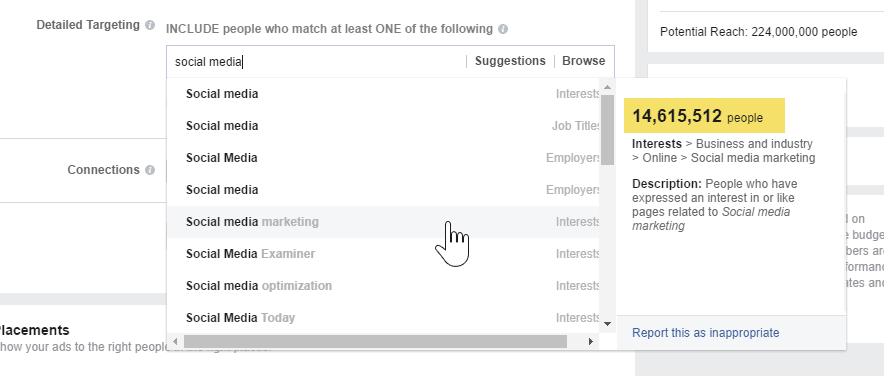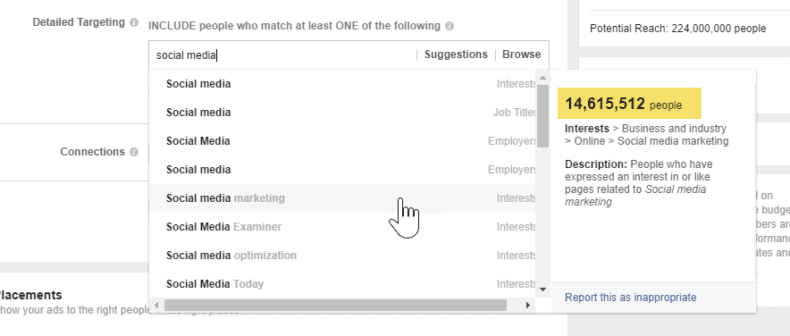 Other methods of using Facebook for competitive research include simply going to a competitor's page and researching certain aspects of it.
Look at things like their cover photo, their followers, and more. You can see what kind of posts they make, what posts are getting the most likes, comments, and shares, and use that info to come up with your own content that might resonate with your audience.
Use keywords in your posts
Now that you have a list of keywords, it's time to put them to work.
First, use keywords in your "about" description. The goal is to attract relevant visitors to your Facebook page who will then want to click through to your website.
Then, use the keywords in your organic posts. You want to avoid being spammy as much as possible, so be careful of keyword stuffing.
Use your keyword in the first 18 characters of your post (if possible) because Google uses this as a meta description when a Facebook posts appear in a Google SERP. Google also prefers that the keyword show up as the first word in the post.
However, this is only relevant for longer Facebook posts. If you have a very short Facebook post, one use of the keyword should be sufficient.
Optimize your "About" description
Your "about" description is important because, as mentioned earlier, it's where you put critical information like your business hours, price ranges, contact info, and more. It's how people learn how to contact you, visit your storefront, etc.
However, it's also a place where you can put in keywords to attract people looking for your products and services. In the "more info" section, you can put in keywords and information about your brand's offerings.
Use keywords here but avoid making the section spammy. Just like you wouldn't make your page title "Windows, Glass Repair, Glass Cutting, Window Washing," you also don't want to stuff a bunch of keywords into your about section. It can make your brand appear unprofessional and untrustworthy.
Ensure you are using a business account
This might sound like it should go without saying, but there are differences between personal accounts and business accounts that are important to note:
Using a personal profile for business or commercial services violates Facebook's terms of service (TOS).
It will annoy your friends. No one wants to be friends with someone who is constantly trying to sell them things, so not only is it going to lead to lost friends, but it's also going to hurt your business because you'll come off as spammy.
You can have all the business accounts you want while you're only able to (or at least supposed to) have a single personal account. It makes managing each business easier. This is especially important if you have several brick-and-mortar locations — you can give each location's manager access to their own business page.
You can have multiple people managing a business page, so if you have a social media manager and a marketing manager, they can both have access and post on the page.
Without a business account, you don't get access to all the great tools that Facebook offers, like Events and Appointments or Insights (analytics).
Business accounts give you a place to put your NAP information and gives your customers a place to leave you reviews.
Make your content as engaging as possible
When Facebook decides how to rank a post, it looks at engagement. Facebook wants its users to be as engaged as possible on the platform and to maximize that engagement. It prioritizes posts that produce likes, comments, and shares.
That means your posts need to be as engaging as possible. Additionally, the more engagement you get on a Facebook post, the more that post (and associated links) will get clicks and visits to your website.
It might even bring in some backlinks if it gets a wide enough reach to get in front of the right people.
Producing engagement requires a strategy. How will you compel your visitors to interact with your content?
Maybe you want to ask your audience questions — question posts get 100% more comments than standard text-based posts.
Maybe you'll want to share an image — images account for 93% of the most engaging posts on Facebook.
Maybe you'll want to write a short post (below 250 characters) as they get 23% more interaction.
It all depends on your audience. Figure out what will engage them most and then post that kind of content.
Include a call-to-action (CTA) on your posts
Calls to action get people to dive deeper into your content. They'll drive people from your post to a form, your website, or key landing pages. They're valuable to include whenever relevant.
In organic Facebook posts, a call-to-action will differ a lot depending on the type of post and the goal of what you're posting.
A good rule to follow in all social media organic posting is the 80/20 rule — 80% of your posts should be an attempt to engage with your audience, and 20% should be about products or services.
Therefore, many of your posts' calls to action might be "read more" and point to a blog post that's informative and isn't selling anything.
On the other hand, if all you're posting is a funny meme or a video, you might not have a call to action at all. The goal of those posts is usually pure engagement, so you don't want them to go any further.
If you're sharing explicitly about a product or a service (for example, you might share a coupon for a product on your website), your call to action should be for the reader to learn more by clicking on a link that leads to a product/service page.
Get a complimentary SEO audit
Facebook SEO is a powerful tool in any SEOs' toolbox. When the competition for reaching the first page on Google is fierce, anything you can do to get an edge on your competitors is worth your time.
Plus, social media marketing is a powerful tool in and of itself. If you invest in Facebook (and other social media platforms like Pinterest), your SEO efforts will be augmented, your traffic will increase, and your products/services will get more visibility.
Want to see how you're doing with SEO? Get an instant SEO audit below. Or, schedule a free consultation to see how intent SEO can boost search traffic revenue by 700%.