Each year, more than $65 billion is spent on search engine optimization (SEO). And as the biggest individual spenders on the tactic, enterprise businesses need to ensure their budget is used effectively. Enterprise SEO platforms help these businesses generate maximum ROI from their digital marketing efforts.
After all, organic search accounts for more than 50% of all website traffic and has the potential to generate more than 40% of a company's revenue. From backlink analysis to keyword research and more, today we count down the top enterprise SEO tools as rated by customers and industry review websites.
What is enterprise SEO?
Enterprise SEO is search engine optimization that takes place at the level of enterprise companies (so not at the level of a small or medium-sized business).
A small business has fewer than 100 employees and makes less than $10 million a year. It likely has a single marketer or SEO on board (if they don't outsource their SEO completely).
A small- to medium-sized enterprise has between 101–500 employees and makes between $10 million and $1 billion a year. It might have a small SEO team but likely just has a small marketing team with maybe a single SEO on board.
A large enterprise usually has more than 500 employees and over $1 billion in revenue a year, likely has a large marketing team and an SEO team, and has many stakeholders invested in the success of all SEO efforts.
What defines enterprise SEO is size — not just the size of the company that's engaging in SEO, but the amount of money that's being invested in SEO and the scope of that company's SEO efforts.
An enterprise marketing team is going to be competing at a high level in the search engine optimization market. They're spending a great amount of money on SEO.
These team members have already captured all the low-hanging fruit and are working hard to beat out the competition on the most competitive keywords — short-tail keywords are worth their time to compete for, unlike many small businesses.
They're trying to optimize metrics and KPIs across the board, studying Google's algorithms using tools like Google Analytics and Google Search Console to create high-quality content that moves the needle, often in minute amounts, because these small improvements across thousands or millions of pages can mean big gains in revenue.
Essentially, enterprise SEO is when a large enterprise dedicates significant budget to a wide-ranging content strategy/SEO campaign that's a part of a larger marketing strategy to generate as much organic traffic to their website as possible.
What capabilities does an enterprise SEO platform need?
What makes enterprise SEO software different from other types of SEO tools is that they cover as many aspects of SEO as possible, including on-page SEO, off-page SEO, and technical SEO.
The best enterprise SEO solutions include many different tools and give you access to a massive amount of SEO data, covering all your SEO needs in a single piece of software. For example, you might find the following tools in a high-quality enterprise SEO platform:
Keyword research tools (including search volume, real-time rank tracking, and search ranking difficulty)
Pay-per-click (PPC) analysis tools
Site audit tools (especially tools that allow auditing of multiple websites and use a crawler to examine internal links)
Search engine results page (SERP) analysis tools
Forecasting functionality
Automation tools
API integrations
Essentially, a good enterprise SEO platform is going to give you widespread, actionable insights that you can use to guide your content marketing/SEO strategies. And it's going to allow you to scale those strategies in a way that SEO software for small to medium-sized businesses cannot.
The 10 best enterprise SEO platforms
While there are many different enterprise SEO platforms out there, these are considered the top 10 (ranked by customer feedback and review sites) that will provide you the best user experience while giving you access to all the tools you need to achieve your SEO goals.
Conductor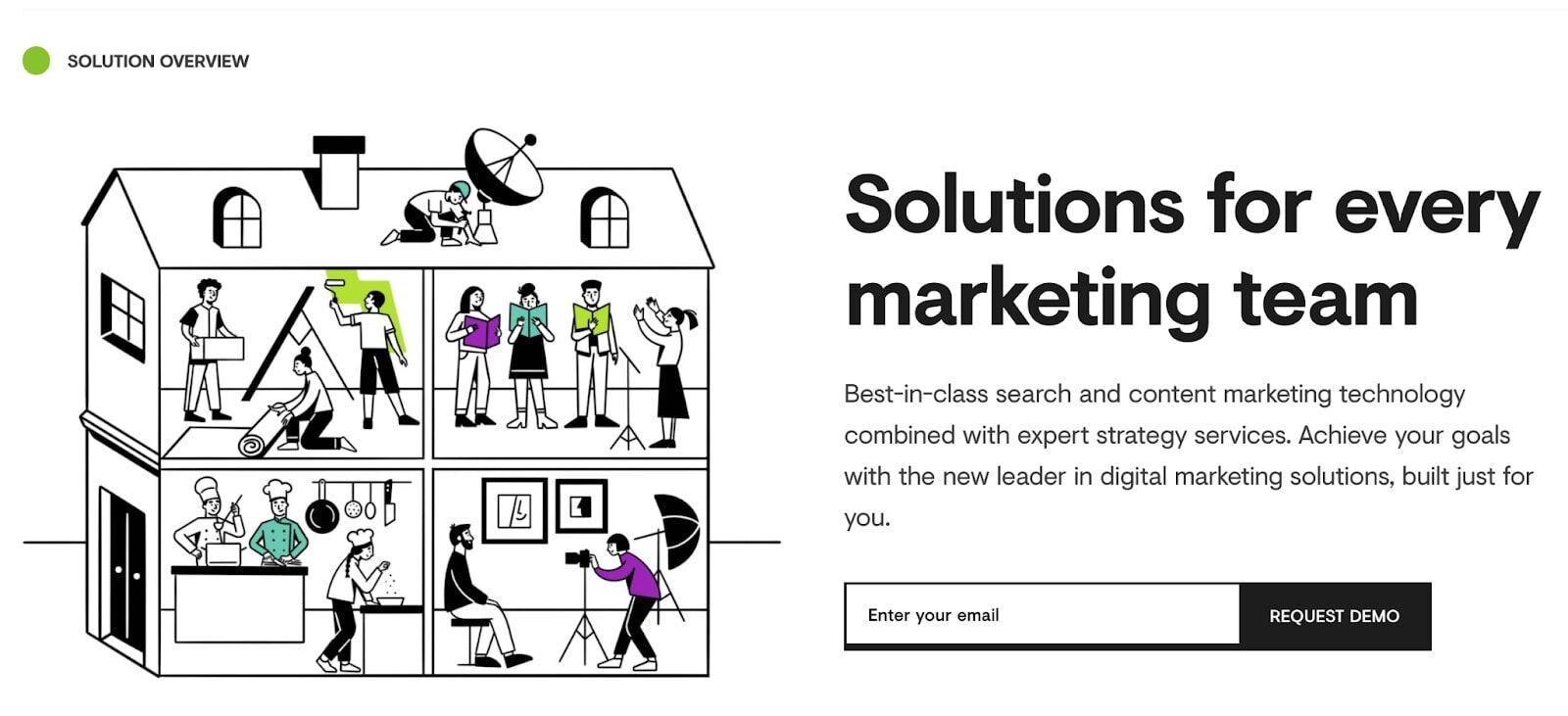 Conductor bills itself as the leading organic marketing platform around and is trusted by numerous enterprises, including GoDaddy, VISA, and Samsung.
It has numerous SEO features, including the following:
Keyword research tool
Audience insights and sentiment tool
Brand tracking tool
Site health auditing tool
Competitor investigation tool
New-market analysis tool
Content brief creation tool
Content optimization tool
Workflow integrations
Performance tracking
To make the most out of Conductor, like most SEO enterprises, you'll need an SEO team of veterans who know exactly what's necessary to move the needle. You won't be able to jump into this software if you don't have knowledge of advanced SEO strategies.
Pricing is not available upfront. To learn more about the platform, request a demo or get a free enterprise SEO assessment.
Siteimprove
Siteimprove is more than just an SEO platform — it bills itself as a growth platform that's focused on helping your enterprise manage all aspects of its digital presence.
Siteimprove is trusted by major organizations, like the city of Phoenix, AZ and Harvard Extension School.
One of the best features of Siteimprove is that it integrates with just about anything you can imagine, from your content management system (CMS) to your project management software, and more.
These integrations are critical for large organizations that suffer when processes aren't streamlined.
Siteimprove has the following SEO features:
SEO integrations to streamline workflows
Dashboards that measure SEO health in easy-to-understand scores
On-page diagnostics, with over 70 aspects of on-page SEO evaluated
Duplicate content finder that focuses on similar content clusters to help you eliminate self-competing content
Keyword insights tool
Content optimization tools that help you map keywords into the proper spots in your content and monitor the progress of your most important web pages over time
Pricing is not available on the website, but you can request a quote or a demo.
Botify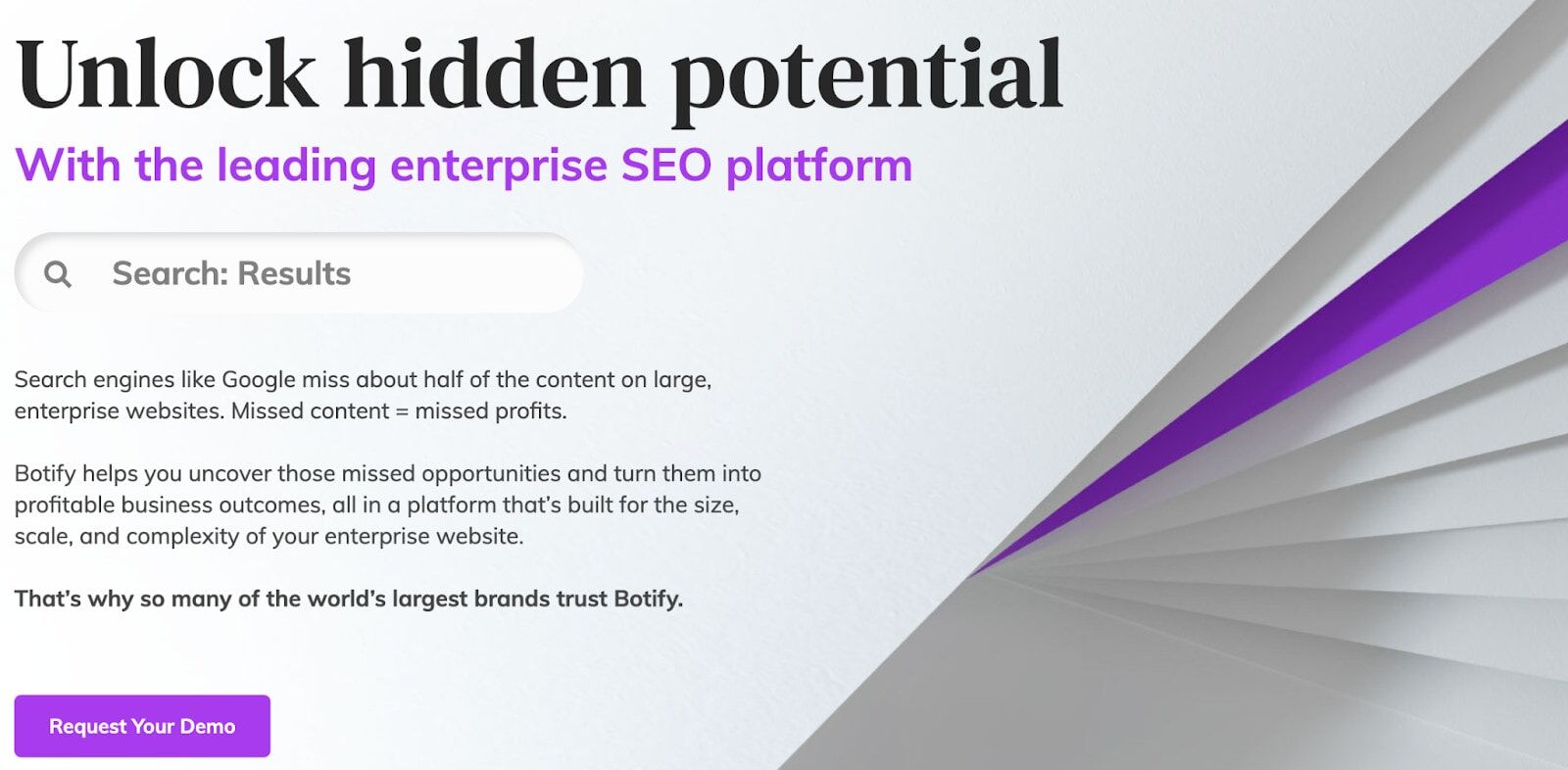 Botify bills itself as the industry's leading enterprise SEO platform, trusted by huge brands like Marriott Hotels and Expedia.
The team at Botify claims to understand what enterprises need to make the most out of their SEO efforts. They note that over 50% of web pages on enterprise websites are invisible to search engines.
If you have a massive website, as most enterprises that engage in SEO do, then you'll want a tool like Botify to make those invisible pages rank.
Botify has the following features:
A crawler that is the basis of the platform, which gives you an analysis to base your SEO strategy on
Powerful analytics that cover everything from how your web pages render to how they are indexed and ranked, and even how they convert
Prescriptive insights powered by machine learning algorithms to help you understand where to focus your SEO and content marketing efforts
Automation tools and tools to implement SEO projects
Pricing is not available on the website, but you can request a demo.
BrightEdge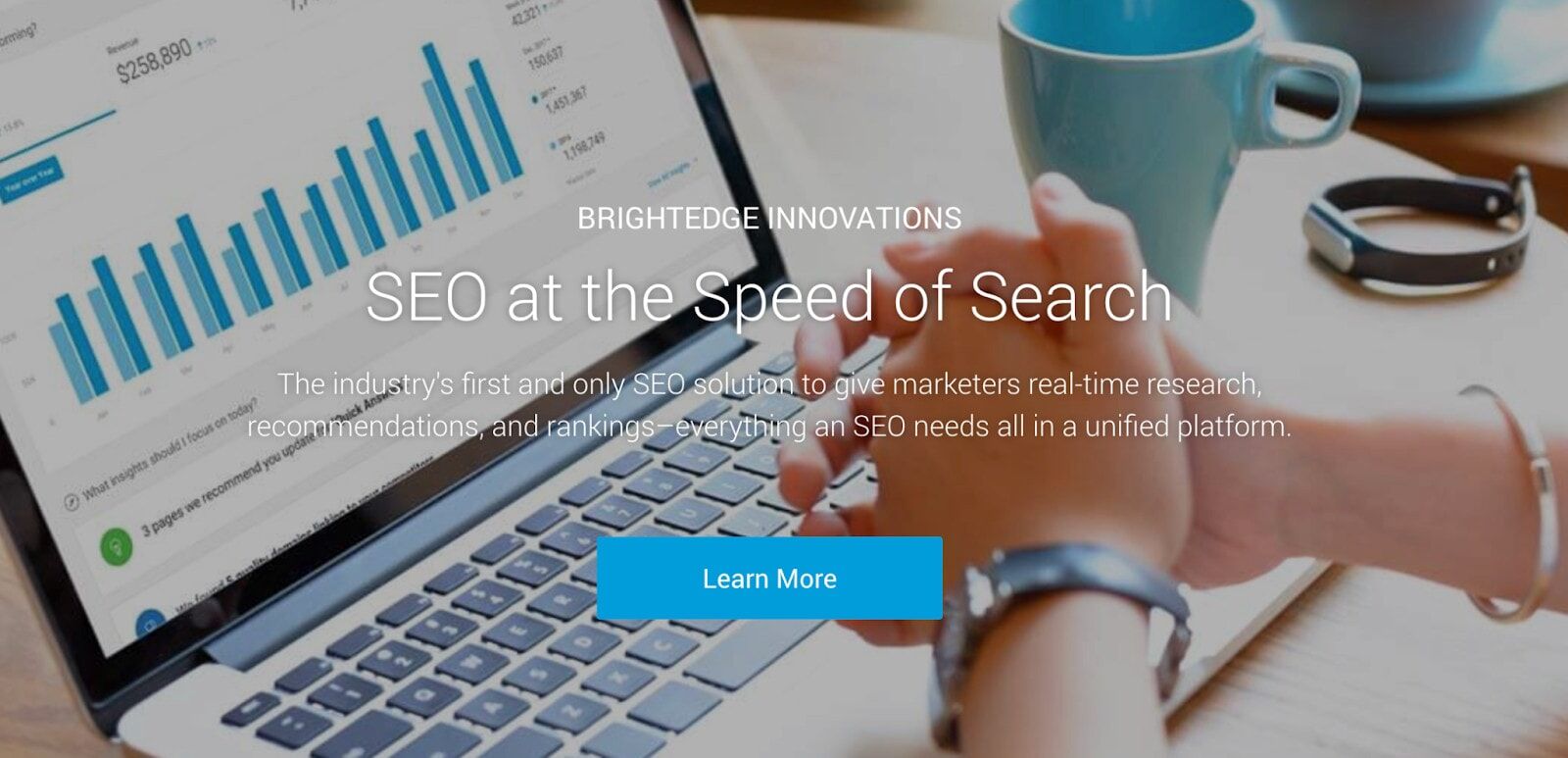 BrightEdge is trusted by major brands like Adobe and Microsoft for their SEO needs. What sets BrightEdge apart from other enterprise SEO solutions is that it focuses on real-time research and recommendations.
Another important aspect of BrightEdge is that it takes search intent into account. Search intent is the intent behind a search — for example, if a searcher types in, "best gaming computers 2021," they're likely looking for information to make an eventual purchase.
If you can create content that matches the intent behind the search, your content is more likely to rank.
BrightEdge helps you track how your SEO efforts match up with the customer journey, allowing you to create entry pages that are optimized to search intent.
It also has content creation tools, reporting and ROI measurement tools, and deep-learning marketing technology that provides actionable insights to drive your SEO strategy.
Pricing is not available, but you can request a demo to see if it's the right solution for you.
seoClarity

seoClarity is an enterprise-level SEO tool that focuses on the user experience, helping you create content based on data that will have a better chance of ranking.
It has serious power behind it, helping you to go beyond basic rank tracking by analyzing and producing data-driven insights for the top 100 results of any keyword search in your search engine of choice, and it does so in real-time.
As with other platforms, it focuses on helping you create content that aligns with search intent. It also claims to have the largest mobile keyword dataset around.
With a powerful site audit tool that's billed as, "the only intelligent crawl technology" around, and AI-powered tools that help you create relevant, authoritative content for every part of the customer journey, seoClarity competes well with the other enterprise SEO platforms on this list.
Unlike many of the other enterprise SEO platforms on this list, seoClarity displays its pricing upfront. It starts at $750/month.
Moz Pro

Moz Pro is one of the most well-known SEO enterprise platforms on this list — and for a reason: it's a powerful platform trusted by the likes of Zillow and 99Designs, and its brand has been a pioneer in the SEO industry since the beginning.
It bills itself as a solution capable of removing complexity from SEO, helping you to understand your visitors so that you can provide the best user experience possible by creating the content they're searching for.
Well-known for its powerful keyword explorer, Moz Pro helps you to better understand what keywords users are searching for, how difficult it is to rank for those keywords, and allows you to make keyword lists to save as part of your keyword targeting strategy.
It also includes a crawler and site audit tool, a page optimization and analysis tool, and a link opportunity tool that lets you check links on both your website and your competitor's websites.
You can also easily create custom reports that show how your SEO efforts are performing.
Pricing is transparent and starts at $99/month, though most enterprises are going to want the premium plan at $599/month.
Serpstat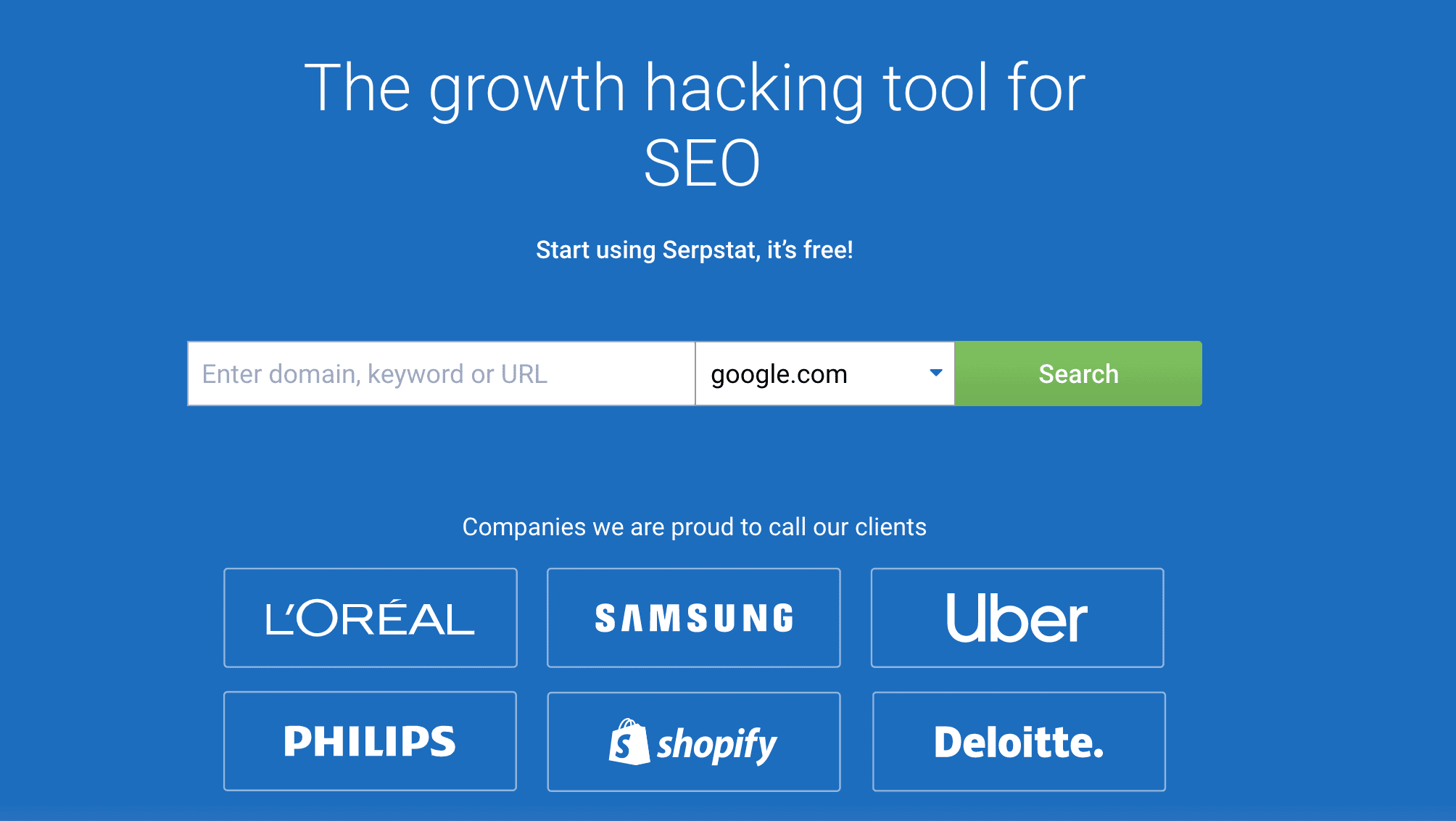 Serpstat is an all-in-one SEO platform trusted by brands like Uber, Philips, and Samsung. It's billed as the platform built for SEO professionals, so you'll want experienced SEOs on your team if you want to make the most of the platform.
Like many of the enterprise SEO tools on this list, Serpstat has a keyword research tool, but unlike many of the other platforms, it includes keyword groups with a tagging function, allowing you to create more complex keyword lists than other similar platforms.
It also focuses heavily on SERP analysis, helping you understand how keywords are performing and who is ranking so that you can create higher-quality content than the competition.
With a Google position tracker and rankings reports for competitor insights, you have a powerful tool that can compete with the best SEO enterprise tools out there.
Pricing is transparent and starts at $55/month, though most enterprises are likely going to want a customized plan.
Ahrefs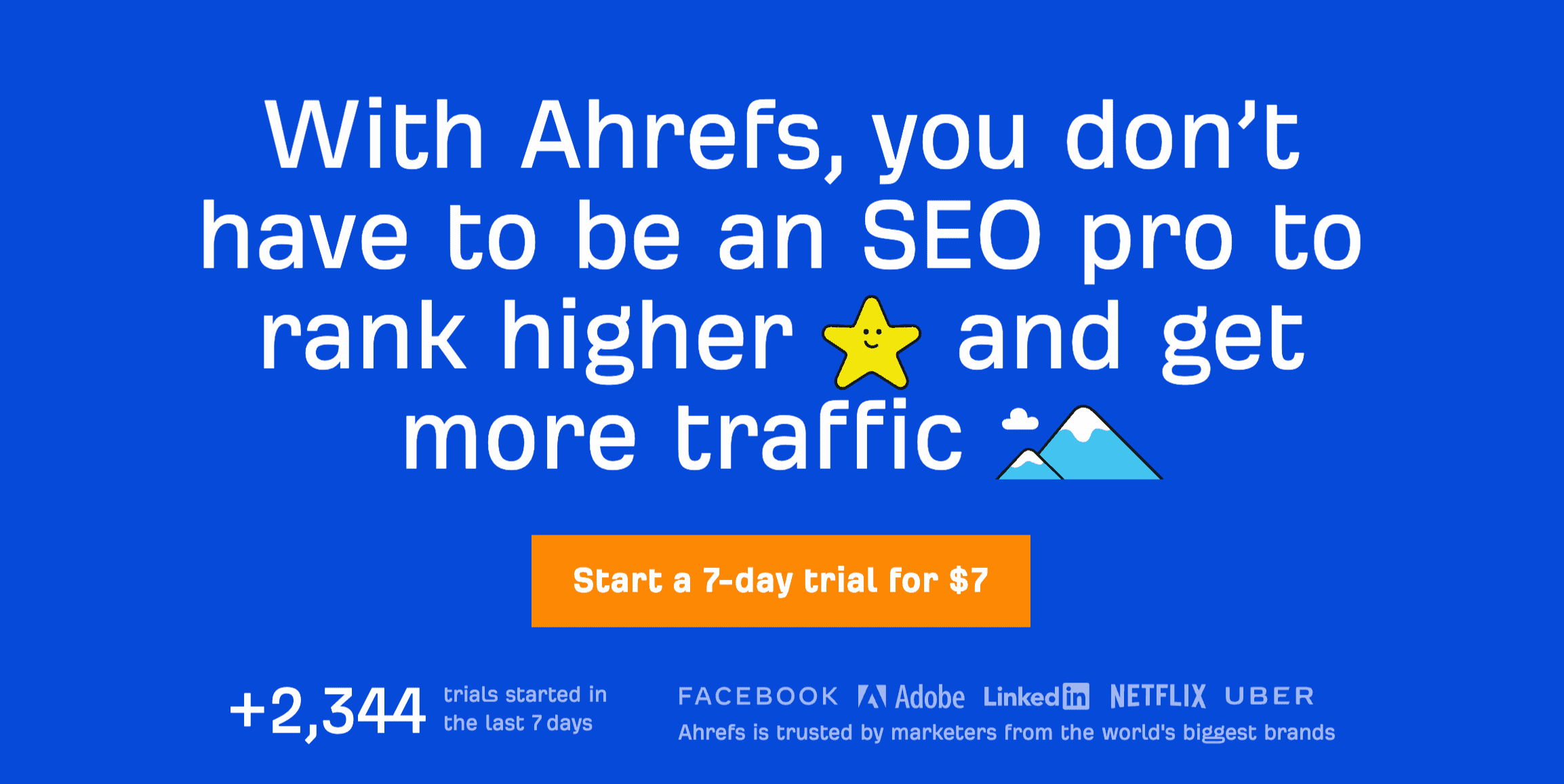 Ahrefs is another well-known SEO tool and is used by the likes of Facebook, LinkedIn, and Uber.
Like many of the other tools on this list, Ahrefs has a powerful site explorer that gives you both the organic search traffic and backlink profile data for any competitor. It also has a keyword explorer that provides ranking data and difficulty alongside traffic potential.
Combined with a content explorer that helps you not just find but analyze the top-ranking content in your niche and a rank tracker that shows how you're performing against your competitors, and you've got a powerful enterprise SEO tool that competes with the best.
Pricing is transparent and starts at $99/month, though most enterprises are going to want to go with the agency plan at $999/month.
Similarweb Pro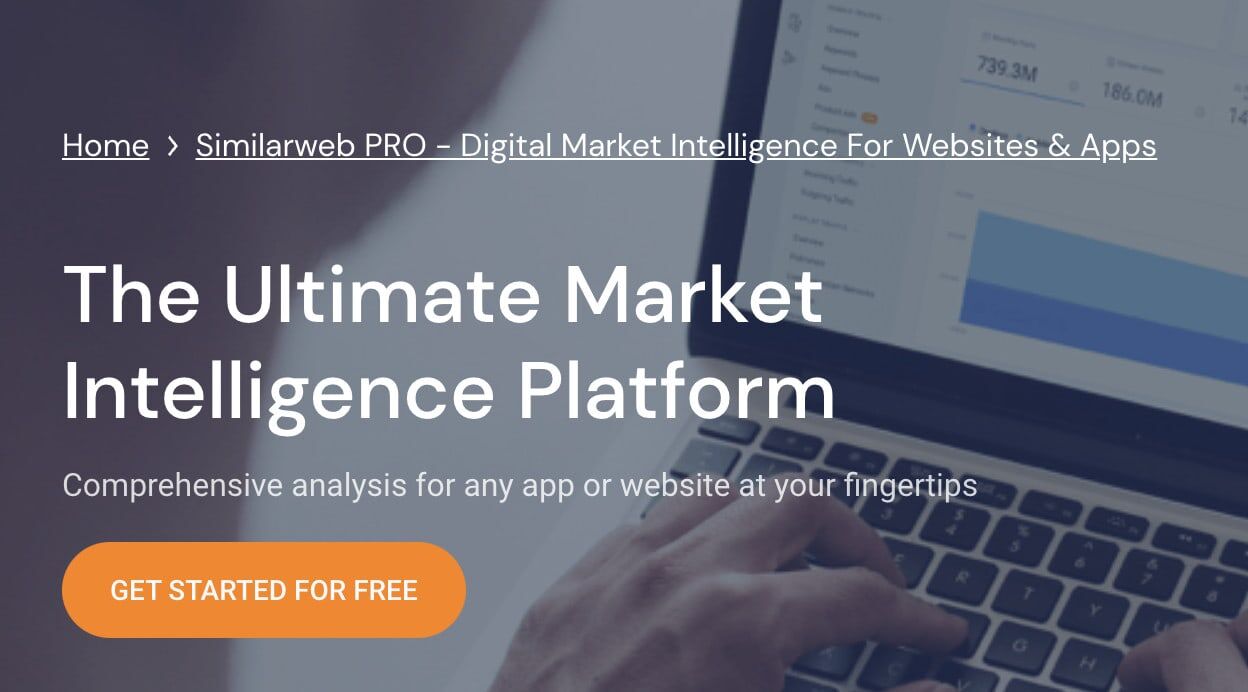 Similarweb Pro is used by huge brands like Google and Microsoft, which by itself is more than enough to recommend the platform to any enterprise.
The two most powerful features of the platform are its website analysis tool and its industry analysis tool. From traffic and engagement metrics to organic and paid keyword data, you'll find everything you need to compete with the industry leaders for each traffic source you're targeting.
It also has an audience interest tool, which helps you find out which websites people browse in the same session. This helps you discover new potential audiences that you can target to expand your SEO footprint.
Pricing information is only available through a 1-on-1 consultation.
Get a complimentary SEO audit
As search engines continue to account for a massive portion of the web's total traffic, businesses can't afford to skimp on SEO. For enterprises, SEO initiatives are executed on a scale that is too large to handle manually. You need SEO tools. Choosing the right ones for your needs ensures your SEO efforts are going to be as effective as possible.
Want to see how you're doing with SEO? Get an instant SEO audit below. Or, schedule a free consultation to see how intent SEO can boost search traffic revenue by 700%.