Search results are bursting with content on any topic you can think of, however, more than 90% of all pages receive zero traffic from Google. And while search engines are undeniably more competitive than they were ten years ago, many brands are underperforming due to insufficient research and planning within their niches.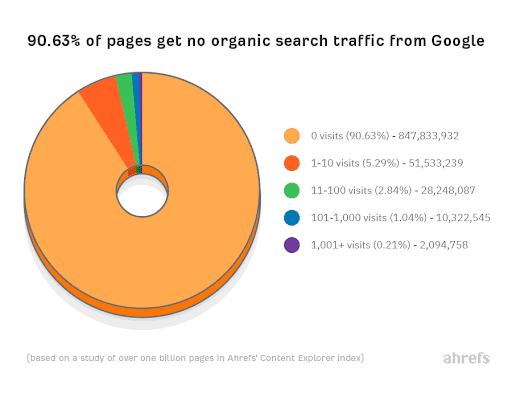 Among many underutilized SEO techniques is the content gap analysis. A powerful technique for your content strategy, this analysis is the key to discovering new content ideas that generate search traffic. With this approach, you can find out how to bring new value to your industry and earn better rankings in the process.
What is a content gap analysis?
A content gap analysis is an assessment used to find missed opportunities (gaps) within your current content library. This process can help you find topics that your competitors have written about and you haven't. It can also reveal where both your content and the current content on search engine results pages (SERPs) is lacking.
For example, you may find that your competitors on the SERP haven't updated their web pages in a while. In other words, there's a recency gap in the current content landscape. This opens up the opportunity for you to provide the most updated page for that topic.
The more you know about your industry, your competitors' keyword rankings, and your own content, the easier it is to run an effective digital marketing campaign.
Why is a content gap analysis important?
Content gap analysis is important for standing out in competitive search results. Knowing what's missing and cross-referencing it with what users want can give you a competitive advantage. That's because it reveals important information like keyword opportunities, industry trends, and user preferences.
Although search engine optimization (SEO) is the second most popular marketing approach, less than 30% of marketers are focusing on producing new content in 2021: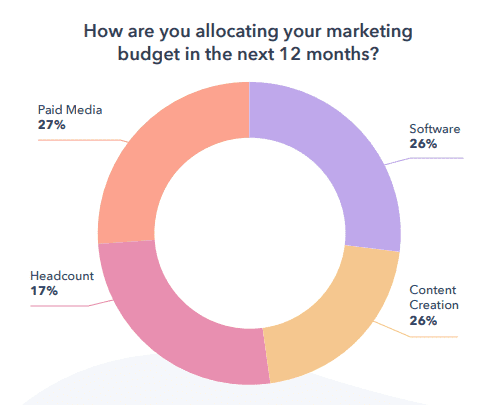 By focusing on fresh, quality content creation and combining it with SEO, you can set yourself apart from the majority of the field.
A content gap analysis helps reveal topics that users want and you (and/or your competitors) haven't touched upon. It strengthens your overall content marketing strategy because it improves the quality of your existing content library.
Relevance and freshness are two of Google's top-ranking factors when it comes to content. Addressing gaps leads to higher-quality content. This demonstrates your site's credibility and its value to users.
How to do a content gap analysis
In order to find content opportunities, you first have to understand your target audience. Once you've mapped out the customer journey, you can begin to research new ideas and find deficiencies in the content landscape.
With these pieces of information, you'll be ready to implement a content creation strategy that fills in the gaps. Here are the steps you should follow for a successful content gap analysis.
Map the buyer's journey
Every potential customer goes through a journey to find the product or service they want. Although each buyer's journey is unique in its own way, traditionally, there are six stages that each person goes through:
Awareness
Interest
Consideration
Intent
Evaluation
Purchase
To understand how to best serve your customers, you need to understand how and why they've come to your website. Here is a general step-by-step guide to mapping the buyer's journey.
Define your target customer
You first need to know who your target customer is and what motivates them. Figure this out by creating buyer personas. These are profiles of your target user that describes things like their:
Income level
Age
Sex
Psychographics
Location
Hobbies or interests
Use a free template to create the persona. Once you have a clearer idea of your audience, you can begin to try and understand their motivations, wants, and needs.
Identify the customer's pain points
The next step is to figure out what problem your customer needs to solve. Make a list of reasons why someone might purchase your product or need your content. For example, if you run a blog about running gear, here are some problems users might have:
Joint pain
Leg chafing
Nutrition knowledge gaps
Uncomfortable running clothes
All of these pain points reveal why users are motivated to find content related to running gear. How do these problems affect users' day-to-day lives? Knowing the answer to that question prepares you to come up with solutions.
Brainstorm solutions for the customer
Lastly, you need to figure out what will solve the customer's problem. What type of content can you create to complete the buyer's journey?
You want to consider this from multiple angles. Some users might try a DIY solution while others look for a product to solve their problem. Study your competitors' content to learn how they've tried to help users. Who in the industry offers a legitimate solution? Why does it work?
From there, you can do a content audit on your site. Think about how your content fits into the steps of this process:
Is your content geared towards the right type of customer?
Does your content acknowledge the customer's pain point?
Are you offering any solutions or just writing about the problem?
You'll want to categorize each piece of content according to where it falls within the content marketing funnel. Your categorization should consider the type of content that buyers need at each stage, as well as what type of customer you're targeting.
Here is a breakdown of each level in the funnel:
Awareness: Users have identified a pain point and want to learn more about it. Informational content like blog posts, webinars, and articles are ideal for this level.
Interest: Users get to know potential brands better (products, company, etc.). You can offer more in-depth content like newsletters and email subscriptions at this point.
Consideration: This is where users are converted into qualified leads through targeted content. Examples of content for this level include free trials and product-specific information.
Intent: Users have shown their interest in buying a product or service. A good example of content for this stage is a reminder email letting a customer know they still have something in their shopping cart.
Evaluation: Users are making their final decision. Discount codes and product-specific content are recommended for convincing the user to choose your brand.
Purchase: The journey has ended. If you've collected the user's contact information, you can pursue them as a lead in the future.
Skyword's visual representation of the marketing funnel gives excellent recommendations for the types of content you can provide at each stage in the buyer's journey: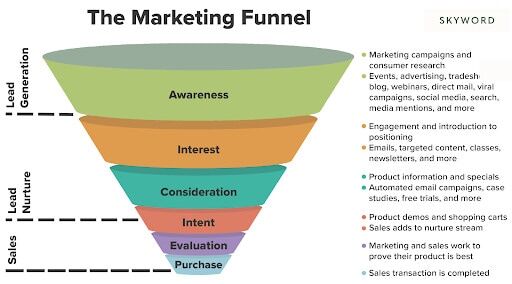 Categorizing your content this way will help you determine where you're lacking and where you can focus your attention moving forward. Understanding the buyer's journey and how it relates to the marketing funnel gives your keyword research and industry deep dive more structure so that your content gap analysis is even more beneficial.
Conduct research into your business and market
The next part of your content gap analysis is to assess the industry and your own business. During this step, your goal is to determine your strengths, as well as those of your competitors.
What works for you?
Take a look at your overall SEO performance for various topics:
Which keywords bring in the most organic traffic?
Which keywords are the most relevant to your brand?
What content earns the most backlinks (topic, type of content, etc.)?
Which pages generate the most conversions?
Which pages on your site rank the highest, and in the industry for a given topic?
You can find answers to these questions and other important SEO metrics within Google Analytics and Google Search Console. Use them to make a list of keywords that are the most relevant to your niche and your growth as a business. These make a great starting point to explore new keywords and ideas that answer your customers' questions.
What works for your competitors?
You need to do the same deep dive for your competitors. Tools like the Moz Keyword Explorer will have a competitor analysis function to help you learn more about their rankings.

Knowing why your competitors rank is just as important as knowing where they rank. Take note of other elements of your competition's content creation strategy.
For example, look at their content organization, format, style, and tone. How do they present information in a user-friendly way? What makes their pages effective and helpful?
While you want to create unique web content, benchmarking successful brands is an important part of developing your own strategy. When it comes to SEO, it's hard to fake value.
If a web page is ranking on page one of search results, it either provides value to users or simply doesn't have much competition. Once you determine why a competitor is so successful for a certain keyword, you then have the chance to expand upon their content or to create something of true value.
Analyze your content
Now it's time to look at the content on your website. The goal is to determine how your brand currently serves customers and how you can do a better job.
By this point, you should have a deep understanding of what your customers want. You should also know how your competitors are performing and what works the best for you.
To find areas of opportunity, take stock of your current content library. Use these questions as a guideline for assessing your own site:
Have you covered all of the valuable keywords for a given topic?
Which stages in the sales funnel does your content fail to address more?
Are there topics your competitors have covered that you haven't? Which keywords are they ranking for that you aren't?
Are there questions you haven't answered for your customers with content?
Are there thin pieces of content that can be improved?
Are there pieces of content that don't satisfy search intent the way they used to?
Are there pieces that need to be updated?
When analyzing your content, you need to be ruthless and as objective as possible. Just because a certain format or style may have worked in the past doesn't mean that it's relevant today. Where a listicle might have been appropriate, maybe a case study is now more effective.
Your objective is not to justify your past content strategy, but to improve your strategy moving forward. Even the smallest adjustments like changing the target keyword for a post, updating its URL structure, or adding in a critical piece of missing information can make a huge difference in your SEO performance. Recognizing where your content falls short is the key to closing the gaps you've found during your analysis.
Close your content gap
After identifying the gaps in your content, you can begin to close them. Start by making a plan for how you will do this. It should include the following information:
What topic clusters or categories of content are you going to have on your website?
Which pieces of content simply need to be adjusted?
What are the primary keywords that you'll target and what are related keywords for each?
Which posts on your website will require the most time to fix, change, or replace?
How many pages will you add to your site?
Rank each task according to the time and resources it will take to complete. Then, make a list of the tasks in order of how important they are to your SEO.
Compare these two lists to organize your plan according to both difficulty and importance. For example, you may want to start by working on the posts which already rank but need some adjustment. You could then move on to harder but important tasks, like creating new landing pages, and saving content like entertainment pieces for social media to the bottom of your list.
This ensures that once you've finished your content gap analysis, you see the fastest, most impactful results possible. By the time you've started on a more difficult task, you may already see higher rankings or traffic from an existing piece of content that you simply edited.
Tools for content gap analysis
No market research is complete without some help from powerful databases and SEO resources. You will get faster results from your content gap analysis if you take advantage of these and other tools:

Using these content gap analysis tools will save you countless hours by sifting through thousands of terms at the same time. And once you generate a list of high-potential keywords, you can investigate how to improve the current content landscape.
Get a complimentary SEO audit
Most brands receive little (if any) traffic from organic search results. But many of those same brands haven't done a content gap analysis to determine what's missing in their strategy. Outpace your competitor's content by finding information gaps and providing information tailored to user wants and needs.
Want to see how you're doing with SEO? Get an instant SEO audit below. Or, schedule a free consultation to see how intent SEO can boost search traffic revenue by 700%.