71% of B2B researchers begin their research with generic Google searches. And to attract the attention of these searchers, you need B2B SEO.
This strategy involves on-page optimization of high-quality content, off-page SEO to generate backlinks, and technical SEO to improve user experience. Here's how you can use it to draw more organic search traffic to your website.
What is B2B SEO?
B2B SEO (business to business search engine optimization) is when a B2B business optimizes their website to improve the visibility of their web pages in search engines like Google, Yahoo, and Bing. Essentially, it's how you get your content to show up when your target customers input a keyword phrase in a search engine related to what your business sells.
The goal is to attract visitors to your website who are interested in something related to what you do and then use marketing tactics on your website to get them to become leads and eventually buyers.
To do this, you'll want to start by identifying your target audience.
Identify your target audience
You can create a buyer persona that guides the kind of content you'll be creating. A buyer persona is a representation of your ideal customer:
Who do you sell to?
What is their job description?
What kind of business do they work for?
What are those customers looking for on search engines?
What kind of products or services are they interested in?
What kind of information can you provide them that they'll see as useful and valuable?
However, B2B SEO is more than just content marketing. It's also how you optimize your product and services pages, and even your homepage so that these pages show up when a searcher is looking for what you sell or for a business like yours.
Create content
Once you've identified your target audience, you'll want to create content that aligns with their interests.
For example, if you sell bulk concrete to businesses that sell driveways to homeowners, you'll want to think about what kind of content they'll be looking for.
Can you…
Create an article about how to sell driveways to homeowners effectively?
Create a video with tips on how they can upsell other products or services?
Create dedicated pages to those products and services that will appear on a search engine when a potential customer searches for them?
All these tactics are designed to either show these businesses that you know what you're talking about or to sell to them directly.
Creating content is the first leg of SEO and is known as on-page SEO. However, there are other SEO tactics that are critical to getting customers onto your website.
Other B2B SEO tactics
Beyond creating content, generating backlinks to your content is also crucial. This is called off-page SEO.
Backlinks are links from other websites to your website. Google sees these as indicators that your website has authority and is, therefore, worth showing to searchers. Later, we'll get into specific off-page SEO tactics you can use to get links back to your site.
The final aspects of SEO are technical. They cover infrastructure that has to do with the performance of your website. This includes how quickly your website loads or the application of schema to your website. This will also be covered later in the article.
B2B vs. B2C buyer's journey
The B2B customer journey is similar in some ways to the B2C (business-to-consumer) customer journey. Just like a B2C customer, a business customer is ultimately looking for a product or service.
They get online and begin looking for information in the same way that a B2C customer would.
If you're creating content that aligns with what they're looking for and then optimizing it for search, you have an advantage over other types of content — you're setting yourself up as an expert in your field.
B2B Buyer's journey example
For example, if you create high-quality content targeting the keyword phrase "best concrete suppliers 2021," and you're a concrete supplier, you're going to be drawing in customers who are in the consideration phase of the buyer's journey.
The keyword phrase indicates this — if they were searching for "bulk concrete for sale," they're likely farther along the buyer's journey.
In the first example, high-quality content would likely be a blog post reviewing concrete suppliers. You're helping these B2B researchers by showing them the differences between the suppliers.
In the second example, high-quality content would likely be a product/service page on your website with pricing or contact information. This matches the customer journey because the searcher is looking for concrete to purchase.
B2B sales vs. B2C sales
B2C SEO really only differs in terms of volume and the size of the sale.
B2B customers tend to be much smaller niche groups than B2C customers. B2B customers who are looking to buy concrete in bulk will be a smaller group than B2C customers looking to rent a concrete mixer, for example.
However, the size of the sales for B2B transactions is usually much larger than B2C transactions. B2B buyers spend more per transaction.
B2B audiences vs. B2C audiences
Like B2C, B2B businesses should evaluate their target audience, create buyer personas for each type of buyer, determine pain points, and create customer journeys that match sales funnels to decide what type of content should be created.
Like B2C SEO, the goal for B2B SEO is ultimately lead generation/sales. You want to get as much organic traffic as possible to your website to have a better chance of converting that traffic into leads or sales.
You can then optimize your pages over time to increase your conversion rate.
You'll ideally target keywords with high search volumes (these are usually short-tail keywords) or just long-tail keywords related to your niche. If you can get decision-makers onto your website, you have a better chance of converting.
Why is SEO important for businesses?
SEO matters for businesses because so many purchase decisions at the business level start with online searches. In fact, B2B buyers typically consume between 3 and 7 pieces of content before speaking with a salesperson.
Getting your content to show up on search engine results pages (SERPs) that match searchers' search terms has the ability to do several positive things for your business.
Improves perceived authority
First, it confers thought leadership status, which essentially means that searchers see your content as authoritative and trust what you say. This is including your key employees, like your CEO or other members of the C-suite.
When B2B customers start searching online for solutions for their business, if you've optimized your content for search engine ranking factors and you've worked hard to push up your SEO metrics, your content is what's going to show up as a result.
If those customers are reading your content and getting value out of the content, they begin to see that you know what you're talking about and that you're a good source of information.
For example, if you have white papers on subjects that relate to their business, like "how to sell concrete driveways to your customers," they're going to see you as a subject matter expert.
This can also be done through blogging or creating case studies — essentially, through creating any form of content that gives customers value.
As a result, when it comes time to buy, you're going to be the first person they think of because you've been providing them with valuable information.
You've put yourself in the forefront of their mind. Customers can only remember so many businesses. If they remember you when it's time to buy, you have a better chance of making a sale.
Boosts KPIs at the bottom of the funnel
Second, SEO can lead directly to sales. When you optimize product or service pages, you create content further down the funnel for customers who are ready to buy.
Take the example of "bulk concrete for sale." If you optimize your sales page for this keyword phrase, you're going to be more likely to draw in customers who want to purchase your product and are likely to convert.
Another example would be an ecommerce business that sells electronics to other businesses. Optimizing their product landing pages for target keywords as part of their SEO campaigns will draw traffic that's more likely to convert.
If they don't optimize these pages for keywords, then they have to rely on other digital marketing methods of getting customers to those pages.
Email marketing and pay-per-click (PPC) ads can get customers to those pages, but optimizing for search increases the chance for organic traffic, which is unpaid.
In many ways, SEO is superior to PPC because it requires a one-time investment in most cases, while PPC requires an ongoing investment. When you stop spending money on PPC campaigns, your campaign stops showing to internet users, and you lose the opportunity to generate traffic.
SEO traffic doesn't necessarily disappear. However, it can disappear (or drop significantly) if Google makes a major change to its algorithms, as search trends change, or if you lose rankings to other businesses' content.
For long-term, sustainable growth, B2B marketers need to focus on B2B search. B2B keywords have value, and content creation that targets those keywords is worth the investment, whether you create the content yourself or invest in SEO services.
The keys to B2B SEO strategy
B2B SEO requires you to consider three key components of SEO:
Each of these aspects of SEO plays a crucial role in how successful your SEO campaigns are.
On-page SEO
On-page SEO refers to the content you create on your website and everything you do to optimize that content for search.
You start with keyword research, where you search for keywords that you believe your target audience is inputting into search engines.
Keyword research requires keyword research tools. Here are some free keyword research tools you can use to get started:
You start by inputting a keyword you think your target audience might be searching for, and then you see what other keywords are suggested. This gives you a range of topics you can potentially write on.

Many B2B websites have a blog. They create blog posts regularly that have relevance to their customers. When the content is useful and valuable, their customers read it regularly to educate themselves about topics.
For example, readers of a blog on a website for a business that sells bulk concrete might be interested in building a concrete driveway. Content about this topic can draw readers to your website.
They will then see your company as an authority on the topic, and when it comes time to buy, you'll be the first business they think of.
That content needs to be optimized for search. Here's how:
Target keywords need to be chosen. Ideally, each piece of content should target a single keyword phrase and be unique.
The keyword phrase needs to be put in the appropriate places in the content. The keyword phrase should appear:
In the title tag, which should be 55 to 60 characters long and should convey a benefit to the reader.
In the first paragraph.
In the last paragraph.
In a few second-level headings.
Sprinkled throughout the content.
In the meta description, which should be 155 to 165 characters long and should include a call to action, like "learn more" or "keep reading."
All instances of the keyword phrase should appear natural (that is, no keyword stuffing).
The content should, in most cases, be long-form — around 2,000 words or more — to ensure it covers all aspects of the subject matter entirely. This is the minimum recommended length for articles, though many of the top-ranking articles on Google are twice this length.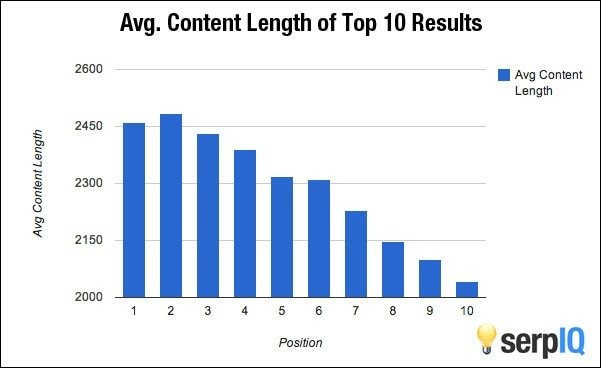 However, this length doesn't apply to other types of content. For example, a product page likely doesn't need to be nearly as long. For this type of content, 500 words might be sufficient, or perhaps even less.
Finally, the content should have a good call-to-action at the end. It should invite readers to move to another piece of content, to make a purchase, or to take another valuable action (like signing up for an email list).
If you follow these rules for on-page SEO, your content will be more likely to rank on Google and other search engines.
Off-page SEO
Off-page SEO is mostly about link building. It's everything you do to get other websites to link back to your website. The reason you want to build backlinks is that Google and Bing consider this a top-ranking factor.
Studies show that content with backlinks gets significantly more traffic than content without backlinks.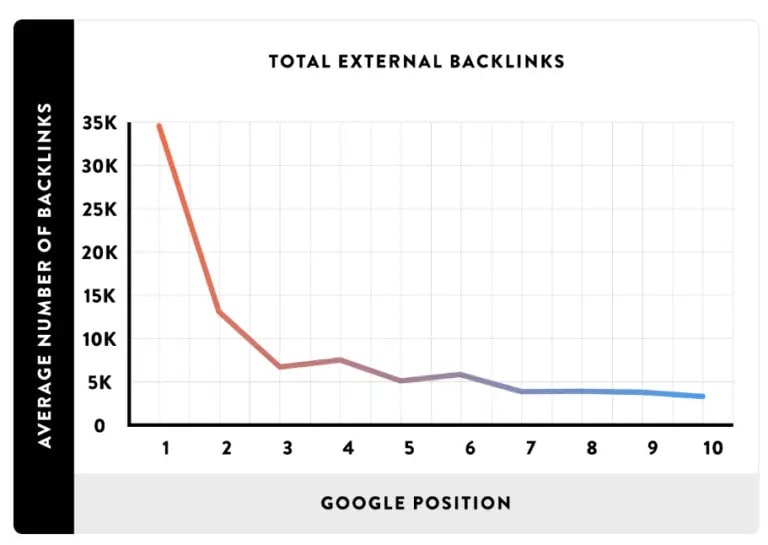 The reason backlinks are a top-ranking factor (in fact, they're second only to quality content) is that they are considered votes of confidence for your website. Essentially, other websites are saying that your content is authoritative.
They're signals that your content is trustworthy and therefore worth showing to users.
However, your goal isn't just to get backlinks from any source possible. Instead, you want to focus on getting quality backlinks, which are links from high-authority websites.
Low-quality links from websites that don't have a lot of authority tell Google that your content may not be trustworthy (or at least not trustworthy enough to recommend the content to searchers).
High-quality links from high-authority websites (websites that Google already sees as trustworthy) are worth getting because that trust is passed on to your website.
Share your content
One of the major ways that Google recommends you get high-quality backlinks is to create content that's as high-quality as possible and then do some outreach. You'll want to share that content with people you think would be interested in it.
You can share your content on social media. For B2B, LinkedIn is an especially valuable social media site to share your content on, as so many employees at B2B businesses use LinkedIn.
When you share your content on social media, you're not directly getting a backlink — links on social media aren't counted as backlinks by Google (however, Bing does count social engagement as a ranking factor).
Instead, what you're doing is creating the possibility for other businesses to see the content, consume it, recognize its value, and then link to it in their own content.
Guest blogging
Another way to generate high-quality backlinks is through guest blogging. You find another website in your niche, you contact their content creators, and you see if they're interested in letting you write a blog post for their blog.
If they have a website with high domain authority, any links back to your own content will pass some authority to that page on your website.
Depending on who you are blogging for, you might be able to link back to your product/services pages, or you might be able to link back to other pieces of valuable content on your website that you think their audience might be interested in.
Backlinks are one of the major ranking signals for Google and other search engines, so you'll want to invest in backlink generation strategies to get your content to rank high on Google.
Technical SEO
Technical SEO is everything that has to do with the technical aspects of your B2B website that are related to Google and other search engines' ranking signals.
Essentially, technical SEO has to do with user experience. Most aspects of technical SEO improve the experience of the user.
Page load speed
For example, one of the biggest aspects of technical SEO is page load speed. Google considers this a top-ranking factor and recommends that your pages load in fewer than 2 seconds, with lower always being better (Google prefers under 0.5 seconds if possible).
Google considers this a top-ranking factor because data shows that users want pages to load quickly. This is indicated by increased bounce rates when websites load slowly.
The average bounce rate increases from 9% at 2 seconds to 38% when a website loads in 5 seconds or more.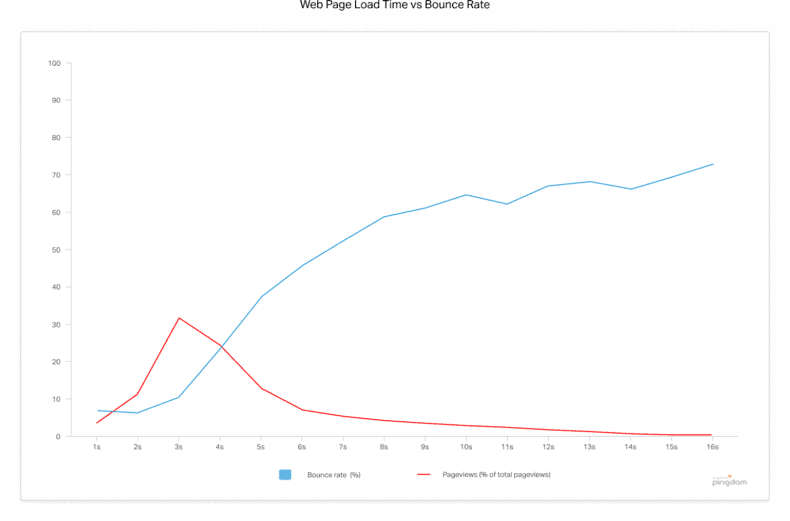 Schema markup
Having schema markup implemented on your website is important to SEO for several reasons. Schema helps search engines to understand what kind of content your content is.
Schema also makes your content eligible for rich snippets. A rich snippet is when your content has additional information on a SERP result, like reviews or stars.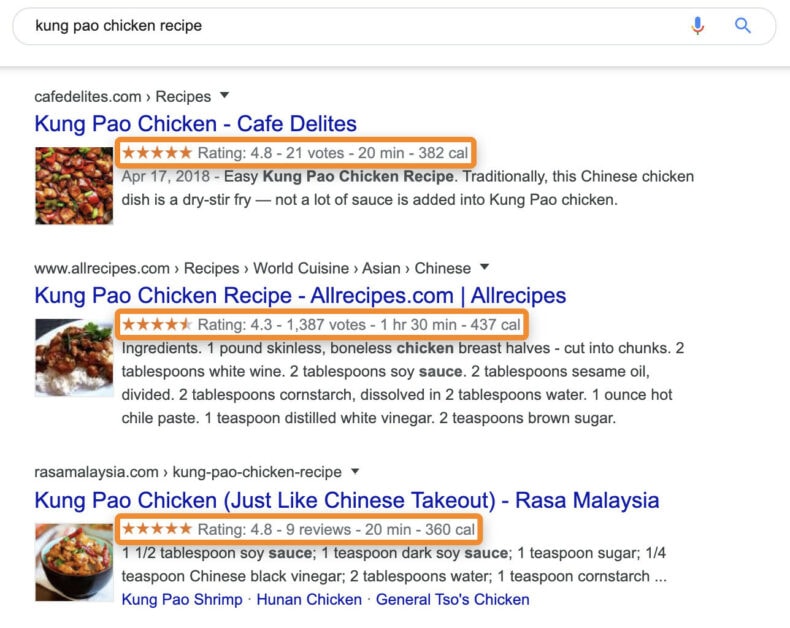 For example, a search engine might have trouble differentiating between a product page and a blog post. Schema tells the search engine that it's looking at a product page to display that content on a SERP to the right searchers.
If you earn a rich snippet, it might also display how many stars out of 5 your product gets based on its reviews.
SSL certificates
Having an SSL certificate on your website is important to the user experience. Essentially, this is a piece of code that secures your website and makes it safer for your users. Google considers having an SSL certificate to be critical for all modern websites.
Most modern hosts will automatically apply an SSL certificate to your website, but if you're building your own website, you might have to apply it manually.
Mobile performance
Mobile performance is another important aspect of technical SEO. Mobile performance means that your website displays correctly at any screen size (known as mobile responsiveness) and that your website loads quickly on a mobile device.
Most websites built on modern website builders (and most templates for content management systems (CMSs) like WordPress) will automatically be mobile responsive.
However, you should still test your site using Google's Mobile-Friendly Test.
XML sitemaps
You'll want to ensure you have XML sitemaps enabled on your website. Most website builders will automatically create XML sitemaps for you, but if you have a WordPress website or a website on another CMS, you might have to use a plugin to generate an XML sitemap.
XML sitemaps are important because they tell Google's crawlers what content is on your website and how each piece of content is related to other pieces of content. This helps Google better understand your content so that it can serve it to the right searchers.
This is not a complete list of technical SEO aspects as it can get highly technical and granular. To learn more, check out this technical SEO checklist.
B2B SEO statistics
B2B SEO is a massive industry. Here are some statistics to consider.
60% of marketers say that inbound (SEO, blog content, etc.) is their highest quality source of leads.
76% of people who search on their smartphones for something nearby visit a business within a day
28% of searches for something nearby result in a purchase
51% of smartphone users have discovered a new company or product when searching for their smartphones
57% of marketing executives say on-page content development was the most effective SEO tactic.
70% of marketers see SEO as more effective than PPC.
61% of marketers say improving SEO and growing their organic presence is their top inbound marketing priority.
89% of B2B researchers use the internet during the B2B research process.
96% of B2B buyers look for content backed by thought leaders
90% of B2B researchers who are online use search specifically to research business purchases
52% of B2B search queries today are made on smartphones
Over 90% of B2B users say they're likely to buy again from the same vendor if they have a superior mobile experience.
57% of B2B marketers say that SEO generates more leads than any of their other marketing initiatives
86% of B2B companies maintain a blog
59% of B2B marketers say SEO has the biggest impact on their lead generation goals
Some SEO tools you can use for your B2B SEO strategy include:
Get a complimentary SEO audit
B2B SEO is an effective marketing strategy when content creation, link building, and technical optimization are prioritized. It's a worthwhile investment that can lead to increased lead generation and conversion for your business.
Want to see how you're doing with SEO? Get an instant SEO audit below. Or, schedule a free consultation to see how intent SEO can boost search traffic revenue by 700%.