All Case Studies
TimelyMD expands care access after traffic value increases by 1,470%
1,470% increase
In traffic value
4x increase
in organic leads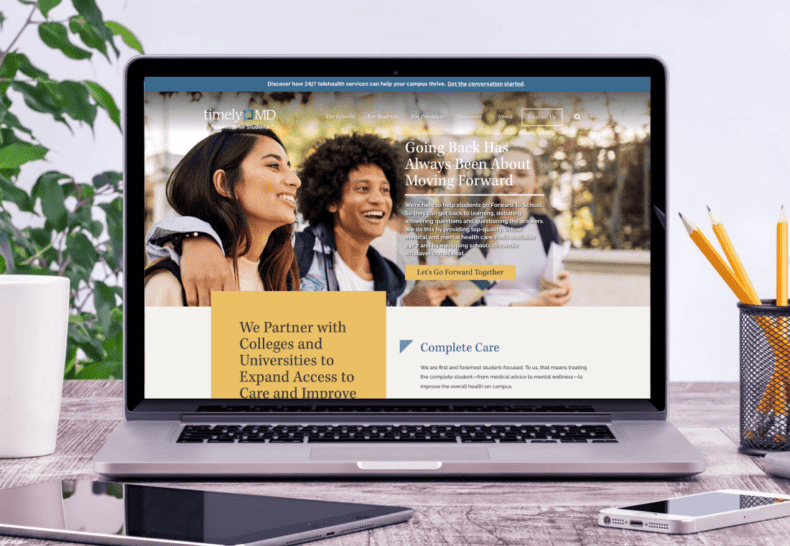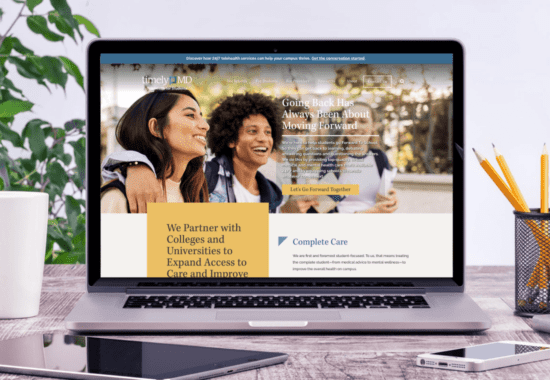 TimelyMD is a leading full-service telehealth provider focused on serving college and university students across the United States. The company was founded in 2017 by Luke Hejl, Chris Clark, and Alan Dennington, M.D., and is headquartered in Fort Worth, Texas. In January 2021 the company raised a $60 million Series B round investment from JMI Equity. The company has raised a total of $65.7 million to date.
TimelyMD has more than 120 employees. It is the leading telehealth technology company providing 24/7 mental health services for college students.
---
The Problem
TimelyMD had an underdeveloped online presence when we began their SEO campaign in mid-January 2021. They were getting a few college and university leads sporadically, but not a consistent stream of schools eager to introduce telehealth services to their students.
The goal was to quickly increase their relevant organic traffic, upgrade the credibility of their site, and get a steadily growing pipeline of university leads that would translate to new business and higher ARR.
Their target higher education personas consisted primarily of VPs of Student Affairs, University Presidents, and Counseling/Clinic Directors. It was critical to reach these decision-makers with relevant content on Google and to position TimelyMD as the leader in their niche.
---
Process
I started with a full SEO audit of their site and identified quick wins and key areas of growth opportunity. A few highlights among the many issues we resolved:
Removed accidental duplicate pages and confirmed proper canonical tag implementation.
Implemented External Links and Easy Table of Contents WordPress plugins to improve content structure and blog UX.
Updated site top navigation to be sticky/frozen so it would follow visitors as they scrolled pages throughout the site.
Added author profiles, images, and biographies to blog posts to send E-A-T signals (Expertise, Authority, and Trust) to Google.
Moved the company's college landing page setup from a static (harder to maintain) subfolder to a dynamic PHP setup enabling intuitive maintenance and rollout of new school program landing pages.
Helped create new parent pages such as Resources, Newsroom, parent Blog page, Quick Facts, etc. Also added search functionality to these pages and website overall.
Disabled unneeded archive pages and updated internal/external links as needed.
Added modified_time updates to blog articles and core pages so an updated date would appear in the search results pages each time content was updated.
Increased CTR performance by updating the page titles, meta descriptions, and H1 heading tags to better match a typical user's search intent.
Updated blog URL structure to be significantly more SEO-friendly (shorter URLs, main keyword included, proper blog subfolder).
Worked on improving mobile page speed, Page Experience, and Core Web Vitals metrics for the best SEO UX possible.
After overhauling the blog structure for best SEO performance, we began revising existing blog content for peak SEO keyword rankings and visibility. We combined Clearscope's content optimization software with a manual study of search results pages and made impressive gains in Google keyword rankings. Along with the content optimization efforts, we started a natural link-building campaign to increase organic reach.
---
Results
The blog post for the keyword "depression in college students" has seen a 2,714% increase in search traffic over the last 5 months. Among their top-rated keywords are "depression in college students," "college depression," "depressed college student," as seen below: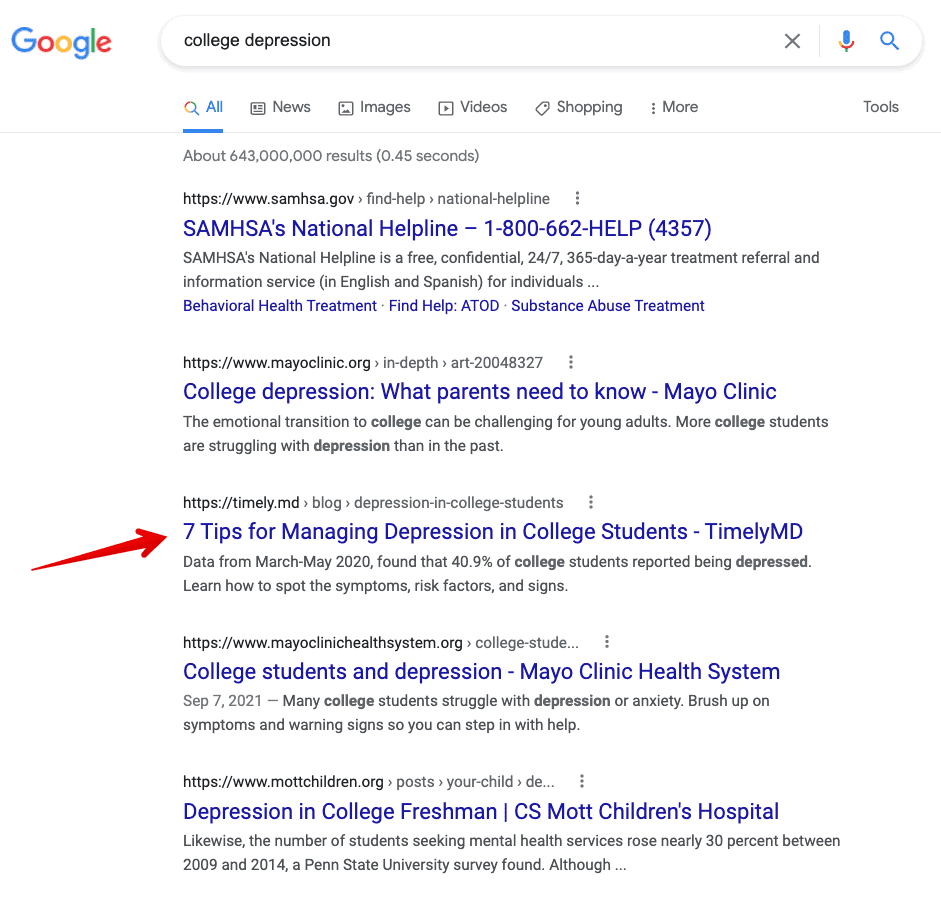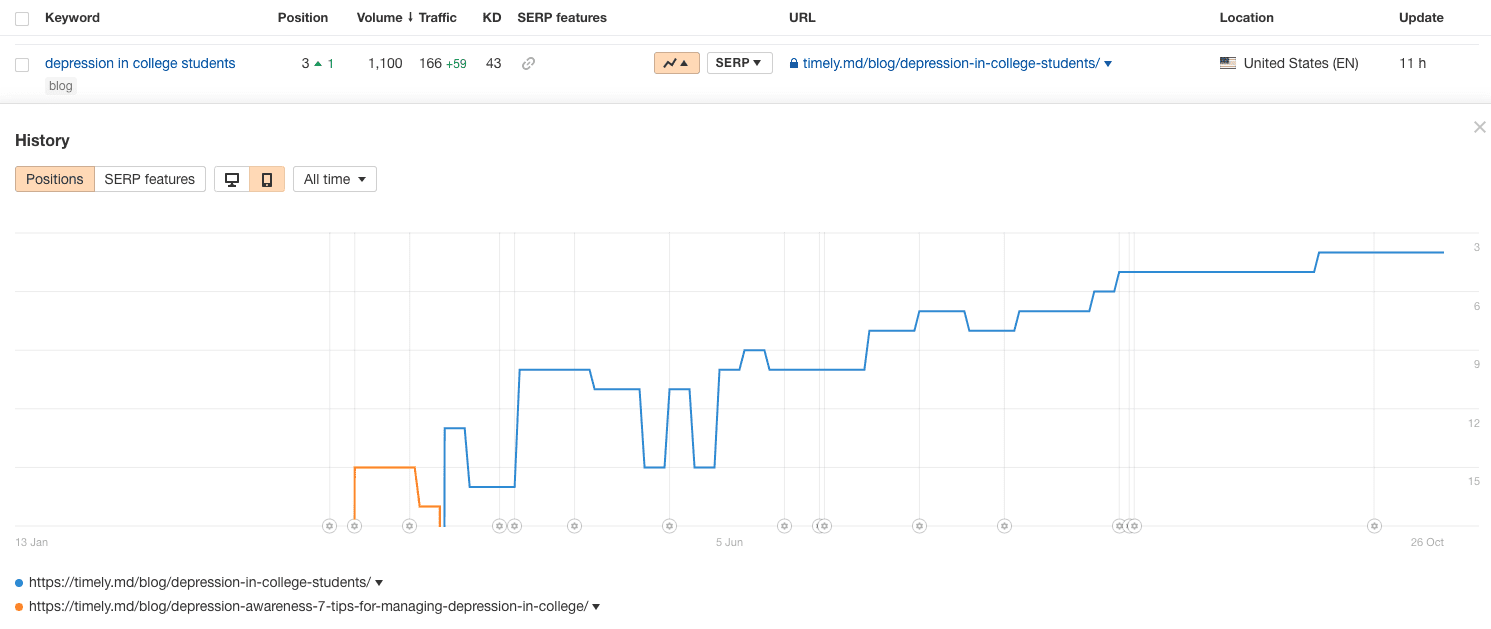 Another critical piece of TimelyMD content was for the keyword "self-care tips for college students," which we optimized for SEO with great results: an increase in search traffic of 290%. Among the company's #1 keyword rankings in Google are: "self care for students," "self care tips for students," "self care in college," as seen below: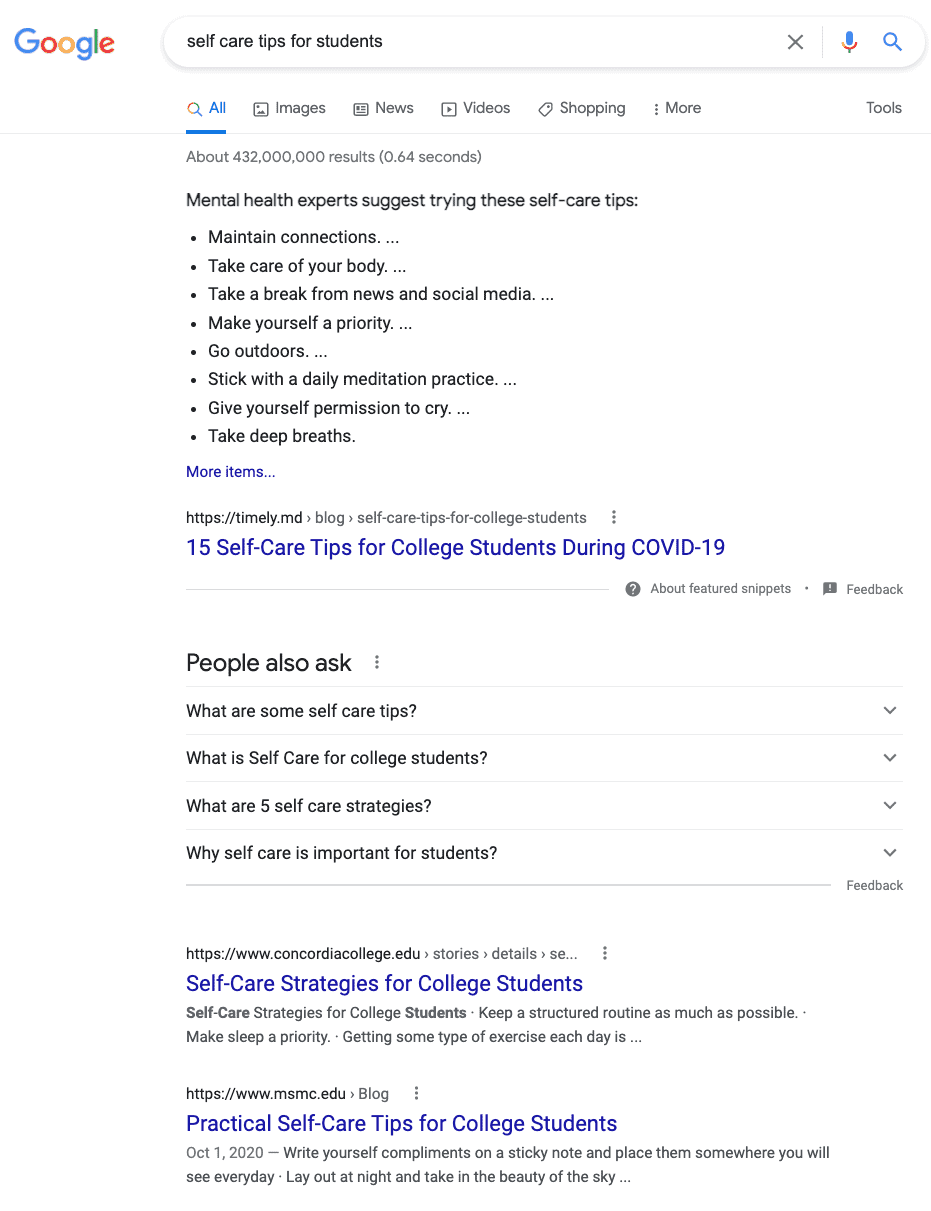 Another critical piece of content, a post for the keyword "mental health services on college campuses," saw a dramatic improvement in search rankings after optimization with intent SEO tactics. Overall, it generated a 721% increase in monthly search visits, and currently ranks #2 in Google for "mental health services on college campuses" and "importance of mental health in college" as seen below: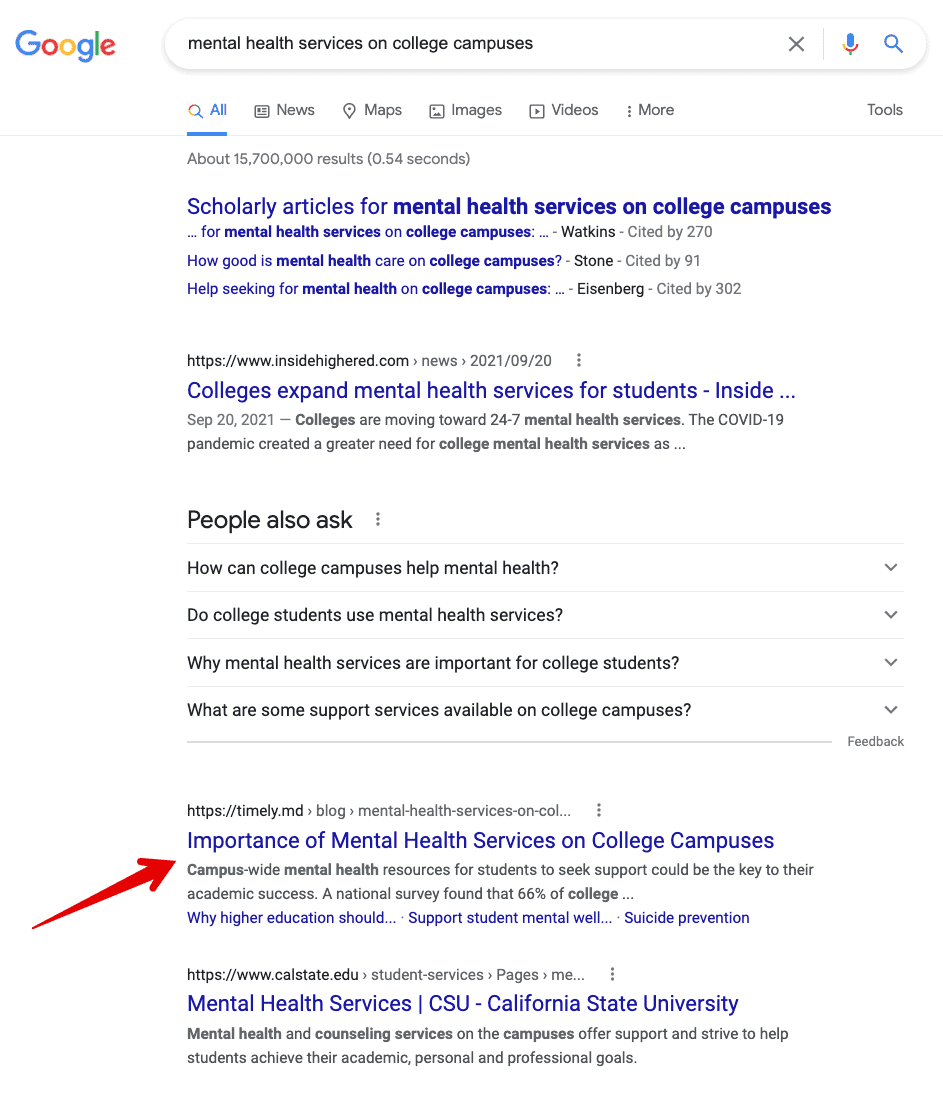 These posts aren't the only examples of drastic improvements in search engine results. Overall, the TimelyMD content library has earned nearly 400% more search traffic since I began using intent SEO tactics on the website last January. The screenshot below shows their Google Search Console clicks performance throughout the duration of the campaign:
Before the SEO campaign, the website was generating a handful of leads each month, and now the website is averaging 5-7 quality leads each week.
To an ecommerce brand, this may seem like a small number of leads. But to TimelyMD, each lead represents a high-value, long-term higher education customer. These results represent more than just search traffic; This is real revenue and impact attributable to successful and sustainable intent SEO efforts.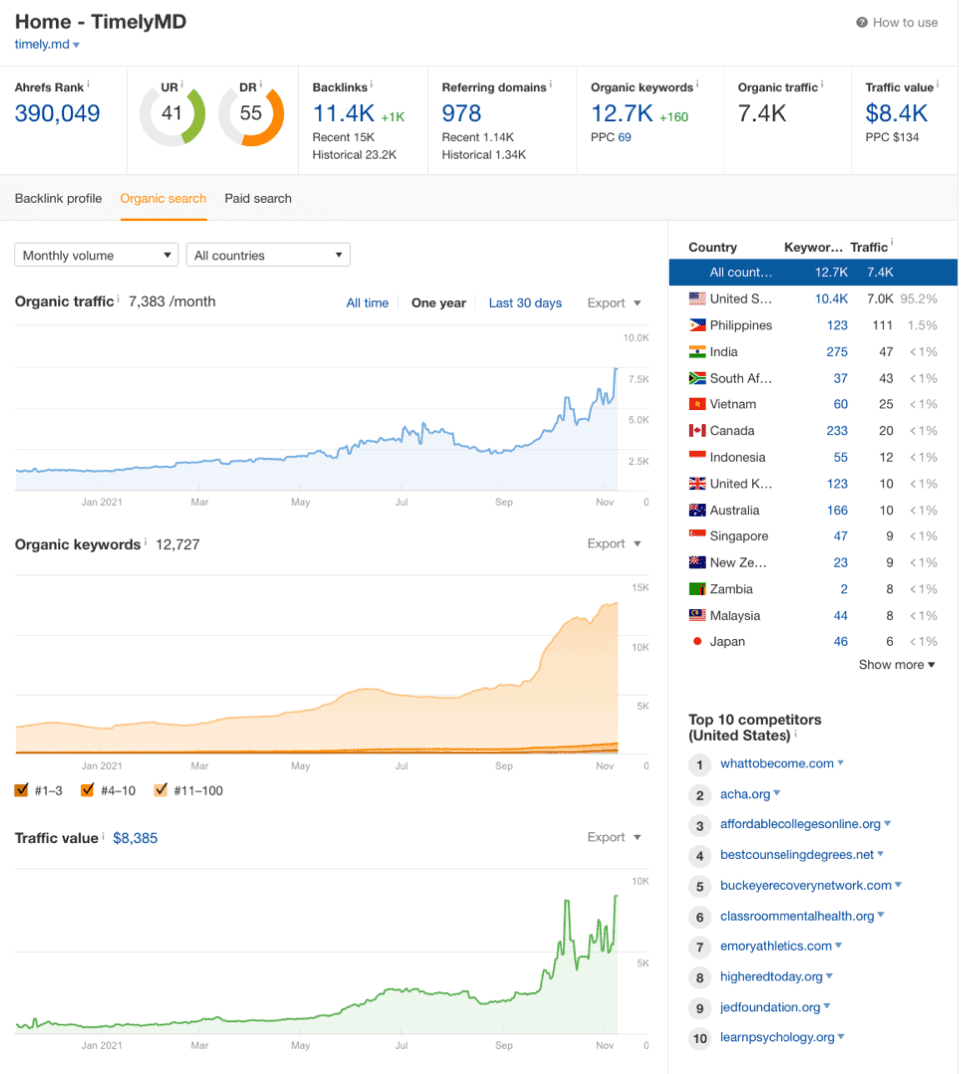 ---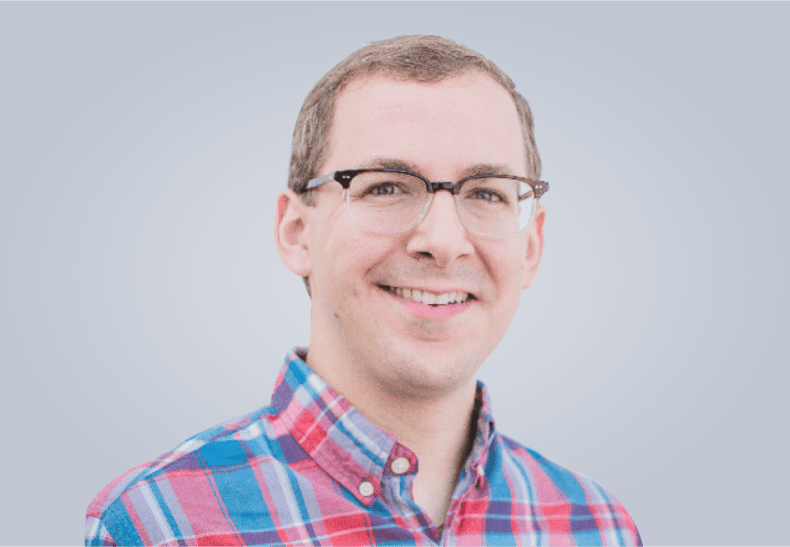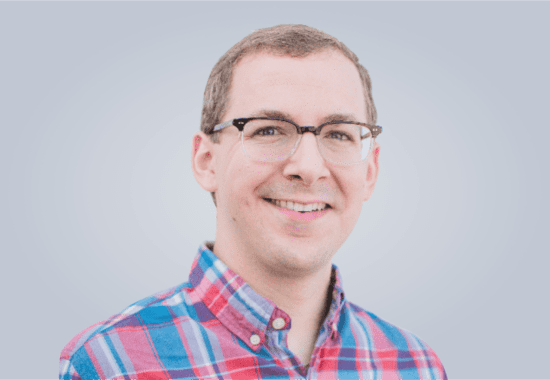 William Moore
Director of Communications & Content @ TimelyMD
Chris's intent SEO tactics have had a massive effect on our digital growth. We've seen traffic value more than double, organic traffic more than triple, and lead generation quadruple in less than a year. When these leads represent such high-value customers, the benefit to our bottom line can't be overstated.
Results Summary
Let's summarize what we managed to achieve.
1,470% increase
in traffic value
389% increase
in organic traffic visits
Quadrupled organic
lead acquisition