All Case Studies
Mason Finance is acquired after boosting traffic by 567%, traffic value by 644%
644% boost
in traffic value
Company acquisition
driven by SEO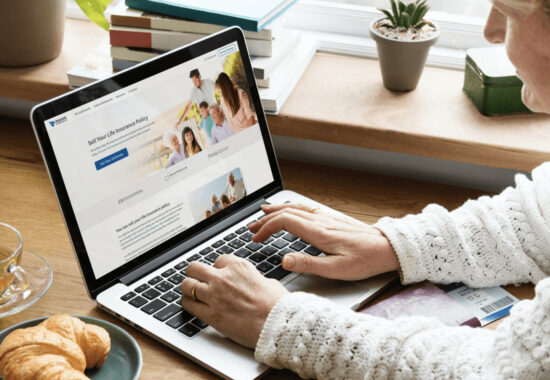 Mason Finance was a life settlement tech startup headquartered in San Francisco, CA at the time I joined the company in September 2018. Backed by top Silicon Valley investors Kleiner Perkins and DCM, Mason Finance was acquired by Magna Life Settlements in May 2019.
Throughout the transition, we were able to successfully sell Mason Finance due to both the sheer volume and premium quality of leads generated through Google and Bing.
---
The Problem
By the time I started with the company, Mason Finance was slowly starting to improve their presence in organic search. I was brought on to quickly boost traffic to the website by improving existing SEO processes.
The website was still not yet top-ranking in Google for the most relevant keywords, like "sell life insurance policy" and "sell term life insurance policy." Since top positions for these keywords were owned by the industry's most established organizations, there was much work to be done to boost the website's leads and sales.
---
Process
Since the rich snippets for both "sell life insurance policy" and "sell term life insurance policy" were pulled from high-intent BOFU content, one of the first things I did was determine how to quickly overtake them.
After assessing the source code of Mason Finance pages that targeted these keywords, I found there was extra, unnecessary HTML code wrapped around the exact paragraphs that we wanted Google to pull for the featured snippet.
Between removing that code and rewriting the answer to be as SEO-friendly and succinct as possible, we were able to land the featured snippet for both of the main head terms of "sell life insurance policy" and "sell term life insurance policy." Once this happened, the traffic and leads dramatically increased nearly overnight.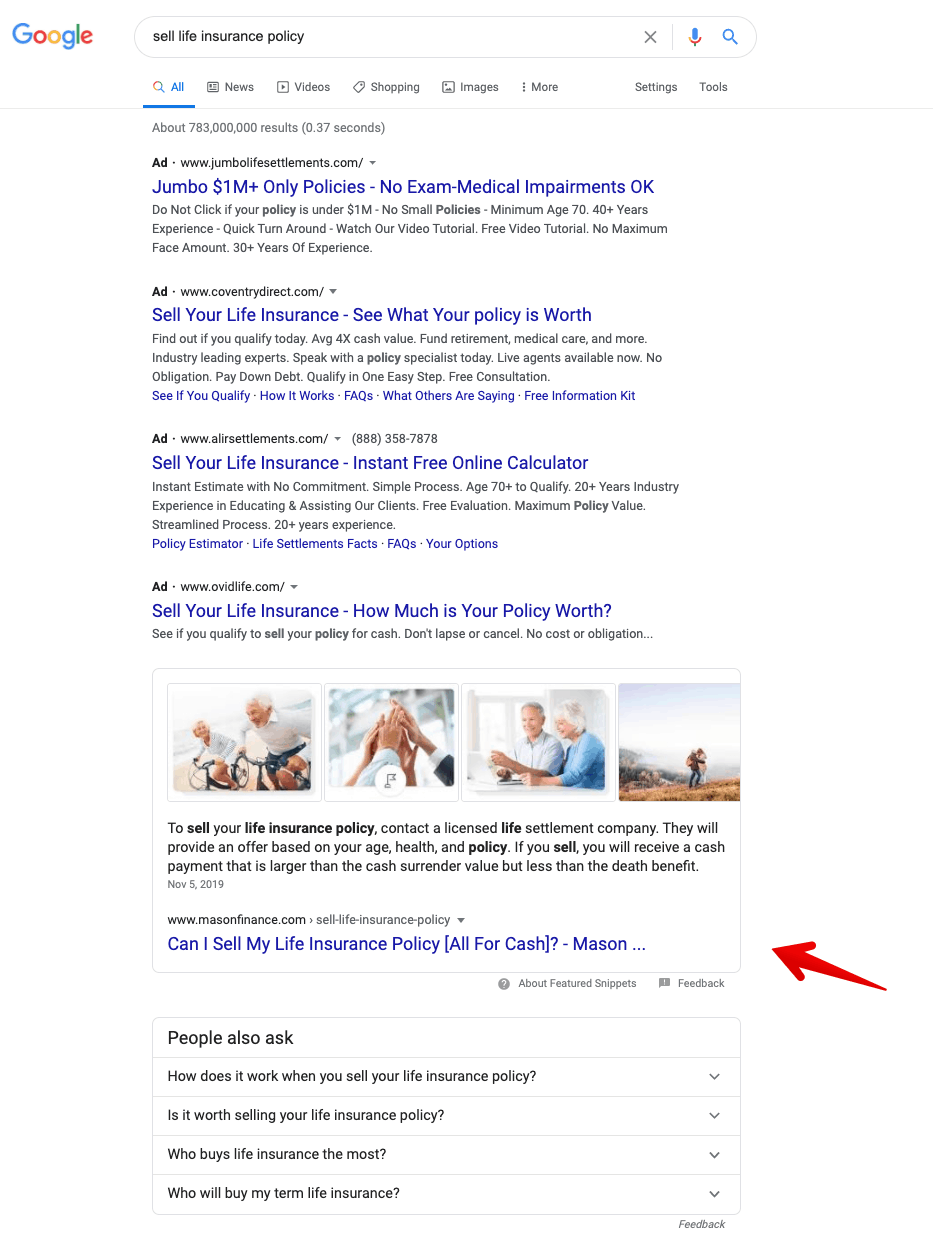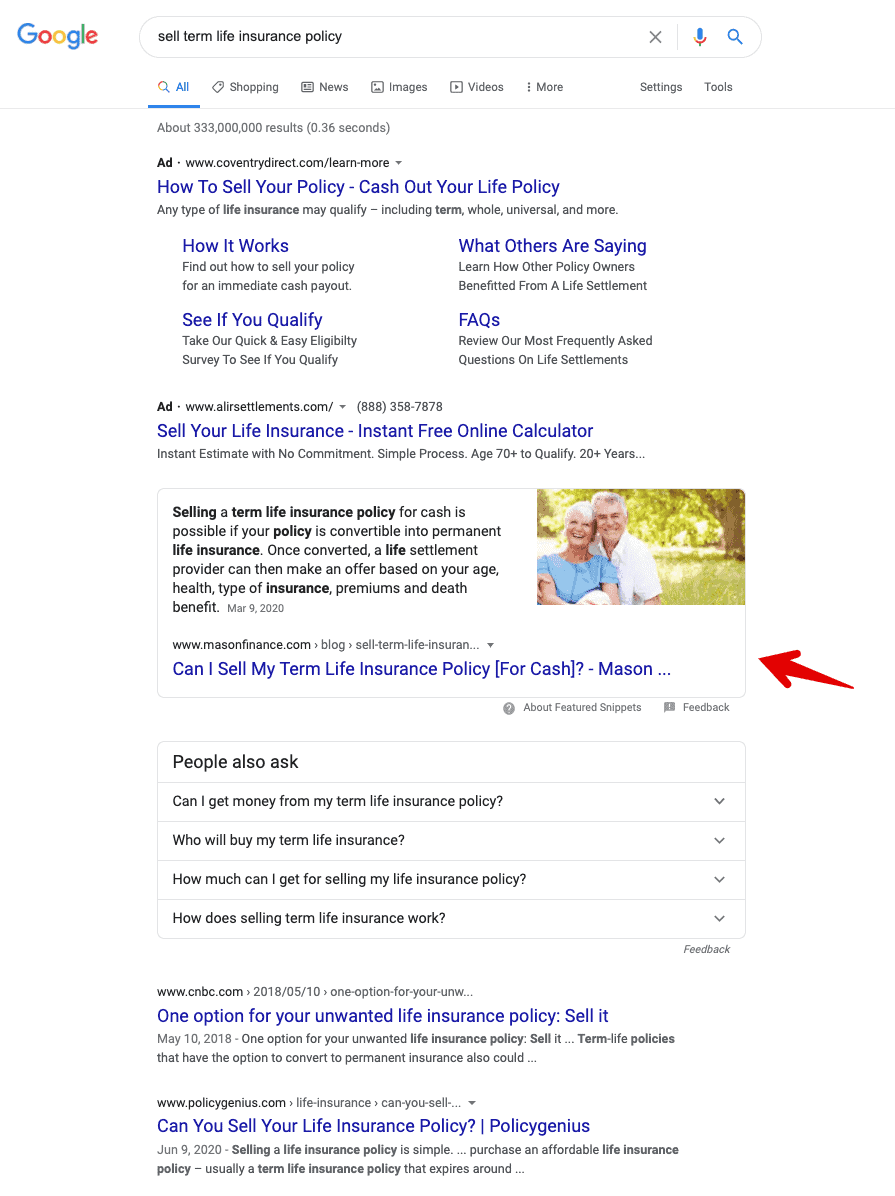 In addition to optimizing the content for the paragraph featured snippet results, we also updated the following to improve SEO as quickly as possible:
Overhauled the site's design and UX to cater to our target audience.
Rewrote existing content on the site to optimize for SEO.
Dramatically upgraded our natural inbound link acquisition efforts to earn quality backlinks.
Built more relevant internal links to further boost the SEO of the critical pages on the site.
Implemented image SEO best practices to generate even more traffic from Google when our images appeared in featured snippets (oftentimes shown with different websites).
Identified the remaining (new) content topics we could write that would have a strong chance of generating life settlement leads.
Took over the SEM program for Google and Bing Ads leading up to the acquisition, with the goal of further optimizing our search campaigns.


---
Results
After these SEO campaigns were concluded successfully, Mason Finance became the clear leader in the life settlement space. Life and viatical settlement leads began pouring in. In addition to top-ranking the 2 most critical lead generation pages on the site, we also quickly top-ranked on Google for:
Life settlement companies
Life settlement calculator
Life settlement
Viatical settlement
Life insurance buyout
Among many others
As shown in the Ahrefs chart below, the organic traffic increased from 1,113 to 7,419 (a gain of 567%), and the total traffic value increased from $11,831 to $88,042 (an increase of 644%, and a monetary increase of $76,211 in value). The calculation of this data is from late September 2018 to late May 2019, when the company was acquired.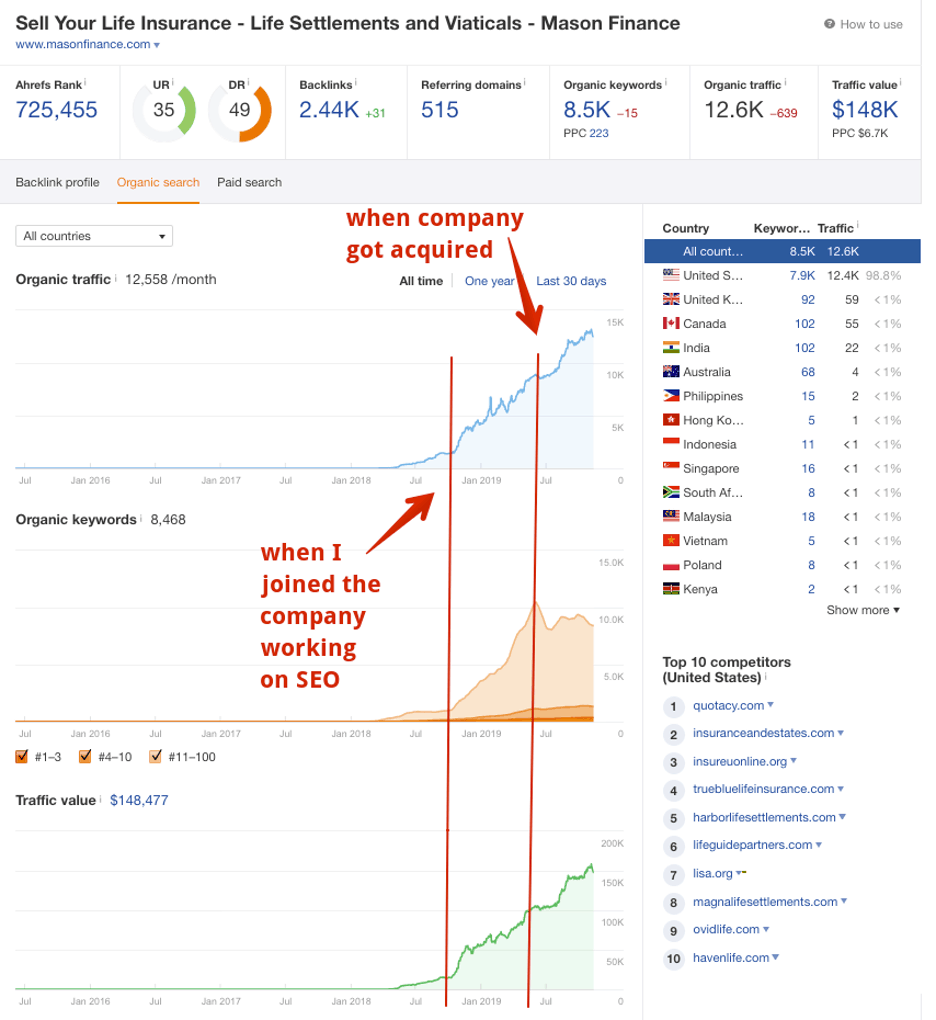 During the vetting process, Magna Life Settlement representatives asked what caused the dramatic increase in organic traffic starting October 2018. The CEO of Mason Finance simply replied "we hired Chris."
Between the increase in traffic, the SERP ownership of key industry BOFU terms, and the site redesign, we were able to substantially increase the number of high-quality organic leads to the company, directly leading to its acquisition.
---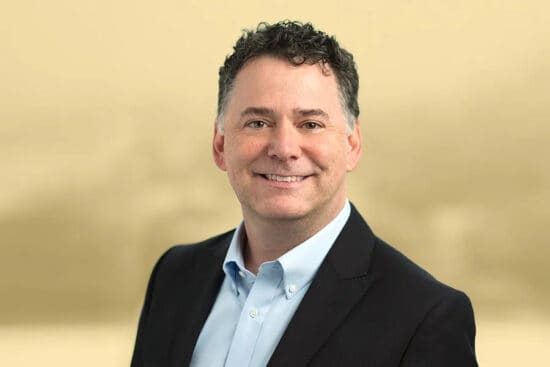 R. Scott Harris
Owner @ Social Factor
Chris built the top-performing lead generation machine in my industry. His SEO strategy and execution best practices deliver 10x ROI value year-after-year. As a person, he's well-informed, articulate and detail-oriented. His processes are thorough, above reproach and data-driven. Lastly, he brings innovative platforms to accomplish the efforts at scale. The SEO mystery is solved under Chris's mastery.
Results Summary
Let's summarize what we managed to achieve.
#1 ranking for
"sell life insurance policy"
644% increase in
traffic value
Company acquisition
due to SEO results