Almost half of digital marketing professionals say their agency struggles to find time for administrative housekeeping tasks, while 60% say that finding new clients is their biggest obstacle to growth. Luckily there's a solution that can tackle both problems at once: white label search engine optimization (SEO).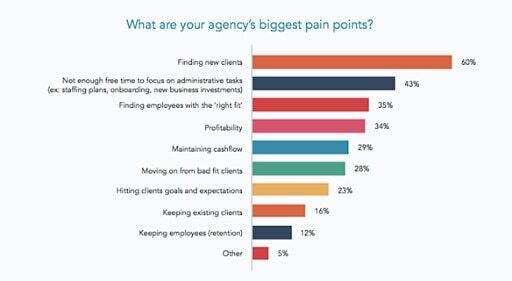 The root cause of these issues is often time. Marketers need more time to not only search for new clients but to provide services to those clients while keeping their own agency afloat. White label SEO firms provide unbranded optimization services and products that allow agencies to grow their business without hiring more employees or giving up more of their time.
What is white label SEO?
White label SEO refers to SEO services that you can purchase from another agency and sell to your clients. In this setup, the white label agency performs a service like link-building or social media management for your client project(s).
The goal of white label or "private label" SEO services is to allow agencies to expand their service offerings without needing to onboard more employees. They also help agencies increase revenues without investing significant amounts of time developing and producing a new service.
White label SEO vs SEO reseller
There are two main types of solutions: white label SEO and SEO resellers.
Reseller SEO involves purchasing a package of SEO services or techniques that you can use for your client. You typically only pay for a predetermined set of actions that the white label reseller performs for you and simply receive them as one bundle.
With white label SEO, however, you usually work alongside another agency that offers more education and support regarding the SEO strategy. These services usually involve account managers that work collaboratively with you and your team in order to deliver a project to a client.
How does white label SEO work?
Because white label solutions allow you to brand deliverables as your own work, many of these agencies don't interact directly with your clients. Instead, you communicate with the firm and monitor their progress on the SEO services you're contracting them for.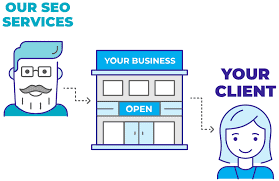 If you purchase reselling services, there won't be any contact between your white label vendor and your client. This can work well if you are trying to build your own personal brand reputation. In other words, you improve your product offering and deliver high-quality SEO strategies without doing all of the work.
Some white label agencies do offer client-facing services which may include things like:
Content planning
Analytics reporting
Social media management
PPC advertising campaigns
Ultimately, you get to choose which type of setup you want. Do you want your white label SEO partner to only do work on the back end that you then deliver to the client, or do you want them to be more directly involved with the process?
Benefits of white label SEO
After starting a business, the hardest thing to do is grow it. It usually requires a larger time investment for things like learning new skills, developing new products or services, pitching to more potential clients, and more.
When you take the white label route, however, you might be surprised that these traditional problems are much less pronounced than they might have otherwise been. Whether you run a one-man show or have a team working on client projects, there are many benefits to using white label SEO experts or programs.
Scalability
Many entrepreneurs run into the problem of how to scale their business without getting overwhelmed. Because SEO consultants provide digital marketing services, their business model already has a certain advantage when it comes to scalability.
Marketing companies often have to hire more and more employees in order to level up, and this can take the focus from the work itself. With a private label partner, though, you can find new clients without worrying about how you're going to deliver on their needs.
Rather than focusing on developing new skills so you can offer more services, you get to skip the R & D and go straight to production and delivery. This takes away the headache of figuring out the "how" so you can focus on the "what."
Increased revenue
If you are able to scale your business, you can begin taking on more projects. Many marketers find that white label partners allow them to focus more on the sales side of the business without stressing so much about the production side.
The same goes for purchasing SEO reseller services. Because you have less work to do creating and optimizing content, you can explore new revenue streams. A case study by SEOReseller demonstrates this effect: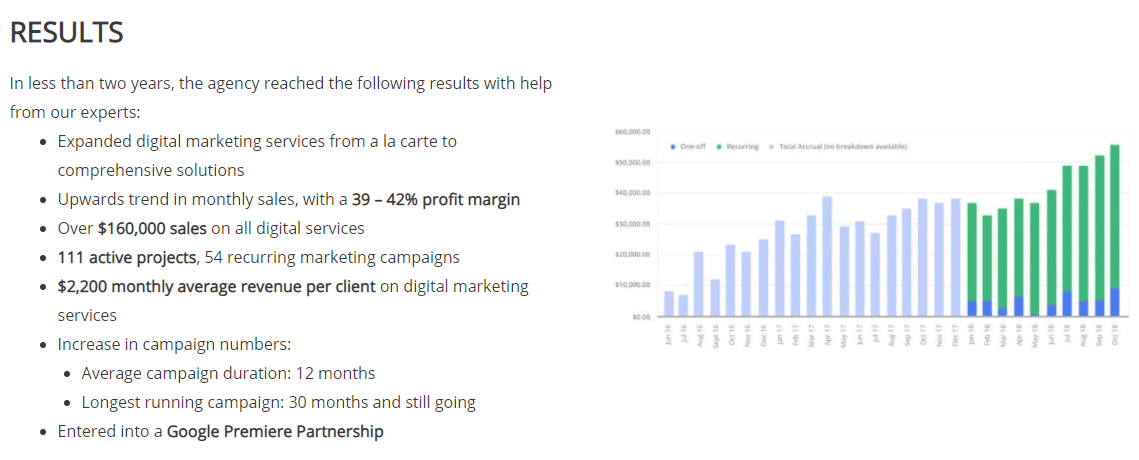 An SEO consulting business hired them as a white label SEO reseller to help them grow and improve their digital marketing department. After implementing a comprehensive SEO campaign the client saw their annual revenue increase by $1.2 million per year.
Cost-effectiveness
Paying for white label SEO solutions can save you a substantial amount of money if you plan to grow your business. One of the biggest reasons why is because it allows you to do more without onboarding new employees. If you were to hire employees, you'd have to factor in costs like:
Workers' compensation insurance coverage
Payroll taxes (vary per state)
Retirement and 401K packages
Medical leave coverage
Cost of recruitment
Professional liability insurance
Finding a white label SEO partner helps you avoid these costs, lowering your overhead as you grow your service offerings.
There's a reason brand-name products tend to cost more at the grocery store – a name carries weight. Some brands are so well-oriented in their industry that they can charge a premium simply on the strength of their brand name. When you work with a white label SEO agency, you don't have to pay for the brand name. This means that you will pay lower prices while still receiving high-quality services.
Quick turnaround
As companies grow, the complexity can sometimes slow down their output. Bigger companies have to systemize. And this usually involves separating the business into several departments, each with its own approach and role in the larger system. For example, a marketing agency could have the design team, the development team, the content team, the account management team, and so on. With each new department you add, the project approval process gets longer and longer.
White label SEO professionals eliminate the need for you to specialize internally. Instead, you can focus on outsourcing only the elements of your project that would slow down your own process. This can reduce your output time for a given deliverable without sacrificing quality.
Diverse service offering
One of the major goals of white label SEO services is enabling businesses to diversify their service offerings. It doesn't always make sense to perform all of your work in-house because you may not have the skills or expertise to offer the highest-quality results.
Say that you have a company that specializes in content creation and SEO copywriting, but you don't have great technical SEO skills. Hiring a white label provider to optimize your clients' websites through schema markup, file compression, and more will improve the performance of the content you create.
Many brands like to work with partners who can provide full-service SEO strategies. The more services that you can offer, the larger your potential client base becomes. Your white label partners will extend your overall outreach and make it easier for you to find customers.
What to expect from a white label SEO provider
When you purchase services from a private label SEO agency owner, you want to make sure that you get what you need. These partnerships require excellent communication and transparency on both sides.
It's also important to note that these expectations can vary, especially if you sign up for an SEO reseller program rather than working directly with an SEO team or firm. In those cases, you would have a predetermined package with actions that you would need to take yourself.
On-page SEO
Some white label solutions offer help with on-page SEO techniques. Services in this area concern major website optimization components like web design and content creation. There are many techniques that fall under this category, including:
Writing title tags and meta descriptions for SEO
Adding alt text to images
Keyword research and implementation
Developing high-quality content
Formatting web pages
Mobile SEO (responsive design, local search techniques, etc.)
Page speed optimization
You can purchase SEO packages that include a more comprehensive approach to on-page optimization, or you can oftentimes find a la carte options for only the areas you don't know or have time to do.
Off-page SEO
Another major pillar of successful content marketing is off-page SEO. Many white label firms sell services that specifically help brands earn authoritative backlinks.

Link-building can drastically increase your SEO visibility and is a core service that potential clients may be looking for from you. Outsourcing this service offering to a white label firm is great, however, because it can be time-consuming and more difficult to track than other core competencies.
Plus, with a strong private label firm handling the off-page SEO, your digital marketing agency will seem more effective to clients. And you won't have to do the work that's not related on the website itself.
Detailed SEO strategy
Because you relinquish some of your control over a project when you hire a white label SEO firm, you want to make sure you understand their process. Your partner should share a detailed strategy that includes important information like:
Important project timelines and checkpoints
Communication methods
The overall SEO approach
Plan implementation strategy
Metrics used to track progress
Once you receive this information from your account manager, you want to express any concerns or ask for clarifications as soon as you can. It's important to establish clarity and focus in the early stages of a partnership.
Reporting mechanism
You need to monitor the progress of your partner's work on a client project, and the best way to do this is to use a reporting dashboard. One example of a reporting dashboard is the one offered by AgencyAnalytics:
A service like this will track important information on things like backlinks, keyword rankings, and ecommerce sales revenues. It can also track SEO metrics and provide user engagement through social media accounts and such.
This platform is just one example of a dashboard that you could use. The important thing to remember is that you need to have a method for receiving regular white label SEO reports. You may need them to update your clients on the overall progress of their project, and they are essential to determining whether your private label partner is positively impacting your business' success.
Content development
Depending on the variation of clients you work with, content development can quickly become one of the most time-consuming portions of a deliverable. This is especially true if you take on a client within a very technical, niche industry.
Hiring freelancers to research and write content for your clients can save you a lot of time and let you focus on site optimization. Consider this model if content creation is not your strong suit or if you don't have anyone in your agency who can devote the necessary amount of time to developing strong content.
Remember, search engine algorithms reward the most relevant pieces of content and are becoming more and more sophisticated each year. It will be hard to get results for a client if you build an SEO strategy around lackluster content.
White label SEO pricing
The pricing for various programs and services will depend on the extent of your white label partner's involvement in the project. Expect to pay more for service providers than you would for SEO reseller packages.
While some of these reseller packages can cost around $100 per month, that price typically covers one specific service like local SEO techniques or link building. And the more complex or involved the technique, the more it will cost on its own.
For example, PPC ad campaign services can range anywhere from $250 to $10,000 per month depending on the level of involvement and overall complexity of the project.
Here are some of the most common pricing structures you will find:
Monthly subscriptions (some firms have easy-cancellation policies)
Per-project pricing
Hourly rates for services like keyword research, writing, etc.
Custom project pricing (more common for larger client contracts)
The good news is that most established SEO firms will have some sort of template or set pricing structure on their website. If you'd prefer to negotiate or use a custom pricing model, you can always contact the agency directly.
White label SEO companies
When you search for white label SEO programs and agencies, you are going to see a good amount of ads in the SERPs. After all, these businesses specialize in marketing, so it's a positive sign that they have found their way into your line of sight.
If you don't know where to start with your search, here are a few best white label firms and reselling agencies out there according to ratings and reviews:
If you're looking for a long-term partner, keep your eye out early for important non-sales-related criteria like communication, professionalism, and transparency. These are important factors that can impact your success with a firm and greatly reduce your stress levels in the future.
Get a complimentary SEO audit
As the world continues to shift to remote work and ecommerce business structures, the need for SEO services will only increase. Within the digital marketing industry, there will be plenty of room for growth, but you may be limited by your agency's size or expertise.
Using white label SEO will help you capitalize on these opportunities without compromising your ability to find new clients and run your own business.
Want to see how you're doing with SEO? Get an instant SEO audit below. Or, schedule a free consultation to see how intent SEO can boost search traffic revenue by 700%.