To be successful with search engine optimization (SEO), you need patience and commitment. Nearly 60% of the pages ranking in the top 10 Google results are 3 or more years old.
Breaking into the top 10—let alone reaching the top result—isn't going to happen quickly unless you understand what you're up against.
That's why you need an SEO toolbar.
SEO toolbars for Chrome help you understand the components of a webpage — your own or your competitor's — so that you can come up with strategies to improve your content and hurdle competitors on search engine results pages (SERPs).
How we created the list of the best SEO toolbars
We looked at search engine results, reviews, ratings, and other "best of" lists to compile the best SEO toolbars for Chrome that users love. Some of these toolbars are also available for Firefox and other browsers.
While there are many SEO tools in the form of Chrome extensions that have specific functions, like performing keyword research or finding broken links, a toolbar is different.
What a toolbar does is analyze. It looks at parameters on a webpage or SERP and helps you to understand SEO metrics on that page, like:
How many backlinks are on the page
The quality of those backlinks
Page authority
Domain authority
How many shares the page has on social media
Where keywords appear in the headers and meta tags, including the meta description and meta title
Marketers use these statistics to form a competition strategy. This is more than just doing keyword research and looking at search volume and difficulty scores. This is about doing a granular, piece-by-piece SEO analysis of everything the page you want to outrank is doing.
To put it simply, an SEO toolbar is one of the most important SEO tools in your digital marketing toolbox.
Here are some of the best SEO toolbars for the Chrome browser.
MozBar
4 Stars | 700,000+ users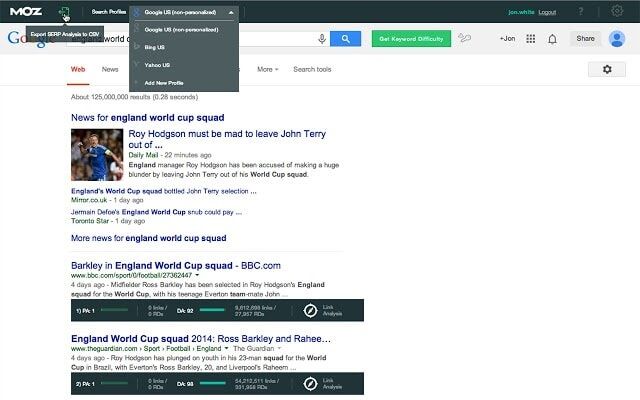 This free toolbar by Moz lets you do everything from create custom searches by search engine, country, region, or city to find and highlight keywords on the page and differentiate links by type (follow, nofollow, etc.). You can also expose page elements to see markup and HTTP status.
The plugin is free, though if you have a Moz Pro account, you get access to premium features like a keyword difficulty checker for any search term and page optimization suggestions for any page.
MozBar is trusted by big brands like Zillow, so it's definitely worth a look, though according to the reviewers, you're probably going to get the best results if you have a Moz Pro account, which starts at $99/month.
Ahrefs SEO Toolbar for Chrome
3.5 stars | 70,000+ users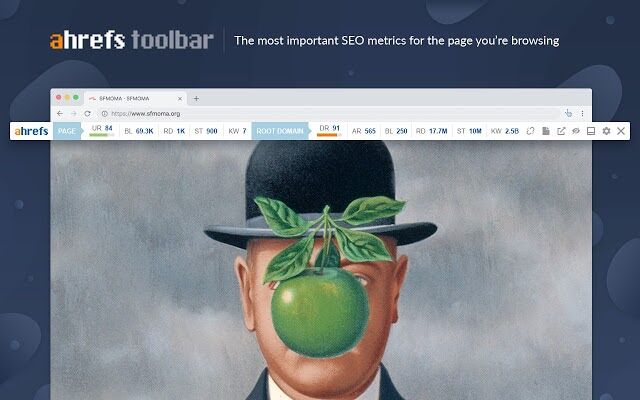 Ahrefs is a well-known SEO toolset trusted by some of the biggest brands in the world, like Uber, Netflix, Facebook, and Adobe. With users like that, their toolbar is worth a try despite the tepid reviews.
Just like MozBar, this toolbar gives you an on-page SEO report, showing you everything from titles and descriptions (both rendered and in HTML) to canonical URLs, word counts, and social tags.
It also helps you identify broken links and check redirect paths, so it's a good tool for link building as you can identify broken links on a site you'd like a link from and suggest your page to be linked to.
The plugin is free to download, though you need an Ahrefs account for a more comprehensive page analysis (accounts start at $99/month).
Alexa Traffic Rank SEO Toolbar
4.5 stars | 700,000+ users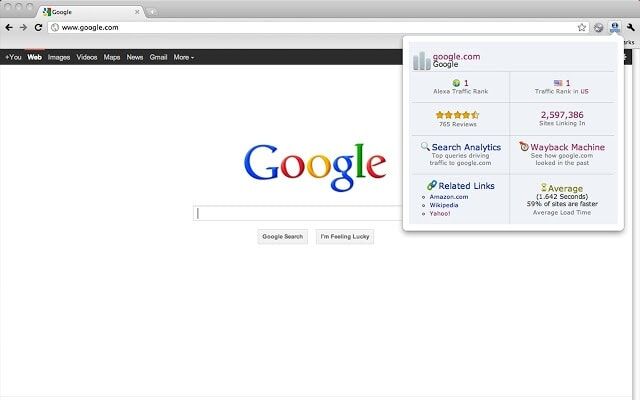 Alexa Traffic Rank is a Chrome extension that gives you real-time data on any website. You can see things like Alexa rank, which estimates website traffic and tells you how popular a website is. It also lets you see which search queries are leading to a web page so that you can understand what search queries a page is ranking for.
It helps you understand other SEO metrics as well, like page speed, which can be helpful for webmasters evaluating and optimizing web pages for technical SEO.
It's made by Alexa, an Amazon company, so users can be confident about quality and customer service. The plugin is free to use and gets many good reviews due to its ease of use.
Ubersuggest Chrome toolbar
4 stars | 200,000+ users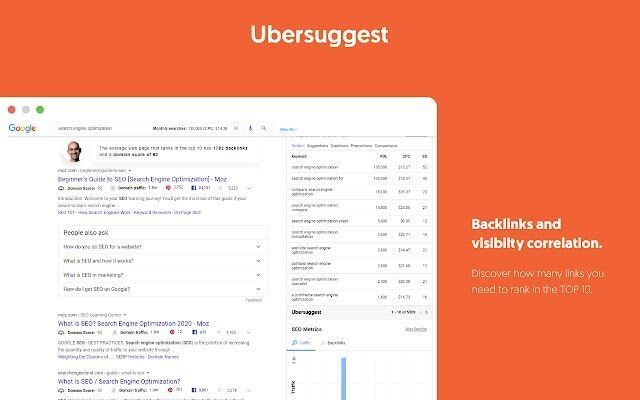 The Ubersuggest Chrome toolbar is a free SEO Chrome extension that has both a SERP analyzer and a web page analyzer.
The SERP analyzer gives you detailed information about every result on a SERP so that you can see things like average number of backlinks and domain score.
The website analyzer helps you understand keywords you're ranking for and other website data, like page speed. It even crawls your site to tell you if certain pages are unreachable.
Ubersuggest is used by some of the biggest brands in the world, like Nike and Microsoft. It also has some of the most positive reviews of all the toolbars on this list, with many referencing its robust insight and ease of use.
Download Ubersuggest Chrome toolbar
SEO Quake Toolbar
4.5 stars | 700,000+ users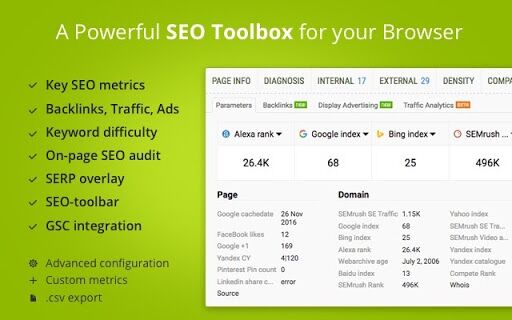 SEO Quake is a web browser toolbar made by Semrush that gives you a variety of data on a website, like Alexa rank and number of backlinks. It's also a SERP analyzer that gives you detailed information on each search result, including how old a page is, the domain authority, and estimated visits. You can export this data into CSV format.
Semrush is used by some of the biggest brands in the world, like Nike and Walmart.
The toolbar is free to use, simple, easy to understand, and has some of the highest ratings on the Chrome web store.
SEO Analysis & Website Review by Woorank
4 stars | 200,000+ users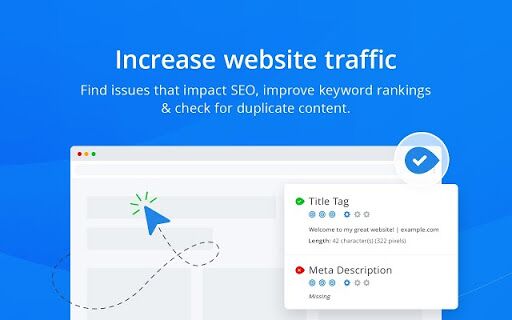 This free plugin by WooRank includes a SERP overlay that shows you everything from estimated visits to domain authority, social media shares, and more. It also gives you a detailed analysis of the page elements on any website.
WooRank has been featured by Forbes, HubSpot, and Search Engine Land. Many of the bad reviews are a few years old when you needed a paid account to use the tool, so they're less about its usefulness and more about its accessibility.
Download SEO Analysis & Website Review by WooRank
Quick SEO
4 stars | 30,000+ users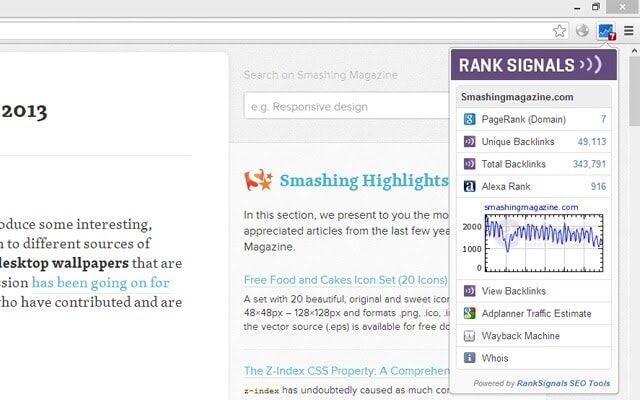 Quick SEO by Rank Signals is a lightweight Chrome plugin that, as the name suggests, gives you quick information about simple statistics like PageRank for your homepage and backlink data.
Though it doesn't go as in-depth as some of the other toolbars on this list, it's still useful if you want a fast SEO overview of a website or web page. Reviewers are happy with the plugin for the most part, though some of the negative reviews may be due to the plugin's limited functionality.
RankSignals is used by some large brands, like Expedia and Marriott, and focuses mostly on backlink building strategies.
WebRank SEO
4.5 stars | 50,000+ users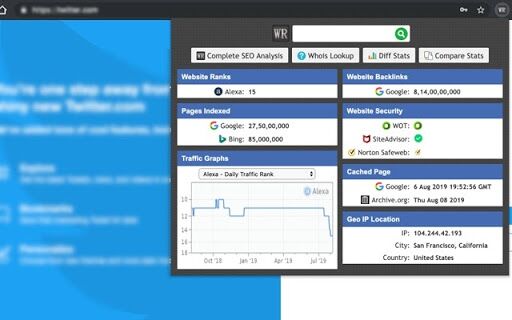 WebRank SEO by WebRankStats, an award-winning SEO service, is a free, simple, lightweight SEO tool that lets you quickly analyze a website to see things like Alexa traffic rank, number of backlinks, and more.
You can compare the SEO of websites to each other, check out traffic graphs, analyze header information and server location, and even measure your stats over time. You can also use their Sociometer to see your social reach.
GrowthBar
5 stars | 3000+ users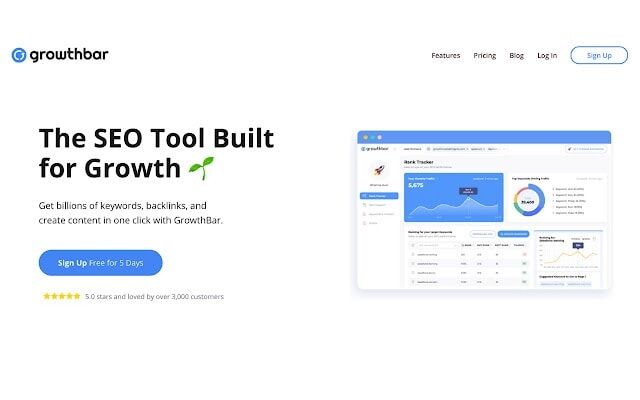 GrowthBar by Growth Marketing Pro is a paid SEO toolbar that helps you do keyword research, keyword tracking, competitor traffic insights, and more.
It's especially useful for bloggers because it helps you create content that has the potential to rank. You can also see things like domain authority, monthly organic traffic, and keyword competition on a competitor's page or your own page.
The reviews are all 5 stars, and they provide a free trial, so you can test it out and see if you agree.
Mangools SEO Extension
4.5 stars | 40,000+ users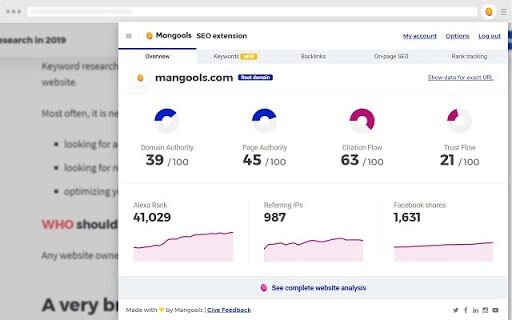 Mangools SEO Extension is a paid tool that gives you data like Alexa rank, social media links (including Instagram and LinkedIn, which many other tools don't give you), and more. Unfortunately, because it's paid, you have to have a Mangools account to use it.
Fortunately, Mangools is one of the most inexpensive SEO suites around at $29/month, so signing up may be worth your while if you're on a budget.
Mangools is trusted by Adidas and Airbnb and is recommended by Brian Dean of Backlinko in addition to having rave reviews. If you're looking to save money and need a full SEO suite, Mangools is a tool to consider.
Download Mangools SEO Extension
SerpWorx
4.5 stars | 5,000+ users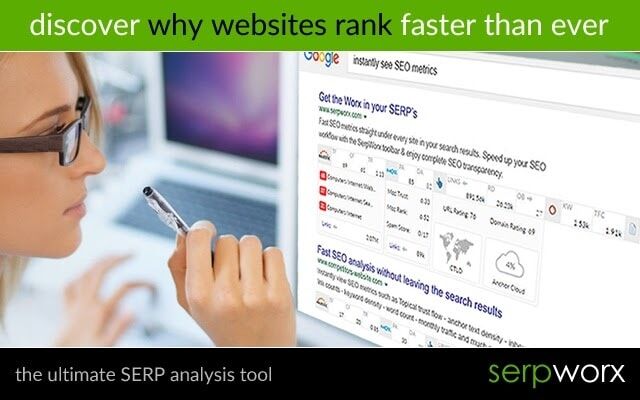 SerpWorx is a paid SERP overlay ($29.95/month) that gives you a variety of SEO metrics, including Majestic SEO metrics (Trust Flow/Citation Flow, Topical Trust Flow Categories), Moz metrics (Domain and Page authority, Spam Score), Ahrefs metrics (Ahrefs URL Rating, keyword anchor text density) and more.
It's trusted by a number of SEO experts, including Search Engine Academy and Sydney SEO Partners. The reviews are all high, but the tool does come with a major drawback: it's not available in every country.
Get a complimentary SEO audit
Choosing an SEO toolbar is only the first step to gaining a leg up on your competitors. And it's a highly necessary one. SEO toolbars for Chrome can reveal valuable insights that will inform your SEO plan of attack. Without knowledge of who you're competing against, your SEO strategy for climbing SERPs in your industry is only an educated guess.
Want to see how you're doing with SEO? Get an instant SEO audit below. Or, schedule a free consultation to see how intent SEO can boost search traffic revenue by 700%.