According to Datanyze, OpenCart is used by nearly 30,000 ecommerce websites.

Among those 30,000 websites are countless products waiting to be discovered by internet shoppers. And now that nearly 40% of ecommerce traffic comes from search engines, OpenCart store owners are increasingly turning to one of the most effective marketing strategies for driving traffic, leads, and sales: OpenCart SEO.
What is OpenCart SEO?
OpenCart SEO, also known as OpenCart search engine optimization, is a digital marketing strategy used to improve the search engine visibility of OpenCart websites. It involves using tactics like keyword research, content marketing, link building, and more, to make these sites appear higher on search engine results pages (SERPs). Below is an example of a SERP for the search "what is content marketing."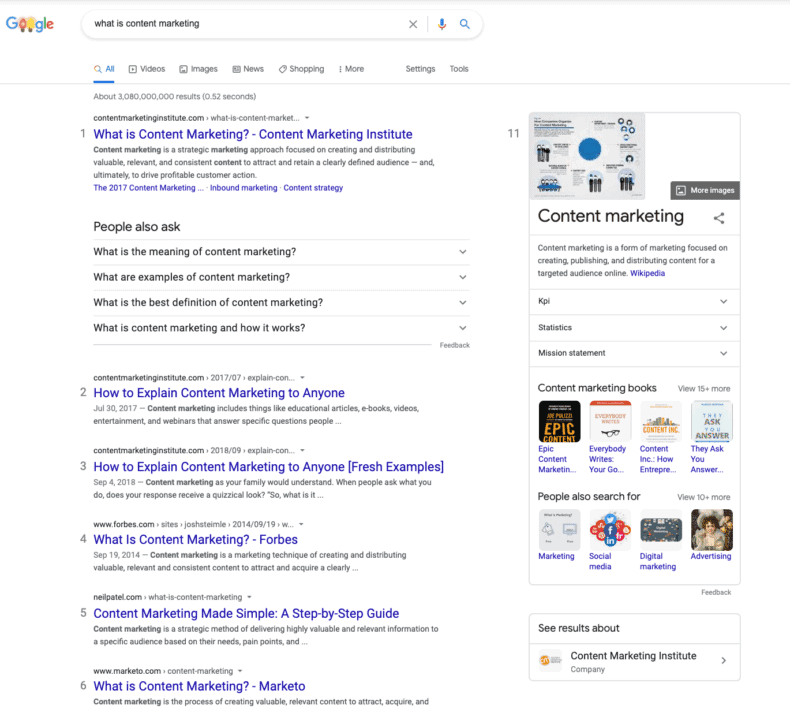 Higher positions on SERPs are correlated with more organic traffic from search engines like Google, Bing, and Yahoo, which results in more potential customers on your ecommerce site.
Additionally, SEO is an organic digital marketing tactic, and as such, requires less budgetary commitment than paid advertising tactics like PPC (pay per click), and it can actually compound ROI over time with relatively little ongoing maintenance.
Is OpenCart SEO-friendly?
When it comes to out-of-the-box SEO features, not all ecommerce platforms are created equal. WooCommerce, BigCommerce, Shopify, and Magento all come with SEO pros and cons. OpenCart is no different. Here's what you should know about OpenCart's SEO-friendliness beforehand:
According to one veteran OpenCart user, the platform lacks some advanced SEO capabilities:
No microdata on product pages, which means less engaging search listings and pages that are harder for search engines to crawl.
Limited options for SEO URL customization, which means less SEO-friendly URLs for search engines and users.
No auto meta generation, which means time lost writing manual meta titles and descriptions.
No scalable tools for SEO management, which translates to time wasted on tedious optimizations.
Yet another lists more serious issues that come with OpenCart's built-in SEO capabilities:
Duplicate content is regularly created from pagination and the inefficient use of breadcrumbs.
H1s and meta titles are treated as interchangeable.
Canonical links are confusing.
An editor for .htaccess is missing.
A robots.txt editor is unavailable.
Though OpenCart comes with some basic SEO features out of the box, the major consensus among users seems to be that it's quite limited for those who want to improve their site's visibility in search engines.
Luckily, what's in the box isn't everything. Though it doesn't come with advanced SEO-friendly capabilities, there are manual tactics and SEO extensions to make your OpenCart site better for SEO.
The best OpenCart SEO tactics for your online store
Choosing an SEO-friendly platform for your ecommerce store will help you on your journey to more traffic, leads, and sales from search engines. For the most part, though, your SEO success will come down to the strategies you use to make your site more user-friendly. Here are the most effective SEO strategies for your OpenCart site.
High-quality content marketing
Content marketing is the cornerstone of good on-page SEO. On-page SEO concerns itself with improving the physical content on your website. It involves:
In-depth keyword research
Keyword research helps you discover the terms visitors are using to find your products. When you know these, you can use them (and related search terms) in your content to draw traffic when someone searches them in Google.
Search intent optimization
Not all searches are the same. Some people are searching for information, others are searching for products, and others are trying to get to a specific site or page. To know what kind of content to create for a specific search term, you need to understand search intent — for example, the type (product page or blog post?) and angle (listicle or news article?) that searchers are looking for. You can do this by searching a query and seeing what Google serves as the top results. Through testing, these are the results that Google has found to be most relevant to users, and you should use them to guide your content creation.
Descriptive image alt text
Images are easy to optimize in a way that can boost your SEO. All you have to do is write effective image alt text and filenames. Alt text is a brief sentence describing your image that helps people with visual impairments understand your content. It's meant for screen reading software to read aloud, and it also helps search engines understand and rank your page.

Writing effective image filenames can also help with SEO. When you name your image files, use a few words to title your image and put dashes between each word. With both filenames and alt text, it helps if you can include your focus keyword, but don't force it. Otherwise, Google may flag it as spam.
Optimization of meta tags
Meta titles and meta descriptions are the text that make up search engine listings. Even though these aren't official ranking factors, they do contribute to SERP click-through rate (CTR), which SEO experts believe to be a powerful ranking factor.
Effective site structure and content hierarchy
For your content to be easy to consume, it should be organized with effective structure and internal linking. Pages should follow a logical organizational structure, from broad content to more specific, so that your visitors can find their way to specific products from broad ideas. For example: homepage > product category page > product subcategory page > product page > product variation page, etc.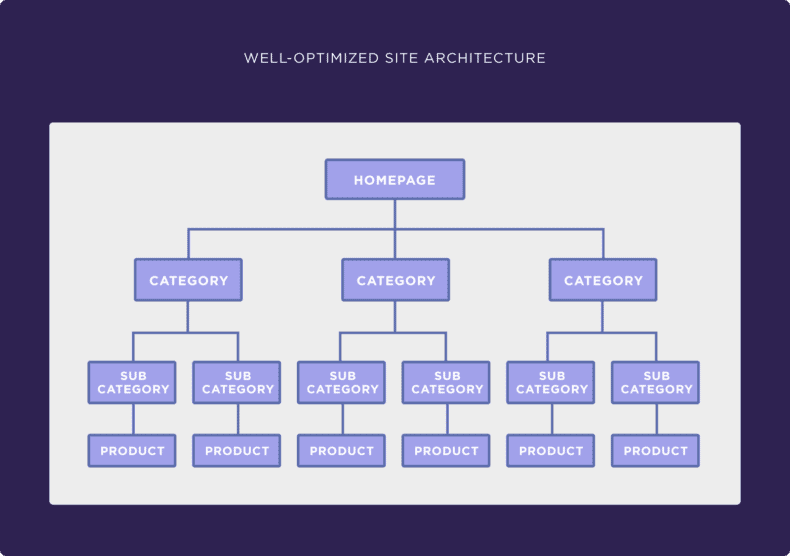 In a similar way, your content should be organized with a single HTML page title and H1 header on each page, which describe the overall theme of the page. Then, H2s, H3s, H4s, etc, form a hierarchy depending on the relationship of content from broad to specific.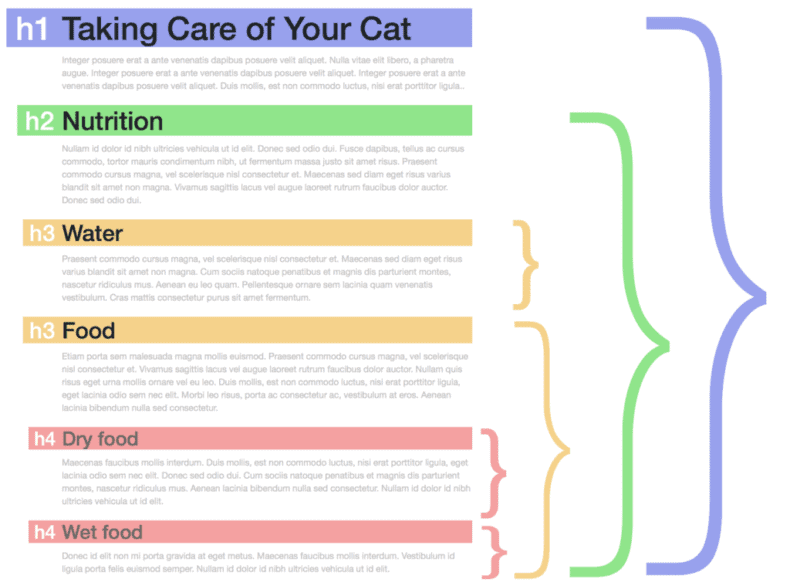 Effective link-building
One of the most powerful ranking factors Google uses to determine the SEO authority of your website is backlinks. Backlinks are links from other sites to yours, which Google perceives to be a little like upvotes.
When another site links to you, it's like they're vouching for your content, saying "We trust these guys enough to send our visitors to their website." The more high-quality backlinks you have, the better you'll look to Google. A few popular ways to generate them are:
Social media marketing
According to research, the more social links you generate through platforms like Facebook, Twitter, and LinkedIn, the more backlinks you tend to have. There is at least a correlation between these two factors.
Though social media links don't count as backlinks, they do provide content amplification. And the more your content is read and shared, the more likely it is to generate a link back to your website.
Strategic partnering
Ecommerce brands are in a unique position that others in the B2B space are not: There are so many avenues to promote your product. Influencers, bloggers, related brands, publishers, vendors, product aggregators, etc, all have an interest in sharing your content. Partnering with businesses in any of these categories will give you a good shot at generating backlinks.
Technical link-building
Though the strategies above can result in backlinks, others are executed strictly for the purpose of generating them. For OpenCart websites, those include reviving dead links, finding unlinked mentions of your brand, creating digital coupons, and more.
Top-notch technical performance
Valuable content and an abundance of high-quality backlinks can put your site in Google's good graces, but they're not enough to get you ranking at the top of SERPs. To do that, you need to have a site that performs as well as it appears. That's where technical SEO comes in. For OpenCart sites to succeed in this area, they'll need…
An XML sitemap
An XML sitemap is a map to all your pages for Google's crawlers. Normally Google finds all your pages through internal links, but sometimes they can miss them, which ends with your pages being excluded from search engine results. When you submit an XML sitemap to Google, you ensure the search engine can find them easily and efficiently.
Use a robots.txt file
A robots.txt file allows you to tell Google how to specifically crawl certain pages, or even to leave some out of search engines — like admin pages and checkout pages, for example.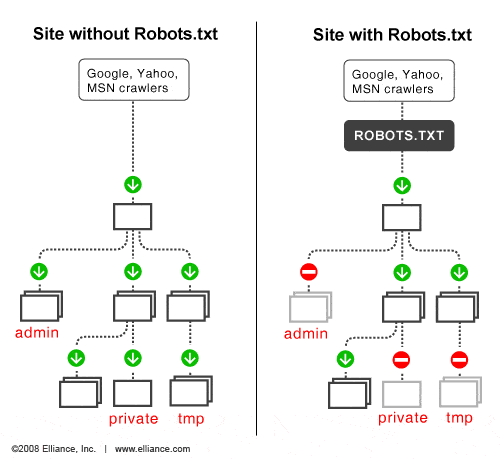 Use the canonical tag for duplicate content
For OpenCart sites, duplicate content can be created by pagination, and also when the same product content is in two different parts of the site. You won't get penalized for creating duplicate content, but Google will only index one of these pages. If it's the wrong one, it could negatively impact your rankings. When you use the canonical tag, Google will index your canonical URL (though Google does reserve the right to index the page it deems to be the most relevant).
Organize your data with schema markup
Schema is a kind of labeling language that helps search engines better process your site. For you, it can result in rich snippets on SERPs, which are more robust search listings that can include things like reviews, images, and more.
Make your site load fast
Page load speed has been an official Google ranking factor for a while. Still, though, many sites take several seconds to load, which significantly increases bounce rate. Speed yours by compressing large images or removing ones that aren't necessary, building pages with AMP, minifying JavaScript, along with these other tactics.
Write SEO-friendly URLs
The best URLs are ones that are easy for Google and your users to understand. They're simple, short, descriptive, safe (use SSL) and they contain your keyword. Visitors should know what the page is about based on the URL.
Prioritize mobile devices
Google's algorithm ranks content heavily based on its mobile-friendliness. And for newer sites, it will rank the mobile version before the desktop one. Your site should accommodate users of several device types and screen sizes, otherwise, expect your mobile experience to hurt your search ranking.
Get a complimentary OpenCart SEO audit
The advantage of using OpenCart is its robustness. Out of the box, the default OpenCart platform is able to support thousands of products across many categories, along with the processes needed to maintain them. Other platforms require lots of plugins to do the same thing.
Unfortunately, it's not as powerful for SEO as a platform like WooCommerce, which gets all the SEO benefits that WordPress does. But that doesn't mean ranking well is impossible with OpenCart. The strategies above will give you the foundation you need to start your journey to page 1 today.
Want to see how you're doing with OpenCart SEO? Get an instant SEO audit below. Or, schedule a free consultation to see how intent SEO can boost search traffic revenue by 700%.