If you're not blogging for business, research says you should be. Over 70% of B2B buyers read a blog before making a purchase, and content marketing creates 3X more leads than paid search.
Convinced yet?
Together with an SEO strategy, you can use blogging to drive more potential customers to your content. The process is known as "blog SEO."
What is blog SEO?
SEO stands for "search engine optimization." Blog SEO is a strategy for bloggers who want to generate more traffic, leads, and sales through search engines. It's about creating content that is both valuable to users and easy for Google to find and serve.
Optimizing a blog for search requires you to consider many different aspects of your content strategy. It's more than just keyword research. Today's search algorithms take many different ranking factors into account — like context, authority, expertise, and more.
Blogging takes work and discipline to show up on the SERPs (search engine results pages). A form of content marketing, blogging is the creation of useful, valuable content that helps a reader in some way, rather than pure selling or marketing.
Your blog SEO efforts shouldn't just focus on satisfying search engines. Instead, they should be focused on helping your audience. If you do that, a lot of SEO factors will take care of themselves. Here are some SEO tips to help you start ranking fast.
Don't stray from your area of expertise
Continuously publishing content about a specific subject lets Google know you're an authority on it. Think about how social media works. When you find a page that you like and follow, it usually has content about a specific topic.
For example, you might find a page on essential oils. You'd be pretty surprised if they suddenly starting posting about marketing tactics, right? That's what this means. Stick to your lane so that you only optimize content that Google and other search engines see as part of your area of expertise.
Build topic clusters
Within your topic of expertise, you're going to have subtopics. For example, if your topic is SEO, then you're going to have subtopics like image SEO or video SEO.
Each of those subtopics is going to have further subtopics. For example, video SEO might have a subtopic of YouTube SEO or embedded-video SEO.
When you're building a topic cluster, you're taking a major subtopic like video SEO and writing other articles that are related to that topic. This helps cover the range of information your users may be after.
Then, with internal linking to that subtopic from other related topics on your site, you do two things:
You provide your visitors with easy ways to learn more about a particular topic.
You communicate to search engines that you consider the major subtopic to be an important page on your website.
The diagram below is a great visual example of this. You build a pillar article (video SEO) and then create subtopics (YouTube SEO, Embedded Video SEO) and link to that pillar article.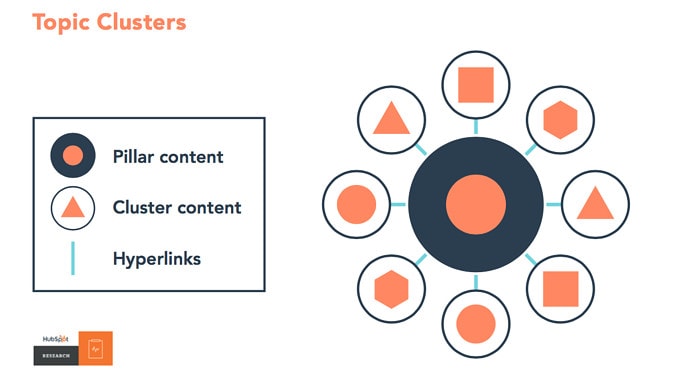 Optimize each post for one keyword
Keyword research is the process of using SEO tools like Moz or Semrush to discover what your audience is searching for online. You're looking for specific keywords that have to do with your topic.
For example, if your topic is meditation, you might be looking for keywords like yoga meditation or Japa meditation.
These are your target keywords—the search queries your audience is typing into Google. And they dictate what subtopics you should write about to generate traffic from Google search. SEO best practices dictate that you should optimize each blog post for one keyword.
The reason for this is that you don't want to confuse search engines. Organic search is all about specificity. People search for specific topics, so you need to create content that targets a single topic and covers it comprehensively.
Long-tail vs. short-tail keywords
Specificity is also why most businesses focus the majority of their efforts on long-tail keywords. A long-tail keyword is a keyword phrase that is generally long and is generally more specific than a short-tail keyword phrase.
For example, "Japa Meditation" is a short-tail keyword. This is different from the long-tail  "The Benefits of Japa Meditation." One is more general, the other is more specific. Both of these keyword phrases are different topics, and you should have an article on each one.
Why?
Someone searching for The Benefits of Japa Meditation will probably already know what Japa Meditation is. So including a definition may only waste the user's time.
"What is Japa Meditation" is a simpler topic, but it's clearly different. People searching this are looking specifically for a definition.
Where to put your keywords
Keyword optimization is a big part of on-page SEO. On-page SEO is a strategy that involves improving ranking factors related to your content. It also refers to HTML elements on the page. If you have a WordPress website, SEO plugins like Yoast give you the tools you need to optimize metadata like alt text and meta titles (more on this later).
Knowing where to put those keyword phrases is also important. Generally speaking, you want your long-tail keyword phrase to show up in your title tag/H1, in your first paragraph, in your last paragraph, and scattered throughout the content—especially in H2s (subheadings).
But make sure you're not over-optimizing your content (this is called keyword stuffing). Every piece of content needs to be quality content. You can't just stuff keywords into a blog post and expect to generate traffic.
Focus on search intent
Keywords are about much more than just looking at what people are searching for. They're about search intent—what is it that someone wants to find when they type in a keyword phrase.
The difference can be subtle, but it's critical, and it requires critical thinking. Let's look at an example.
Let's say you use a keyword tool like Moz to find some keyword phrases. One you come across is "massage machines for shoulders."
What is the searcher's intent here? There are several possibilities.
First, they might be interested in finding actual machines for purchase. In that case, unless you have some massage machines for sale, then they're not going to be interested in your content.
But let's think about that some more. They might not be ready to buy. They might actually just be looking to learn more about massage machines in general.
So there are several possible intents.
You need to match those possible intents with your goals.
If your goal is not to sell massage machines but to generate traffic, and your blog is about massage generally, you have to be creative about meeting intent. They're looking to buy, so you can write an article where you review many different massage products.
That way, you're satisfying search intent—they're finding the products they want to either buy or learn more about—and you're fulfilling your goal at the same time. Remember, blog SEO isn't just about satisfying searchers—it's making sure you're reaching your goals too.
Organize your content with headers
To make your content easier for indexing and for reading, you want to use headers. These are subheadings that break the content into sections for topical organization, making it easier for people and crawlers to scan and understand.
Your readers are going to skim for the specific answer(s) they're looking for. They're not reading for pleasure. They want efficiency. So, if you have blog content that has organized subheadings, you make it easier for the searchers to identify the biggest takeaways from your content, quickly.
Optimize for the featured snippet
The featured snippet is the cream of the SERP crop. Take a look at the image to see what one looks like.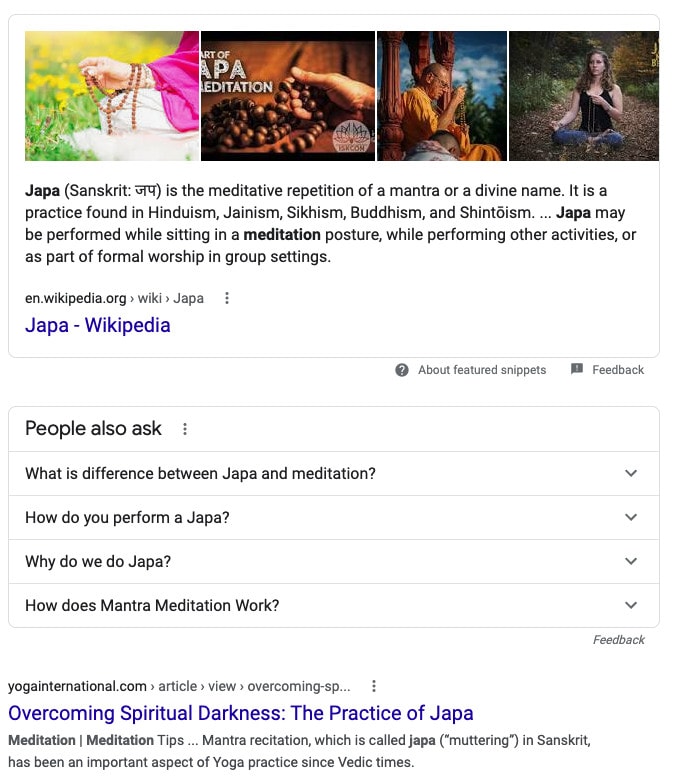 Even though the Wikipedia article isn't the top-ranked post (the post by yogainternational.com is), Wikipedia still shows up in the featured snippet at the top of the SERP.
To give your content a chance at appearing as the featured snippet, you have to figure out what format is already ranking for the snippet (list, video, paragraph, definition, etc), and create based on that.
In this case, it appears that a definition and images are what show up in the featured snippet, so that's what you want—an answer to the question "What is Japa Meditation" along with a relevant image in the blog post.
Internally link relevant content
Topic clusters work best when they're combined with internal links. This means linking from your cluster articles (subtopics of your major subtopic) to your pillar content.
Internal links are important for a number of reasons. First, they help your readers to learn more about the content you're writing about. For example, if you have an article on what gorillas eat, but then you have a pillar page all about gorillas, you can link to that page and help searchers who are interested to find that content.
Another reason it's important to have internal links is that they help crawlers to find your content. They also help crawlers understand what content is the most important on your website.
You want your anchor text (the text that you make into a link) to include keywords relevant to what you're linking to, if possible.
Always make your links relevant, as in, related content they're linked to. This helps readers better understand where they're clicking to, and it gives them an opportunity to dive deeper into the subject.
Another great place for linking to relevant content is in the call-to-action. You can link to other web pages on your site that might include the ultimate goal actions you want readers to take.
For example, the goal of e-commerce websites is to get readers to purchase a product. So, linking to a specific product at the end of the content may increase traffic to key product pages.
Write great meta titles and meta descriptions
A meta title is the title of the search engine listing for your page. A meta description is what shows up on Google search underneath the title of the article.

Meta titles and descriptions are important because they greatly impact SERP click-through rate. And SEO experts agree that SERP click-through rate (CTR) has an impact on ranking.
Meta titles should be under 60 characters, and they should contain a benefit that differentiates the piece from other listings on the SERP.
Meta descriptions should be under 165 characters, and they should elaborate on the title by telling the user what else they can expect to find in the piece.
Optimize your images
There are many different types of images that you can use in a blog post, so think about what type of image is going to provide the most value to the searcher. For example, an article about yoga poses is going to have a lot of photographs of people in different poses, and those pictures are likely going to need captions.
If you have an article filled with statistics, an infographic might be a great image to include. If you have a tutorial, you might want animated graphics with callouts that show how to complete each step of the tutorial.
To optimize images in a blog post, you need to make them as small as possible so that they load quickly (the faster your web pages load, the better). Through methods like compression or resizing, you can keep images small without sacrificing quality.
They also need alt text and filenames that are optimized for your keywords. Alt text is HTML attached to your image that helps screen reading software describe the image to people with visual impairments. It should be written in a sentence format that describes your image in detail. If you can include your keyword in the description, even better.
Filenames are a little different. Although it's best to fit a keyword in if you can, filenames should be shorter and written with dashes in between each word. An image of a construction worker on the job might have alt text that reads: "A kneeling construction worker hammers a nail into the frame of a wall," while its filename might read "constructing-house-walls."
Construct SEO-friendly URLs
This is pretty simple. Your URLs need to be SEO-friendly so that crawlers and searchers are both able to understand what the content is about. You do this by making your URLs short, by making them relevant to the content, and by including keywords.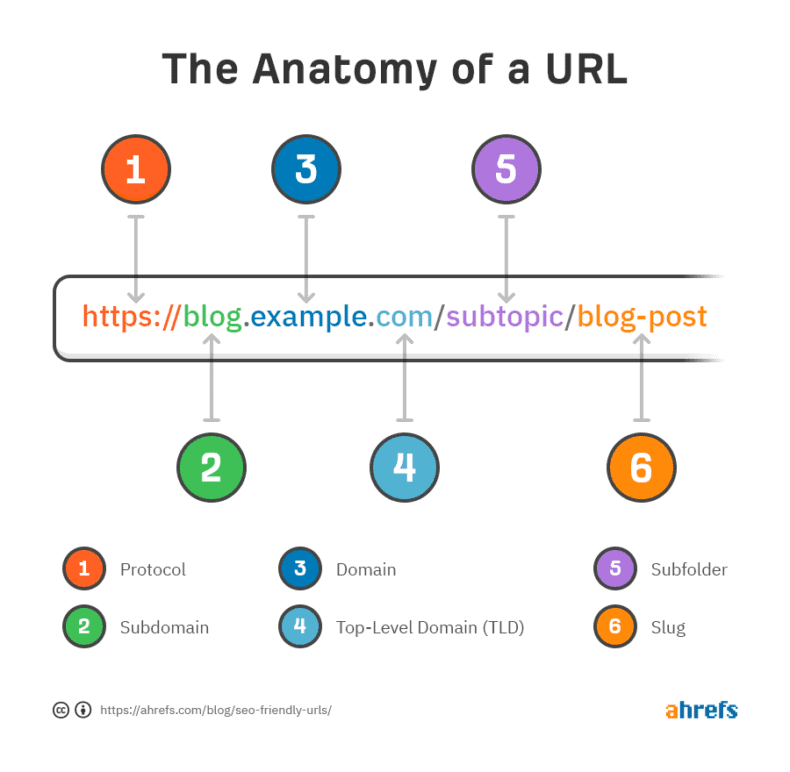 /what-is-japa-meditation/ is a perfect example of a good URL slug. If your keyword is "what is Japa meditation," or in the case of this article, "blog SEO," then your final URL might look like 'https://granwehr.com/blog/blog-seo.'
Build backlinks
Link building is a whole topic in itself, but it can be broken into a few categories. One of the biggest contributors to backlinks is high-quality content. The higher the quality, the more likely someone is to link to you.
Keep in mind, it doesn't help much if they link to you with nofollow links (links that don't give you credit in the search engines for your content and don't help you rank), so you might have to reach out to people who are linking to you and ask them to make those links dofollow.
Another method is to reach out, usually via email, to other blogs and see if they're willing to link to your content. You'd be surprised how willing people are to link to your content if you just ask.
Yet another is partnering with other brands for guest blogging or other cross-promotional activities.
Sharing on social media can also help with backlinks. While social media links aren't technically backlinks because they're nofollow, social signals are a ranking factor. And social media does facilitate backlink opportunities by getting your content in front of a larger audience that may then link to your content when they create their own.
The main takeaway here is to keep that content high-quality. From tutorials to infographics and more, the better your content is, the more likely people are going to link to it.
Prioritize mobile-friendliness
Mobile-friendliness means that your website automatically adjusts to the ideal format for the user's device. This way, if a user accesses your website from their phone, they won't find a shrunken version of your desktop website. Instead they see the website with readable text and no pinch-to-zoom required.
It's important for SEO because Google has been indexing mobile-versions of websites first for a while now. That means, "Google predominantly uses the mobile version of the content for indexing and ranking."
If your website isn't mobile-friendly and provides a poor user experience, then it's less likely to rank.
There's not much you need to do here most of the time. Most content management systems, like WordPress, are going to make your website automatically mobile-friendly.
If you have an old website that's not mobile-friendly, fix it fast—the majority of readers today use mobile devices. And Google's algorithm is not kind to websites that aren't mobile-friendly.
Speed up your page load time
Just like the modern reader expects your blog to be mobile-friendly, they also expect it to load fast. In fact, load-time is one of those metrics that you need to watch closely because slow websites don't earn visits.
In fact, 1 in 4 visitors, "abandon a website that takes more than 4 seconds to load."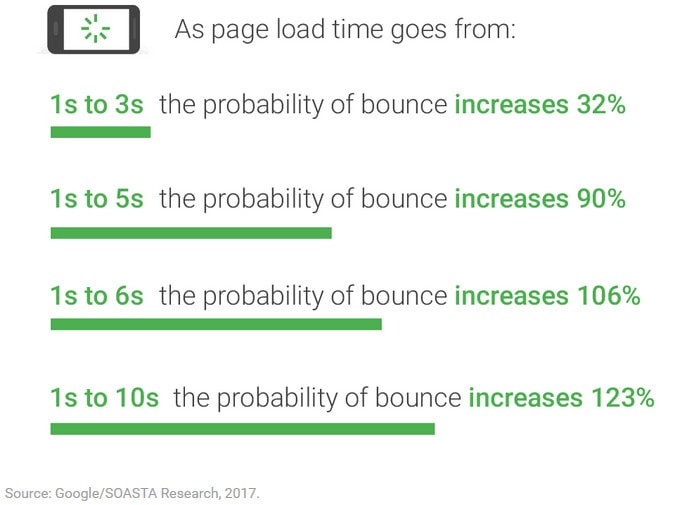 Not only that, but page speed is an official ranking factor. That means, on top of users abandoning your page before seeing it, Google won't rank your page as highly either, making it even harder for you to earn traffic to it.
There are many different ways to get your pages to load quickly, like using lazy loading and keeping your images small, but there's a lot of stuff that goes on in the backend of your website that plays a role too.
Consider getting a CDN (like Cloudflare) and using plugins like Hummingbird to optimize the speed of your website. If you don't know how fast your web page is, Google PageSpeed Insights can help you find out.
Monitor content KPIs
Google cares about UX, and it will be looking at metrics that indicate content quality. So, what KPIs show that users find your blog valuable? Think about things like bounce rate, time on page, and pageviews. Use tools like Google Analytics or Google Search Console to track these KPIs.
Here are a few important KPIs to track:
Traffic—this includes all forms of traffic, no matter where it's from (organic traffic, direct traffic, traffic from social media)
Click-through rate (CTR)—this is "the ratio of users who click on a specific link to the number of total users who view a page"
Bounce rate—this is the percentage of people who click through to your page but leave before interacting with that page, or any other page on your site.
Backlinks—the number of links to your content from other websites
Some of the metrics you track will be based on your goals, but the ones above are just a few of the ones that everyone should be monitoring and optimizing.
Follow popular SEO blogs
Digital marketing tactics change constantly, and that's especially true of SEO. Search engine algorithms are in a state of perpetual evolution, and to keep up, you need the knowledge to steer your SEO ship. To get it, stay up to date with industry blogs.
Ahrefs put together a great list of the top SEO blogs. To create it, they measured a variety of factors, like how often per month the blog publishes content, how much traffic it gets each month, how in-depth the content is, etc. Here are the top 10.
Get a complimentary SEO audit
Knowing how to get your content into the hands of the right readers can increase traffic, lead generation, and even sales. There's a lot to consider, but when you use blog SEO, you can satisfy both Google and your users, giving your content a better chance to rank above your competitors.
Want to see how you're doing with SEO? Get an instant SEO audit below. Or, schedule a free consultation to see how intent SEO can boost search traffic revenue by 700%.